You Need These Cheesy Baked Cream Eggs in Your Life
Heading out the door? Read this article on the new Outside+ app available now on iOS devices for members! Download the app.
No one knows eggs like Lisa Steele. The author of The Fresh Eggs Daily Cookbook grew up with chickens, as her grandparents were poultry farmers in central Massachusetts. Almost every morning Steele's mother would make poached eggs on toast for breakfast. And yet Steele never developed egg fatigue. The opposite, actually. She became an egg aficionado.
"I was so surprised when I started doing my research to write my cookbook because there were so few egg cookbooks out there," Steele says. "Eggs are so versatile!"
 From custards and meringues to salad dressing and breakfast sandwiches, just show us another ingredient that can do as many things as an egg.
Because Steele has her own small flock of chickens, she cooks with fresh eggs. There isn't a huge nutritional difference between freshly laid eggs and store-bought eggs, but Steele says fresh eggs taste better because they're more moist. 
"As an egg ages, it loses moisture and becomes dry," she says. "That's why a lot of people add liquids to scrambled eggs. Fresh eggs already have a ton of water in them and don't need as much added liquid."
But the biggest difference, she says, is that fresh egg whites and yolks are thicker. "When you crack a fresh egg into a pan, those whites aren't going anywhere," Steele adds. "If it's an older egg, the whites might spread out everywhere and you have to sort of piece it back together."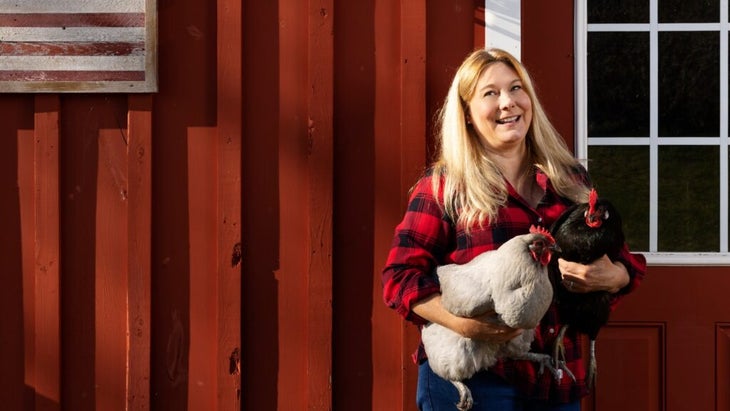 The biggest mistakes when cooking eggs
Eggs cook really quickly, so it's important to use low heat and patience. Steele recommends cooking scrambled eggs and omelets just until they start to set and are glossy looking. Eggs will continue to cook after you turn off the heat, so keep that in mind with your timing. 
Another mistake Steele sees when cooking with eggs is using cold eggs when room temperature eggs are required. "If you put cold eggs into some batter, they're going to make the fats seize up and coagulate," Steele says. "So you definitely want to use room temperature eggs when a recipe calls for them.
Steele's tips for cooking eggs
1. Always crack eggs on a flat surface versus the edge of the counter or pan, which will push the two sides of the egg in on itself and could break the yolk.
2. For poached or sunny side up eggs, crack into a small bowl instead of directly into the pan. This will lead to less chance of the yolk breaking before transferring it to the pan.
3. If your egg yolks are constantly breaking, it might be because you're using older eggs. Find fresh eggs from your local farmers' market.
4. It's not the end of the world if a yolk breaks. Just turn it over and call it an over-hard egg or scramble it.. It's still going to taste great!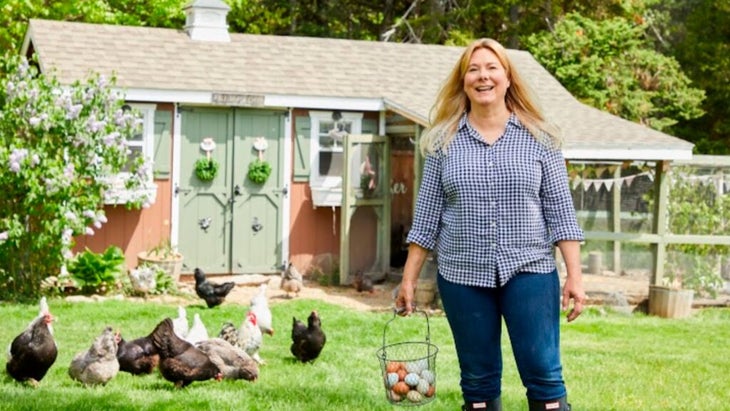 Must-have tools for cooking with eggs
"It's lighter and has sloped sides, making it great for omelets," Steele says. 
DeBuyer Carbon Steel Frying Pan
"I bought the DeBuyer crepe pan and it's amazing," Steele says. "Their pans are not technically nonstick, but they're really nice the way they're weighted."
OXO Good Grips 11-Inch Balloon Whisk
"Obviously you need a really good whisk, especially if you're using them in baked goods," Steele says. "You need to beat a lot of air into those eggs."
Rubbermaid High Heat Resistant Silicone Spatula
"For omelets, I usually use a rubber spatula because you can get right under the edges," Steele says.
Cheesy Baked Cream Eggs
"Cream baked eggs are my favorite," Steele says. "It's a great way to use up a little heavy cream – you always seem to have some left over that you don't know what to do with. It's really unique because as the cream separates and as those milk solids start to caramelize, the eggs get really creamy and delicious."
Ingredients
1 Tbsp. unsalted butter
¼ cup heavy cream
8 eggs
Kosher salt
Freshly ground black pepper
1 Tbsp. freshly grated Parmesan cheese
1 Tbsp. sliced scallion, green parts only
Preparation
1. Preheat the oven to 375°. Add the butter to a pie dish or an 8- or 9" oven-safe skillet and set on the middle rack in the oven. Once the butter has melted, swirl the pan to cover the bottom.
2. Pour the cream into the pan, then crack the eggs and slide them into the pan, being careful not to break the yolks. Season with salt and pepper.
3. Bake until the egg whites are set and the yolks are partially cooked, about 8 to 10 minutes. 
4. Sprinkle Parmesan cheese over the eggs and return the pan to the oven for another 2 to 4 minutes, depending on how well you want your eggs cooked. Remove the pan from the oven, arrange the eggs on plates, and garnish with the sliced scallions.
Recipe excerpted from The Fresh Eggs Daily Cookbook by Lisa Steele (Harper Horizon, 2022).
Lead Photo: Lisa Steele, The Fresh Eggs Daily Cookbook