2023 Summer Gear Guide
The Best Travel Luggage of 2023
Eight testers tried fifteen bags. These ones came out on top.
Heading out the door? Read this article on the new Outside+ app available now on iOS devices for members! Download the app.
When it comes to planning your next big travel adventure, thinking about your luggage is probably not high on your priority list. But take it from us—a smartly designed carry-on suitcase, a rugged and waterproof duffel, or a versatile bag that can morph from duffel to backpack at the drop of a shoulder strap—can go a long way to mitigating travel woes (and let's face it, those are almost guaranteed these days). Whether you're a frequent flyer, a weekend warrior, living out of your van, or planning for a big expedition, there's something on this list just right for you.
The Winners at a Glance
Osprey Ozone 2-Wheel Carry-On
Matador Globerider Travel Backpack
North Face Base Camp Gear Box
Alpine Luddites Expedition Duffel
Eagle Creek Migrate Duffel
Backcountry All Around Duffel
Meet Our Lead Tester
Originally from the Coast of Maine, Caitlin Kelly studied creative writing and environmental studies at St. Lawrence University in Upstate New York. She has called the Adirondack Mountains home since, building community through her work with Women of the Adirondacks and The Adirondack Community Avalanche Project. She currently resides in Lake Placid, NY, and splits her time freelance writing and ski patrolling at Whiteface Mountain. In the summer she works for the New York State Department of Environmental Conservation as an Assistant Forest Ranger in the High Peaks Wilderness, conducting search and rescue efforts, educating the public, and clearing trails. Her writing has appeared in Powder Magazine, Adirondack Life Magazine, Freeskier, The Ski Journal, and Ski Magazine, among other publications. If you sit too close to her on a chairlift, you may get some glitter on you.
The Reviews: The Best Travel Luggage of 2023
Osprey Ozone 2-Wheel Carry-On 40L/21.5" ($280)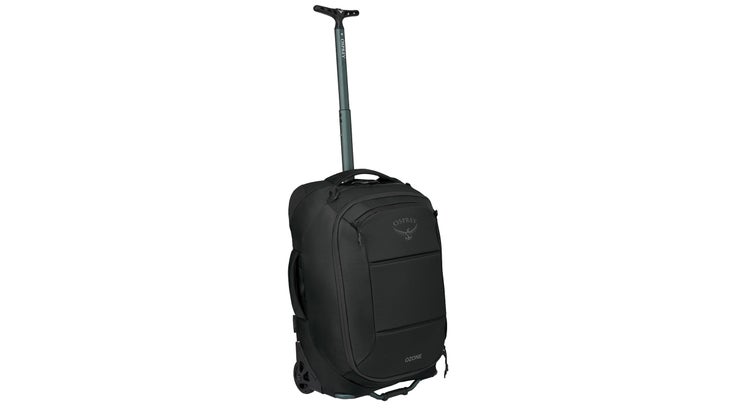 Volume: 40L
Weight: 4.5 lbs
Pros: Lightweight construction; Large wheels and high clearance
Cons: For 40L, this piece of luggage seemed to hold less than others the same size
The updated Ozone line from Osprey, featuring five pieces ranging from four-wheeled suitcases to smaller backpacks and boarding bags, was designed for frequent flyers and travelers who value ease of transport. Of those, the Ozone 2-Wheel Carry-On is perhaps the most convenient on-board option. Made from an ultralight yet durable aluminum frame and nanofly recycled nylon fabric, it offers just enough organizational capabilities to make packing for a trip a little easier. This suitcase (like all pieces in this line) also features a buttonless trolley handle and a YKK reverse coil coated zipper for improved water resistance—both industry firsts. The Ozone 2-Wheel Carry-On also has a high clearance High Road LT frame, and oversized 90mm wheels, making it rugged enough to handle terrain beyond concourse floors. One tester takeaway: Despite this bag's advertised 40-liter capacity, it didn't seem to hold as much as softer duffel-style bags of the same size. That said, the sleek design combined with the function of this bag made it an obvious choice for our testers who needed a transport-friendly yet durable carry-on.
Bottom Line: A well-designed and lightweight suitcase made by a trusted brand. Perfect as a carry-on for frequent flyers.
Matador Globerider ($350)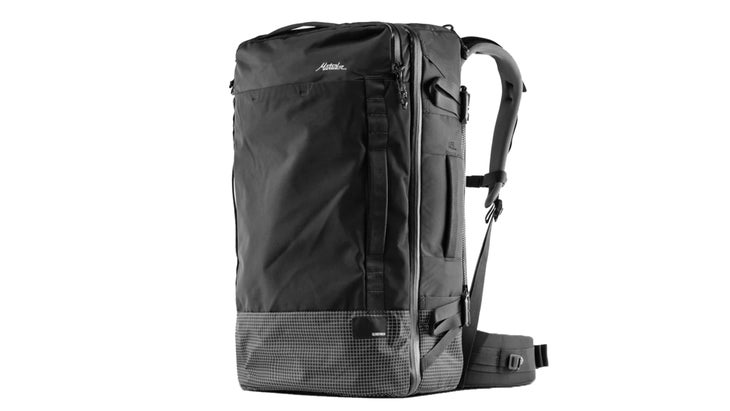 Volume: 45L
Weight: 4.5 lbs
Pros: Generous space and organizational features; Comfortable backpack carry
Cons: Because it's so durable, the pack itself is quite heavy for a backpack
The Globerider Backpack is one of those do-anything pieces of luggage, designed specifically for the true adventure traveler. It combines the ease of traveling with a backpack and the functionality of a duffel bag. From a materials perspective, it's rugged and built to last: 420-denier nylon UHMWPE (Ultra-high-molecular-weight polyethylene) reinforced ripstop meets 420-denier recycled nylon meets 100-nylon ripstop, and each of these materials features polyurethane waterproofing. As a result, the Globeride impressed testers with how indestructible it proved over miles of wear and tear that included multiple flights, baggage carousels, and transport in wet and muddy truck beds. It has a clamshell opening designed for accessibility and packability, while also offering an external access pocket for a laptop and other essentials. If we gave out awards for number of pockets, this bag would win it. Although the main compartment is larger and allows for looser organization, you'll find a place for everything else. The Globerider also has an internal aluminum frame, a stowable and padded hipbelt, and it meets most airline carry-on requirements.
Bottom Line: This is a do-it-all piece of luggage. If you're packing only one bag, this would be a good one.
The North Face Base Camp Gear Box Large ($150 for Medium, $175 for Large)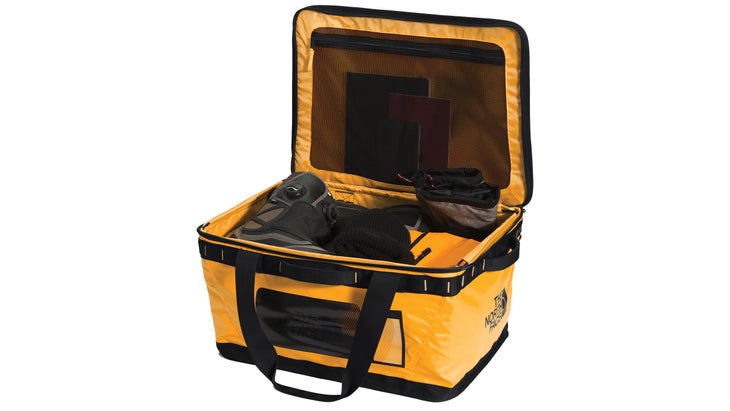 Volume: 65L (Medium), 90L (Large)
Weight: 4.2 lbs (Medium), 5.8 lbs (Large)
Pros: Lots of space and organizational options; Folds down flat for storage and when not in use
Cons: A piece of luggage that only works in specific environments (mainly cars, vans, and home storage)
The new North Face Camp Gear Box is made from the same material as the brand's durable Base Camp duffel—300-denier recycled polyester and 840-denier recycled ballistic nylon. However, unlike a traditional duffel, this hold-all is equipped with internal metal "kickstands" that fold up for rigid support and down for storage, which makes this piece of luggage ideal for the road. One tester used the 90 liter Base Camp Gear Box to schlep all of her gear to a mountain bike race and was able to fit the whole kit and caboodle: chest protector, two full face helmets, one half shell, two tires, and two pairs of bike shoes within the box itself. She stashed three pairs of sunglasses, two pairs of goggles, and other bike maintenance tools in the added internal pouches. Extra brake pads, grips, and bike tools fit snugly in the lid-zippered pockets. Even with all of that, the lid closed with ease. Plus, the outer handles on the box make it easy to transport in and out of vehicles. For someone who is on the road often, this box is a must-have for organization and travel.
Bottom Line: This should be a staple for anyone who travels out of their car often—think weekend camping trips, road trips, etc.— and a perfect storage option for those who spend time living on the road.
Alpine Luddites Expedition Duffel 135L ($485)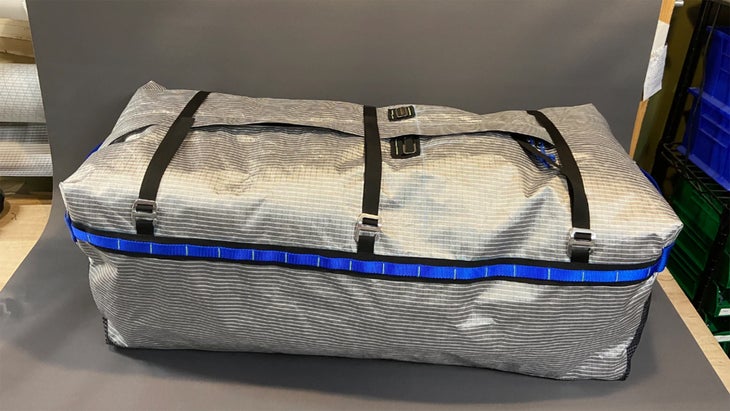 Volume: 135L
Weight: 2.6 lbs
Pros: Made by hand in Vermont; Durable fabric and well made—will last a lifetime
Cons: Pricetag. But you get what you pay for, which is an exceptionally well-made piece of luggage
While the Expedition Duffel 135L isn't new, Alpine Luddites as a company is worth knowing about. Alpine Luddites is currently a one-person show based in the Northeast Kingdom of Vermont that produces handmade bags made to order. Translation: every bag is made with your exact travel and adventure needs in mind. Though the waitlist can be as long as 28 weeks for standard items, and over a year for custom packs, these bags are worth the wait in our testers' opinions. The Expedition Duffel 135L—one of the brand's staples—is designed specifically to fit pulk-style expedition sleds, with full-length external daisy chains for strapping down the cargo. Updated this year with a double-layer bottom with Ultra 400 Challenge woven sailcloth, this bag is tough enough to withstand being tossed around and schlepped to and from base camp, making it an excellent choice for big mountain expeditions. That said, it wouldn't be out of place on more modest excursions—our testers remarked how functional it was on long weekend road trips.
Bottom Line: If you like the idea of supporting a small brand making quality gear that's designed specifically for you and your needs, Alpine Luddites' durable designs should be at the top of your list.
Eagle Creek Migrate Duffel ($119)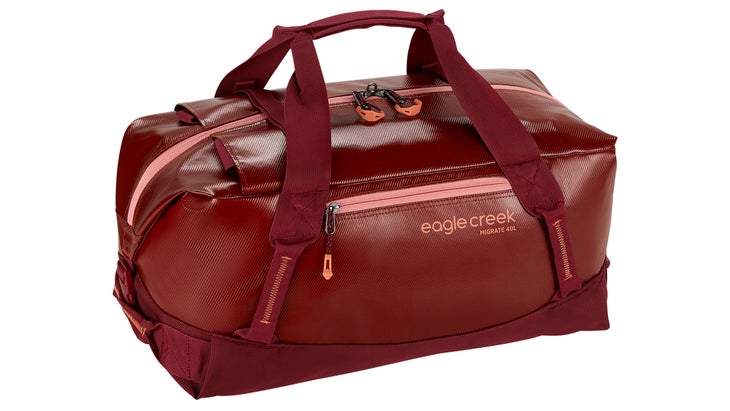 Volume: 90L
Weight: 2.9 lbs
Pros: "Doctor bag" style zip-top; 100% recycled 900D Poly TPU and 100% recycled 1680D Ballistic Poly RPVB fabric
Cons: Testers complained that while packing the bag, the top zipper had a hard time staying open and wasn't stiff enough
The latest update of the Migrate duffel was a tester favorite for its holding capacity—you can fit a lot in here. Now 100-percent recycled, the new design is even more durable with stronger, recycled fabric, and diverts waste and reuses windshield plastics from landfills to help create more sustainable products and processes. This duffel features a "doctor bag" style zip-top which allows for easier access and full visibility of contents and an additional five liters of packing space. Tuck-away backpack straps allow for multiple carry options. The functionality and added pockets—internal and the front zippered pocket—set it apart from many other duffels in this category.
Bottom Line: This is a reasonably priced, durable duffel bag that is super easy to access and see inside contents because of the "doctor bag" style.
Backcountry All Around Duffel ($139)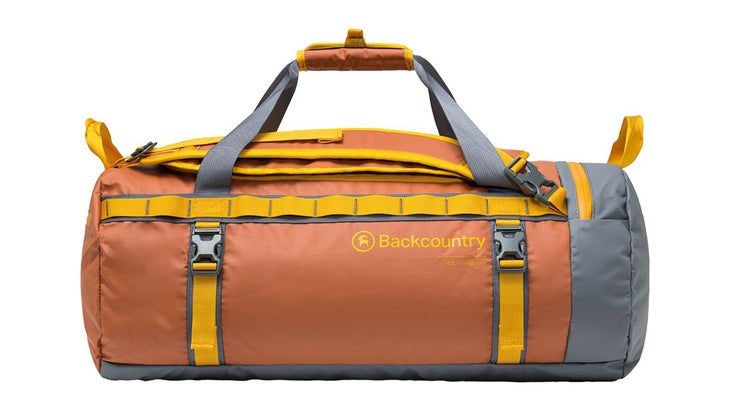 Volume: 60L
Weight: 3.3 lbs
Pros: End cap dry pocket; Pockets, pockets, pockets
Cons: Backpack straps aren't the most comfortable while carrying this bag at capacity
With updated colorways and sizing for this year, Backcountry's All Around Duffel surprised our testers. The organizational qualities of this bag far exceeded most of the other products in this category. This includes mesh pockets in the lid and even a pocket inside of the mesh pocket to keep small items safe. Perhaps the best part of this duffel is the separate compartment—a massive end-cap dry bag (or dry pocket, as Backcountry calls it) that keeps wet, dirty, and smelly items isolated from the rest of your gear. "I put three pairs of shoes and all of my dirty laundry in there, keeping them away from my clean clothes," reported one tester. She also remarked how durable and waterproof the bag stayed after sliding around in the back of her truck on a weekend road trip. Credit goes to the 500-denier polyester PVC face fabric and 210-denier nylon water resistant pockets. The removable backpack straps are comfortable and provide ease of transport when on the go, and compression straps help keep contents from shifting. A padded base provides extra cushion to protect your things from rough travel.
Bottom Line: Awesome, spacious, pocket-filled duffel perfect for air travel, road trips, and weekend getaways.
When it's time to upgrade your gear, don't let the old stuff go to waste–donate it for a good cause and divert it from the landfill. our partner, Gear Fix, will repair and resell your stuff for free! Just box up your retired items, print a free shipping label, and send them off. We'll donate 100 percent of the proceeds to The Outdoorist Oath.
Lead Photo: Daniel Holz/Tandem