2023 Summer Gear Guide
The Best Knives and Tools of 2023
15 testers tried 17 blades. These ones are a cut above.
Heading out the door? Read this article on the new Outside+ app available now on iOS devices for members! Download the app.
There's a lot more to knives than a sharp edge and a long blade. Our testers waded through a sea of stainless steel and gimmicky folding contraptions to find the very best tools for cutting, splitting, wilderness repairs, and more.
The Winners at a Glance
Best Folding Knife: Emerson June Bug
Best Multitool: Gerber Dual-Force
Child-friendly Knife: Morakniv Scout 39 Safe
Lightest: James Brand Redstone
How We Test
Number of Testers: 15
Number of Products Tested: 17
Miles Logged While Testing: 1,300 miles
Most Unique Uses: Carved and whittled perfect chopsticks for meal time; husked opened a coconut to drink from.
Most Remote Test Region: American Samoa
From Sweden to American Samoa, our 15 testers put 17 products to the test. Between car camping, backpacking, fishing, and hunting, the knives and tools whittled, spliced, and diced until the task was done and the blades were dull. We looked at things like durability, ergonomics, weight, sharpness, functionality, edge retention, and aesthetic in choosing this year's winners.
Meet Our Category Manager
Justin La Vigne has worked in the outdoor industry for over twenty years and as Backpacker's knives and tools category manager for six years. Living just outside of Denali National Park and Preserve in Alaska, he prides himself on the nontraditional work schedule. When not writing, he is a professional backcountry guide, taking people hiking and backpacking all over Alaska, and has personally logged 6,000-plus trail miles, including thru hikes of the Appalachian Trail and New Zealand's Te Araroa.
Meet Our Lead Tester
California-based Dan Markey has been one of the lead testers for the knives and tools category for over five years. As a former NPS backcountry law enforcement ranger in Yellowstone and Cuyahoga Valley and an Appalachian Trail thru-hiker, he knows what gear works in what conditions and why. He currently works for FEMA as an emergency management specialist traveling all over the world. He loves hunting and fishing, and is a Scoutmaster with the Boy Scouts of America.
The Reviews: The Best Knives and Multitools of 2023
Best Folding Knife: Emerson June Bug ($220)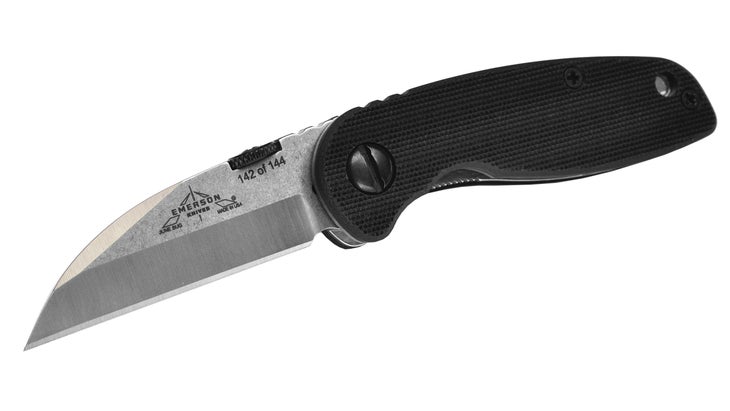 Weight: 2.5 oz.
Pros: U.S.-made, lightweight, deep pocket clip
Cons: Steep price, low availability, no serrated blade
The Emerson June Bug performs way above its weight class in terms of blade size and sturdiness. One tester called the June Bug "battle-ready," and was blown away that a knife of this size could deliver such results. Fully extended, the June Bug measures 5.5 inches long and easily fits into the palm of a hand when folded. The Wharncliffe-style stainless steel blade is only 2.3 inches long, but very thick and incredibly sturdy. One tester praised its ability to cut through various thick cords, ropes, and tie-downs that were holding his kayak to his roof after they proved too stubborn to untie. The fiberglass laminate grip has a rough surface that makes it easy to handle, even with sweaty hands or in the rain. It has a deep pocket clip, a lanyard hole, and round thumb button for easy one-handed opening. One tester summed up the June Bug in a nutshell: "Sometimes you want the utility of a slightly larger knife in the body of a small pocket knife."
Bottom Line: This diminutive folding knife is a dream for rope-cutting and wood-whittling when space and weight are limitations.
Best Multitool: Gerber Dual-Force ($110)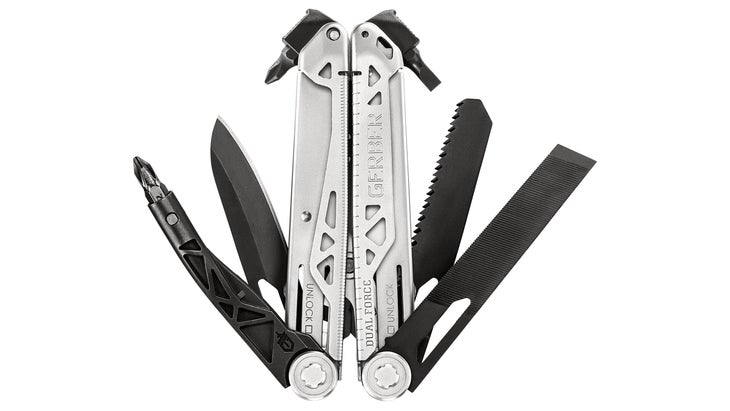 Weight: 12 oz.
Pros: 12 tools, hefty construction, top-notch pliers and screwdriver
Cons: No scissors, heavy, knife doesn't hold its edge particularly well
Most multitools boast pliers and drivers, but they rarely perform like those specific tools. The Dual-Force is the exception. A hefty set of pliers has a two-position slip lock jaw and larger teeth, plus the grip is narrower than other multitools, which gave us better purchase when applying force. The 3.25-inch center-axis driver also benefits from that great grip, allowing us to crank while securing hardware. Our Virginia-based REI Adventure guide praised the beefy tool after using the pliers to fix gas lines on a stove and the screwdriver on his always-loose camp kitchen table. While the generous set of twelve tools includes items like wire cutters, a saw, and a chisel, one tester found himself wishing it included a pair of scissors. Another ding? At 12 ounces, it's not exactly lightweight.
Bottom Line: A multi-purpose implement with tools that are as solid as the real thing.
Best for Children: Morakniv Scout 39 Safe ($50)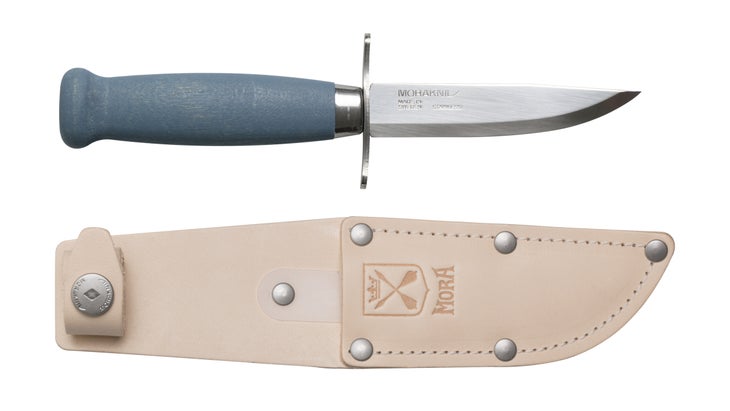 Weight: 2.66 oz.
Pros: Double finger guard, full tang, leather sheath included
Cons: Not for large-handed people, rounded tip
Our California-based Scoutmaster praised the Morakniv Scout 39 Safe after using it to teach his pack of teenaged students about knife safety. His own 12-year-old daughter prepared brook trout with the knife in the Emigrant Wilderness, easily gutting and cleaning the fish. The double finger guard was key for protecting wet and slimy fingers, preventing slippage along the blade. Even though the rounded tip (an important safety feature) is less effective than a typical blade, the thick tang extends throughout the birch wood handle, which provides better strength and stability when performing tasks. The 3.4 inches of blade handled many Scout duties, from food prep to making kindling. As a plus for fashion-conscious teens, the handle comes in three hues, while a handsome tanned leather sheath easily attaches to a belt loop.
Bottom Line: A stylish and safe choice for first-time knife-owners.
Best for Weight Savings: James Brand Redstone ($99)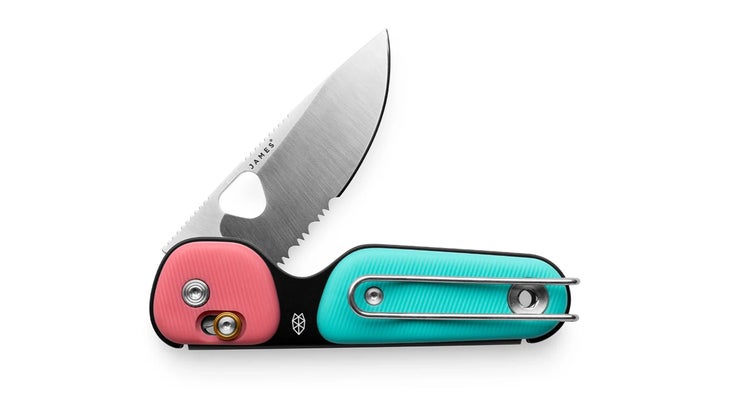 Weight: 1.8 oz.
Pros: Lightweight, lots of color choices, plain edge or serrated options
Cons: Minimal wire pocket clip, a bit hard to open and close one-handed
When seasoned tester Dan Markey first saw this knife, he was skeptical about the design of the grip, which comes in nine different colors and features four raised plastic "islands" along a die-stamped metal handle. It took time to get used to, but Markey ultimately learned to love its slip-preventing design. Despite its scant 1.8-ounce weight and 2.5-inch-long stainless steel blade, this colorful tool helped quarter and debone a cow elk when another tester's go-to fixed blade was too dull. In American Samoa, Markey stabbed, jabbed, and pried open a coconut to get to the juice without breaking the tip or bending the blade. The bent wire pocket clip helps cut down on weight and doesn't compromise security—although testers questioned its long-term durability. The ambidextrous slide lock is incredibly secure, and helps with one-handed use, but our tester noted that the closing mechanism isn't the smoothest.
Bottom Line: A featherweight option with a strong blade and secure, one-handed use.
How to Buy a Knife
Knife Type
Folding: A knife that can fold into its handle and lock into place when deployed. It is commonly referred to as a pocket knife and often comes with a clip for strapping to a belt or pack.
Fixed: This blade extends into or through the handle and typically has one sharp side and one smooth side. They are typically longer and heavier than a folding knife.
Multitool: This combines many different tools in one device, including a knife, scissors, file, pliers, bottle opener, and more.
Blade Material
Stainless Steel: Chromium is the magic element that gives this iron-carbon alloy its rust- and corrosion-resistance. Stainless tends to be a softer metal than carbon steel, which means it loses its edge faster. It's not as brittle, however, and is more resistant to chipping.
Carbon Steel: Carbon steel is made of iron and carbon, just like stainless, but doesn't have the added element of chromium, and can therefore rust and chip. The plus side? It maintains an edge longer and is easier to sharpen. It's typically lighter and more expensive than stainless steel, too.
When it's time to upgrade your gear, don't let the old stuff go to waste–donate it for a good cause and divert it from the landfill. our partner, Gear Fix, will repair and resell your stuff for free! Just box up your retired items, print a free shipping label, and send them off. We'll donate 100 percent of the proceeds to The Outdoorist Oath.
Lead Photo: AleksandarGeorgiev/Getty