2023 Summer Gear Guide
The Best New Sport Earbuds, Headphones, and Speakers of 2023
We tested 32 new products to find the best audio quality for every listener and budget
Heading out the door? Read this article on the new Outside+ app available now on iOS devices for members! Download the app.
As chip technology advances, Bluetooth earbuds sound better every year while also shrinking in size. If you wear them for working out, you know that if they get any smaller, we'll no longer stand a chance of finding them if one should pop out on the trail. Whether you're a podcast devotee on your evening strolls, a metalhead carving turns off-piste, or a runner who knows that the right blood-pumping track can mean squeezing out an extra mile, we've narrowed down an impressive field to determine the best overall earbuds—and the best for your price range. Plus, read on to find our picks for the best travel headphones and the best portable Bluetooth speaker.
The Winners At a Glance
Best All-Around: Apple AirPods Pro 2
Best for Audiophiles: Beyerdynamic Free Byrd
Best for Daily Use: Sennheiser Sport True Wireless
Best for a Budget: Skullcandy Transparency Series Jib True 2
Best Travel Speaker: Marshall Emberton II
Best Travel Headphones: Sony WH-1000XM5
How We Test
Number of Testers: 4
Number of Earbuds/Headphones/Speakers Tested: 32
Number of Miles Run During Testing: 386
Number of Miles Cycled: 78
HIIT Workouts: 37
Yoga Sessions: 15
Hours of Podcasts Consumed During Holiday Travel: 38
Coldest Temp: 19 degrees, Santa Fe, New Mexico
Warmest Temp: 93 degrees, Tucson, Arizona
Tracks Played: We lost count—thousands
Most Listened-To Recordings: Fontaines D.C., Skinty Fia; The 1975, Being Funny in a Foreign Language; DJ Python, Mas Amable; The Who, Quadrophenia
The first thing we do with any earbuds, headphones, or speaker is attempt to connect them with our phones without consulting the user manual: the quicker, more intuitive, and easier the Bluetooth setup, the more points scored. Then we put them through hours of testing doing the kinds of workouts Outside readers do—in the sun, sweating hard at the gym, even in the rain when possible (the weather is too nice in the Southwest, but our Portland tester stepped up). Some of us sat in deep concentration late into the night, playing Mingus Ah Um on lossless Ultradisc One-Step.
Since the durability of these devices tends to run very high these days, what separated the winners from the rest was how damn good they sounded. And even that wasn't easy: There were some very worthy earbuds that we didn't have room to include. Some lost points because they didn't play quite as loud as we liked when out in a driving wind. The ones left standing were the models that got the best overall scores from the four-member test team.
Meet Our Lead Tester
Will Palmer has been a runner nonstop since high school in the mid-eighties, and has used music for motivation on runs since he owned his first Walkman in 1990. (On heavy rotation then: U2's Joshua Tree.) Since then he's enjoyed the progression from a handheld Walkman to a hip-mounted one to a Discman (in the "Born Slippy" era) to a 40-track-capacity mp3 player, through generations of iPods to a Garminfone to an iPhone—and all the way up to the liberating moment in 2015 when Bluetooth freed him from the tyranny of wires that tangle and snag on one's arms (remember that?). The former Outside managing editor has tested gear for the magazine since 2004.
The Reviews: The Best New Sport Earbuds, Headphones, and Speakers of 2023
Best All-Around: Apple AirPods Pro 2 ($250)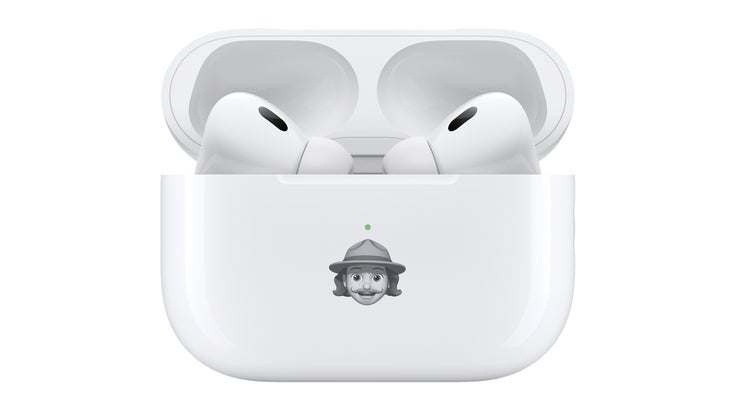 We wrung our hands over featuring a product the whole world already knew about, but as one tester said, "exceptional is exceptional." Apple pulled out all the stops for the second iteration of the AirPods Pro. With a loud and clear sound profile, the sweat- and splash-resistant AirPods Pro 2 are superb whether you're on a conference call, running in a rainstorm, or anything in between. These pods (like Sony's XM5 headphones, reviewed below) were best in their class for active noise cancellation (ANC): They use strategically placed microphones to detect incoming sounds and a new H2 chip that Apple says doubles noise reduction. The earbuds automatically boost the bass when you play at lower volumes. They play for six hours on a single charge with ANC enabled, and the spiffy, compact, wireless charging case gives you 24 more hours of use. Android users may be less enamored than iPhone owners—one did have occasional connectivity issues, but still ranked them near the top.
One example of the attention to detail: In-ear detection is getting more popular, but it's rare to find an earbud or headphone that can read the difference between your ears and, say, the wooden coffee table you set the device down on. Apple actually programmed the new AirPods to know when it's touching human skin—and they were the only ones in the test that pulled it off perfectly. A small thing, but leave it to Apple.
Best for Audiophiles: Beyerdynamic Free Byrd ($199)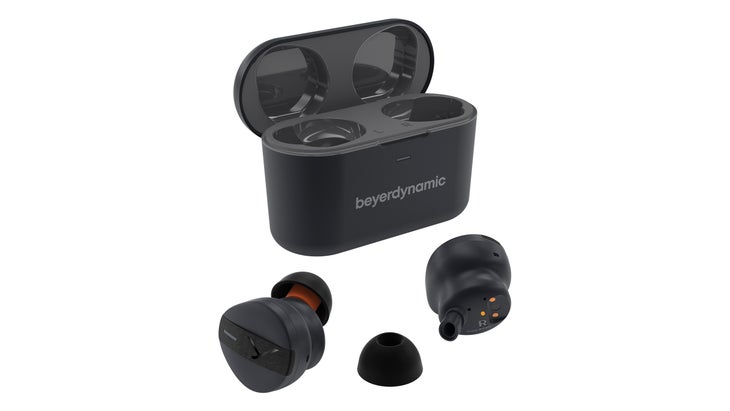 "Wider soundstage than should be possible in an earbud," enthused one tester, who named the Free Byrds "best wireless earbuds I've ever tested." Other testers wholeheartedly agreed. In addition to five sizes of rubber eartips, they come with three sizes of foam tips, which not only give a more snug fit but do a decent job of noise isolation without a lick of expensive R&D. Still, tech is one thing Beyerdynamic knows: The Free Byrds also have ANC (which the foam tips make even better), and they boast Bluetooth 5.2, built-in Alexa and Siri, Google Fast Pair, and Qualcomm's aptX adaptive sound transfer technology. Speech recognition is excellent thanks to a trio of mics. The batteries last for a very impressive 11 hours, and they can be recharged on a Qi pad. The earbuds have a bit of a chunky feel, and one tester balked at the touch controls, which detracted from their user experience—but given how even and lively they sound, their top-tier engineering, and their IPX4 water and sweat resistance, these are a splurge worth making.
Best for Daily Use: Sennheiser Sport True Wireless ($150)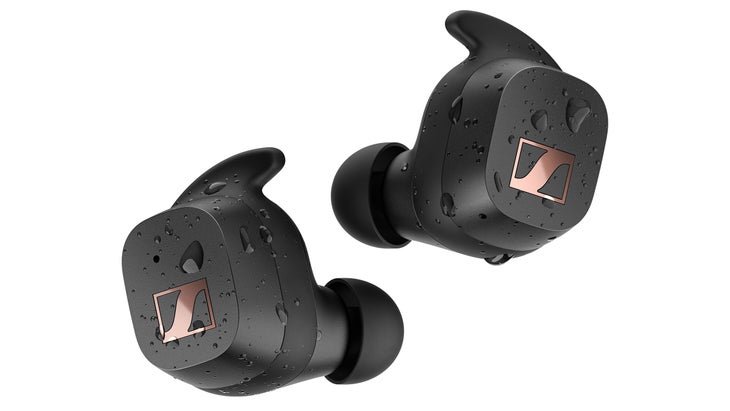 It should come as no surprise that a legacy brand like Sennheiser would dial in the tech in all its earbud offerings. But comparison shoppers also need to take cost as an indicator here: the Sport True Wireless comes in at almost half the price of the brand's slightly better-sounding $280 True Wireless 3. It's a sport model because the sound profile doesn't offer the same broadness or richness as pricier earbuds, but it will rock loudly and clearly when you want to get your heart pumping on the trail. For that purpose, it is one of the best we tested this year. While some reviewers complained that they were too bulky and uncomfortable for prolonged use, they also stayed in place surprisingly well. A clever feature is the dual setup for different types of workouts—"Focus" and "Aware"—using different eartips and different sound settings on the app (think of it as a semi-analog take on noise cancellation). The Sport TWs have an IP54 rating for "dust, splash, and sweat resistance," and build quality is impressive. They offer nine hours of playtime, plus 18 more in the case, and if you forgot to plug them in overnight, a 10-minute charge buys you an hour of listening.
Sponsor Content
H2O Audio TRI Multi-Sport Headphones ($99.99)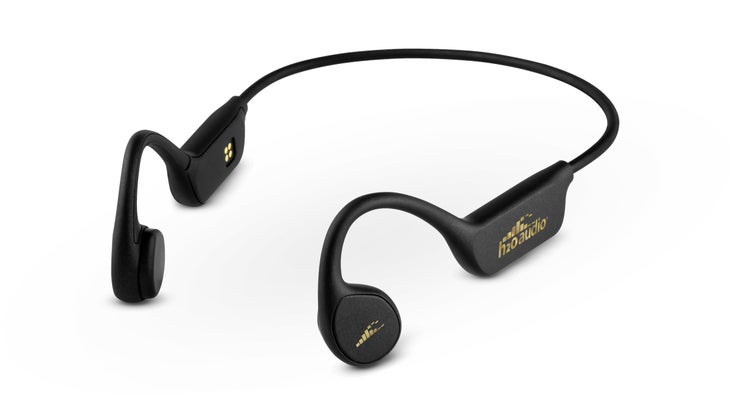 Swim, bike, and run while listening to your favorite music or podcasts through waterproof bone conduction headphones. Designed by athletes for athletes, the TRI Multi-Sport Headphones from H2O Audio have Bluetooth connection and an MP3 Player with a long battery life. You can also listen to Spotify offline with the PRO Series PLAYLIST+. The open ear design keeps you connected with your surroundings and delivers an amazing underwater sound.
Best for a Budget: Skullcandy Transparency Series Jib True 2 ($40)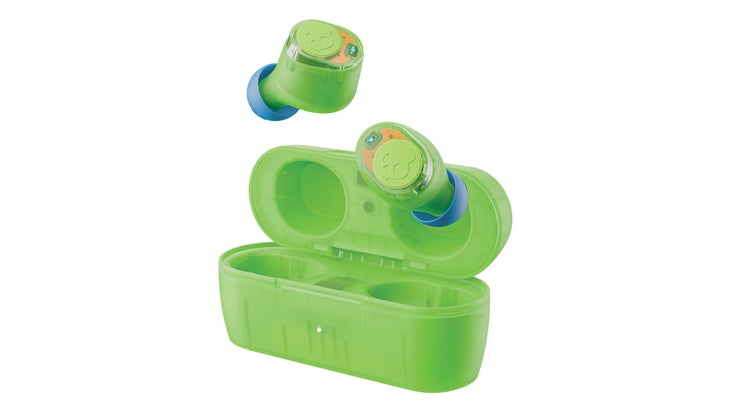 The latest from Skullcandy owned the "best value" tag in this year's testing. While other worthy brands sell for well under $100, the Jib True 2 plunges right down to the price range of a lunch out for two, making it a no-brainer for those who are prone to losing their buds. For that price, the sound must really be compromised, though, right? 'Fraid not, big spenders: The Jib True 2 is not a top-end device by any means, but for bread-and-butter daily listening, they sounded surprisingly clear. "I think the word 'standard' sums up these buds the best—and I mean that in a good way," said one reviewer, who was sick of other brands' touch controls and their tendency to skip songs by accident. The Jib can handle some sweat with its IPX4-rated water resistance. It lasts nine hours on a charge, and gets 24 more hours from the charging case. They're also compatible with Tile, so a quick search from your phone can locate them under the sofa cushion. One ding: After you pop them back in the case and shut it, the buds don't always disconnect from your phone, which can be annoying when a call comes in and you realize you're not hearing the person on the other end. Also, what's with the late-nineties green color scheme, and the name? We can't explain the color choice, but Skullcandy says they called these the Transparency series because you can see their innards and also as a way to acknowledge that our love of gadgets and devices impacts the planet. To offset that as best they can, Skullcandy has an admirable upcycling/recycling program and will take 30 percent off your next purchase if you send your old ones back instead of tossing them.
Best Travel Speaker: Marshall Emberton II ($170)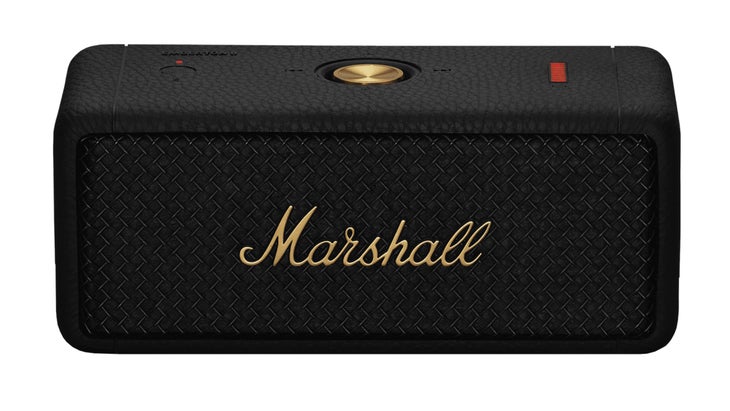 Marshall's Emberton II takes the small-form-factor Bluetooth speaker to another level. New "True Stereophonic" multidirectional technology gives a convincing sense of stereo that's potent and clear from every direction. It has strong bass and crisp high notes that come through at both low volumes and high, without breaking up as you crank it. Like the guitar amps that inspired the design, one Emberton II can be "stacked" with another to expand the soundstage and bring more oomph to your pool party. Worried about your toddler tossing it into the hot tub? Don't be. The speaker is IP67 waterproof, so it can spend 30 minutes under a meter of water and keep on rocking. Plus, the 6.3-inch-long, 1.5-pound speaker is made from steel and silicone (as well as post-consumer recycled plastic), making it tougher than its competitors. Heavy users will also appreciate the 30-hour battery life (a 10-hour improvement on the first Emberton) as well as the four hours of playtime available with a 20-minute charge. Finally, the Marshall app is more than the usual minor add-on. Said one tester: "This is one of the only audio products I've ever tested where a random preset in the app actually made a noticeable improvement in the sound signature. Way to go, Marshall!"
Best Travel Headphones: Sony WH-1000XM5 ($400)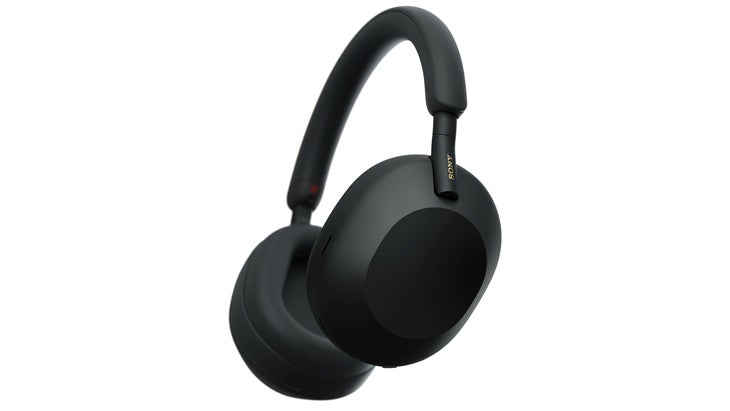 These may not look exceptional from the outside, but slide your head into the soft synthetic-leather earcups and we promise you won't want to take them off. The XM5 over-ear headphones stand shoulder to shoulder with the best home/travel models for sound quality, thanks to a new carbon-fiber driver, and their comfort and light weight made them our go-to for long hours of immersive listening. "Immersive" is not just a construct here: These Sonys are engineered with some of the best ANC on the market, creating a lush sound cave that a screeching ambulance would be hard put to shatter. Eight separate mics capture sound and employ algorithms that make real-time adjustments and keep your listening experience pure—they even detect and account for atmospheric pressure. A simple palm touch lets you pause noise canceling so you can hear your barista. The XM5s are, in fact, loaded with technology: They have superior on/off-ear detection, pausing when you pull one earcup off; they can pair with two devices at once, so you can go from laptop to incoming call without blinking; call quality is exceptional (even in wind), thanks to four beamforming microphones; and the list goes on. Sound hounds can use LDAC connectivity for better-than-Bluetooth lossless audio quality (Android only). "A worthy successor to the lock Beats and Bose have had on all-rounder ANC headphones for home, travel, and leisure," said one reviewer. The XM5s go for up to 30 hours on a charge, and a mere three minutes of plug-in time yields three hours of battery life. One mark against them: They are not water-resistant, and while the smooth ABS recycled plastic build brings sturdiness along with low weight, they aren't crushproof—if you take them on the road, bring the case. But do take them on the road, and use the downtime to sink into soundscapes you've never heard before. The outside world can wait.
How to Buy Earbuds
Earbuds are more like shoes than most categories: so much depends on the right fit. What comfortably suits one person's ears may not comfortably suit another's, and there's more to it than shape and size. The internal anatomy of the ear makes certain designs actually sound better to one person than the next. If you can't try them out at a store or borrow them from a friend, it may be best to buy them from a retailer with a good return policy. Once you have them in hand, do some real-world tests with the different tip sizes, and trade them in if you aren't in love.
If you want to get serious about the perfect fit, consider aftermarket foam eartips, like these from Comply. They provide passive noise isolation, and for those who are partial to them, going without can be like pumping standard-octane fuel into a performance-oriented vehicle. (Props to Beyerdynamic for including foam tips with the model featured here.) Should fit issues persist, consider a model with behind-the-ear hooks, like the $50 ThudBuds from Scosche or the Freedom Wireless from Dóttir (a women-owned company).
Also give some thought to which features do it for you: Some people like sleek touch controls, others prefer old-school push buttons; some like to tap for quick pausing, others are content to forgo that feature and pull out one bud to ask for directions, so as to avoid the annoyance of unwanted pauses when all you wanted to do was adjust the fit. And finally, if you live in a rainy climate, be sure to choose ones with an IP rating ending in 4 or higher (as all the models here do).
When it's time to upgrade your gear, don't let the old stuff go to waste–donate it for a good cause and divert it from the landfill. our partner, Gear Fix, will repair and resell your stuff for free! Just box up your retired items, print a free shipping label, and send them off. We'll donate 100 percent of the proceeds to The Outdoorist Oath.
Lead Photo: Diego Martin/Stocksy