2023 Summer Gear Guide
The Best Dog Gear of 2023
Seven test dogs tried 42 pieces of gear. These ones came out on top.
Heading out the door? Read this article on the new Outside+ app available now on iOS devices for members! Download the app.
It's very possible that there's more gear made for our dogs than for our own human children. To find the very best, we recruited seven sweet canines and their owners to test all manner of doggie products over three months. Testers went on dozens of neighborhood walks, hikes, trail runs, and backpacking trips from the Eastern Sierra to western Maine, with pups ranging from a bread-loaf-sized pug mix to a 100-plus pound Great Pyrenees. Only the gear that our tester-owners— and their dogs—couldn't stop using made the cut.
The Winners at a Glance
Atlas Pet Company Lifetime Harness
Ruffwear Trail Runner Dog Running Vest
White Duck Outdoors Dog Bed
Wilderdog Backpack
Wilderdog Sleeping Bag
Bandits Bandana
OllyDog Flyer Disc
How We Test
Number of Canine Testers: 7
Ages of Dogs: 1 to 5 years
Number of Breeds Represented: 11
Number of Products Tested: 42
Miles Hiked: 156
Lakes Splashed In: 6
Poop Breaks Taken: 548
Treats Given: Unquantifiable
Our fearless testers took their dog gear from the White Mountains in New Hampshire to the Eastern Sierras in California to see which canine accessories could keep up with their energetic pups. On neighborhood walks, backpacking trips, trail runs, and beach-bumming days, the dogs gave leashes their fiercest tugs and toys their biggest chomps. The testers rated each product based on durability, functionality, ease of use, innovation, and all-important Dog Points (was Fido weirdly into it?).
Meet Our Lead Testers
Erin Berger
Erin Berger is a writer and contributing editor at Outside magazine. She lives in Seattle, Washington, with her partner and an Australian cattle dog-Chihuahua-pug mix named Henry who looks like the dog a child would draw if you asked them to draw a dog. Henry has an esteemed history of testing for Outside Gear Guides and most loves doing zoomies at the park or splashing in backcountry streams. @erineberger
Emma Goodstein
Emma Goodstein lives in Santa Fe, New Mexico, with Indiana, a 110-pound Great Pyrenees. Emma met Indiana at the local shelter when she was two years old. She probably used to be a livestock guardian, because she settled right into her new job of guarding Emma's two cats, which she takes very seriously. In her free time, she loves to chew extra large bones and go to the dog park, although she is always more interested in meeting the other humans there than the other dogs. ​​@emma_m_g__
Alice Li
Alice Li is a storyteller, forest frolicker, and unapologetic dog mom. She lives in Oakland with her partner and her mischievous dog, Roki, where they spend most of their time hiking and finding the best Bay Area burritos. You can follow her adventures at @byaliceli
The Reviews
Atlas Pet Company Lifetime Harness ($84)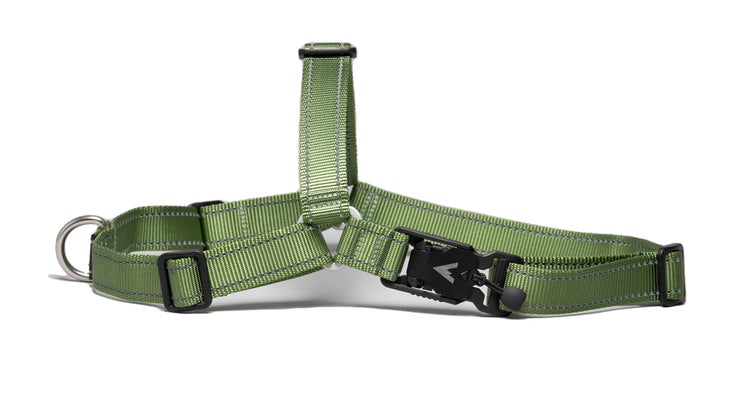 Sizes: Small, medium, large (fit dogs 15 to 130 lbs.)
Pros: Minimalist, tough, and super quick to fasten to a wriggling dog on the way out the door.
Cons: For super-furry dogs, hair can collect on the nylon webbing, and the harness doesn't always sit center.
Atlas Pet Company's simple, durable harness had a grip on every single tester. (Their dogs, who would rather have been cruising leashless, thought it was just OK.) With its tough magnetic buckle and newly extended range of reflective colors, the Lifetime Harness pulled the most praise for its tug-discouraging design that loops around the torso and over the chest. "It was super easy to use, and looks great, too," said one tester, noting that the lightweight, minimalist design saved her thick-coated dog from overheating (and cut down on uncomfortable rubbing points) on long hikes. Testers liked that the sturdy nylon webbing was supple right out of the box and, combined with the ability to adjust all four straps on the harness, moved right along with their dog.
Bottom Line: For a design this simple, the Atlas Lifetime Harness appeals to the whole spectrum of canine walking styles—tuggers, long-haulers, and those with aesthetically-inclined humans will all be pleased.
Ruffwear Trail Runner Dog Running Vest ($110)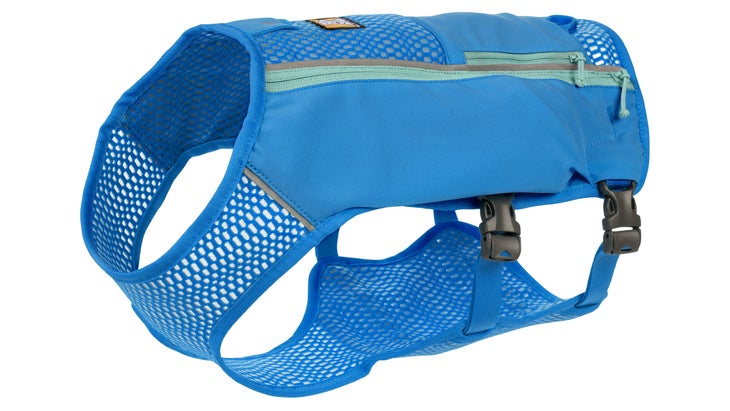 Sizes: XS, S, M, L/XL (Fits dogs with chest girth from 22 to 42 in.)
Pros: Adds just enough control in a lightweight design that keeps both humans and dogs from fussing mid-stride.
Cons: Testers with less chill pups wished for a front leash connection for extra control.
Ruffwear's new canine vest, with room for two included 500 milliliter water flasks (360 milliliters in the XS size) and a collapsible bowl (not included), saved human testers from carrying extra weight and made their dogs look like furry Leadville competitors. Those with less experienced pups praised the vest's secure, super-adjustable fit, which provided much-needed control when Fido spotted a bunny on one jaunt. (We do wish it also had a top handle for lifting our dogs in emergencies.) Breathable fabric kept dogs cool on hot days, and a loop to attach a light offered security for post-sunset runs. Neon colors are a bonus safety feature for those who like to take their jogs to the sidewalk, though testers who did more trail running would've liked more color options. The complete Trail Runner system—sold separately—includes a stretchy leash and pared-down belt for humans, with space for a water flask, keys, and phone. "Super comfy and functional," one regular trail runner said. "A really excellent design."
Bottom Line: Everything you need and nothing you don't: a vest that holds dogs' hydration needs, a belt that holds human essentials, and a just-long-enough leash to tie 'em together.
White Duck Outdoors Dog Bed ($110)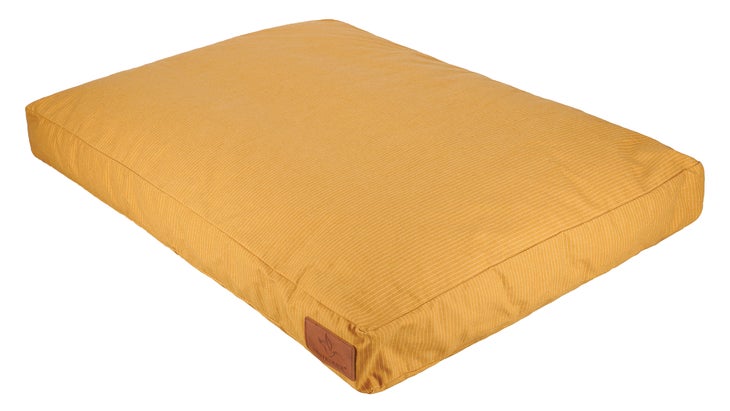 Sizes: Large (36" x 27" x 4") and extra large (40" x 28" x 4")
Pros: Roomy, sturdy, and seemingly straightforward, but our dogs were obsessed.
Cons: The two available sizes are way too big for really small dogs.
There was something about this humble bed that acted as a doggie tranquilizer. "My dog has never been a big bed user, but as soon as this arrived, she curled up and took a nap," said one Washington-based tester. Maybe it was the cushiness that also offered a little give—courtesy of a polyester fiberfill that repurposes plastic bottles—for dogs who like to burrow. Dogs seemed to like the supportive cotton/polyester blend fabric, while humans appreciated the removable cover with its water-repellent coating for its grime- and claw-resistance. "One of the better beds for outdoor use," another tester reported. It kept even our testers' most bed-averse dog happily snoozing for a ten-hour road trip.
Bottom Line: The secret to a perfect dog bed is simplicity: a big, soft place to snooze that doesn't mind a little (or a lot of) dirt.
Wilderdog Backpack ($69)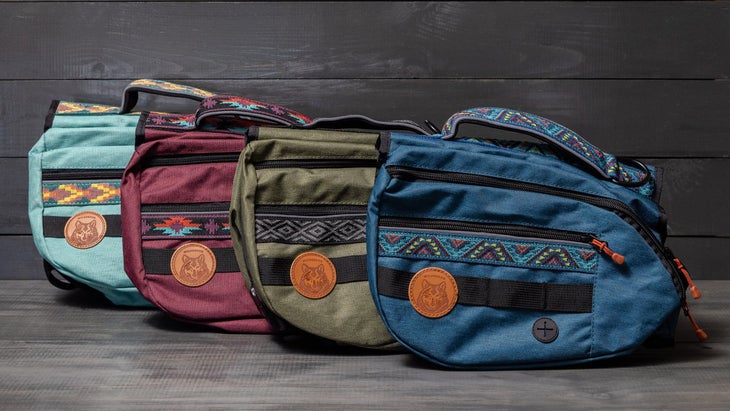 Sizes: Small, medium, and large (Fits dogs with chest girth from 17-34 in.)
Pros: Unbearably cute, roomy, and accommodates dogs of many sizes—even a Great Pyrenees.
Cons: Like any backpacking-ready bag, your dog may need some time to get used to it before hitting the trail.
Testers were jealous when their pals donned Wilderdog's jewel-toned backpack, made of water-resistant cotton-poly fabric in four shades. "It's so pretty. The design and aesthetics are top-notch," a New Mexico-based tester said. It's got all the bells and whistles of a top-tier pack: velcro tabs to keep straps from dangling, a handle on top for emergency lifting, aesthetically pleasing patterned accents, and a poop bag dispenser. "It's even nicer than ours!" another tester marveled. But it's what's on the inside that impressed us the most: seemingly bottomless space. Testers managed to stuff all their pooches' backcountry needs within: kibble, treats, collapsible bowls, several water bottles, and layers for chilly nights. Despite its size, testers reported no slippage or awkwardness thanks to four easy-to-dial-in adjustment points.
Bottom Line: Instagram-friendly looks meet thoughtful backcountry touches in a bag that's big enough for dogs to heft their own gear without realizing they're doing it.
Wilderdog Sleeping Bag ($59)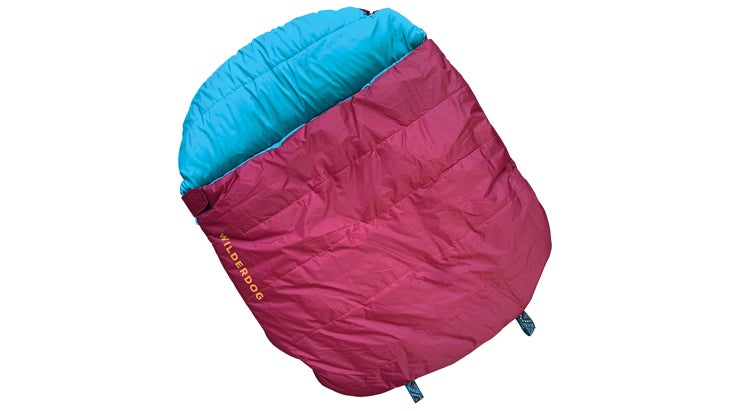 Size: One size, 36" x 28" when zipped shut
Pros: Lighter, warmer, and less pricey than competitors—plus, stands up to even the stinkiest of sleepers.
Cons: Just one size. Large dogs can lie on top for a nice campground pad, but won't fit snugly inside.
We would do anything for our dogs, but we simply refuse to share a sleeping bag with them after they've spent a long day hiking, crossing creeks, and rolling in suspicious substances. But testers were pretty sure their pals didn't mind snoozing solo when they rolled out Wilderdog's bag. This cocoon is stuffed with synthetic fill to a pleasingly chunky thickness, and with a cozy, quick-drying cotton lining, our California-based tester confirmed her dog was "snug as a bug" within. Its hefty water-resistant polyester outer makes it a no-brainer to lay out as a campsite resting pad too. (Our Great Pyrenees tester was too big to get inside, but happily lied on top: "She loves having a designated spot to sleep.") At 1 pound 13 ounces, it's certainly not for ultralight hikers, but it's lighter than other brands' more expensive offerings and rolls down to the size of a large loaf of bread in its included stuff sack. For the peace of mind that our dogs weren't shivering all night in alpine environments, we found it more than worth any extra pack space.
Bottom Line: A versatile bag that doesn't skimp on coziness but won't make you regret packing a sleeping bag for your friend.
Bandits Bandanas Lil' Bandits Bandana ($20)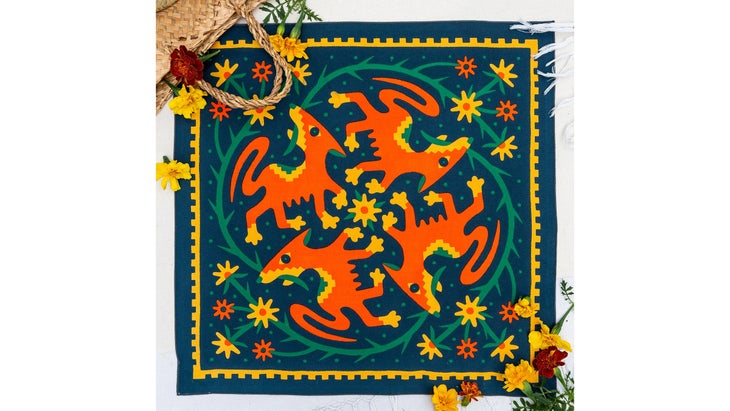 Sizes: 14" x 14" (if you have a big dog, or want to snag one for yourself, go with the regular size: 21" x 21")
Pros: You've seen a dog wearing a bandana, right?
Cons: You'll have to ask your dog if she likes wearing the bandana.
Fitting our lil' buddies with a smart bandana is one of the simple joys of life. Bandits Bandanas' new dog- and kid-sized line levels it up. The company got their start in 2018 with adult-sized bandanas, all of which feature original designs by artists on 100-percent organic cotton, with 10-percent of proceeds going to the designer's charity of choice. The brand's bandanas sized for smaller necks come in four new prints, like the sweet dusky pink floral "Life in Flight" by illustrator Daren Thomas supporting the Ojai Valley Land Conservancy, or the orange coyotes on "Endless Bloom" by artist Lauren Dickens supporting the Lilith Fund. Our Nevada-based tester put it succinctly: "So stinkin' cute, even when it stunk 'cause she rolled in something gross!"
Bottom Line: A piece of washable art for your pal that will keep him looking fresh.
OllyDog Flyer Disc ($17)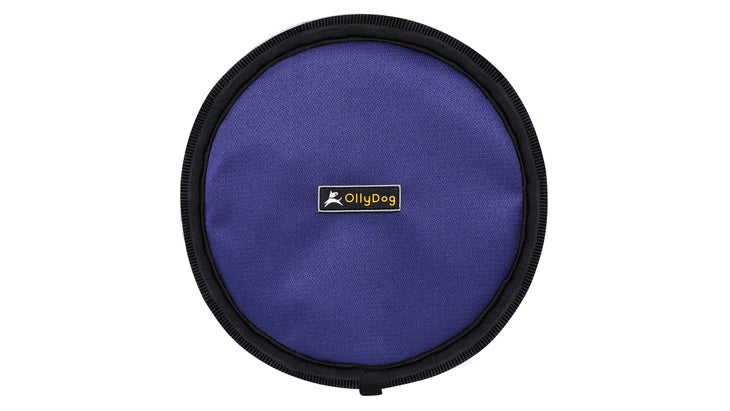 Sizes: One size, 8.25" diameter
Pros: Packable without sacrificing a satisfying glide—and sturdy to boot.
Cons: Your dog might want about 50 of them.
Dogs love a classic frisbee for a reason: it catches some sick air so they can live out their Air Bud fantasies. But the discs' rigid materials aren't very packable and can be hard on dogs' teeth over time. Softer discs are usually weaker fliers, but not so for the OllyDog Flyer Disc, our testers reported. The lightweight and packable circle comes in 11 colors and is easier on the gums after repeated chomps and games of tug-of-war. Constructed of repurposed plastic bottles, it floats on water for dogs who like to do a good lake leap. And it may be soft, but it's durable: "It's holding up impressively considering the abuse it gets," says one tester. Two New Mexico-based testers said it "flew very well" and let our dogs "leap high in the air." Just like Air Bud would have wanted.
Bottom Line: High leapers will love catching it again (and again, and again) but won't be able to wear it down.
How to Buy Dog Gear
Before you go on a dog gear spree, grab a tape measure and jot down these key numbers for your pal: weight, length from neck to the base of the tail, neck circumference so you can still insert two fingers' width under the tape, and circumference of the widest part of the chest. Sizing varies widely among canine brands so you'll always want to vet your choices alongside actual measurements.
A lot of the rest is highly individualized. Ask yourself about your dog's unique needs and pain points. Has your dog yet to master the art of walking normally on a leash? Look for harnesses with the option to leash on the front of the chest, which offers more control. Do they love getting in the water or the mud? Water-resistant and quick-drying materials are your friend. A lot of dog gear is made of polyester or a blend, so you'll want to read the description to make sure a water-repellent coating or waterproof outer is included.
For leashes and collars, fastening points are key: Do you find the leash clip or collar buckle easy to use and secure? We've found that leash clips sometimes play better with certain leashes and harnesses (and the rare few come unclipped!), so give new combos a test run in an enclosed space. For new harnesses or backpacks, pay attention to potential irritation spots; we've found that a harness with too much material near the armpits is a no-no for a lot of dogs. Along with the right sizing, designs with multiple attachment points should also help avoid slipping and rubbing. A good dog pack should have those points at the neck, chest, and belly.
If there's one thing all our testers took from the process, though, it's that good poop bag holders and dispensers are worth their weight in gold. If you find a poop bag holder design that you love (or, say, a backpack that comes with one built in), grab it and never look back.
When it's time to upgrade your gear, don't let the old stuff go to waste–donate it for a good cause and divert it from the landfill. our partner, Gear Fix, will repair and resell your stuff for free! Just box up your retired items, print a free shipping label, and send them off. We'll donate 100 percent of the proceeds to The Outdoorist Oath.
Lead Photo: Hannah Dewey/Tandem