2023 Summer Gear Guide
Our Favorite New Cameras for 2023
We're living in the golden age of digital image making
Heading out the door? Read this article on the new Outside+ app available now on iOS devices for members! Download the app.
When smartphones first hit the market 15 years ago, their cameras left a lot to be desired, and we didn't have apps like Adobe Lightroom for on-the-fly editing. Our DSLRs were getting better, but they had a fraction of the high-end and photographer-friendly features we see today. Camera technology has come a long way since then, and today we find ourselves surrounded by intuitive, powerful cameras that capture the world in beautiful detail. Below are our three favorites for 2023.
The Winners at a Glance
Apple iPhone 14 Pro
Sony a7R V
DJI Mavic 3 Classic
How We Test
Number of Products Tested: 7
Number photos taken: 5,000
Locations visited: 25+
You've all heard the cliche about your grandparents walking uphill both ways in a foot of snow to school. For photographers, a similar cliche would start with film cameras and include complaints about 36-frame rolls of film, finicky cameras, and a labor-intensive development and printing process.
The point here is that thanks to digital photography, the proliferation of smartphones, and the rise of social media, nearly everyone on the planet has become a better and more prolific photographer. It's a hobby and skill that has been democratized and the world is (mostly) a better place for it.
Today, just when you think that cameras couldn't get any better, and the process of toning and sharing your photos that much easier, the industry turns around and launches new technology that moves both those things forward. The developments happen so fast that it's almost impossible to keep track and choose what's right for your photography needs.
That's why we're purposely keeping things simple this year. We've recommended just three cameras—one smartphone, one DSLR, and one drone—because those choices will cover nearly everyone's bases. These cameras are so good that no matter where you are, or what you're shooting, you'll come away with stunning photos that tell great stories and capture important moments.
Meet Our Lead Tester
Before Jakob Schiller was a columnist at Outside he spent almost a decade working as a photojournalist at newspapers around the country. He's old enough to have shot film, but since the rise of the digital camera, has taken well over 1,000,000 photos on various DSLRs and smartphones. He loves photography because it facilitates adventure and captures important historical moments, but he's also a tech lover and can geek out with the best of them about things like resolution, autofocus, and shadow detail.
The Reviews: The Best Cameras of 2023
Apple iPhone 14 Pro ($999)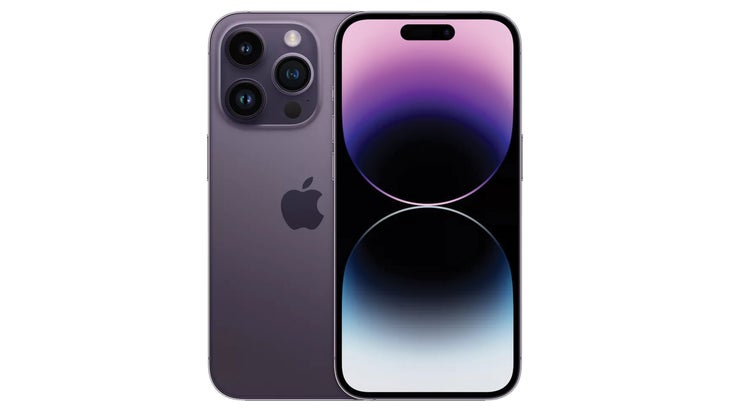 Pros: A larger camera sensor makes photos that rival those of a DSLR
Cons: Not a DSLR
Thanks to a sensor that's 65 percent larger than the one included in the iPhone 13 Pro, plus the ability to shoot in the uncompressed Apple ProRAW format, the new 14 Pro can take 48-megapixel photos that have stunning detail for a smartphone. For regular photos, the iPhone automatically takes every four pixels on its sensor and converts them into much larger "quad pixels" that can drink in more light and produce a regular 12-megapixel image that looks great even in low light situations. On the software side, the Photonic Engine software allows the 14 Pro to combine multiple, uncompressed images into one single great photo.
Bottom Line: The iPhone 14 Pro is a powerful adventure camera that takes amazing photos and fits in your pocket.
Sony a7RV ($3,900)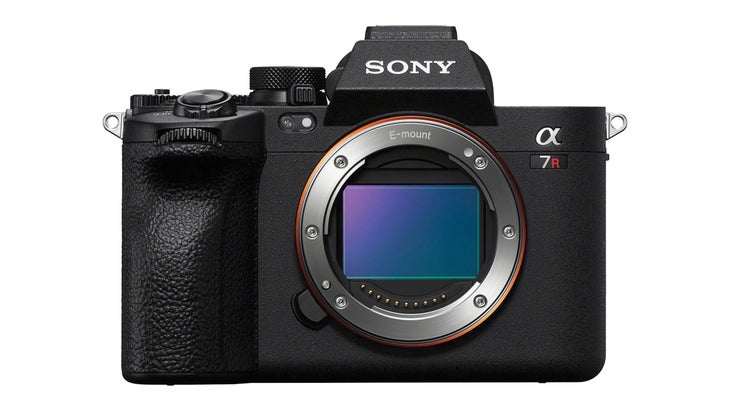 Pros: Improved autofocus and class-leading resolution
Cons: You'll need a suite of lenses to really make the most of this camera
If you're trying to land a photo on the cover of Outside magazine, the a7RV is a great camera to use. That's because it packs a gigantic 61-megapixel, full-frame sensor that captures humongous and detail-rich photos that look great in print (and online, of course). You'd also be impressed with the new autofocus that's a big step up from the a7RIV model and can help you nail a wide variety of action shots by auto-recognizing and locking onto not only humans, but also birds, insects, cars, and planes. When you're shooting action, it will capture up to ten frames per second, even in the compressed RAW mode, and for video, it shoots 8K footage and comes with impressive stabilization.
Bottom Line: If you're willing to pay, the Sony a7RV gets you some of the best digital imaging technology on the market.
DJI Mavic 3 Classic (Starting at $1,599)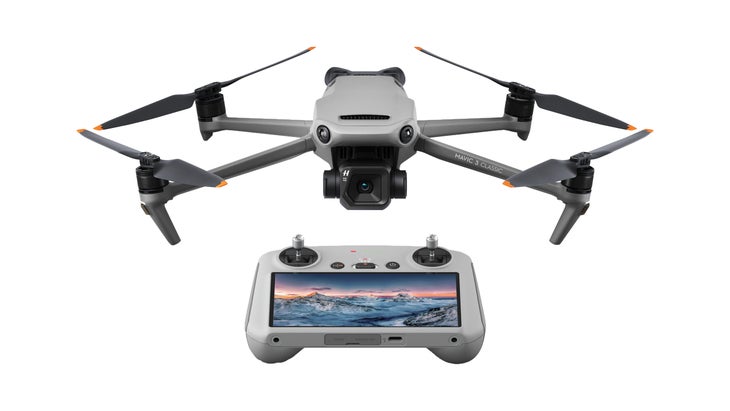 Pros: Top-shelf features in a more affordable drone
Cons: Still not cheap
DJI made this drone for those of us who need to create high-quality editorial or marketing content but aren't professional drone pilots shooting for Hollywood productions. Case in point: It comes with a small but still powerful 4/3 CMOS 20-megapixel Hasseblad camera that has a great color profile and shoots absolutely gorgeous 5.1K footage. A 46-minute flight time is respectable and the omnidirectional sensors help ensure pilots, especially those who are new to drones, don't crash the Classic into nearby objects. We suggest you pay the extra $150 and spring for DJI's remote, the DJI RC, so that you don't have to use your phone as the controller. The DJI RC has a generous 5.5-inch screen and is a joy to use, especially for those of us who are still mastering the art of drone flight.
How to Buy
The best question you can ask yourself before buying a camera is, "what kind of camera do I really need to execute on the job I want to do?" If you're a weekend warrior who's just looking to update your social profiles and maybe make an 8×10 print of your favorite outdoor spot, the iPhone 14 Pro is the best choice. It doesn't have a full-frame sensor or interchangeable lenses, but it's easier to carry, and packs enough resolution to help you nail the kind of photos you want to take. We also love that you can take a stunning photo on your iPhone, bring it into the Adobe Lightroom app for toning, and then immediately post it for the world to see.
If you're trying to break into magazine photography or work for a marketing agency that's putting together a big campaign, you'll need more than the iPhone. A camera like the Sony a7RV has a full-frame sensor that's much bigger than the iPhone's and therefore drinks in significantly more light and makes photos that are several times more detailed and rich. The a7RV also works with Sony's giant selection of high-quality lenses (wide angles, fixed, and zooms) that will help pros or aspiring pros create photos that just aren't possible with the iPhone. There are a few downsides, though: building out a full Sony system will cost thousands of dollars; none of the Sony gear fits in your pocket; and you'll need a high-powered laptop to process the gigantic files.
Finally, we know that anyone who's truly invested in drone work will know exactly what they need to get their job done. The rest of us who are drone-curious, or might need a drone here and there, will benefit from the Mavic 3 Classic because it's powerful enough for pro-level work but won't totally break the bank. It's the perfect middle ground and great place to start.
When it's time to upgrade your gear, don't let the old stuff go to waste–donate it for a good cause and divert it from the landfill. our partner, Gear Fix, will repair and resell your stuff for free! Just box up your retired items, print a free shipping label, and send them off. We'll donate 100 percent of the proceeds to The Outdoorist Oath.
Lead Photo: Evan Green