2023 Summer Gear Guide
The Best Women's Summer Workout Apparel 2023
We tested 26 products for two months in conditions as hot as 95 degrees. Here's what rose to the top as our favorites.
Heading out the door? Read this article on the new Outside+ app available now on iOS devices for members! Download the app.
The best summer workout clothes are the ones you don't even notice you're wearing–they're that comfortable, breathable, and functional. They don't weigh you down or impede your movement; they simply stay out of the way so you can crush every last rep, no matter how high the mercury climbs. You know you're in the right attire when you get excited to pull it on and wear it long after your workout wraps. Ready to discover your new go-to gear? Right this way.
The Winners At a Glance
Tops
Nathan Dash 2.0 Short Sleeve Shirt
Outdoor Research Argon Short Sleeve Tee
Fabletics Dry-Flex Open Back Tank
Beyond Yoga Spacedye Step Up Racerback Tank
Bottoms
Beyond Yoga Spacedye Keep Pace Biker Short
Vuori Clementine Short 2.0
Universal Standard Next-to-Naked Bike Short
How We Test
Number of Workouts: 106
Hottest Workout: 95 degrees
Steps Taken: 449,716
Number of Minutes Exercising: 6,797
Number of Workout Types: 11
Number of Products: 14 tops, 12 bottoms
Number of Testers: 5
Our five testers spanned a range of sizes, body types, and athletic backgrounds. They lived in contrasting climates—from the high desert to the humid coast—and participated in a variety of workout activities, including kickboxing, Zumba, HIIT, trail running, indoor cycling, outdoor biking, strength work, yoga, and more.
The majority of the products were tested by three people, with each tester trying each piece of gear in at least two workouts. During the testing process, which spanned two months, reviewers evaluated fit, comfort, style, and price as well as the garment's ability to breathe and wick sweat. The products listed here are those that earned the highest overall scores based on those factors.
Meet Our Lead Testers
Jenny McCoy is a freelance fitness journalist in Boulder, Colorado. An avid runner, swim coach, and water aerobics instructor, Jenny spends much of her time learning and writing about exercise while also sneaking in movement whenever she can. For this review, Jenny tested all 14 tops and 11 of the 12 bottoms across 9 different workout types as diverse as heated yoga, urban hiking, and outdoor cycling. She got very sweaty in the process.
Rebecca Kay is a Chicago-based writer. Her fitness routine includes a mix of yoga, running, barre, and cycling workouts. In the summer, you can find her dodging tourists while biking the lakefront path. She spent a total of 1,050 minutes testing 5 tops and 5 bottoms for this review, logging 23,412 steps and discovering a new appreciation for biker shorts in the process.
Elle Brunsdale is a renewable energy and climate tech investor in New York City. A former collegiate track and field athlete specializing in the heptathlon, Elle exercises up to seven days a week, mixing running workouts with HIIT, strength training, and swimming. She's also an avid skier, horseback rider, and occasionally competes in Spartan Races. For this review, Elle tested 5 tops and 5 bottoms for 900 total minutes. Her hottest workout? A tempo run in Central Park in 85-degree weather.
The Best Women's Tops of 2023
Nathan Dash 2.0 Short Sleeve Shirt ($50)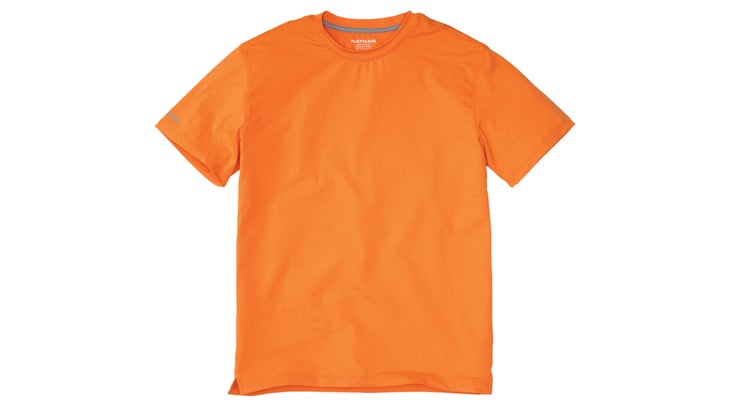 Sizes: XS–XL
Pros: Soft, stretchy, and sweat-wicking fabric; flattering, stylish cut; affordable
Cons: Limited sizing range
By far our testers' favorite pick, this minimalist t-shirt is functional, comfortable, and stylish. Made with a polyester-nylon-elastane performance blend that's oh-so-soft and stretchy, this top wicked away our testers' sweat during a variety of workouts, including a walk in 80-degree weather and a 30-minute indoor strength session. The flattering, relaxed fit, which Elle described as "loose in a good way," provided ample ventilation and breathability, and, she said, remained comfortable as she busted out burpees. The top even performed well in an impromptu workout: Jenny was wearing it when she had to sprint a mile through the airport and arrived at her gate with zero chafing or obvious sweat stains.
Bottom Line: An all-around solid pick for any type of workout.
Outdoor Research Argon Short Sleeve Tee ($55)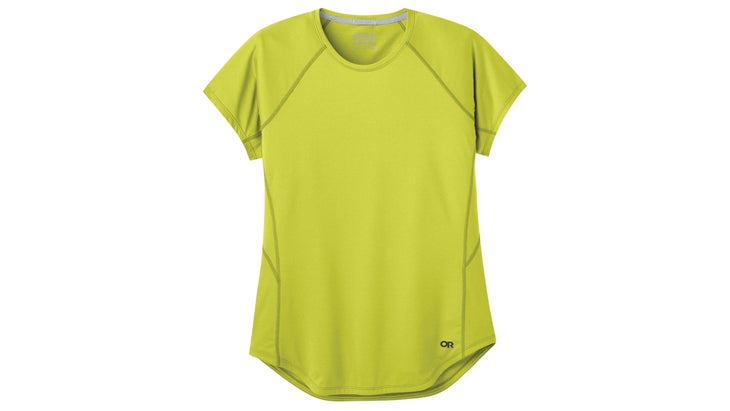 Sizes: XS–XL
Pros: Superior sweat wicking; comfortable, functional fit; UPF 20–30 protection
Cons: Limited sizing range
Our testers praised this shirt's ability to keep them cool, thanks to the brand's proprietary moisture management technology that uses ultra-fine yarns in an open-texture mesh to enhance airflow. Constructed with a recycled polyester-spandex blend and odor control tech, the shirt was "very sweat wicking," reported one tester who wore it to spin class and a TRX session. The loose-but-not-too-loose fit was an additional plus: It felt comfortably snug without being constricting, and, Jenny reported, didn't chafe during her outdoor runs. Elle loved how the shirt didn't tug or rub during a 2-hour ride. And Jenny raved about the high neckline since, unlike the many lower-cut workout tees, it shielded her chest from the sun. One more perk: The fabric has a UPF 20-30 rating to guard against harsh rays during outdoor workouts.
Bottom Line: A great choice for especially hot outdoor workouts.
Fabletics Dry-Flex Open Back Tank ($60)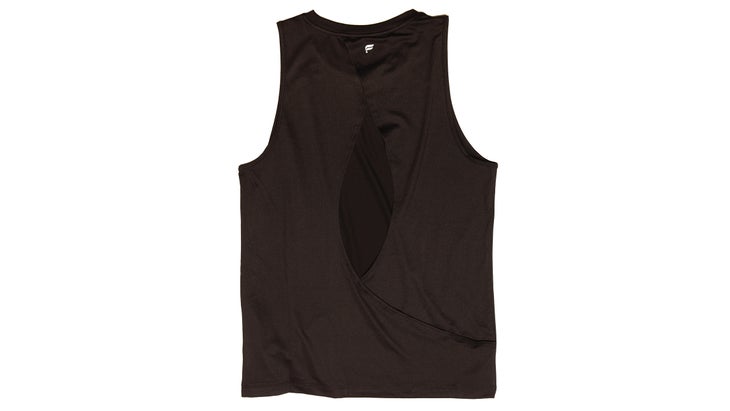 Sizes: XXS–4XL
Pros: Open-back design and low-cut sleeves provide stellar ventilation; wide range of inclusive sizes
Cons: Some might find the hem too long
The open-back design made this top a stand-out, as it was "awesome for ventilation," said Jenny, who raved about the cooling breeze on her back as she completed a 6-mile run. "It definitely helped me avoid overheating since the back is one area that can get super sweaty when I work out hard," she said. Elle said the fabric, a recycled polyester-elastane blend, felt "great" and "very breathable," and another lauded its sweat-wicking abilities during kickboxing and spin classes. The loose and flowy cut allowed dynamic movements without feeling like there was too much fabric, and the low-cut arm holes prevented sweat from pooling.
Bottom Line: A breezy, flowy top, ideal for those who sweat a lot.
Beyond Yoga Spacedye Step Up Racerback Tank ($70)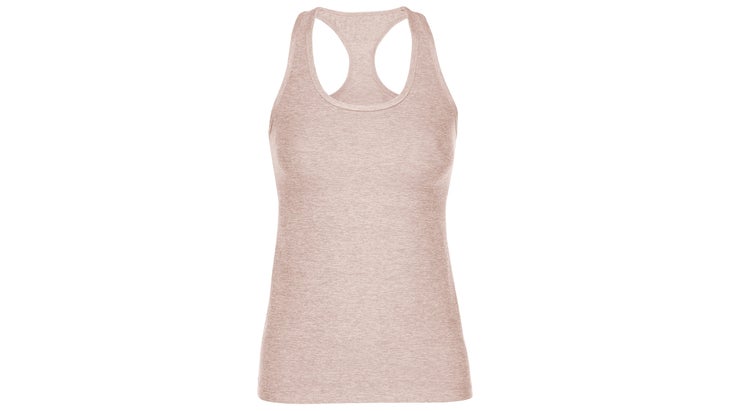 Sizes: XS–4XL
Pros: Buttery-soft fabric; wide range of inclusive sizes
Cons: Scoop neck too revealing for some
Testers loved this tank's ultra-soft fabric, a polyester-elastane blend. "Felt very luxe," said Rebecca. "Incredibly buttery," said another. The fabric breathed well during Rebecca's yoga and barre classes, as well as during a 4-mile hike Jenny did on a mid-70s day. The form-fitting cut, which stayed snug during Rebecca's yoga inversions without feeling stifling, was another plus. However, another tester found the scoop neck showed more cleavage during spin and yoga class than she wanted and that her chest didn't feel adequately supported. Overall though, this garment impressed: Rebecca gave it the ultimate praise that she didn't notice it at all while she worked out.
Bottom Line: A luxuriously soft pick for yoga, barre, or hiking.
The Best Women's Bottoms of 2023
Beyond Yoga Spacedye Keep Pace Biker Short ($68)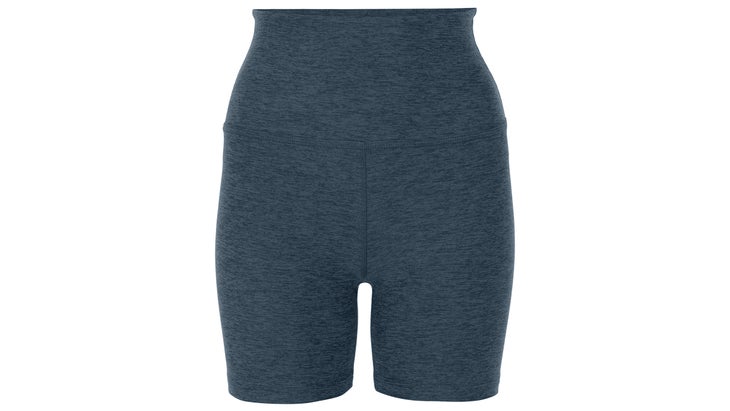 Sizes: XS–XL
Pros: Super-soft fabric; Supportive without digging into legs
Cons: Not ideal for high-intensity exercise; no pockets; limited sizing range
These bottoms convinced two testers—Jenny and Rebecca—to finally embrace the biker-short trend. Made with an uber-soft, polyester-elastane fabric and a streamlined, minimalist design, these shorts were tight enough on Rebecca to be supportive without digging into her thighs (as she finds biker shorts often do). Testers praised them for their comfort during low-impact workouts like barre, hiking, and strength training, but noted they wouldn't be a top choice for more intense sessions (like running or HIIT) due to the lack of compression and slightly thicker fabric. Another downside: They don't have pockets. Still, the crazy-soft feel and luxe fit were enough to earn these shorts high marks. "These are by far the best biker shorts out of the seven that I tested," reported Jenny.
Bottom Line: An ultra-comfortable biker short for people who hate biker shorts.
Vuori Clementine Short 2.0 ($58)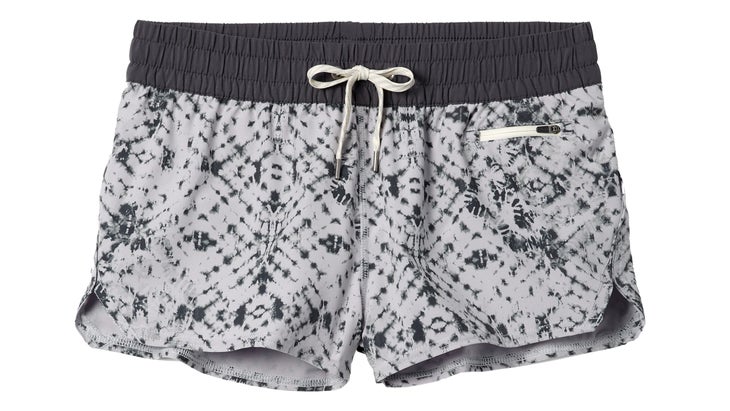 Sizes: XXS–XXL
Pros: Breathable, soft fabric; flowy fit provides good ventilation
Cons: Only one small pocket; low-cut waist uncomfortable for some
These flowy, low-waisted shorts ticked a lot of boxes: lightweight, breathable, comfortable, and stylish. The fabric—a blend of polyester (50 percent recycled) and elastane—was soft and breezy, while tough enough for 90-minute strength sessions, one tester reported. They kept Jenny cool and free from crotch sweat on a summer run with temps pushing 70 degrees. The waistband struck the ideal balance between supportive and too tight, and the drawstring allowed for easy adjustments. The thickness of the drawstring cord was a particular plus since it meant minimal risk of the string getting lost inside the shorts. A single small zip pocket in the front provided a secure place to stash a key, but wasn't large enough to store anything else.
Bottom Line: A standout, lightweight and breathable short for running, hiking, or HIIT.
Universal Standard Next-to-Naked Bike Short ($78)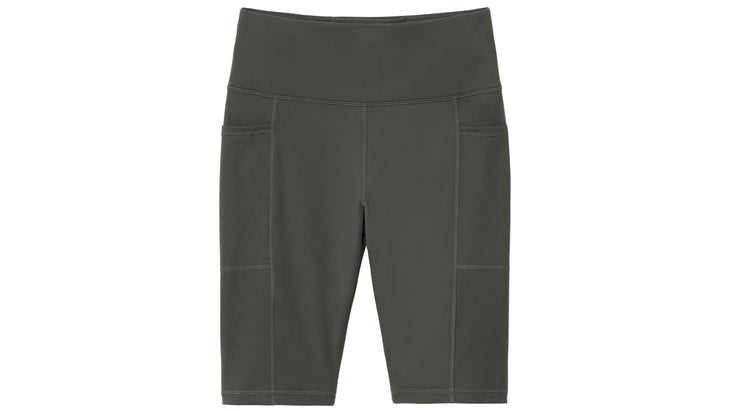 Sizes: 4XS–4XL
Pros: Soft, comfortable fabric; Stretchy, supportive fit; Wide range of inclusive sizes
Cons: Not ideal for super sweaty workouts
These super-high waisted shorts (they sit above belly button level) are constructed with a nylon-lycra fabric that was so soft to the touch and comfortable Rebecca said they "felt like a second skin." With a stretchy elastic waistband, they stayed in place but didn't restrict movements while testers hiked, cycled, and did yoga. Rebecca loved that the pockets on both sides of the outer thighs were deep and large enough to hold her phone. The downside: two testers reported they got hot and sweaty in the shorts (although another felt they wicked sweat well). We'd recommend these for lower-intensity workouts like yoga, pilates, and barre where risk of heavy perspiration is minimal.
Bottom Line: A relaxed, comfy fit for lower-intensity workouts.
How To Buy
Look for sweat-wicking fabrics that will keep you cool as you sweat. Avoid cotton, as that tends to trap moisture, and instead opt for breathable, technical blends. For outdoor workouts, consider fabric with ultraviolet protection to shield you from harmful rays–the Skin Cancer Foundation recommends a UPF of at least 30.
When trying on garments, walk around for a few minutes and perform basic exercises like squats and jumping jacks. Make sure the fabric feels comfortable against your skin and doesn't ride up or chafe as you move. The right amount of tightness will vary based on personal preference and workout type–for instance, you may want more form-fitting clothes for a yoga class than a hike–but always steer clear of clothes that constrict your movement or breathing. Lastly, though aesthetics aren't everything, consider how confident you feel in the garments. You're more likely to continue wearing clothes that give you that extra pep in your step.
When it's time to upgrade your gear, don't let the old stuff go to waste–donate it for a good cause and divert it from the landfill. our partner, Gear Fix, will repair and resell your stuff for free! Just box up your retired items, print a free shipping label, and send them off. We'll donate 100 percent of the proceeds to The Outdoorist Oath.
Lead Photo: Manu Prats/Stocksy