2023 Summer Gear Guide
The Best Water Shoes of 2023
Whether you're looking for a comfortable shoe to keep out pebbly intruders or an easy slide for your beach getaway, we've got you covered
Heading out the door? Read this article on the new Outside+ app available now on iOS devices for members! Download the app.
There's a difference between waterproof shoes and shoes that are optimal for amphibious adventures. We thrashed a stash of water shoes to help you figure out which to put on this year's summer wishlist.
The Winners at a Glance
Reef Oasis Double Up
Luna Middle Bear Winged Edition
OluKai Kāpehe and Kokoʻo
Keen Newport 20 Slide
Teva Outflow Universal
How We Test
Number of Testers: 4
Number of Products Tested: 10
Number of Bodies of Water in Which We Tested: 6
Number of Rocks Slipped on: 2
Number of Stubbed Toes: 1
Water shoes require testers who have access to various watery environments: from the beach to the boat, saltwater to freshwater, and sand to rocks. This crew of four testers—from a 30-something surfer to a middle-aged kayaker—tested shoes in a variety of conditions: ocean, lakes, rivers, streams, and even on the journey to these bodies of water. We evaluated each shoe for comfort, durability, support, stability, drainage, grippy soles, the likelihood of retaining debris, and ease of cleaning.
Meet Our Lead Tester
Jill K. Robinson is a California-based freelance journalist who writes about travel and adventure for National Geographic, AFAR, Conde Nast Traveler, Travel + Leisure, Hemispheres, and more. She's often more comfortable on and in water than she is on land.
The Reviews: The Best Water Shoes of 2023
Best for Casual Beach Use: Reef Oasis Double Up ($55)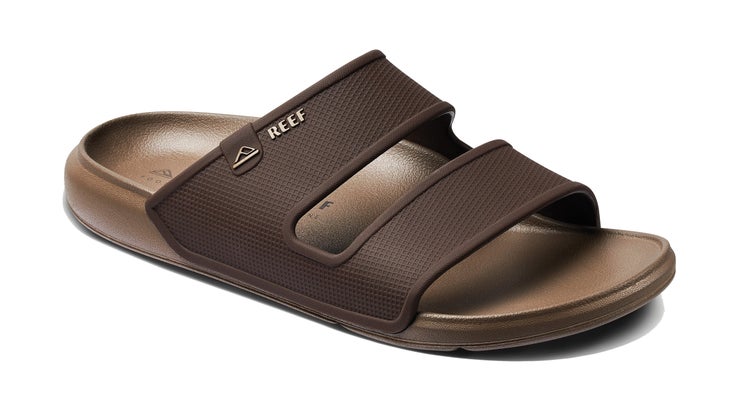 Available For: Men
Weight: 6.4 oz per shoe (size 9)
Size Range: 6-13
Shoe Stiffness on Scale of 10: 2-3
It's nice to avoid the awkward toe-post on flip-flops, and these soft and supportive slides are optimal for those who are constantly in and out of the water—whether that's a lakeshore, coastal beach, or river bank. The footbed's deep heel cup and anatomic contouring helped us stay on our feet, even on wet sand and gravel, and the non-marking, injection-molded outsole provided excellent traction in low-tide, muddy conditions on a Northern California beach. The water-friendly TPU material also cleans easily and dries quickly. "Run the hose over them for a few seconds, and that's all you need to clean them off," said one tester based in California. Bonus: These slides can pull double-duty as camp and home slippers.
Bottom Line: Easy-to-clean slide for casual beach use when comfort is more important than hardcore sports performance.
Best for a Rafting or Kayak Trip: Luna Middle Bear Winged Edition ($120)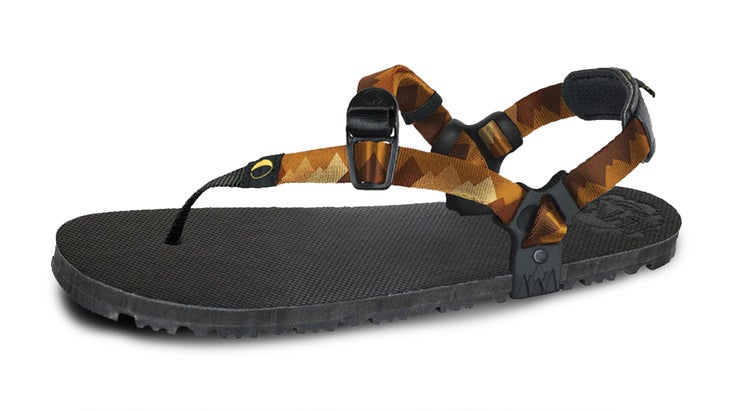 Available For: Men and women
Weight: 8.2 oz per shoe (men's size 9.5)
Size Range: 4-13 (men's), 6-12 (women's)
Shoe Stiffness on Scale of 10: 5-6
These lightweight minimalist sandals might look like they wouldn't last, but their ruggedness took us by surprise. The Vibram Megagrip outsole and 4.5-millimeter lugs provided incredible purchase when rock-hopping across creeks or when we launched a boat from a pebbly beach in Baja California. The open design and lack of a toe box meant we could shake pebbles easily. Quick-adjust performance laces thread securely through soft winged triangles on the sides and help to keep the fit stable, regardless of the terrain. "I expected those triangles to rub, as with other similar sandals, but these are soft and far more comfortable," remarked one tester.
Bottom Line: Optimal sandal for excursions that include plenty of water-to-land transitions.
Best for Island Vacations: OluKai Kāpehe Luana ($100) and Koko'o ($80)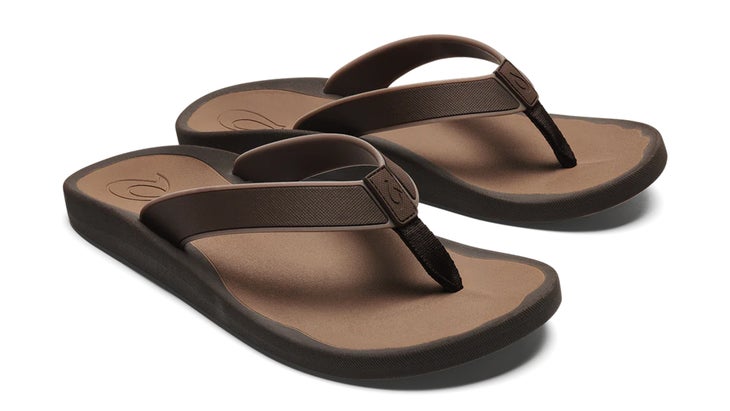 Available For: Women (Kāpehe Luana) and Men (Kokoʻo)
Weight: 5.1 oz. per shoe (Kāpehe Luana size 7); 7.3 oz. per shoe (Kokoʻo size 10)
Size Range: 5-11 (women's),7-15 (men's)
Shoe Stiffness on Scale of 10: 4-5
The contoured footbed of OluKai's flip-flops are inspired by the feeling of wet sand that forms beneath our feet. This lightweight pair is "so comfortable it can be worn all day without fatigue," said one tester. Both the women's Kāpehe Luana and men's Kokoʻo float thanks to their rubber outsoles and have soft straps that don't absorb water. The non-marking siped rubber sole and its excellent traction keep wet feet from sliding around when treading on slippery surfaces like boat decks. "If you can only pack one all-purpose shoe for an island vacation, this is the one," our testers agreed.
Bottom Line: Excellent all-around slipper for everyday use. Also a great city flip for those not immediately planning an island vacation.
Best for Boating: Keen Newport 20 Slide ($120)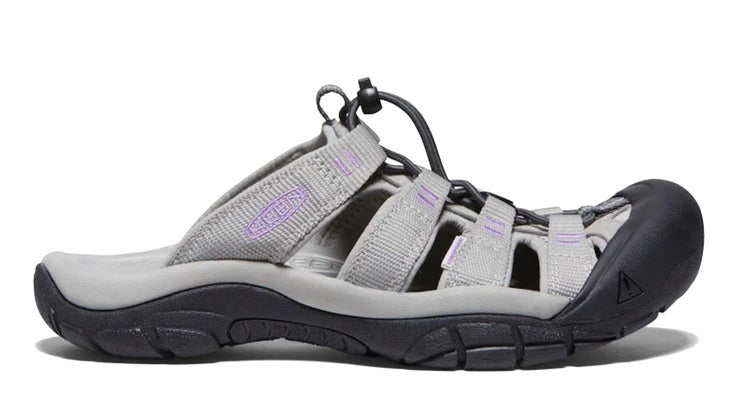 Available For: Men and Women
Weight: 14.11 oz (men's size 9), 10.58 oz (women's size 7)
Size Range: 7-15 (men's), 5-12 (women's)
Shoe Stiffness on Scale of 10: 8
The Newport Slide was born from Keen's Number 1 hybrid sandal, so it comes as no surprise that testers were a fan. The sandal'sEVA insole provided good arch and midsole support for all-day comfort, whether we were adventuring by boat, or relaxing afterward around the campfire. The non-marking rubber outsole, with its razor siping and multi-directional lug pattern, provided excellent traction along rugged coastlines in California, the shore of Lake Tahoe, and the banks of the Tuolumne River. A classic Keen toe bumper protects toes from errant rocks and logs. Just one gripe: "The lack of heel strap leans to more casual use than in-and-out water security," said one tester after stepping out of the sandal in water multiple times while wearing them on a Pacific Coast beach.
Bottom Line: A more casual Keen sandal for moderate adventures around water.
Best for Rugged Canyoneering: Teva Outflow Universal ($110)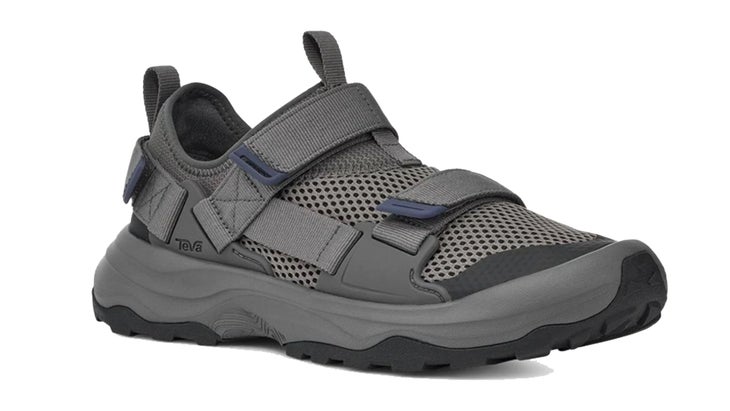 Available For: Men and Women
Weight: 14.3 ounces per shoe (men's size 9)
Size Range: 7-14 (men's), 5-11 (women's)
Shoe Stiffness on Scale of 10: 8
There was no need to interrupt our adventures to take pebbles out of the Outflow Universal thanks to the mesh and stretch-fit collar that acted as our rock watchdog. The dry mesh upper and microfiber lining incorporate recycled polyester, which feels soft against the skin. The water sneaker's recycled rubber outsole has a sticky tread, providing durability and solid traction. The top sole, meanwhile, cushioned our foot for miles along segments of the Oregon Coast Trail. Teva's velcro strapping system helps dial in a more precise, adjustable fit for comfort and stability. An added bonus: The shoe is treated with a responsibly-sourced peppermint-based antimicrobial.
Bottom Line: Ideal for rugged canyoneering, or hiking in and out of the water without collecting tons of rocks.
How to Buy
Water shoes should fit snugly so your feet don't slip while inside, causing stability challenges. They should also be easy to drain, which helps avoid blisters and soggy feet. Specially formulated rubber soles that stick to slick surfaces are key for achieving good wet traction that keeps you on your feet. Shoes are optimal for activities like canyoneering, where you need to protect your toes and also want to avoid getting a lot of loose pebbles stuck inside. Sandals are preferred for some activities like boating, where onboard flexibility can be important. Aside from buying directly from each brand, great discount online retailers are The Clymb, Steep and Cheap, REI Outlet, Sierra Trading Post, and Backcountry.
When it's time to upgrade your gear, don't let the old stuff go to waste–donate it for a good cause and divert it from the landfill. our partner, Gear Fix, will repair and resell your stuff for free! Just box up your retired items, print a free shipping label, and send them off. We'll donate 100 percent of the proceeds to The Outdoorist Oath.
Lead Photo: Jason Hatfield/Tandem