2023 Summer Gear Guide
The Best Men's Shells of 2023
36 gear testers tried 41 shell jackets. These ones came out on top.
Heading out the door? Read this article on the new Outside+ app available now on iOS devices for members! Download the app.
If we reserved hikes, backpacking trips, bike rides, and other outings for t-shirt weather, we'd have mountains of gear gathering dust in the garage. The best shell jackets enable us to explore despite the elements—which is exactly what our team of testers did this past summer and fall. Below, you'll find our favorite technical, non-insulated jackets of 2023, including everything from ultralight windbreakers and trail-ready rain jackets to breathable soft shells and heavy-duty alpine armor. Read up, layer up, and head out.
Winners at a Glance
Editor's Choice: Crazy Jacket Fly
Best All-Around Shell Jacket: Norrøna Falketind Gore-Tex Paclite Jacket
Best Value Shell Jacket: Patagonia Torrentshell 3L
Best Ventilation: Outdoor Research Foray Super Stretch Jacket
Best Heavy-Duty Shell Jacket: Maloja RumoM
Best Style: Smartwool Active Ultralite Anorak
Best MTB Shell Jacket: Picture Organic Granity
Best Trail Shell Jacket: Mountain Hardwear Trailverse Gore-Tex
Best Town Shell Jacket: Fjällräven High Coast Hydratic
Best Soft Shell: Mountain Equipment Aerotherm
How We Test
Number of Testers: 36
Number of Jackets: 41
Highest Elevation Achieved While Testing: 19,000 feet
Coldest Temperature While Testing: 15 degrees
Average Mileage Per Shell: 49
Most Consecutive Days of Precipitation: 6 days straight in Lake Clarke National Park, Alaska
Fastest Wind Weathered: 40 mph
Second Fastest Wind Weathered: "Fast enough to make my dog's ears flap."
Most Mountain Goats Encountered While Testing: 5
Most Domestic Goats Played With While Testing: 9
Last summer, we put the call out to brands big and small, asking them to submit updated and new shells for 2023. These shells ranged from ultralight trail running shells and emergency layers—including the lightest shell we've ever tested—to heavy-duty jackets and three-layer shells better suited to alpine pursuits. We sent those shells out to a network of testers across the country. Testers ranged in age and location, from young whippersnappers in Alaska to grey-bearded mountain men in Virginia. The most heavily represented hubs were Anchorage, Alaska, Missoula, Montana, and Truckee, California.
Testers used the shells during work trips:
>A hutkeeper doing his morning chores in the Sierra
>A cinematographer filming moose deep in the Alaskan bush
>A guide trekking in Nepal
And personal trips that some might describe as "type II fun":
>A 6-day caribou hunt in the rain and snow during which no caribou were seen, much less hunted
>A bike ride through a torrential downpour in the Rockies, during which our tester was so soaked he stopped to purchase a pair of new socks
After putting shells through the wringer, we asked testers to fill out detailed review forms. They scored shells quantitatively on aspects like durability, waterproofing, and breathability. Then, they answered in-depth, qualitative questions: Would you recommend it to a friend and why? What are the major strengths and weaknesses of this jacket? Is this your new go-to or will it hang out in the back of your closet? We also asked for test specifics—how they tested, what activities they did, miles hiked, days out, etc.—so our category manager, Drew Zieff, had a better picture of their testing process. Then, Zieff sifted through the review forms, compared shells side by side, and several Outside editors put a handful of the top contenders to the test. Finally, we made our top picks, handed out awards, and compiled the reviews you'll read below.
Meet Our Testers
Drew Zieff
Drew Zieff is a Tahoe-based freelancer who writes for Backcountry Magazine, Whitelines Snowboarding, REI, Gear Junkie, and Forbes, among others. A regular Outside contributor, he heads up our snowboard gear coverage in the winter. In the summers, he covers men's shells and car camping accessories. To test the gear, he explores his backyard, takes road trips in his custom-built Chevy Express, or makes use of his passport. This past summer and fall, he tested gear on surf trips to Santa Cruz, CA, a donkey-supported desert trek in Baja California Sur, hikes and trail runs in Switzerland and France, and backyard road trips, bike rides, and hikes in the Sierra.
Scott Simper
Scott Simper is a Utah-based, world-traveling director of photography. His resume is as impressive as it is broad: he's climbed Everest twice, won the Banff film fest audience award a whopping three times, worked on Deadliest Catch, and added an Emmy to his shelf thanks to his work on NBC's coverage of the 2011 Ironman World Championship. Simper put shells to the test in his backyard in Utah's Wasatch, as well as deep in the Alaskan bush while capturing nature footage for an upcoming project.
John Lauer
John Lauer is a bootfitter, snowboard and bike buyer, gear nerd, and four-time "best mustache" nominee at Truckee's Tahoe SportsHub, although he's never won the latter. Jokes aside, Lauer's been an integral player in our snowboard test for much of the last decade. In the summer and fall, when he's not cranking on bikes and getting folks fit for ski season, you can find him hiking with his naughty dog, Wendy, who ran away on his wedding night this past summer, or riding bikes in the Sierras—weather be damned. This past fall, Lauer put shells to the test on the trail during multiple days of torrential rain and sleet. Despite his best attempts, he didn't break anything.
The Reviews: The Best Men's Shells of 2023
Editor's Choice: Crazy Jacket Fly ($190)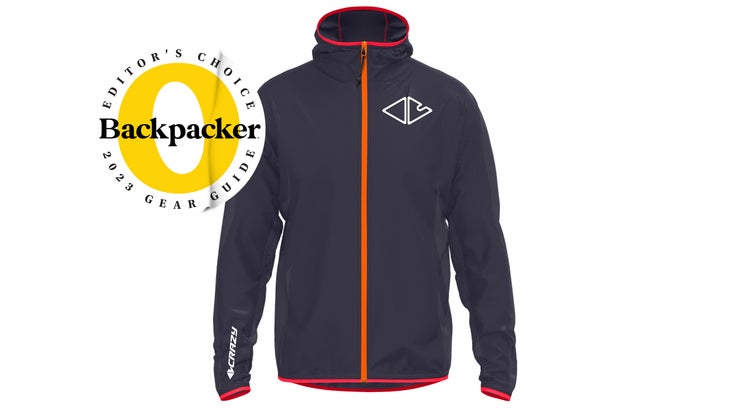 Weight: 1.7 oz (M)
Sizes: S-XL
Pros: Lighter than any jacket we've ever tested; Surprisingly rich feature set given the weight; Ultimate insurance policy to throw in your pack or pocket if the forecast is remotely questionable
Cons: Only useful in moderate conditions; Not fully waterproof; Durability is questionable
"There's ultralight, and then there's alpine lingerie," commented shells category manager Drew Zieff. "Crazy's Jacket Fly is the latter, and I mean that as a compliment." The Italian fast-and-light outfitter's skimpy layer turned the heads of testers and Outside editors on weight alone: at 1.7 ounces for a men's medium, it's the lightest jacket we've ever tested (the next closest in this year's test was 2.9 ounces for a men's medium) and, according to Crazy, the lightest emergency layer on the market.
Testers didn't expect much from a jacket that weighs less than 10 sheets of paper and packs down to the size of a large clementine, but the Fly's Airtastic stretch nylon fabric cuts out light wind surprisingly well. "This isn't totally windproof, but it takes off most of the strength from all but the strongest gusts," reported longtime tester Joel Nyquist, who wore the Fly while hiking, biking, and running. After testing the water repellant-treated shell on the outskirts of Hurricane Ian, Nyquist emphasized that it isn't meant to hold up to more than mist in terms of precipitation: "Let's not make any mistake that this is a rain shell. It kept off some drizzle, but after around 30 minutes of light rain, I was getting pretty wet. But when it comes to wind and creating a warm microlayer around you, that's where this jacket shines."
Multiple testers agreed that the Jacket Fly is, on the other hand, unparalleled in terms of breathability. "The most breathable jacket of this type that I've used," commented Nyquist, who was impressed by this jacket during hikes in Shenandoah National Park. Zieff agreed: "I was able to wear this on steep mountain bike climbs in moderate temps without hating my career choice as a gear tester." In addition to the prodigious permeability of the fabric, which allows sweat to wick almost as fast as you can produce it, perspiration-prone testers appreciated the feel of the fabric against the skin. The interior is treated with a solvent-free acrylic resin coating that helps reduce stickiness, and the result is noticeable—it was one of the few shells testers found extremely comfortable over just a t-shirt.
Compared to the rest of the jackets tested, the features of the Jacket Fly aren't impressive—it sports a tight under-the-helmet hood, stretchy cuffs, reflective branding (regrettably positioned mid-rump), and a full-front zip. But given the negligible weight of this trail-worthy negligee, testers were baffled—and appreciative—that it has a zipper at all. "Having a full-length zipper allowed me to put the jacket on easily, without the double arms-up move you have to employ with pullovers," said Nyquist.
Testers' concerns centered around durability, which is unsurprising given the lightweight, 7-denier nylon fabric. But even after mountain biking through head-high scrubs and performing outdoor circuit workouts in brisk fall weather, testers didn't report any rips or tears. Durability concerns and a lack of waterproofing aside, tester consensus was that given the fabric, features, and featherweight package, the Crazy Jacket Fly is the perfect insurance policy to toss in your pack—or pocket—on any adventure.
Bottom Line: An ultralight windbreaker that can fit in your pocket, this Italian oddity is a gram counter's best friend.
Best All-Around Shell Jacket: Norrøna Falketind Gore-Tex Paclite Jacket ($349)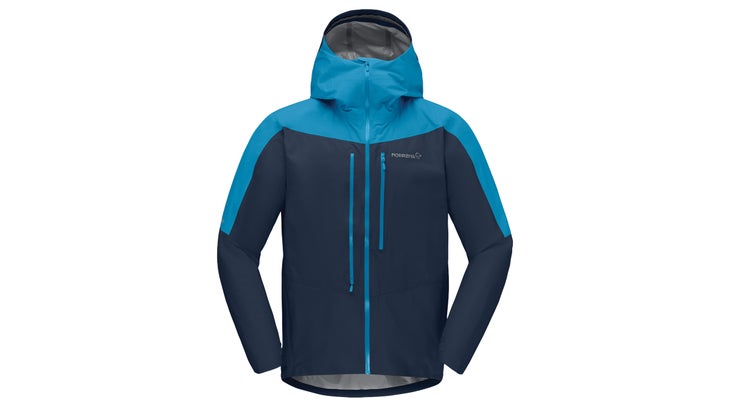 Weight: 9.1 oz (L)
Sizes: S-XXL
Pros: A jack of all trades that excels on hikes and backpacking trips, but can hang on bike rides, backcountry ski tours, etc.; Fit approved by a taller tester—long sleeves offer full arm protection for activities like biking and climbing; Solid balance of breathability and waterproofing
Cons: No pit zips; Durability concerns with lightweight fabric
Longtime tester, outdoorsman, and environmental policy wonk Gerben Scherpbier found an unexpected use for the Norrøna Falketind Gore-Tex Paclite Jacket: his wedding weekend. Granted, his wedding occurred during a rainy window at a summer camp on Lake Tarleton, New Hampshire, and activities included leading a hike up a steep, rocky peak behind the venue. Throughout the weekend, he appreciated the breathable jacket's wicking prowess, accommodating stretch, and waterproofing. "While the jacket doesn't have pit zips, I found the fabric to be highly breathable," he reported. Plus a central zippered vent on the chest that's easily accessed while wearing a pack also helps hot hikers crank the AC.
After backpacking sections of the Appalachian Trail in Western Maine, he gave the fabric high scores for a balance of weatherproofing, weight, and moderate durability, although he noted that he might avoid certain hard-wearing activities. "I was reluctant to push it with this jacket by going bushwacking through New England's dense and poky spruce forests because of its relatively thin fabric," he explained, although he did acknowledge that he wore it beneath backpack straps, a running vest, and his PFD—and rubbed against the inevitable rock and branches—without noticing damage.
For Scherpbier, a taller tester, it was the overall cut that put the Falketind in the top percentile of shells tested. "This jacket fits me better than most of my dress clothes," joked the newlywed, married to the long sleeves and a generous hemline that kept his base layer dry while biking and sea kayaking in wet weather in southern Maine. The cut is Norrøna's "technical" fit, its second slimmest, and while the long sleeves were a selling point for former rower Scherpbier, folks with shorter wingspans may experience unwanted bunching at the wrists. That said, Scherpbier approved of the simple design, embellished by a singular chest pocket and a minimalistic visor that protrudes off the cinchable hood just enough to keep water from dripping into eyes. All told, he found the Falketind a reasonably priced, versatile, and lightweight all-arounder. So long as you keep it in good shape, it's ready for year-round use, from skintrack to saltwater sound.
Bottom Line: If you're a multisport athlete looking for a single lightweight shell that can handle most activities, the Falketind is an excellent do-it-all shell.
Best Value Shell Jacket: Patagonia Torrentshell 3L Jacket ($179)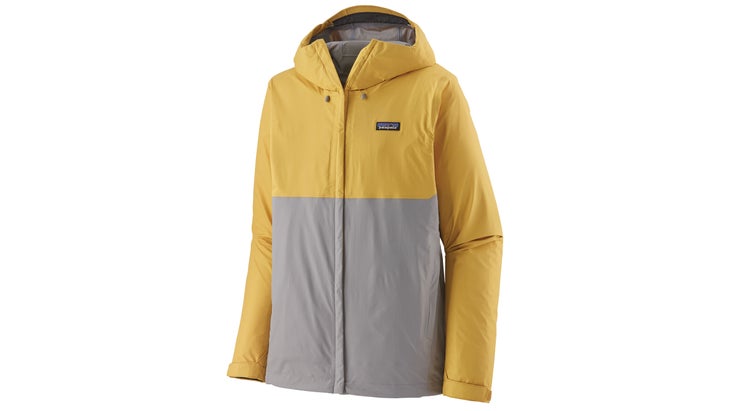 Weight: 14.1 oz (M)
Sizes: XS-XXXL
Pros: Great value; Updated and now completely PFC-free; Fair Trade Certified; Top-of-the-line weatherproofing
Cons: Not the most breathable option; Bulky fit for slimmer folk; Hood on the tight side for a helmet
Patagonia's tried-and-true Torrentshell continues to be a top pick for value-driven outdoor enthusiasts thanks to reliable weatherproofing at an affordable price. The sub $200-shell has been updated, too: The brand's H2No-finished, 100 percent recycled nylon ripstop shell is now completely PFC-free.
A tough-to-please Colorado-based fly fisherman, climber, and hiker, Cody Memmel, confirmed that the revised rainwear still has the hydrophobic chops. "This shell was one of the more stormworthy jackets I have even worn," he said, appreciative of the ability to batten down the hatches at the hood, hem, and wrists, as well as the double-guttered front zipper. He gave Patagonia props on the fabric after a sunny day of fishing the Gunnison River turned into a torrential downpour: "The H2No membrane was stellar and it had no issues shedding water or pea-sized hail." He gave the shell similar accolades for durability, calling it "a tank," and appreciated the dual hand warmer and single chest pockets, which he judged "standard but functional."
Memmel was grateful for the pit zips when hightailing it in the high country, as the extreme weatherproofing does come at the cost of breathability. "The shell never felt clammy, but it definitely let you know when you needed to dump a layer or open the pit zips," he said. Also, as a slender fellow, he found the fit "bulky" and "baggy," and the hood on the tight side over his climbing helmet while leading the last pitch of a climb in Unaweep Canyon.
Bottom Line: A notably waterproof and durable shell like this is hard to come by under $200. Factor in the PFC-free updates and the Fair Trade Certified stamp, and this shell is a purchase you can feel good about—especially when there's precip in the forecast.
Best Ventilation: Outdoor Research Foray Super Stretch ($299)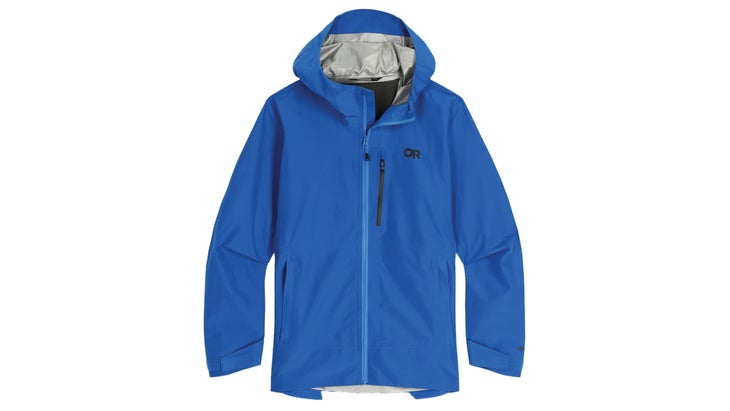 Weight: 14.5 oz (M)
Sizes: S-XXL
Pros: Innovative stretch panel gives stretch to an otherwise stiff, bombproof shell; Hip-to-pit zips provide best-in-class ventilation
Cons: Fabric and features can be overkill for mellower days and adventures; Not the most packable or lightweight jacket
Even the most breathable fabrics can't compete with good old-fashioned vents. This simple fact has made Outdoor Research's Foray lineup, which elongates traditional pit zips into waist-to-pit vents that push the rain jacket into poncho territory, a popular pick with fast-moving hikers, backpackers, mountaineers, and more. In the 2023 Foray Super Stretch, that zipper tech remains in play. "The ventilation is unmatched by any jacket I've ever worn," reported Colorado videographer, Will Sardinsky, who tested the shell during a precipitation-heavy summer in the Elk Mountains. "You can be completely vented from pit to hip while still having a solid rain barrier."
The new Super Stretch, though, is more notable for its mix of exterior fabrics. The 50-denier Paclite Gore-Tex shell plays the middle-ground between heavy-duty and lightweight. "It's more durable and waterproof than ultralight, ultra-breathable fabrics nowadays, but still maintains flexibility and softness," said Sardinsky, who felt the extra pack weight was worth it when he watched rainwater bead and roll off the shell during high-alpine storms in his home range. And while the Paclite Gore-Tex itself isn't stretchy, OR stitched a panel of dimpled, waterproof, elasticized Gore-Tex (a fabric borrowed from the PNW brand's critically acclaimed Hemispheres ski kit) into the upper back of the jacket. "When I bent over to tie my shoes, I never felt the shell pulling at my back like many others do." Sardinsky raved.
"It's Gumby-meets-Gore-Tex," relayed category manager Drew Zieff, who says the strategic paneling allows the Foray Super Stretch to go toe-to-toe with softer-shelled competitors in comfort and stretch categories while trouncing them in the waterproof department. The stretchy panel was an obvious potential weak point in terms of waterproofing, but Sardinsky didn't notice any precip penetration in the Rockies. And Zieff put it through the admittedly imperfect shower test—10 minutes of direct pitter-patter—to no leakage. "Combining stretch, ventilation, and waterproofing is imperfect alchemy," commented Zieff.
Bottom Line: Like a powerlifting champion who moonlights as a yoga instructor, the Foray Super Stretch balances heavyweight waterproofing with targeted stretch. Throw best-in-class venting into the mix and this just might be your new favorite shell.
Best Heavy-Duty Shell Jacket: Maloja RumoM ($599)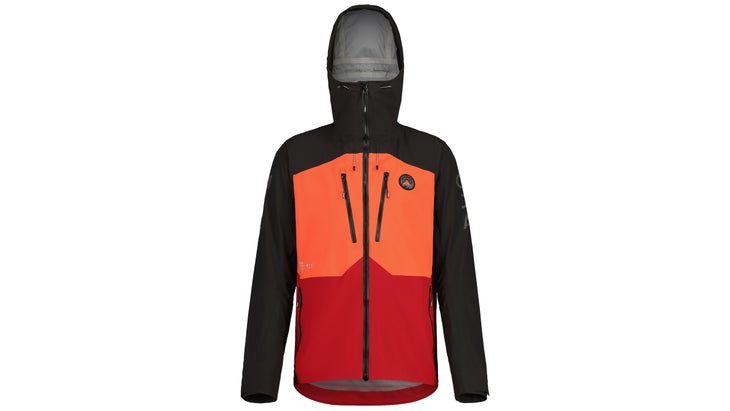 Weight: 15.6 oz
Sizes: XS-XL
Pros: Burly, durable, stylish shell that's unafraid of mud and dirt; Waterproof enough for riding in the rain and snow; Soft face fabric blurs the line between hard shell and soft shell
Cons: Not rated as high on the waterproof/breathability scale as some shells in this category
Maloja's Cembra shells are named for the resilient Swiss stone pine, which can cling to blizzard-beaten slopes for over 1,000 years. Based on field notes from Tahoe SportsHub bootfitter John Lauer, who put the RumoM to the test on mountain bike rides in relentless sleet and rain in the Sierra, the moniker is apt. He gave the three-layer, recycled polyester Cembra Light fabric full points for weatherproofing, reporting "my phone stayed bone dry in the chest pocket," and commended "bomber, taped seams and tight stitching" resisted not just rain, but mud and dirt, too. "Trail work in the rain? No problem," he said. He gave the RumoM a thumbs up for a helmet-accommodating hood and pit zips but middling scores for breathability, judging it a tough, technical shell best used in heavy weather. Points continued to stack up for the capacious and protective chest pockets, but he did miss the added organization of an internal pocket. But between the capable fabric and incontrovertible style, he was stoked at the prospect of year-round use. "I'm going to look steezy snowboarding this winter," he joked.
Bottom Line: A capable, stylish year-round crusher. Ideal for riders of bikes and boards who are hard on their gear.
Best Style: Smartwool Active Ultralite Anorak ($130)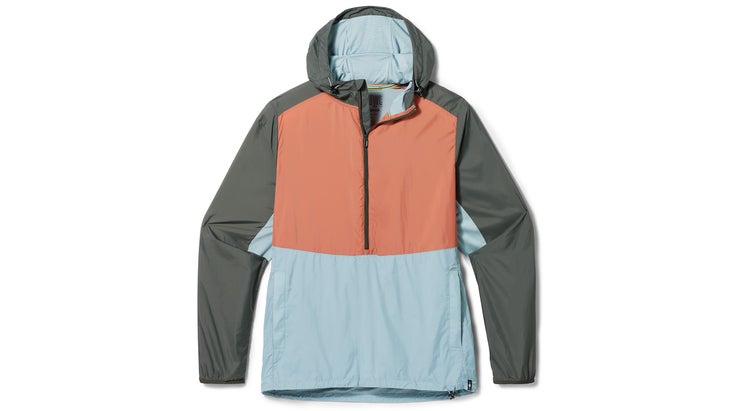 Weight: 6.5 oz (M)
Sizes: S-XXL
Pros: Style in spades; Price is right; Windbreaker with merino paneling wicks well for high-output activities
Cons: Soaks through in the rain
Between the hip anorak cut and the subdued, earth-toned color blocking, Smartwool's Ultralite Active Anorak was our test team's top pick for style. But style alone doesn't make a great hardshell. Smartwool's spin on the classic nylon windbreaker aims to meet the needs of high-output athletes thanks to panels of breathable merino under the arms (in lieu of pit zips), along the upper back beneath a protective flap, and lining the hood. Emmy-winning lensman and longtime tester Scott Simper was pleasantly surprised by the breathability on a ridge run in Utah's Wasatch Range. "The merino fabric is great for wicking away sweat and the panels performed well, keeping me comfortable running uphill," he reported. Category manager Drew Zieff jokes, "The merino-lined hood makes this anorak so comfy I'd be happy wearing it on an international red-eye," but noted the rhetorical trip might be waylaid due to a lost passport since the two hand pockets are unfortunately zipper-free. He judged a slight, two-way stretchiness in the arms and shoulders another advantage of the merino paneling, and was impressed by the packability (the jacket squishes down to the size of a grapefruit), especially for the price. However, multiple testers noted that this was better suited for wind, not rain, as the merino paneling and the thin, DWR-treated nylon were overwhelmed in any serious precipitation.
Bottom Line: A stylish, affordable windbreaker with the breathability and comfort of merino, this piece is best suited for active pursuits in balmy albeit breezy conditions.
Best MTB Shell Jacket: Picture Granity Jacket ($185)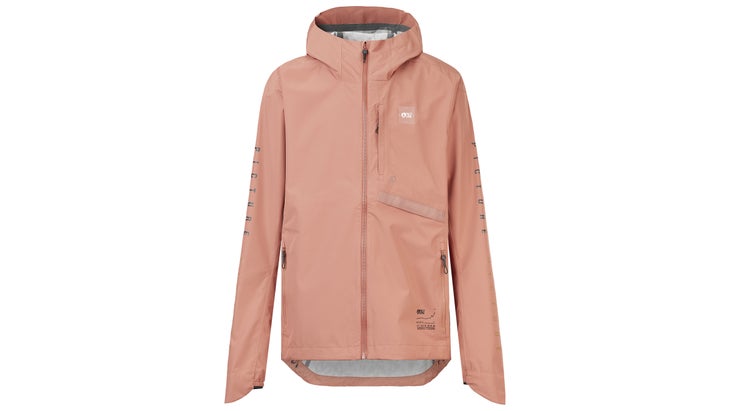 Weight: 14.1 oz (L)
Sizes: S-XXL
Pros: Bike-specific fit and features; Stylish; Breathes well
Cons: Not the most waterproof MTB shell we tested
Picture Granity is a 2.5-layer jacket purpose-built for singletrack connoisseurs. The eco-focused French apparel outfitter crafted the MTB shell from recycled polyester and the brand's new "Circular polyester"—an amalgam of post-consumer garments and factory scraps that would otherwise be diverted to the dump. Our dirt-worshipping tester vetted the Granity's technical prowess during an unusually rainy stint of bike park escapades and above-treeline rides in Crested Butte, CO. He loved the Granity's dropped-hem, articulated elbows, and half-shell helmet-compatible hood—what he called "an incredibly bike-tailored fit that's great for trail biking"—although he noted the hood wasn't beefy enough to accommodate a full-face downhill helmet. He gave the 2.5-layer, 10K/10K fabric—which sports Picture's Dryplay membrane, sourced from recycled PET—high marks for breathability, even while huffing and puffing up Crested Butte's precipitous climbs. "Most days I left the house in this jacket, I never took it off," he reported. While the Granity doesn't have vents, he appreciated the "nifty" snapping button on the chest, which allows riders to unzip the jacket for ventilation but keeps it from flapping too aggressively on downhills. He also raved about the Teflon Ecoelite PFC-free DWR coating, which he found a durable defense against dirt and mud. "Whether I was railing perfect berms and slinging mud lap after lap or just trying to get home, this jacket simply doesn't get greasy," he said. His biggest concerns were focused on overall waterproofing, particularly for riders in notoriously precip-prone zones like the Pacific Northwest, who might find themselves "a little damp and undergunned at times."
Bottom Line: A sustainable, well-designed shell for two-wheeled adventures in moderate conditions that's sleek enough for unabashed après.
Best Trail Shell Jacket: Mountain Hardwear TrailVerse Gore-Tex Jacket ($420)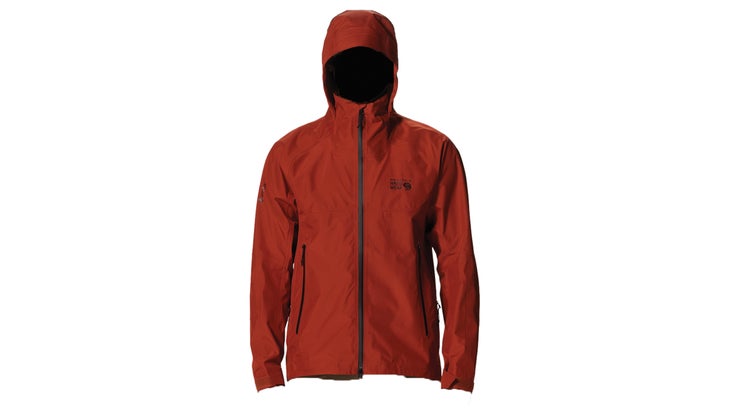 Weight: 1 lb 1.4 oz (M)
Sizes: S-XXL
Pros: Recycled fabric and new ePE Gore-Tex membrane delivers durability and waterproofing; Solid all-arounder ready for most adventures
Cons: Lacks breathability; Large packed size
Alaskan college professor, backpacker, and longtime gear tester Dorn Van Dommelen put the new Mountain Hardwear Trailverse to the test in the ultimate proving ground: off-trail in the Chugach and Talkeetna Mountains. After bushwacking through outerwear-obliterating alder, rusty menziesia, devil's club, and downed trees, he reported that "the jacket showed no wear, though my hands are still beat up over a week later." When rain turned on in the 49th state, making bushwacking through wet brush a borderline amphibious adventure, Van Dommelen gave the recycled, three-layer Gore-Tex fabric with a bluesign-approved ePE (expanded polyethylene) membrane similar kudos for waterproofing. "It kept me nice and dry when my rain pants failed," he said. Factor in burley zipper construction as well as a reliably cinched waist, hood, and storm collar, and Van Dommelen called it a "bomber shell for nasty weather." Critiques of this Mountain Hardwear armor were twofold: breathability wasn't up to snuff (dual core vents subsequently came in handy on steeper trails) and packability wasn't a strong suit.
Bottom Line: A reliable, recycled rainshell for hikers and backpackers who prioritize durability and waterproofing over packed weight and breathability.
Best Town Shell Jacket: Fjällräven HC Hydratic ($275)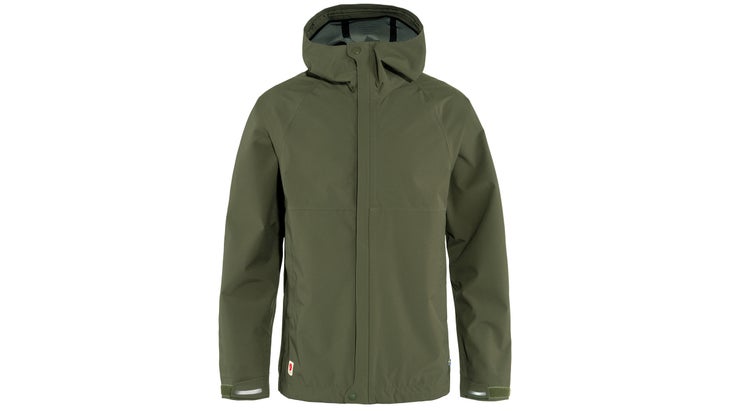 Weight: 13.2 oz (M)
Sizes: XS-XXL
Pros: Style is clean, simple, and ready for town; Reliable waterproofing; Room to layer underneath
Cons: One-trick pony; Doesn't breathe well
These days, it's just as common to see Fjällräven's Arctic Fox emblem adorning fashionistas on the busy streets of Tokyo and New York as it is hikers at your local trailhead. The HC Hydratic is a top pick for town thanks to its clean, frills-free style and a generous, baggy cut that accommodates layers underneath, making it ideal for work commutes and nights out when precipitation is in the forecast. When temps plummeted in the Tetons, our Jackson Hole tester was able to insulate accordingly and go on his typical morning walks, always staying warm and dry. As such, he appreciated the weatherproofing of the 2.5-layer shell's "non-crinkly, soft fabric," which is a recycled polyester coated in polyurethane. "I don't sound like a walking trash bag every time I take a step," he said gratefully. However, qualms arose regarding breathability during steep hikes in 50-degree weather at Jackson Hole Mountain Resort: "Even with the side ventilation zippers all the way open, the main zipper not all the way up, no humidity, hood down, and a cool wind blowing, I got pretty hot," he reported. That said, he did love those side zips, which he called "significantly easier to access than all of the pit zips jackets I've used." All told, he found the HC Hydratic better suited for morning commutes than alpine starts.
Bottom Line: A stylish, waterproof, and comfortable shell that gives commuters, city dwellers, and mountain town movers and shakers room to layer in cold, wet weather.
Best Soft Shell: Mountain Equipment Aerotherm ($280)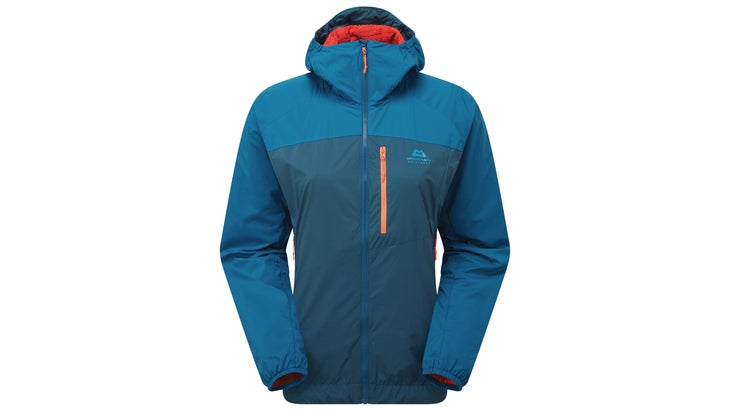 Weight: 10.6 oz (L)
Sizes: S-XXL
Pros: Soft-shell jacket that offers warmth as well as wind protection; Micro-grid liner is comfortable against the skin and helps wick sweat; More weather-resistance than expected
Cons: Not waterproof; Athletic fit minimizes layering potential
The antithesis of clammy hard shells, Mountain Equipment's new Aerotherm soft shell is so comfortable against the skin that our Steamboat, Colorado, tester enjoyed wearing just a tech t-shirt underneath. That comfort comes courtesy of a lightweight, warm, plush, and perspiration-wicking micro-grid polyester lining—which Mountain Equipment purposefully omitted at the armpits for maximum breathability. After a steep mountain bike climb on his backyard Buffalo Pass, our tester broke a sweat, but "the waffled liner and thin pits kept me cool and the sweat off my skin," he reported. While the liner was a major selling point, the exterior impressed, too: a double-weave Exolite 45 polyamide fabric is soft to the touch, cutting through wind and moving effortlessly with the body. While the shell is by no means waterproof, our tester took the Aerotherm on a mildly rainy hike up to 12,000 feet in the Flat Tops and found it "surprisingly water-resistant." Still, points were docked for an athletic fit that minimized layering potential, a lack of overall stretch, and a hood with a minimal visor that didn't fit well over a helmet.
Bottom Line: Between the wind-breaking soft-shell fabric and the liner's warmth and wicking chops, the Aerotherm is a versatile layer ideal for alpine adventures in chilly and dynamic conditions.
How to Buy
If we had to describe the perfect shell jacket, it's one that can handle any adventure in every condition, from trail runs on breezy ridgetops to backpacking missions in snow and sleet. Unfortunately, the perfect shell doesn't exist. Subsequently, if there's one word to keep in mind when shopping for a shell jacket, it's "compromise."
Specialized Shells vs. All-Around Shells
Specialized shells that crush a particular type of condition or activity are woefully under-gunned—or over-gunned—for others. For instance, a high-denier three-layer shell is overkill for most hikes and backpacking trips. Vice versa, all-around shells that can handle multiple conditions or activity types are often not the best at those activities. The Norrøna Falketind, our favorite all-around shell, can hang on both mountain bike rides and backcountry ski adventures, but it's not our favorite in either category.
Weight vs. Durability
Weight is another aspect of shell design that requires some compromise. The lightest shells, like the Crazy Jacket Fly, sacrifice elements like durability (and/or waterproofing). The Maloja RumoM? It can scrape against rocks no problem, but it's not breaking any records for weight.
Budget vs. Quality
Of course, compromise is also at play when it comes to budget. While we've included our top budget pick—the Patagonia Torrentshell, which provides excellent protection at a sub-$200 price point—you generally get what you pay for. If you're buying a cheap shell, you may be making a compromise on performance, or at the very least, technical ability.
Lightweight shells and windbreakers, like the Smartwool Active Ultralight Anorak, are fairly affordable, but not very technical, and taking it on a socked-in alpine climb would be a fool's errand. As you step into the realm of more technical, higher-quality three-layer fabrics (a sandwich of a bonded inner liner, waterproof and breathable membrane, and protective face fabric that's widely accepted as the best armor in extreme conditions) expect to pay more.
Waterproofing vs. Breathability
Waterproofing and breathability are discussed ad nauseam in shell jacket product descriptions and gear reviews because they're some of the most critical elements to consider while shopping. The best shell jackets will keep you dry from both precipitation and perspiration, and manufacturers use different semi-permeable membranes, most famously Gore-Tex, to defend against precip while allowing sweat to escape. Again, this comes down to compromise: more waterproofing comes at the cost of breathability, and vice versa.
Soft-shell vs. Hard-shell Jackets
No discussion of waterproofing versus breathability is complete without touching on the designation between hard-shell and soft-shell jackets. Hard shells are typically stiffer in hand, more waterproof, and less breathable. Soft shells are, as the name suggests, softer to the touch, and they usually provide better active wicking but are less trustworthy in serious precipitation. Oftentimes, hard shells are only deployed when weather rolls in, while soft shells can be worn all day long. There are pros and cons to each, and we like to have both in our closet. That said, if you're only going to get one shell, our recommendation is that it should be a hard shell.
Compromising and the Art of the Quiver
If you're a skier or snowboarder, mountain biker or surfer, fly fisherman or kayaker, you're likely familiar with the art of the quiver. The average skier, for instance, may be content having one pair of all-mountain skis, but advanced skiers will build a quiver of multiple pairs in order to better react to changing conditions and objectives throughout the season. In addition to their all-mountain skis, they may have a pair for powder, a pair for park, and a pair for backcountry—you get the picture. The same concept can be applied to shell jackets.
If you're a dedicated specialist, like a trail runner or a mountaineer, it makes sense to start with a specialized shell. But if you're an indiscriminate outdoor enthusiast who bikes one weekend and hikes the next, it makes sense to start with an all-arounder, like the Norrøna Falketind or the Mountain Hardwear Trailverse. Then you can add specialists: an ultralight emergency layer like the Crazy Jacket Fly, a comfortable soft shell like the Mountain Equipment Aerotherm, or an alpinism-worthy bombproof shell.
Final Tips for Shell Shopping
>When shopping for a shell, it's important to keep fit and layering in mind. If you're supporting your local gear shop and you plan to wear a puffy underneath your shell, bring your puffy with you when you shop.
>If you're planning to use the shell while climbing or biking, make sure you try it on with a helmet.
>If you're shopping online, shop from a place like REI or Backcountry that has a customer-friendly return policy.
When it's time to upgrade your gear, don't let the old stuff go to waste–donate it for a good cause and divert it from the landfill. our partner, Gear Fix, will repair and resell your stuff for free! Just box up your retired items, print a free shipping label, and send them off. We'll donate 100 percent of the proceeds to The Outdoorist Oath.
Lead Photo: Evan Green