2023 Summer Gear Guide
The Best Boardshorts of 2023
We surfed, ran, and swam our hearts out—and these three winners rose to the top
Heading out the door? Read this article on the new Outside+ app available now on iOS devices for members! Download the app.
Finding the best pair of boardies isn't easy. They should never chafe, always dry quickly, and let you naturally move through the water. Once you do find that unequaled pair, they transcend apparel—they're a treasured possession that goes with you everywhere. This year we found three trunks worthy of that rarified status.
The Winners at a Glance
Roark Passage Primo
Quiksilver Original Scallop
O'Neill Hyperfreak Hydro Comp
How We Test
Number of Testers: 3
Number of Boardshorts Tested: 10
Number of Waves Surfed: 125
Number of Miles Swam: 5
Number of Miles Ran: 10
Chafe Incidents: 3
Meet Our Lead Tester
Jack Haworth is an avid standup paddler and surfer who lives in Dana Point, California. With ample opportunities for surfing, paddling, swimming and beach running, Haworth put the boardshorts through a classic Southern California wringer. Ryan Jonnson, an avid surfer, fitness enthusiast, and entrepreneur based in Laguna Niguel, California, assisted him.
The Reviews: The Best Boardshorts of 2023
Roark Passage Primo ($89)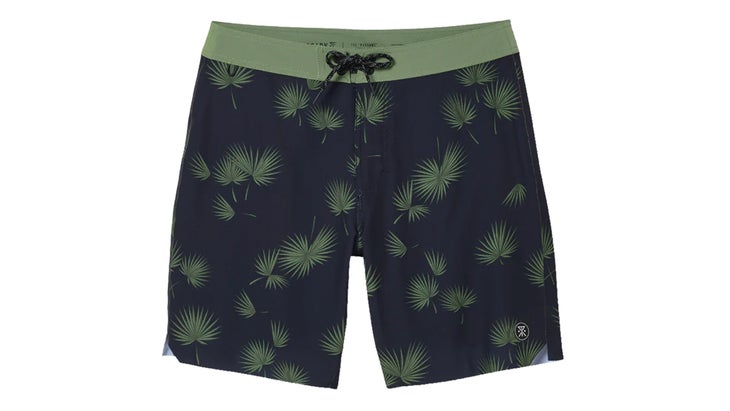 Size Range: 28-40
Pros: Slim fit looks stylish; quickest dry time of the test; four-way stretch fabric is comfortable for surfing or beach workouts
Cons: Lackluster pattern options
Meet our go-to trunk for summer: the Passage Primo features a comfortable, slim fit and an 18-inch length, while a fabric blend of spandex and recycled polyester doesn't restrict movements while surfing or beach running. Welded inseams minimized chafe and maximized stretch while a water-repellent fabric coating kept drying times to less than 20 minutes, making it easy to hit the cantina after leaving the sand. Plus, a vertical waterproof zip pocket on the right leg came in handy for stashing cash or cards.
Bottom Line: Stylish yet functional, the Roark Passage Primo was our favorite pair for all-around use
Quiksilver Original Scallop 18" ($65)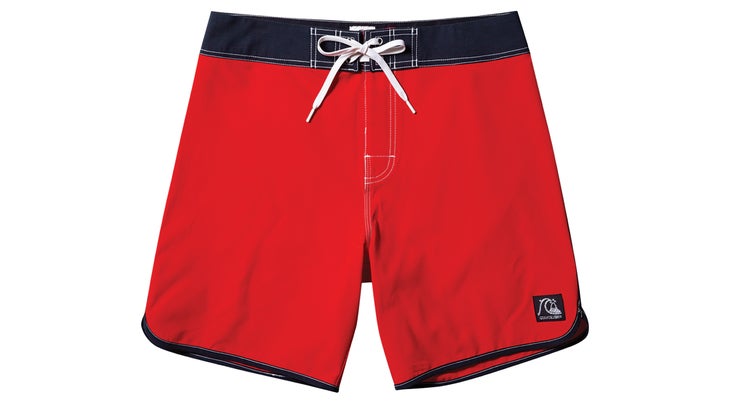 Size Range: 28-40
Pros: Stylish throwback look; hydrophobic coating effectively repels water
Cons: Less stretch than other shorts we tested
The makers of the original scallop hem boardshort in 1971, Quiksilver created this now-iconic design to allow for greater movement while surfing. More than 50 years later, the brand has revived the legend with the Original Scallop, sewing in a few upgrades for the modern-day waterman while keeping the classic look. Most notably, the new poly-elastane-cotton fabric blend offers new-school comfort with four-way stretch, which is great for surfing, swimming, or beach volleyball. A hydrophobic coating effectively repelled water from soaking the fabric, which led to sub-30 minute dry times. That said, the new tech didn't replace its old-school style, which was faithfully recreated with contrast stitching and a patch featuring the company's original logo.
Bottom Line: A vintage-looking boardshort that blends old-school vibes with new-school tech.
O'Neill Hyperfreak Hydro Tech 19″ ($70)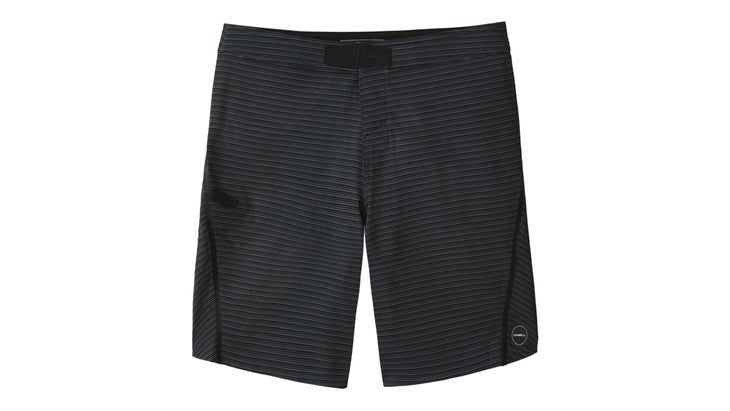 Size Range: 28-40
Pros: Streamlined fit with a no-bulk closure system; fabric blend allows for unrestricted movement while surfing
Cons: Small pocket adds slight bulk on right leg; slower dry time compared to others we tested
O'Neill's patented hook and loop Velcro closure system eliminates a bulky drawstring and delivers a streamlined fit that lays flat against your skin. That, combined with no inseam, a laser-cut hem, and four-way stretch fabric, meant we could surf longer with fewer restrictions. The polyester-elastane fabric blend coated with a water repellant treatment took less than an hour to dry, while a small welded zip pocket on the right leg was helpful for stashing wax or keys.
Bottom Line: One of the most progressive boardshorts in the business, the Hyperfreak Hydro Tech 19″ should be a go-to option for surfers.
How to Buy
Boardshorts are deceptively simple. But anyone who's lost their car key to the bottom of the ocean or had their surf trip ruined by serious chafing would advise you to take your shopping seriously.
The fit of your trunks depend on what you plan to do in them. If you're just going to hang on the beach and take the occasional dip, they can be a little looser. If they'll mostly be used for surfing, you need a tighter, more secure fit that won't get pulled off by the waves. Length can be a factor here too. Many surf-oriented boardshorts are a little longer to help protect your legs from the sun and rubbing on the board as you sit and wait for waves. Lifestyle trunks tend to be a little shorter these days.
Most trunks have a pocket, but they aren't all created equal. Check for a key loop and a secure closure system like Velcro or a zipper, although the latter can get sand in the teeth.
Buying direct from the brand's website is the easiest way to get your favorite boardies, as you'll typically find more size and color options available. While it's tough to beat the convenience of the internet, we'd still encourage you to support your local surf shop. Not to mention, trying on boardshorts in-store ensures you'll score the ideal fit and won't have to hassle with returns.
Lead Photo: Hugh Sitton/Stocksy