Is This All-Electric Travel Trailer the Future of Car Camping?
Meet the Lightship L1, a pop-up, hard-sided RV that's towable with an EV
Heading out the door? Read this article on the new Outside+ app available now on iOS devices for members! Download the app.
Chances are, when you hear the word "RV" you likely think of a large, boxy, white travel trailer with some swoopy graphics on the side, outdated interior decor and a flatscreen TV mounted on the wall. To say there hasn't been a lot of innovation in the RV industry over the last two decades is an understatement. That's where Lightship RV comes in: last month we got a glimpse into the future of RVing in the U.S. when the company announced the first all-electric production RV, the L1.
With the rise in electric vehicles, and particularly the arrival of electric trucks like the Ford F150 Lightning and Rivian R1T, Lightship's founders (who are both Tesla alums) saw the need for a new kind of travel trailer designed from the ground up to be towed by EVs. If you've ever pulled a camper behind a vehicle with an internal combustion engine, you know how much it reduces a vehicle's fuel economy. And, if you've kept up with towing tests of the Lightning, you know that towing any kind of trailer behind an EV has a similar effect, which can be quite limiting given the new and imperfect EV-charging infrastructure in most of the country.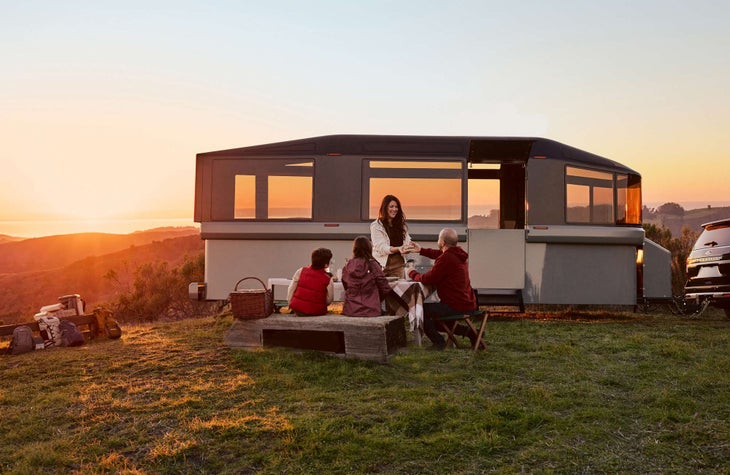 To combat those issues, Lightship created a pop-up, hard-wall design that, according to a press release, is "three times more aerodynamic than a traditional travel trailer." The lower profile while towing, combined with a built-in electric motor and self-propulsion system, contributes to what Lightship calls "weightless, low-drag towing." The company says that pulling the L1 should have zero impact on range or fuel economy, so a 300 mile range in an EV will remain a 300 mile range, and a gas truck that normally gets 25 miles per gallon will get that fuel economy while towing the L1. That's damn impressive.
Perhaps just as notable for Outside readers is that every single appliance and system on the L1 is fully electric, and designed to enable off-grid camping for seven days. There's 3 kW of solar panels integrated into the roof and awnings, which charge batteries that hold up to 80 kWh of energy. Translation: this thing has a lot of juice, and can even be used to recharge your EV at camp, or act as a battery backup for your house. All of the systems and appliances, like the induction cooktop and dishwasher (yes, dishwasher) are electric, and designed so that you won't have to ever think about running a noisy generator or getting propane tanks filled again.
The L1 checks a lot of boxes I think many folks are looking for in an RV: a bright, modern interior, hard sides, durable materials, all-electric appliances, and easy towing. The only downside in my eyes is the size: at 27 feet long with a "fully loaded" weight of 7,500 pounds, you need a sizable rig to tow it. Plus, a trailer that large likely won't handle too well off road—but that's not really what the L1 was designed for. Personally, I'd love to see Lightship launch a smaller version in the 17 foot range.
The L1 has a starting price of $125,000, and is scheduled to go into production in late 2024. That price might sound astronomical for a travel trailer, but it's actually quite a bit less expensive than many Sprinter Vans on the market, and it's in line with other luxury travel trailers like those from Airstream. We're excited to see one in person in the future, and hope Lightship can deliver on what looks to be an extremely exciting product that's sure to change up the RV market for the better.
Lead Photo: Courtesy Lightship