2023 Summer Gear Guide
The Best Car Camping Accessories of 2023
12 testers road-tripped over 8,200 miles with 45 car camping accessories in their trunks. These ten survived the long haul.
Heading out the door? Read this article on the new Outside+ app available now on iOS devices for members! Download the app.
If backpacking is a minimalistic pursuit, car camping is a celebration of excess. Thanks to trunk space and truck beds, racks and rails, the car camper has room for all the essentials—plus the extras, too. For outdoor enthusiasts with outsized toy collections, there's no better way to travel. Whether you're chasing swell, singletrack, steelhead, or some other white rabbit, this top-rated, torture-tested gear will ensure home is where you park it—and that you're comfortable and ready to play when you do.
The Winners at a Glance
BioLite BaseCharge 600 and 1500
Snow Peak Mesh Folding Chair
Moon MoonShade XL
Front Runner Slimpro Van Rack
Ignik Backside
SOL Flat Pack Gear Tub
Luno Gear & Shoe Storage Bag
Therm-a-Rest Honcho Poncho Down
Sidio SidioCrate Starter Pack
Garmin inReach Messenger
How We Test
Testers: 12
Products Tested: 45
Miles Road Tripped: 8,200+
Highest Elevation Driven: 13,114 feet on Imogene Pass, Colorado
Longest Road Trip: 2,500-mile, detour-stacked adventure from Bellingham, Washington to Bishop, California, and back again
Longest Stint on the Road: Our full-time vanlife tester used gear every day for three months straight
To find the best car camping accessories of 2023, we enlisted a diverse crew of road-tripping testers. A podcaster and roving journalist, as well as two doctors-in-training—one medical, one astronomical—called in from the Pacific Northwest. A pair of outdoor photographers, a ski shop boot fitter, and our car-camping accessories category manager all call Tahoe home, and they explored the Golden State on bike trips in the Sierra and surf missions to the coast. A bike mechanic from San Luis Obispo, California, sought warmer fall riding in Arizona. A Utah-based aircraft mechanic who does all the work on his overland rig explored the high-mountain passes of Colorado.
The rigs of these testers were similarly diverse. They ranged from the two-door Nissan Versa, an atypical adventuremobile that only turns heads when it's putzing along in your blind spot, to a handful of double-take-worthy machines, including a well-loved 2000 Toyota Tundra with a custom-built platform camper bed; a lifted, off-road-ready 2001 Jeep Cherokee; a 2006 Chevy Express with 30-inch topper and woodstove; a crispy 2019 RAM ProMaster; a powerful 2021 GMC Canyon Diesel with a camper shell; and more. One even included a Sprinter van made famous on the hit Netflix show "How to Build a Sex Room."
We asked this squad to hit the road, put 45 products to the test, and report back. After road trips, surf chases, bike journeys, camping weekends, and more, they filled out review forms. Testers rated gear on a quantitative scale for aspects like durability and practicality, and dove deep on qualitative feedback, discussing everything from pros and cons to installation woes and favorite features. Finally, our category manager, Drew Zieff, sifted through these review forms, picked winning products, then penned the reviews you find below.
Meet Our Testers
Drew Zieff
Drew Zieff is a Tahoe-based freelancer who writes for Backcountry Magazine, Whitelines, REI, Gear Junkie, and Forbes, among others. A regular Outside contributor, he heads our snowboard gear coverage in the winter. A few years back, he and his partner turned a plumbing van into their dream adventure mobile—a speedbump-filled odyssey. After a couple years of vanlife, the highlight of which was surfing from Canada to Mexico, the couple put roots down in Tahoe, though they still take van trips to the coast when there's swell. Familiar with the needs of both weekend warriors and full-time road trippers, Zieff proudly directed our car-camping accessories test this year.
Amanda Monthei
Amanda Monthei is a writer, public information officer on wildfires, and the podcast host of Life With Fire. A former wildland firefighter herself, she applies her knowledge gleaned from the front lines to educate the public. She's written about wildfires and natural disasters for Outside as well as NBC, The Atlantic, and The Washington Post. She's also an avid angler, surfer, and skier, and pens stories on a range of outdoor subjects. Monthei put more miles on the odometer than any other tester, mostly from a Washington to California road trip in her 2000 Tundra.
Dustin Stiffler
Dustin Stiffler lives full-time in his 2019 RAM ProMaster—unsurprisingly, he spent more nights on the road than any other tester. Stiffler's van is usually parked in San Luis Obispo, California, where he wrenches on bikes and nerds out on gear at Foothill Cyclery, or Patagonia, Arizona, where he's a guide and mechanic for Patagonia Bikes. When he's not hard at work, Stiffler's often going hard in the saddle of his gravel bike or volunteering for She Jumps.
The Reviews: The Best Car Camping Accessories of 2023
BioLite BaseCharge 600 and 1500 ($699-$1,699)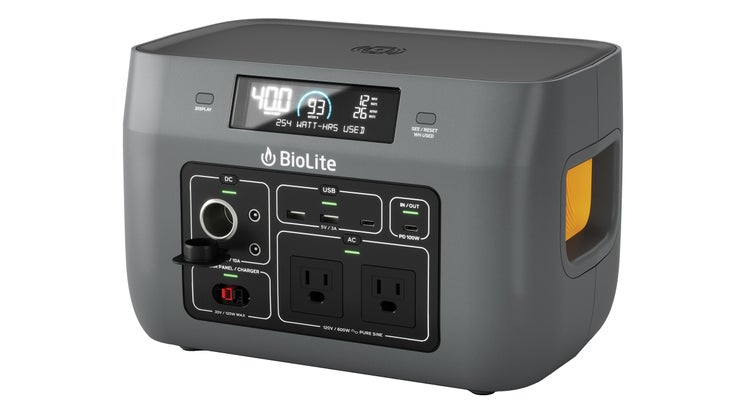 Weight: 13 lbs (600); 26.5 lbs (1500)
Pros: Easy-to-read display, generous inputs and outputs
Cons: Expensive, durability concerns
BioLite, a brand best known for its innovative solid fuel stoves, lighting solutions, and compact batteries, made an electric leap in 2022, adding these two portable power stations and a foldable, 100-watt solar panel ($400) to the lineup. The foot-long BaseCharge 600 has four USB outputs (two USB-A, one USB-C, one USB-C PD input/output), two AC outputs, a carport output, two DC barrel outputs, and a wireless charging top deck. Yup, you can charge your phone wirelessly just by slapping it on the top of the BaseCharge power station (as long as it's out of its case), tech our testers jokingly thought was reserved for fancy hotel rooms. The 622-watt-hour lithium-ion battery can charge an electric cooler for 15 hours, a laptop nine times, or resuscitate your cell phone 48 times. It sports easy-carrying handles and a simple-to-read digital dashboard that provides real-time data on how much juice you're using and how much you have left in the tank. Tester Amanda Monthei used the 600 on both work and surf trips in the PNW. She appreciated the reliability of the inset, ergonomic handles, the readable display, and the reassurance supplied by the backup power source. "A charge on this thing lasts forever," she claimed after an eight-day stint on the road. Drew Zieff, our category manager, put the 1500 on the chopping block, and at one point he was charging Bluetooth headphones, walkie-talkies, a drill, and his laptop. Impressed, he echoed Monthei's perspective on the power at play. "You could power a remote commercial photo shoot with this, an electric cooler for most of a weekend, or type away on your laptop from the road for a work week or three," he reported. Our testers' sole concerns centered around durability. The unit isn't waterproof, and one of our testers lost one of its grippy rubber feet during testing.
Bottom Line: A futuristic, well-designed battery that allows car campers to keep electronics topped up on the road.
Snow Peak Mesh Folding Chair ($165)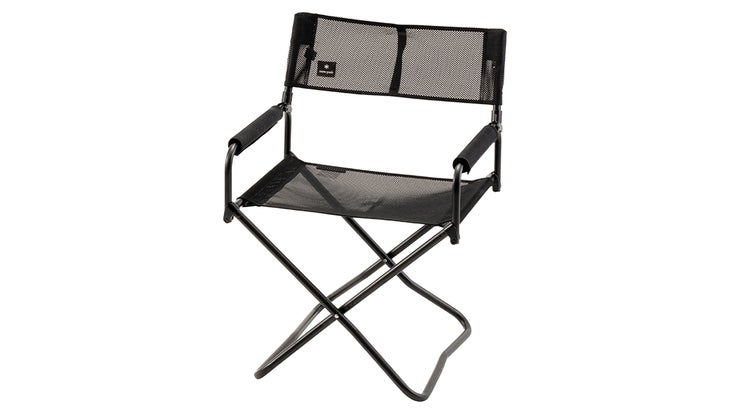 Weight: 6.8 lbs
Pros: Comfortable, tall seating height, sleek style
Cons: Tough to pack in smaller trunks
"This is definitely the best camp chair I've ever used," commented an impressed six-foot, three-inch tall tester after sinking into Snow Peak's Mesh Folding Chair on a car camping trip in Washington's Cascades. Tired of straight-backed camp chairs, he was most appreciative of the relaxed, comfortable posture afforded by the design. The nifty-yet-simple aluminum alloy frame and clever engineering create a durable, stable seat. The breathability of the polyester mesh paneling scored high marks on warm lakeside days at the foot of Mt. Rainier, too. A handy snap system for securing the folded-up unit was simple to use, although stashing the roughly 27-by-23-inch rectangle in compact trunks was trickier than with more collapsible competitors.
Bottom Line: The Mesh Folding Chair blends a smart, simple design with clean style.
Moon MoonShade XL ($595)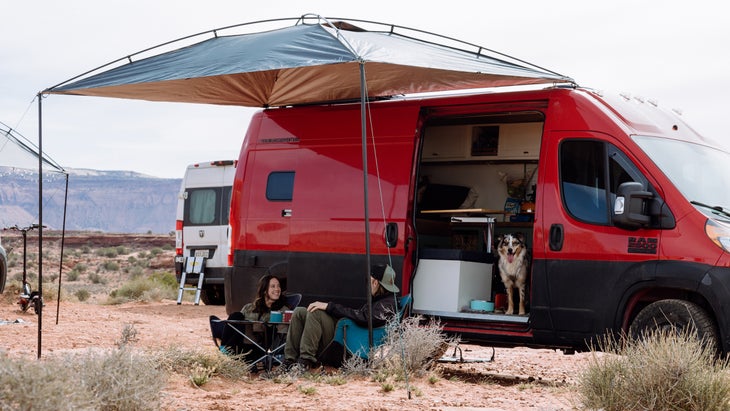 Weight: 14.8 lbs
Pros: Portable, lightweight, removable design, more shade than the original
Cons: Long setup time, hard to erect in the wind
If your weekend adventuremobile is a weekday commuter, there's no need for a bulky, heavy, permanently installed awning that makes your vehicle look like a safari rig. Moon's original MoonShade is a lightweight, canopy-style alternative to permanent awnings that's portable, stowable, and can be mounted to rails, racks, bare car roofs, and even trees. The brand's cult-like following has been clamoring for a bigger version, and the newly-launched 9-by-12-foot MoonShade XL delivers, providing 100-square feet of coverage—approximately 70 percent more than the original. At 14.8 pounds, it's 6.5 pounds heavier, attaches using sticky adhesive anchors, features thicker poles, and peak vents in the canopy to withstand wind better.
On the first night of a trip to Mammoth, California, Tahoe-based photographer and videographer Danny Kern experienced a downpour that would've soaked his squad prematurely. "Luckily, we had set up the awning right when we got there and all our chairs and cook setup were dry," he reported. When the sun poked out later in the trip, he said, "The awning provided great shade in the shadeless Mammoth bike park lot." Kern appreciated the lantern-hanging hook on the underside of the awning and the overall packability. While he liked the price point and that the MoonShade XL was easily removable, he did note that the setup time was longer than many permanent options.
Bottom Line: A removable, portable awning for fans of the MoonShade who want more coverage.
Front Runner Slimpro Van Racks ($1,486- $2,386)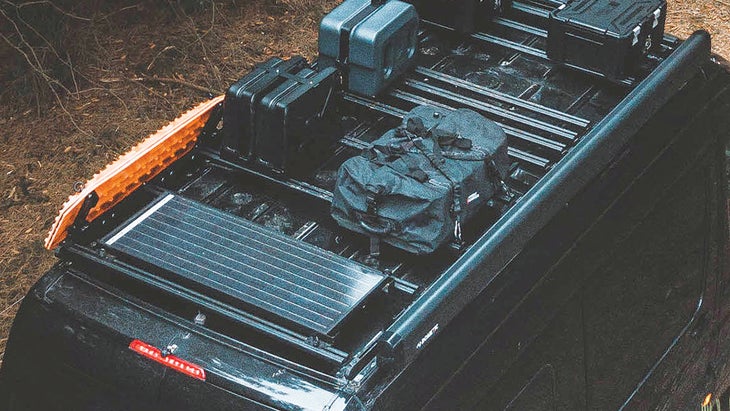 Pros: Sturdy, easy setup, versatile, wide range of compatibility on vans
Cons: Expensive, not compatible with older vans
Front Runner's newest van rack, the Slimpro, earned fantastic across-the-board scores from full-time road warrior Dustin Stiffler. He reported that installation was "DIY friendly" without special tools—a welcome rarity in the vanlife world. That ease-of-use continued as he affixed solar panels and a pair of Front Runner's road-ready accessories, the Pro Water Tank 20L and Wolf Pack Pro, to the rack's T-slot crossbars. The plug-and-play system made component installation painless and intuitive, and even allowed him to later shift his solar panel configuration to accommodate a cargo box. The Slimpro impressed on the aerodynamic front, and earned praise for the durability of its epoxy powder-coated aluminum construction, too, looking brand new after months of coastal fog and desert sun.
Bottom Line: A user-friendly ergonomic rack for vanlifers.
Ignik Backside ($80)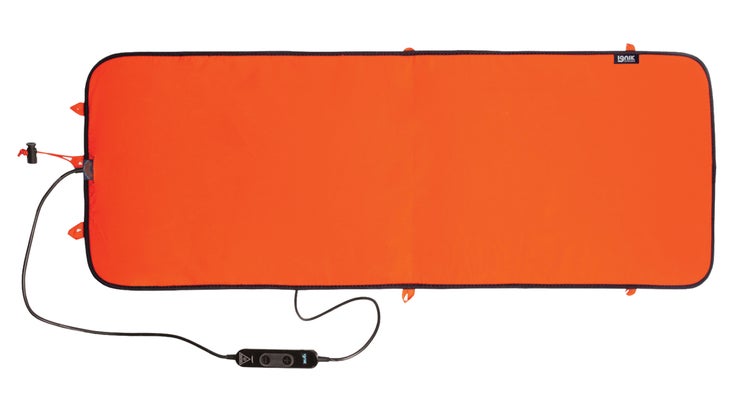 Pros: Adds cushioning to camp chairs, logs
Cons: Battery and car adaptor not included
Is Ignik's Backside necessary? No. Is it awesome? You bet your ice-cold bum it is. This portable pad gives padding to any camp chair, but more importantly "It roasts rumps to perfection like a Traeger grill," according to category manager Zieff, who was impressed by the almost instantaneous and even heat delivery. Plug the 100-percent recycled polyester and foam heating pad into an approved USB-C power bank or Ignik's 12-volt car adapter ($15), click the attached remote to your desired heat level, and the Backside warms your buns with up to 20 watts of heat. You don't have to worry about forgetting to turn it off at the end of the evening—it shuts off automatically after 90 minutes to conserve power. "When you're facing a campfire, your butt is neglected. No longer," explained Zieff, who was stoked to use the Backside on cold drives to the ski resort, too. While there are plenty of options on the market to retrofit car seats with heaters and even a few heated camp chairs, too, the versatile Backside earned praise from our testers for its ability to bounce between use cases with ease. It's small enough to take camping, affordable enough to justify the spend, and powerful enough to make a difference on freezing drives and cold campouts. Testers' sole complaint? A battery isn't included. Also available in an extra large version (Backside XL) to extend coverage and warmth to your back.
Bottom Line: Near-instant heat for your derriere, from car to log.
SOL Flat Pack Gear Tub ($35)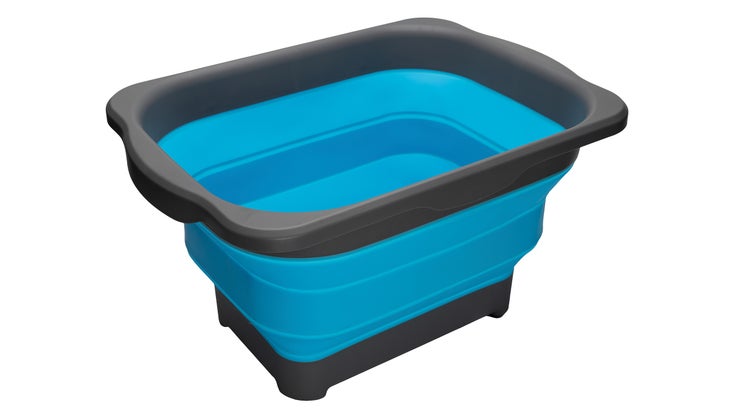 Pros: Collapsible, durable bottom, easy to carry
Cons: Offers less space than a non-collapsible bin
From gear room to gravel backroad and back again, SOL's Flat Pack Gear Tub is a relatively inexpensive, durable bin with infinite uses. "I mainly used it for storing and rinsing wetsuits," wrote one California tester, who also recommended the tub for washing dishes, storing camp kitchen gear, and general trunk organization. The ingenious but simple design—flexy, ribbed thermoplastic rubber sides sandwiched between a durable, hard plastic bottom and rim with molded handles and no-slip feet for added stability on uneven ground—collapses down to just over three inches tall. The space-saving advantages of this sub-three pound crate are obvious. And unlike some semi-rigid organizers, the tub is exceptionally waterproof, durable, and easy to clean, making it suitable for galley chores. The only bummer? The bin loses some packable volume when deployed, as the walls are less steeply angled than those of rigid bins.
Bottom Line: A collapsible, utilitarian tub for use at home and on the road.
Luno Gear & Shoe Storage Bag ($50)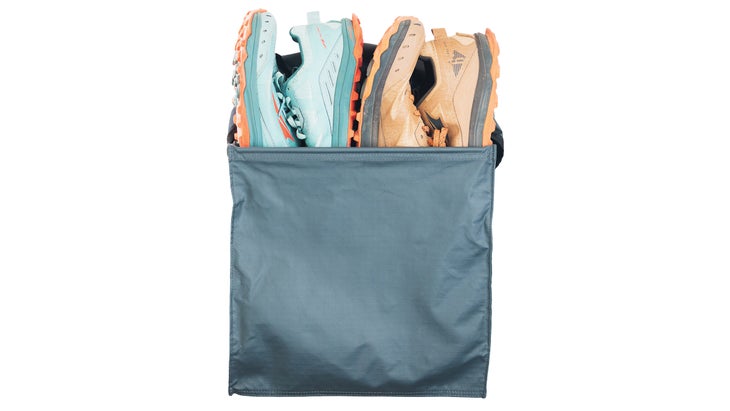 Pros: Easy-to-use magnetic design, mesh bottom for drip-drying
Cons: None, but don't forget the bottom is mesh
Luno engineered the Gear & Shoe Storage Bag to keep stinky shoes out of your car camping bedroom (AKA the trunk). The bag adheres to the outside of your vehicle using four microfiber-lined magnets. A mesh bottom lets shoes drip dry while the water-resistant 330-denier coated nylon ripstop top flap and body material protects against morning dew and overnight precipitation. During a road trip from Bellingham, Washington to Bishop, California, angler, surfer, and podcaster Monthei used the bag for wet wading boots, which kept her other gear and sleep setup dry and mud-free. While it's technically meant for shoes, Monthei employed it for wet waders, gloves, and surf wax. She also tapped the bag as an organizational tool inside the camper shell of her Tundra, where she stashed keys, a water bottle, and headlamp, among other things as a makeshift bedside table. The applications, she felt, were endless: "It'll definitely stay in the back of the truck, whether I'm road-tripping or not."
Bottom Line: A handy organizational tool designed for wet, stinky shoes and just about anything else.
Therm-a-Rest Honcho Poncho Down ($260)
Pros: Stylish, warm, good hood
Cons: Pricey for non-technical apparel
"I don't know if this is high fashion, but it's certainly high-alpine fashion," joked one Tahoe-based tester after wearing Therm-a-Rest's Honcho Poncho Down on deck dance parties and surf trips to the coast. The new design is a lighter, warmer update of the popular Honcho Poncho, stuffed with 650-fill Nikwax Hydrophobic Down instead of synthetic polyester. OG Poncho devotees will also notice the welcome addition of an anorak-style front zip, tailored arm holes (an improvement over batwings), new recycled DWR-coated nylon shell fabric, and a more fitted, three-paneled hood. Heather Hendricks, an outdoor journalist, put the Honcho Poncho Down to the test on a vanlife trip with her partner. The duo used it as a camping blanket in the Redwoods, a beach mat in Encinitas, California, and a scrunched-up pillow on the way to Austin, Texas. She dug the poncho's snap system, noting "This thing can turn from a blanket to a poncho and back in less than five seconds." Testers who were familiar with the original Honcho Poncho judged the down rendition worth the increase in price, noting that the update takes up less space in a trunk or pack, the 650-fill down is warmer, and the poncho design is more wearable than ever.
Bottom Line: A solid upgrade to a versatile camp favorite.
Sidio SidioCrate Starter Pack ($159)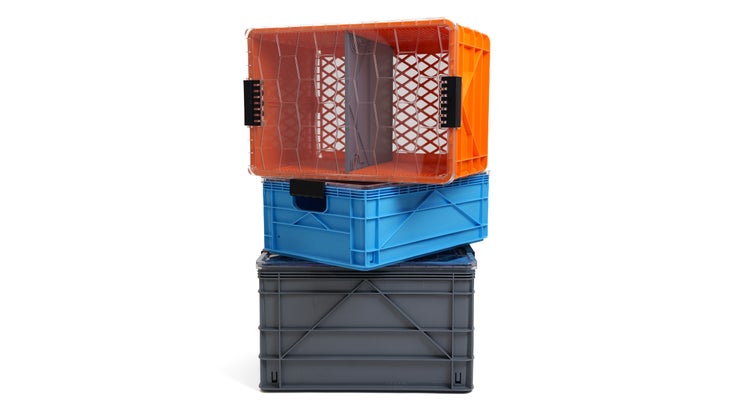 Pros: Customizable dividers, easy to find items through clear siding
Cons: Price, lots of pieces, off-road durability
Sidio has taken the ordinary—a classic milk crate, used by gear heads in garages for decades—and made it something more. The brand's Starter Pack, which comes with two Full Crates, one Half Crate, as well as the necessary dividers and lids, is a great mix for road-trippers and overlanders. The Full Crate can handle up to 200 pounds of gear or 250 pounds of stacked weight. Between the 41 divider slots and a slew of accessories (a grip that turns the crate into a basket, multiple divider lengths, bottom mats, cutting board lids, etc.), a mathematician's grasp of factorials is necessary to determine the number of possible configurations. Category manager Zieff loved the Full Crate's clear lid, which allowed him to see small pieces of gear like fin keys, fire starters, and tent stakes. Zieff's partner, fellow gear tester and outdoor photographer Katie Botwin, stole one of them for herself after she fell in love with the partitioning dividers. "I road trip and camp on shoots often, and the dividers help me stay organized," raved Botwin, who used the customization to store chargers, batteries, flash pouches, and other camera accessories.
Bottom Line: A modular crate worth coveting.
Garmin inReach Messenger ($300)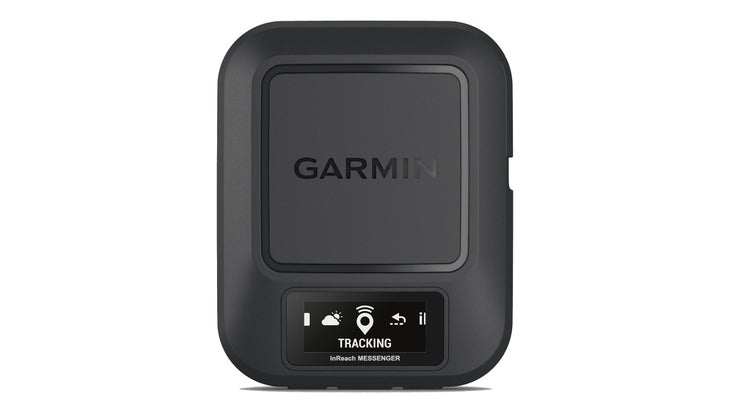 Weight: 4 oz.
Pros: Small, lightweight, seamlessly switches between connection sources
Cons: No navigation capability, slightly heavier than the Mini 2
The new inReach Messenger does everything a modern, lightweight two-way satellite communicator should do while smoothing out many of the kinks commonly found in the category. One of the biggest gripes? The inability to switch between satellite, cell service, and wifi within the same messaging app—a major pain point, especially amongst day hikers and overlanders. The Messenger does this especially well, paired with Garmin's new, simple, streamlined Messenger app that's leagues easier to use than the old Garmin Explore. One tester was able to carry on a long conversation using the device from a receptionless trail near Grants, New Mexico, to a 3G car ride, to a hotel wifi network without so much as a hiccup. Unlike many other lightweight communication devices, the Messenger has a diminutive one-inch-long screen and three simple buttons that allow you to send custom texts (albeit laboriously) in the event that your phone dies. Thanks to the Messenger's Reverse Charging feature, which acts as an emergency battery bank, a dead phone is less likely. It saved the day for one tester who brought her phone battery back to 14-percent after 20 minutes. TracBack, which leaves a simple breadcrumb trail, and a weather report feature both worked well. "Based on weather reports we pulled mid-hike, we revised our plans twice and were drier for it," reported a tester overnighting in the Pemigewasset wilderness area of New Hampshire. Within Garmin's own lineup, the Messenger is $100 less (but a half-ounce heavier) than the navigation-equipped lightweight satellite communicator, the inReach Mini 2. Testers felt that the puck-like Messenger, which is smaller than a tin of Altoids, was easier to carry (and lay flat on the dashboard of a car) than the competition. The waterproof rubberized casing kept the Messenger scratch-free and the lanyard anchor came in handy for hanging it off a pack. One small ding? The claimed 28-day battery life with minimal tracking under "favorable conditions" is probably a bit unrealistic—our testers found it lasted between 7-10 days in the backcountry.
Bottom Line: An easy-to-use two-way messenger that's especially good for switching between wilderness and civilization.
When it's time to upgrade your gear, don't let the old stuff go to waste–donate it for a good cause and divert it from the landfill. our partner, Gear Fix, will repair and resell your stuff for free! Just box up your retired items, print a free shipping label, and send them off. We'll donate 100 percent of the proceeds to The Outdoorist Oath.
Lead Photo: Jim Meyers/Tandem