2023 Summer Gear Guide
The Best Trailers and Campers of 2023
These adventure-ready rigs will help you stay out longer
Heading out the door? Read this article on the new Outside+ app available now on iOS devices for members! Download the app.
Everybody has different needs when it comes to buying a camper. Need a trailer that fits in your garage and sleeps a family of four, or a mobile ski chalet? How about a towable, off-road bunker that'll go anywhere your truck can? Or, maybe you just want to make the back of your truck a more comfortable crash pad for climbing trips. There's no rig that does it all, but chances are, there's one that's damn near perfect for you on the market now.
The Winners at a Glance
Best All Around: Arkto Campers G12
Best Minimalist Camper for Trucks: Topo Toppers Badlander and Mesa
Best Cold Weather Camper: Bear Adventure Vehicles Black Bear 7.0
Best Off Road: Australian Off Road Sierra
How We Test
Between attending overland expo shows to tour the latest rigs and testing demo trailers on extended trips, I spend over 30 nights camping in everything from rooftop tents to Airstreams every year. I look at build quality, included features and components, pricing, and availability, as well as details like trailer suspension and camper wall construction methods, in an effort to find a broad array of what I think are the most well-made and value-driven rigs on the market.
Meet Our Lead Tester
Bryan Rogala is a longtime contributor to Outside and has been reviewing trailers and campers since 2018. He's a hunter, skier, mountain biker, and all-around outdoorsman based in Santa Fe, New Mexico. He covers overlanding gear and rigs in his 101 video series for Outside Online, and is in a constant search for the perfect adventure rig.
Reviews: The Best Trailers and Campers of 2023
Arkto Campers G12 (From $48,000)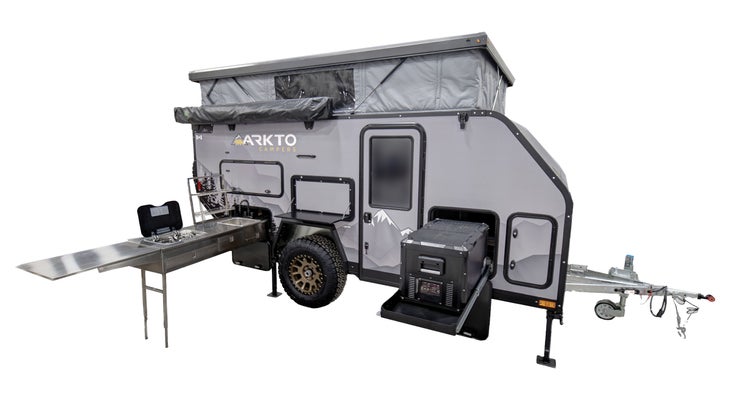 Pros: Incredible value; Generous standing room; Outdoor kitchen; No-wood construction
Cons: Canvas pop top means it's not as insulated as a hard-sided camper
Arkto Campers' G12 has answered the call for what many overland fans have long been looking for: a North American-made, Australian-style overland travel trailer with superb build quality, sleeping space for four, and just the right amount of off-road capability. Even better, you get all that without the astronomical prices associated with many of the best Australian imports. The base price includes everything most outdoorsy types look for in an adventure trailer: a light GVWR of 4,600 pounds, a well-appointed slide-out outdoor kitchen, plenty of interior storage, a furnace, an outdoor shower, a 270-degree awning, and 37 gallons of fresh water storage. There's no wood used in the construction, so rotting is not an issue (it's made from fiber-reinforced plastic composite panels with insulation in between, and it all rests upon a galvanized steel chassis), and the pop-top roof means you get an interior height of 6 feet 8 inches. Close the top, and a height of 7 feet 9 inches and total length of 19 feet 10 inches means the trailer will still fit in most modern garages. It's incredibly impressive that Arkto is able to pack that many features into a small trailer at this price point, especially when you consider the off-road cred thanks to 33-inch-tall tires and Timbren Axle-Less suspension with four inches of lift. If there's a better buy than the G12 in the overland trailer market right now, we've yet to find it.
Bottom Line: Everything we want in an overland trailer with a reasonable price tag
Topo Toppers Badlander and Mesa (From $8,950 and $6,450)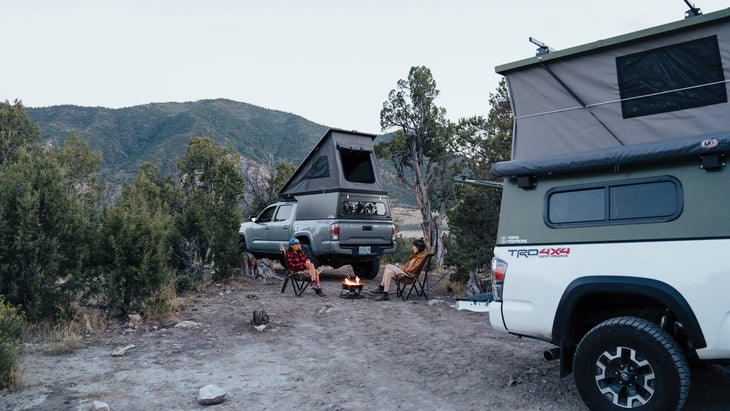 Pros: Affordable pricing; Lightweight; Full pop-top allows more room inside
Cons: Installation of the Badlander is only available at their shop in California
These days, it seems like there's a new player in the truck bed wedge-camper marketevery few weeks. We've tested models from many brands, like GoFast Campers and Super Pacific. But Ventura, California-based Topo Toppers has risen to the top of a very competitive field thanks to their top-notch aluminum construction, sharp looks, and incredible value. Topo offers two different models: a full pop-up camper that offers maximum interior space called the Badlander; and their latest, a more traditional wedge-style camper called the Mesa. Both retail for less than their competition while still offering impressive standard features like front and rear acrylic windows in the shell; two windows in the tent; keyed tailgate door locks; the ability to store bedding up top when the campers are closed; and to stand up while the bed is down. There are five options for shell colors, and you can add additional features like LED lighting, a MaxxAir fan, and cargo-access side doors. Best of all, at 300 and 250 pounds, respectively, they won't unnecessarily weigh down your truck.
Bottom Line: The best value in the wedge camper market
Bear Adventure Vehicles Black Bear 7.0 (From $17,600)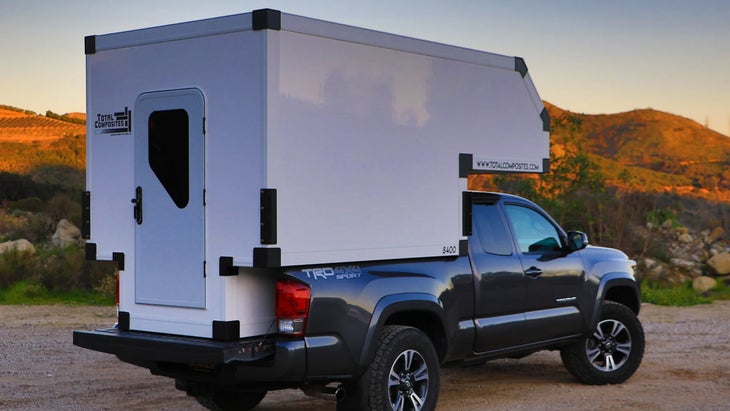 Pros: Top of the line shell construction; Beautiful interiors; Highly insulated
Cons: More wind-resistance and higher center of gravity than a pop-up
If you're looking for a bit more protection from the elements than a pop-up can provide, California-based Bear Adventure Vehicles has you covered. The brand is a dealer and outfitter of Total Composites' slide-in truck campers, which are some of the highest-quality and lightest weight hard-sided campers out there. You can purchase an empty shell and build them out yourself, as I did last year (and documented for Outside), or have Bear build out your camper for you. After building out my shell's interior and camping in it for over a year now, I can speak to the quality of construction of the Total Composites shell–it's incredibly well insulated, lightweight, and bulletproof. I expect it to last for decades. Bear matches that quality with its own interior builds that turn an empty box into a gorgeous, fully functioning camper with proprietary high pressure laminate cabinetry and all the essentials like running water, lighting, and a fridge. Bear says that most full interior builds come out to around $17,000, but they are completely customizable, so you can get exactly what you want and skip things you don't.
Bottom Line: A true four-season, fully custom truck camper that's fantastic for ski bumming
Australian Off Road Sierra (From $42,500)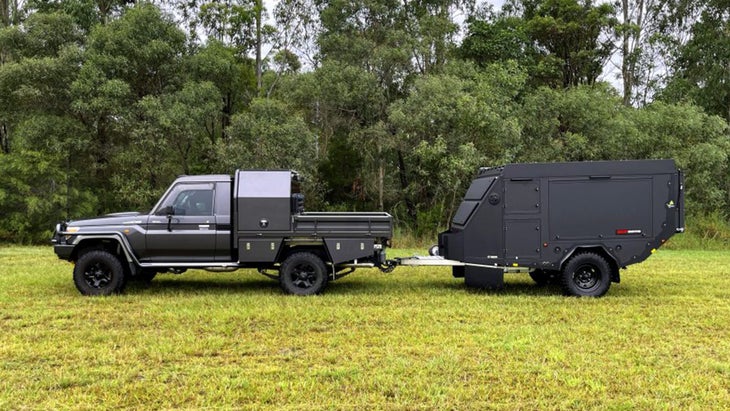 Pros: Built like a tank; Incredible off-road ability; Loads of water storage
Cons: A bit heavy for its size (3,968 GVWR)
If you're looking for a teardrop or other small trailer you can drag virtually anywhere, the Australian Off Road (AOR) Sierra should be on your shortlist. AOR has been making trailers since 2000 in Australia, but they're new to the U.S., and are available exclusively through XGrid Campers in Las Vegas, Nevada. At just under 15 feet long, the Sierra is one of AOR's smaller models, and feels like a teardrop when you're towing it. The setup is vastly different, though, with the outdoor kitchen on the side of the trailer and access to the bed from the opposite side, or through a drop-down vestibule off the back of the trailer. That rear vestibule, along with the 270-degree awning and outdoor shower, give you sheltered standing room to change clothes as well as privacy for a portable toilet—and make this trailer feel a whole lot bigger than it is. The inside sleeps two, there's copious storage, and the whole rig is completely dustproof—a feature we wish was more common among trailers. The real selling point of this rig, though, is the off-road capability; incredible approach, departure, and breakover angles combined with a robust, dual shock independent trailing arm suspension and 360-degree articulating hitch mean you can drag this thing anywhere your rig can go. Oh, and up to 52 gallons of fresh water storage means you can stay there for a long time, too.
Bottom Line: An absolute tank of a trailer that'll go anywhere you're willing to drag it
How to Buy
Be realistic about what you need and what you'll actually use. Rig envy is real, and it's easy to convince yourself you need the most off-road capable camper to beat the crowds, or a true four-season rig to chase storms in the winter. But, how often are you actually going to be camping in sub-zero temperatures? Do you really want to drag your new investment down a gnarly 4×4 trail, or do you just want to find a nice dispersed site on a forest service road? You can save yourself a lot of money and heartache by taking a good, long look at the type of camping you do most often and being realistic about what you actually need—maybe that's a front wheel drive van, or a trailer with a tamer suspension.
Buying a camper of any kind is a big investment, so it's best if you can try one out or at least see one in person before pulling the trigger. Visiting a dealer is good, but a lot of today's best rigs are sold direct-to-consumer, which means that events like Overland Expo are a great way to see a camper up close. Even better, try renting the type of rig that interests you from Outdoorsy to get a real feel for it—even if they don't have the specific model you're looking for, you'll get an idea of whether you're a van, trailer, or truck camper person.
Lead Photo: Courtesy Bear Adventure Vehicles