2023 Summer Gear Guide
The Best Sleeping Pads of 2023
23 testers snoozed on nineteen pads. These are the very best of the year.
Heading out the door? Read this article on the new Outside+ app available now on iOS devices for members! Download the app.
Sleeping pads might seem like glorified pool toys, but modern backpacking and car camping mattresses are packed full of impressive tech. From hollowed-out cores to reflective coatings to graduated baffles that act like bumpers on a crib, these hyper-engineered pieces of gear are all but guaranteed to win the war on backcountry insomnia.
The Winners at a Glance
Best Backpacking Pads
Editor's Choice: Therm-a-Rest Neo Air XTherm NXT
Best Comfort-to-Packability Ratio: Rab Stratosphere 5.5
Most Sustainable: NEMO Flyer
Most Versatile: Big Agnes Boundary Deluxe
Coziest: Zenbivy Light Mattress
Best Car Camping Pads
Best for Literal Car Campers: Exped MegaMat Auto
Best Guest Room Mattress: Big Agnes Captain Comfort
Best Value: REI Camp Dreamer Double Bed
How We Test
Number of Testers: 23
Number of Nights Slept Outside: 60
Coldest Night: 18 degrees with three inches of snow
Warmest Night: 102 degrees
Highest Elevation Tested: 9,000 feet
Sleeping bags get all the glory, but in reality, pads are just as important. Without a warm enough sleeping surface, even a top-of-the-line down bag will do little to insulate you from the cold ground. To that end, we took 19 sleeping pads into freezing shoulder season conditions, like the snow-covered high-alpine desert in New Mexico, to push the limits of their warmth ratings. We tested durability in all manner of climates, from the boreal forest of Minnesota to the Canadian Rockies of British Columbia, to make sure the test models weren't prone to puncture while dragging them in and out of tents and setting them up over stick-laden, rock-strewn campsites. Compressibility, ease-of-inflation, and durability of valves were also major factors when putting together our final list.
We chose 14 testers with varied interests and outdoor experience, ranging in age from 18 to 60. One is a recent high school graduate on his way to U.S. Army combat medic training. Others are veteran ultra-hikers, runners, and cyclists whose priority is to pack light. Two more are longtime paddlers who care less about weight and more about staying warm and dry in a wet environment.
When each tester finished using their test pad, they filled out a feedback form gathering thoughts, critiques, and opinions related to the warmth, support, comfort, and durability of each. Then we compared notes and picked the winners.
By far the best part of the process: We slept outside on days we otherwise would have been tucked into our own cozy beds, which led to plenty of Milky Way encounters and at least one night of shimmering Northern Lights.
Meet Our Testers
Stephanie Pearson
Backpacking sleeping pad category manager Stephanie Pearson has slept in a cave in Tasmania, in a tent at Mount Everest Base Camp, and under the stars while lost in the Australian Outback. She's a fitful sleeper.
Ryan Stuart
Car camping sleeping pad category manager Ryan Stuart usually sleeps better on a sleeping pad than on his bed at home. After innumerable nights spent beach camping for surf, mountain bike road-tripping, and bumming around crags across the West, Stuart has become a discerning connoisseur of luxurious car camp mattresses. For this category he tapped a team of avid campers all based on Vancouver Island, British Columbia.
Patrick Greehan
Greehan is a coach for the Duluth Devo Mountain Bike Program. He currently races gravel, mountain, and fat bikes with a focus on long distance and ultra events. He is an avid bikepacker who takes trips year-round in Northern Minnesota.
Tim Pearson
Tim Pearson is a retired U.S. Army First Sergeant based in San Antonio, Texas, with 22-plus years of experience sleeping outdoors in the field, including austere environments like Iraq and Afghanistan.
Joshua Pearson
Joshua Pearson lives in San Antonio, but recently enlisted as a combat medic for the U.S. Army. After basic training, he'll spend four years stationed in Alaska. He spends his summers outdoors hiking and solo camping.
Best Backpacking Sleeping Pads
Editor's Choice: Therm-a-Rest NeoAir XTherm NXT ($240)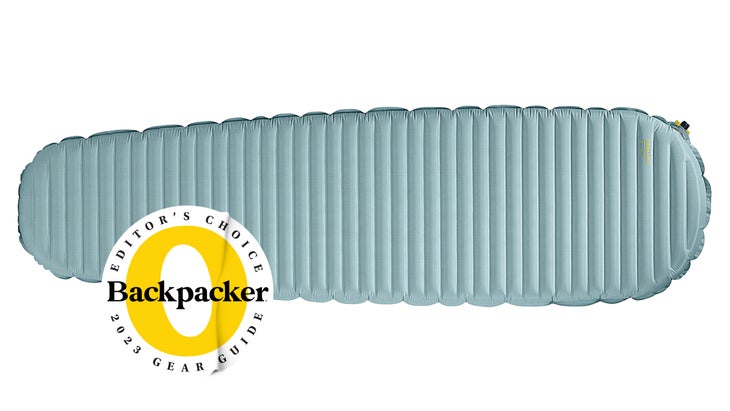 Weight: 1 lb (regular)
Sizes: Regular, Regular Wide, Large
R-value: 7.3
Pros: Off-the-charts warmth-to-weight ratio; very packable
Cons: Mummy dimensions are too slim for some; still a bit crinkly
Therm-a-Rest's NeoAir XTherm was already a bit of a unicorn in the backpacking world when it came out in 2012: crazy warm, packable, and lightweight. The new XTherm NXT must be a flying unicorn, then, since it's better in nearly every way. For starters, this pad sports an impressive bump up in R-value from an already winter-ready 6.9 to 7.3, which is unheard of for a one-pound pad. At the crux of this extreme warmth-to-weight ratio is an additional layer—the pad now has five—of Therm-a-Rest's proprietary coating, a thin metalized film woven into the pad's interior that reflects heat back at your body and minimizes heat loss. Surprising bonus: the fifth layer also minimizes the notorious crinkly "potato chip" noise this pad's predecessor was known for. Therm-a-Rest uses the same construction pattern in the NXT as in the last version (two triangular baffles stacked on top of each other) to create a stable surface with minimal heat loss, but increased the pad's thickness by a half-inch to a plush three inches. The bottom of the pad is wrapped in tough 70-denier nylon, which is more than twice as durable as the standard 20-30-denier nylon seen in comparable pads. And yet, the NXT is only a single ounce heavier than its predecessor. "The first thing I noticed was how much less bulky it was than my older version," says Patrick Greehan, a longtime user of the original NeoAir XTherm for ultra bikepacking races like the Arrowhead 135, a frigid late January event in northern Minnesota. The new XTherm is a half-inch shorter than outgoing version—and a full two inches shorter than Greehan's 5-year-old XTherm—packing down to a tiny nine-inch-by-four-and-a-half-inch package, roughly the size of an overstuffed business envelope. Blowing up the pad is a cinch with the accompanying pump sack, which inserts into a new easy-to-grasp "winglock" valve that keeps the air in all night. Greehan reported that the pad held air remarkably well—not just for one, but two nights in a row. If we have one complaint, it's that some of our testers found the mummy-shaped pad to be too narrow. But that didn't dissuade Greehan, who intends to use the XTherm NXT as his go-to pad for all ultralight pursuits, summer through winter.
Bottom Line: Therm-a-Rest's NeoAir XTherm NXT offers the best warmth-to-weight ratio of any sleeping pad, ever.
Best Comfort-to-Packability Ratio: Rab Stratosphere 5.5 ($140)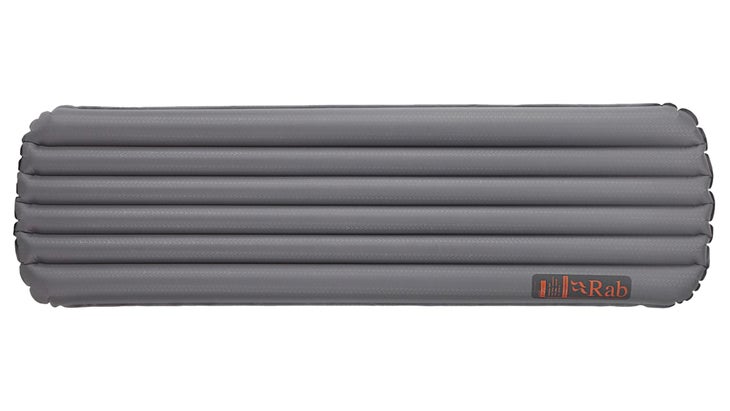 Weight: 1.7 lbs (regular)
Sizes: Regular, Large
R-value: 5.5
Pros: Lightweight; warm; comfortable
Cons: Pricey
British mountaineering company Rab has been designing highly-technical sleeping bags for more than four decades, but 2023 marks the brand's first foray into sleeping pads. We'd like to know: What took them so long? While the Stratosphere 5.5 isn't the lightest pad in Rab's new lineup, the mat's plush comfort, quiet 75-denier recycled polyester fabric, hefty insulation, and packability quickly rose to the top. For starters, the outer baffles on the vertically-baffled pad are raised slightly higher than the others, which act like bunkers on a crib. "I love the graduated baffles, which help keep you centered on the pad so you don't slide around," said tester Ariella Gintzler, who used it over three nights backcountry camping on the flanks of Mount Taylor in New Mexico. "It's plush in terms of surface area," she reported, meaning that other pads of this ilk have a more conservative footprint. "But that pays dividends in sleeping through the night." Blowing up the cushy hybrid rectangular pad (its four corners are gently rounded) to a thickness of 3.1 inches is fast and easy: it takes about ten puffs into the included inflation sack. That plush loft isn't just for show: The pad's 250 grams-per-square-meter of 100 percent recycled polyester insulation gives it an R-value of 5.5, plenty warm for deep shoulder-season expeditions like those our testers took into the Boundary Waters Canoe Area Wilderness, Minnesota, where frost is common in mid-September. For a pad this well insulated, testers were impressed with its Nalgene-size packability. Its innovative stuff sack is elasticized on the side rather than at the top, which made it exponentially easier to cram and go when our testers experienced an unexpected snowstorm on the CDT near Grants, New Mexico.
Bottom Line: The Rab Stratosphere 5.5 is a warm, plush, and packable pad for any adventure
Most Sustainable: NEMO Flyer ($150)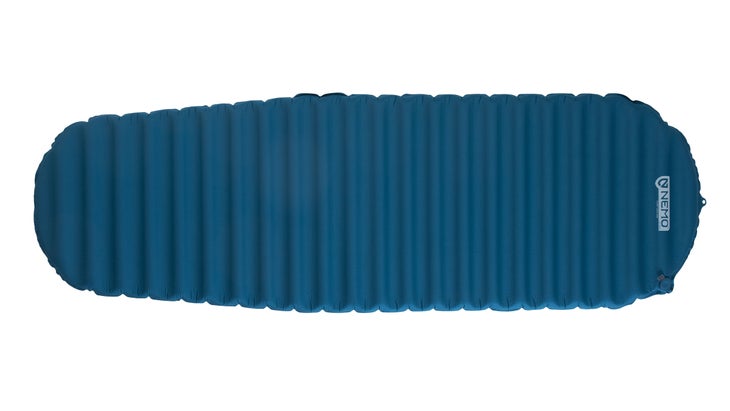 Weight: 1.4 lbs (regular)
Sizes: Regular, Regular Wide, Long Wide
R-value: 3.3
Pros: Sustainable; comfortable; quiet
Cons: Cold in shoulder-season weather
NEMO's 2023 Flyer is one of the few sleeping pads on the market to go through the Bluesign certification process, a strict sustainability audit from the well-regarded Swiss company. In the case of this pad, the outer fabric and stuff sack are 100-percent recycled 20-denier polyester. The trim, stuff like the circle cord, cord lock, webbing, and woven labels are also Bluesign-certified. Needless to say, NEMO has gone above and beyond the typical greenwashing tactics to make the Flyer more sustainable than most modern pads. But the Flyer is more than just a branding story. The secret to the self-inflating pad's comfort is in its horizontal polyurethane foam baffles (which are not Bluesign certified). Sixty percent of the open-cell foam is hollowed out, creating open air cells that are nested together, with connective valleys between the baffles that protect the pad from bottoming out. So the sleeper gets the best of both worlds: a lightweight pad with cushy air-and-foam support. One tester, a high-school mountain bike coach, took the Flyer to a September weekend race in southern Minnesota where the temps dipped into the high 40s. He found that the lower-profile two-inch-thick oval pad made it easier for him to sleep in a wide variety of positions without sliding off. The big win for another tester, who tried it while on a week-long trip to the Boundary Waters Canoe Area Wilderness: The soft 20-denier nylon fabric made almost no sound, which kept her tent mates happy. While both testers were cozy using this pad in the height of summer, when evening temps bottomed out in the upper 40s, they struggled with this pad in true shoulder season temps. The Flyer's comfort and support does come at a cost. While on a backcountry hiking trip in New Mexico, another tester noted that while the pad does self-inflate, it was still slightly flaccid even after 15 minutes of tent setup, requiring a few extra puffs to top it off. It also packs down to roughly the size of two Nalgenes—relatively bulky for a backpacking pad.
Bottom Line: The NEMO Flyer is a comfortable, environmentally-conscious pad for casual summer trips.
Most Versatile: Big Agnes Boundary Deluxe ($180)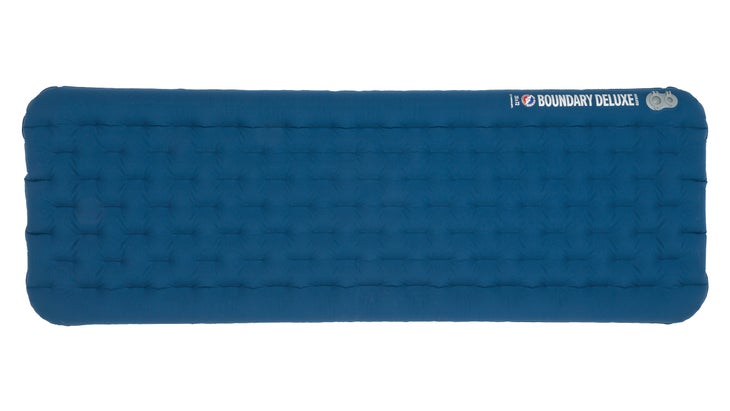 Weight: 1.6 lbs (Regular)
Sizes: Regular, Long, Wide, Wide Long, and Extra-Wide Long
R-value: 4.3
Pros: Comfortable and plush; comes in a size for every body
Cons: Scratchy; crinkly recycled face fabric
Most pads come in limited sizing, which doesn't make for restful nights for many backpacker body types. The Boundary Deluxe is the exception, with a rectangular pad that comes in five sizes, enough to accommodate almost every body type. For a canoe trip in northeast Minnesota's Boundary Waters, where weight and packability isn't as big of an issue as it is on a backpacking trip, our 5'9", 143-pound female tester chose the middle-of-the-pack 25-by-72-inch option. That's a luxurious five inches wider than most standard-sized pads. She found that for canoe camping, the added luxury was worth the extra weight and bulk, offering ample surface area for wiggling into a comfortable sleep position without falling off the pad. It's also plenty sturdy, with a soft 40-denier nylon shell wrapped with spandex on the top to give it some stretch and a 70-denier recycled nylon ripstop bottom for extra protection from sharp objects like pens, knives, and rocks. The pad features two low-profile valves on the top. Using the accompanying inflation sack, the Boundary Deluxe took just a few minutes to inflate. When it came to packing up camp, it easily compacted into a 5-by-8-inch roll, about the size of a pineapple. With an R-value of 4.3, the Boundary Deluxe is solid for three seasons, especially because it inflates to 4.25-inches, at least an inch higher than other insulated pads, meaning that it sits farther from the damp, wet ground. But it's also got a layer of water-resistant Primaloft synthetic insulation and another layer of heat-reflective film to contain body heat. "It kept me warm on a snowy, 35-degree night on the Continental Divide Trail below 11,300-foot Mount Taylor," reported Outside Gear Editor Benjamin Tepler. "Although my butt did get cold when it dipped into the 20s the next night."
Bottom Line: The Big Agnes Boundary Deluxe is a luxurious three-season pad that comes in a multitude of sizes.
Coziest: Zenbivy Light Mattress ($189)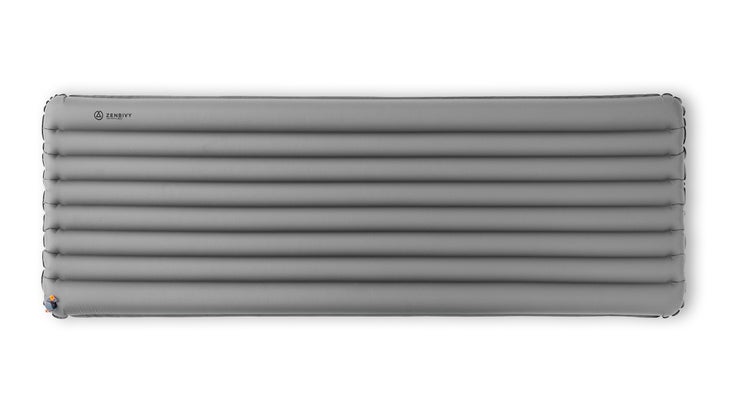 Weight: 1.3 lbs (Regular)
Sizes: 20×72, 25×72, 25×77, and 30×80
R-value: 5
Pros: Quiet; comfortable
Cons: Face fabric and valves feel fragile
Zenbivy is best known for its Light Bed, an ultralight setup where, instead of just a pad topped by a quilt or mummy, it's an intricate, zipperless system that includes an ultralight half sheet with down hood that attaches to a pad, topped by a down quilt attached via hook-and-loop closures. While our testers found the entire system to be a bit bulky and fussy, they loved the foundation: the Light Mattress. With each vertical baffle on this rectangular mattress filled with 180 grams of insulation per square meter—the bare minimum required to reach an R-value of five—it's only an ounce or two more than comparable three-season pads. Our tester used it in northern Minnesota on a few nights throughout October, with nighttime temps dipping below freezing. He woke up covered in hoar frost, but felt warmth radiating from below, which convinced us that, for most climates, this qualifies as a four-season pad. Testers liked the reversible air valve—pop it in one way to inflate, pop it the other way to adjust or deflate—but worried that the repeated motion could loosen the surrounding enclosure over time and cause leakage. One of this pad's greatest selling points is its coziness factor: Because the Light Mattress is meant to be paired with a half sheet and an ultralight quilt, its soft 20-denier polyester taffeta shell fabric was chosen for direct skin contact. (We didn't experience any snags, but you'd be wise to avoid sharp objects). As a result, it's softer and more comfortable than other face fabrics we tested, with a quietness that kept our testers—and their tent mates—deep asleep.
Bottom Line: The Zenbivy Light Mattress is light for its warmth with a super-soft face fabric.
Best Car Camping Sleeping Pads
Best for Literal Car Campers: Exped MegaMat Auto ($400)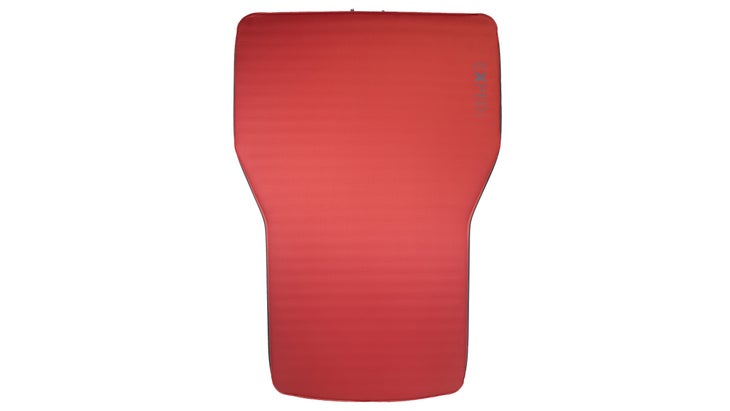 Weight: 8.5 lbs
Thickness: 4 inches
Sizing: One size
Pros: Specifically contoured to fit in a car; warm; stable
Cons: Expensive
Exped designed this pad specifically to turn the back of a Tesla Model X into a glass-ceilinged bedroom, but it also happens to work perfectly in most other compact SUVs, wagons, and even truck beds. The head of the T-shaped pad is 52 inches wide, filling up a three-seat back row or a three-person backpacking tent before slimming down to 39 inches to fit around wheel wells. Standing four inches high, it does an admirable job of smoothing out the bumps and humps of a vehicle's interior. Cracking the dedicated inflation valve nearly filled the open-cell foam pad on its own, and it tops off easily with the included hand/foot-style pump. Ryan Van Horne, a Campbell River, B.C.-based tester, reported that it held full inflation for six days of base camping on a rock climbing trip to Quadra Island. It deflates surprisingly quickly for such a big pad, and the roll-top- style stuff sack swallowed it without a struggle. Rated to R-8.1, it's plenty warm for winter use. Wherever we used it—in a Subaru Outback or a tent, solo or with a partner—the brushed 50-denier polyester top was, in the words of one tester, "wonderfully soft and quiet." The open cell PU foam didn't transmit movement, either—Van Horne slept right through the night next to a fidgety partner.
Bottom Line: The Exped MegaMat Auto is a high-end foam sleeping pad built for SUV interiors.
Best Guest Room Mattress: Big Agnes Captain Comfort ($250)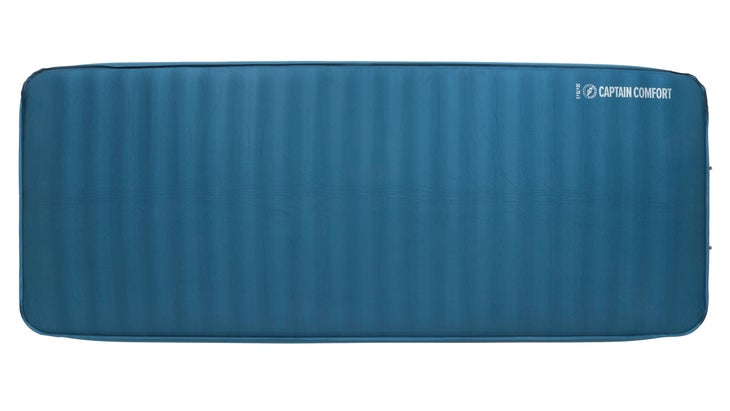 Weight: 6.4 lbs
Thickness: 5 inches
Sizing: 30" x 78"; 41 x 72"; 52" x 78"
Pros: Super wide and supportive
Cons: Hard to get back into stuff-sack
It looks like camping pad, but, according to our testers, it sure doesn't sleep like one. "Felt more like my mattress at home," reported Ryan Van Horne, a Campbell River, B.C.-based tester. The 50-denier polyester face fabric is cotton-soft and stretchy, and the high density foam, with horizontal coring for compression, creates a firm and supportive feel right to the edges. After self-inflating, just a couple of breaths topped it up to five inches high and 30 inches wide, with a winter-rated R-value of 8.3. It gobbles up tent space, but provides plenty of room to toss and turn. "I could sprawl like I do at home," says category manager Ryan Stuart, who used it on a mountain biking road trip in the B.C. Interior. Our only complaint came when it was time to pack up—we struggled to get the pad small enough to fit into its included stuff sack. The 75-denier polyester bottom fabric is about average for the category, and we didn't notice any durability issues after normal use and abuse. The Captain Comfort lived up to its name with solid sleeps, even over rocky, stick-ridden campgrounds.
Bottom Line: The Big Agnes Captain Comfort is a soft, supportive pad that's spacious enough for a guest room.
Best Value: REI Camp Dreamer Double Bed ($279)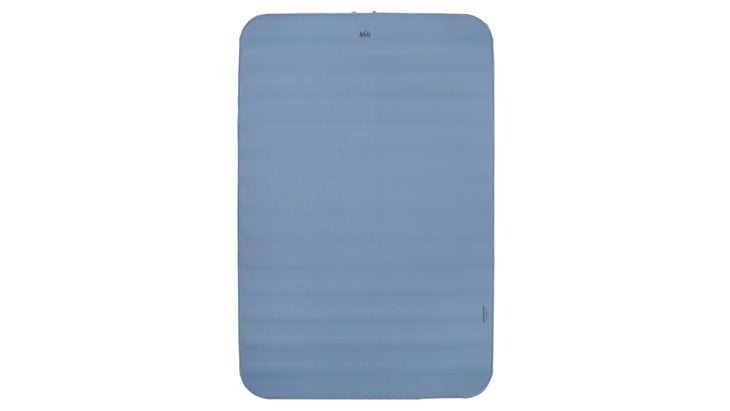 Weight: 9.3 lbs
Thickness: 4 inches
Sizing: XL (Single Person); Double
Pros: Easy inflation; soft; easy to pack
Cons: Slow deflation
At less than $300, the Camp Dreamer Double is one of the most affordable two-person car camping pads in the high-end memory foam mattress category, with little sacrifice to comfort or durability. Like many pads in this niche market, the Camp Dreamer uses horizontal polyurethane foam cores to provide stability and cushion, offering 4-inches of lift—less than some of the more deluxe models, but, for most sleepers, plenty plush and warm (with a cold weather-friendly R-Value of 6.6). After a 30 minute self-inflation time, the included pump sack delivered the final plumping through a designated inflation valve. "It's convenient enough that I've started bringing it even if it's just me and the dog," says category manager Ryan Stuart. The stretch 30-denier recycled polyester top fabric was soft next to skin and quiet, while the 75-denier bottom was tough enough to handle a gravel parking lot. Deflation was a bit arduous—we took a cat nap halfway through the two minute process—but once collapsed, it slid into a stuff sack the size of a large bear canister without a fight. At 55 inches wide (two inches wider than most standard double mattresses) and with all the bells-and-whistles of higher-priced competitors, the Camp Dreamer Double is a no-compromise solution for comfort-seeking couples.
Bottom Line: A deluxe double pad that's over $100 cheaper than comparable models
How to Buy
For such a seemingly simple piece of gear, sleeping pads are surprisingly complex. Buy the wrong one, whether it's too short, too narrow, too delicate, too heavy, too cold, or too hot, and you can quickly turn a camping trip into a sleepless purgatory. Before you buy, there are three major things to keep in mind.
The Type of Pad
Closed-Cell Foam: Lightweight, inexpensive, and virtually indestructible, closed cell mats are a decades-old favorite. The downside? They're bulky, have low R-values, and aren't particularly comfortable.
Air Pads: These pads, which derive all their insulative properties from air and often some combination of synthetic or down fill and reflective layers, are lightweight and extremely packable. The flipside is that they can be punctured, rendering them useless unless you can properly patch the pad in the field.
Self-Inflating Pads: Self-inflating pads insulate with a combination of air and open-cell foam. These pads can be quite warm, comfortable, durable, and also (eventually) inflate on their own. They tend to be bulkier and heavier than air pads.
R-value of the Pad
This ubiquitous term will inevitably crop up when searching for the most appropriate pad for your outdoor activity. R-value is a universal measurement that rates a sleeping pad's ability to resist heat transfer. R-values in sleeping pads typically range from 1-7. A pad with an R-value of up to 2 works in temps with an expected nighttime low of 50 degrees Fahrenheit; an R-value between 2 to 3.9 works in temps with an expected nighttime low of 32 degrees; an R-value between 4 to 5.4 works in temps with an expected nighttime low as cold as 15 degrees; and a pad with an R-value of 5.5 or higher works in temps down to an expected nighttime low of zero degrees.
Intended Use
What time of year, where, and how you intend to use your pad are crucial pieces to the puzzle. Bikepackers who race Alaska's Iditabike will want to invest in an ultralight, insulated air pad with a high R-value. Car campers might want to take advantage of the extra space and splurge on a double-self-inflating pad. Thru hikers who can't afford a puncture and have space to strap their pad to the outside of their pack may gravitate toward a closed-cell foam pad.
When it's time to upgrade your gear, don't let the old stuff go to waste–donate it for a good cause and divert it from the landfill. our partner, Gear Fix, will repair and resell your stuff for free! Just box up your retired items, print a free shipping label, and send them off. We'll donate 100 percent of the proceeds to The Outdoorist Oath.
Lead Photo: Evan Green