2023 Summer Gear Guide
The Best Car-Camping Tents of 2023
Eight testers tried seven new car-camping tents. These three came out on top.
Heading out the door? Read this article on the new Outside+ app available now on iOS devices for members! Download the app.
Stooping in a lightweight, minimalist, backpacking tent while camping out of your car isn't much fun. Neither is getting blown over in a flimsy, big-box-store mega shelter. With that in mind, we set out to find the most luxurious, well-designed, and storm-worthy car camping tents for lounging in style, no matter what the forecast looks like.
The Winners at a Glance
Best Overall: MSR Habiscape 4P
Best for Families: The North Face Wawona 8P
Best for Bad Weather: Mountain Hardwear Bridger 4P
How We Test
Number of Testers: 8
Number of Products Tested: 7
Number of Nights Out: 24
Number of Dogs Who Contributed: 3 (if a French bulldog counts as a dog)
We tested our latest crop of car camping tents with a diverse range of people, from a gaggle of teenage girls to a vanlifer, and told them to use and abuse their samples. On remote beaches, in middle-of-nowhere campsites, and next to RVs, testers threw parties and let their dogs wrestle inside. We asked testers to focus primarily on livability, with volume, weather-resistance, tent height, pockets, durability, and ease of set-up at the forefront.
Meet Our Lead Tester
Ryan Stuart became a freelance writer when he realized he'd never get paid to play doing any of his other passions, possibly because he has too many of them. He's a pretty good skier, decent paddler, hiker, and runner, and loves to make mountain biking, surfing, and rock climbing look harder than it is. Whenever he can, he practices those activities from a campsite somewhere far from other humans.
The Reviews: The Best Car Camping Tents of 2023
Best Overall: MSR Habiscape 4P ($500)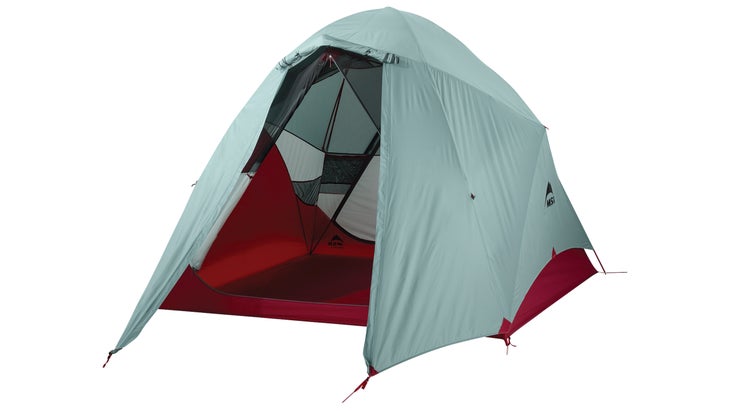 Weight: 12.7 lbs
Height: 73 inches
Interior Space: 62.5 sq. ft. + 23.5 sq. ft. vestibule
Pros: Lots of livable space; highly weatherproof
Cons: Mediocre ventilation
There's a lot we liked about the Habiscape, from the generous elbow room (86 square feet including the vestibule) to the ample standing height (73 inches), but it was a pocket that hooked us. Next to the door MSR built in something they call a "pass-thru pocket"—a bug mesh-lined portal that's accessible from both inside and out. Without opening the door, testers could reach through to grab car keys, bug spray or a headlamp. "It seems like a little thing, but the convenience was huge," says Chris Baikie, a British Columbia-based tester. "There were definitely fewer bugs in the tent because of it." Set-up for the Habiscape requires two people, but the asymmetric design and color-coding helped make it quick and easy. The dome structure and low-hanging 68-denier polyester fly stood up to a 20 mile-per-hour windstorm with little flapping. The rest of the tent is equally tough, with the same 68-denier poly on the floor, 40-denier ripstop nylon walls, and 7000 series aluminum tent poles. We had to duck under the vestibule door to get inside, but it provided enough room for a cooler and gear, and kept drips out of the tent during rainstorms. A second door came in handy for frequent nighttime bathroom excursions. The Habiscape packs down easily, and ends up smaller than many tents of its size, at roughly nine inches by two feet. "It's almost perfect," says category manager Ryan Stuart. "And it's not even that heavy."
Bottom Line: A dependable, durable option we'd recommend to just about anyone looking for a car camping tent.
Best for Families: The North Face Wawona 8P ($699)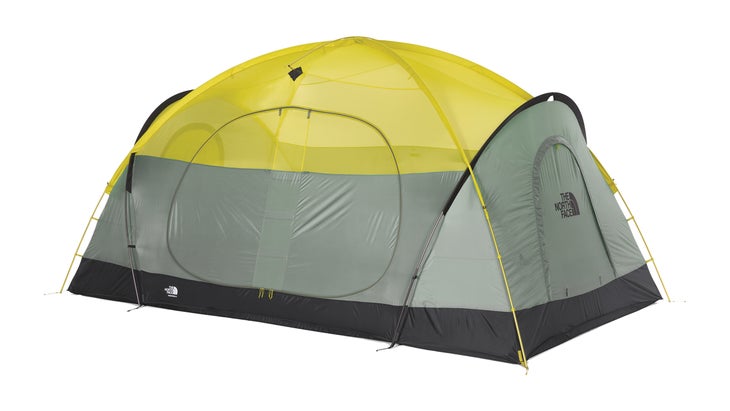 Weight: 18.1 lbs
Height: 77 inches
Interior Space: 112 sq. ft. + 44.7 sq. ft. vestibule
Pros: Massive vestibule; room divider
Cons: Large footprint makes it hard to fit into some campsites
The Wawona is big all over—and that's a good thing. In a decade of tent testing for Outside, this might be the biggest tent that category manager Ryan Stuart has ever slept in. There's plenty of room for eight to lay down in the 112 square foot area, though we mostly tested it with smaller groups. Cumberland, B.C.-based tester John Waters used the Wawona like a bunk house at his in-laws' cabin on British Columbia's Denman Island. By hanging the optional mesh wall, which splits the tent down the middle, he created two rooms and stuck his two kids on one side, while he and his wife enjoyed a bit of privacy on the other. The mesh pockets in each corner are big enough to hold a laptop. The expansive, 45-square-foot vestibule alone is nearly the size of a three-person backpacking tent. "You can stand up in it," remarked Waters. "We had two deck chairs and a small table in there." He wasn't as keen on the door. It opens wide and tall—no stooping or ducking required—but the bathtub floor is 10 inches tall, enough to create a tripping hazard, particularly for fast-moving kids. The complementary high-cut fly, however, left lots of room for venting windows while preventing sideways rain from entering. Most impressive was the set up. "It's huge, but I still managed to get it up by myself," says Stuart. "That's rare for any car camping tent." Color-coding and manageable pole lengths were key for raising the roof on this mansion. Ironically for those trying to avoid RV camping areas, the eight-by-eight footprint is so big that it can be hard to fit the Wawona into smaller, tent camping-only campgrounds.
Bottom Line: A monster tent for the biggest of families and longest of trips.
Best for Bad Weather: Mountain Hardwear Bridger 4P ($780)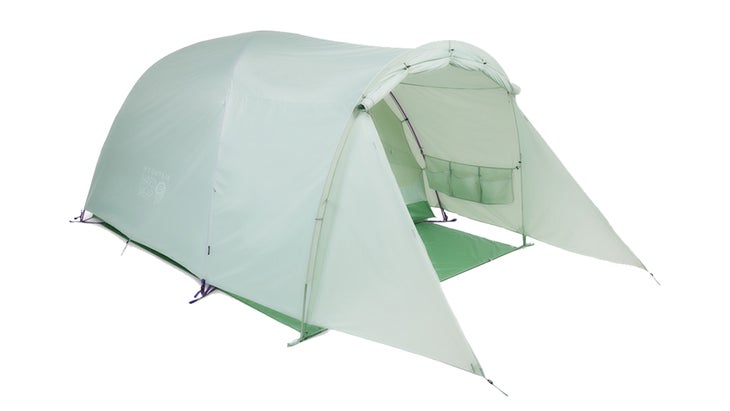 Weight: 18.6 lbs
Height: 66 inches
Interior Space: 62.5 sq. ft. + 69 sq. ft. vestibule
Pros: Bombproof design, big vestibule
Cons: Pricey, smaller second door
There are two types of car campers in the world: those who cherry-pick sunny weekends, and those who head out no matter the conditions. Mountain Hardwear drew on its mountaineering tent heritage to design the Bridger for the latter. The thick, 68-denier ripstop polyester on the fly extends right to the ground on all sides—a rarity in this category—to keep rain and backsplash away from the tent. Aluminum tentpoles create a domed main structure, while a separate hoop pole lifts the fly, giving the Bridger both a roomy- and weather-shedding shape. During a thunderstorm in Pennsylvania's Allegheny National Forest, where winds whipped up to 30 miles per hour, testers created a bombproof pitch using adjustable stake-out loops at each of the six pole-tent connection points, as well as guy-out attachments on the fly. The main vestibule is bigger than the tent itself, with a floor and removable storage panel that has six pockets large enough to fit a bike helmet, and opens far from the interior for drip-free entry. "The vestibule is effectively a mud room," said tester Adam Sauerwein, a roving Vanlifer. Four more mesh sleeves inside hold smaller items, like headlamps and phones. The storage adds livability to the tent, which Sauerwein says feels roomy for four. Setting it up for car camping was simple, he says, with color-coded poles, although packing it back up is a bit awkward, owing to a tight stuff sack. The premium fabric and extra square footage makes the tent heavy, though not especially bulky for its size. And $780 is a lot to shell out for a car camping tent—there are tradeoffs for storm-worthiness and spaciousness. But if you plan to car camp in all seasons, the robust build promises years of dependably dry nights.
Bottom Line: The Bridger does a tent's main job—protecting campers from the weather—better than most in this category.
How to Buy
Start with the number of people who will be sleeping in the tent and add at least one. No one ever complained about a little extra elbow room, and ultra-wide car camping pads often need extra space. Next consider packability: If you have limited storage or trunk space, a more packable option will make jamming it between all of the coolers and propane easier. Height is crucial, but comes with a tradeoff: Being able to stand up to get dressed or stretch your legs is nice, but means it will be harder to set up, especially if you're doing it solo. Feature-wise, look for ample pockets for staying organized, big vestibules and/or high bathtub walls that protect the interior from drips, multiple venting options, and roomy doors. Of course, a tent's principal job is to protect you from the elements, so weatherproofing should be a primary consideration. A fly that reaches to the ground provides the most coverage, but can also limit venting, making for uncomfortably stuffy conditions when it's hot. A tall pole structure is susceptible to high winds, so make sure the tent has plenty of guy-out points for stabilizing and protecting the tent from gusts. Price is always important, but think more about value. Spending a bit more for a tent with more durable materials, like higher denier fabrics and burly aluminum poles, will save you money in the long run.
When it's time to upgrade your gear, don't let the old stuff go to waste–donate it for a good cause and divert it from the landfill. our partner, Gear Fix, will repair and resell your stuff for free! Just box up your retired items, print a free shipping label, and send them off. We'll donate 100 percent of the proceeds to The Outdoorist Oath.
Lead Photo: Kate Ames/Stocksy