2023 Summer Gear Guide
The Best Three-Season Tents of 2023
13 tents went out into the wild. Only 7 made it back out.
Heading out the door? Read this article on the new Outside+ app available now on iOS devices for members! Download the app.
Every year, tents get lighter, stronger, and more sustainable. 2023 was no exception. The seven winners of this year's exhaustive testing process proved themselves over and over in wind, rain, and even snow.
The Winners at a Glance
Best Space-to-Weight Ratio: NEMO Hornet Osmo 3P
Most Affordable Weather Protection: The North Face Trail Lite 2
Most Comfortable: Sea to Summit Ikos TR2
Most Comfortable Alt-Hammock: Tentsile Ocean UNA 1-Person Hammock Tent
Most Affordable Tarp-Tent: Outdoor Vitals Fortius
Best Beginner Tent: Coleman Peak1 2 Person
Best Mid: Big Agnes Gold Camp UL3
How We Test
Number of Testers: 11
Number of Products Tested: 13
Number of Miles Hiked While Testing: 308
Number of Nights Slept Outside: 76.5
Our testing group spanned the country, in wilderness areas from Maine to Hawaii. Testers come from a variety of backgrounds, genders, and professions, from public school teachers to park rangers. Over the course of two months, these testers evaluated the following tents on a multitude of criteria, including livability, ventilation, design, weather protection, setup, and price, among other intangibles. Those that didn't stand up to the elements, were uncomfortable to live inside for weeks on end, or simply weren't worth the price tag didn't make it into our final round of testing.
Meet Our Lead Tester
Will McGough has been writing about the outdoors and testing tents for Backpacker and Outside since 2015. Specs aside, he believes the most important thing about a tent is how it makes you feel—a good tent should make you feel at home, regardless of climate and conditions.
The Reviews: The Best 3-Season Tents of 2023
Best Space-to-Weight Ratio: NEMO Hornet Osmo 3P ($550)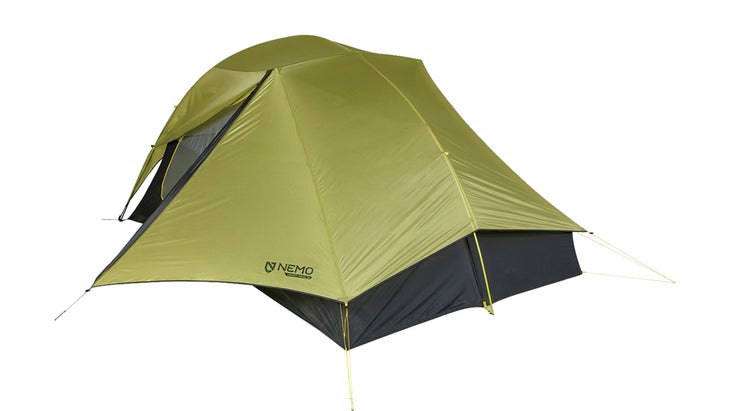 Weight: 3.3 lbs
Interior Space: 40 square feet
Peak Height: 44 inches
Pros: Space-to-weight ratio; portability
Cons: Pricey
NEMO's top-selling tent, the double-walled Hornet, expanded this year to include a three-person version that boasts an elite space-to-weight ratio. It adds more than 12 square feet of interior living space to its two-person layout at a cost of just 13 ounces, earning it the best space-to-weight ratio in test and within its own lightweight tent line. The tent body compresses down to the size of a Nalgene, and with just one hubbed pole, packability is exceptional. At less than three pounds, it's light enough to pack for long miles while providing adequate space for three tall backpackers thanks to its 88-inch length. "My 6'4″ partner could lay down without hitting his head or feet on the ends of the tent," said tester Chelsea Gardner, a Durango-based Wilderness Medical Instructor. "It was the roomiest, most comfortable backpacking tent he's experienced." Two 8.6-square-foot vestibules are decently-sized, although storage space is tight for three people carrying big packs (each vestibule will easily swallow a big pack plus boots and daypacks, though). Even with a trio jammed inside, condensation is well-managed thanks to a three-quarter mesh body and pop-out vents. The two-door tent is made of NEMO's 100-percent recycled Osmo fabric, a proprietary combination of nylon and polyester that's relatively lightweight and strong. "It's a three-season tent, but it still handled a surprise snowstorm with gusty winds around 25 miles-per-hour," reported another tester from Mt. Taylor's 11,400-foot peak in New Mexico. "I stayed dry and comfortable inside."
Bottom Line: The Hornet is one of the lightest semi-freestanding three person tents on the market.
Most Affordable Weather Protection: The North Face Trail Lite 2 ($300)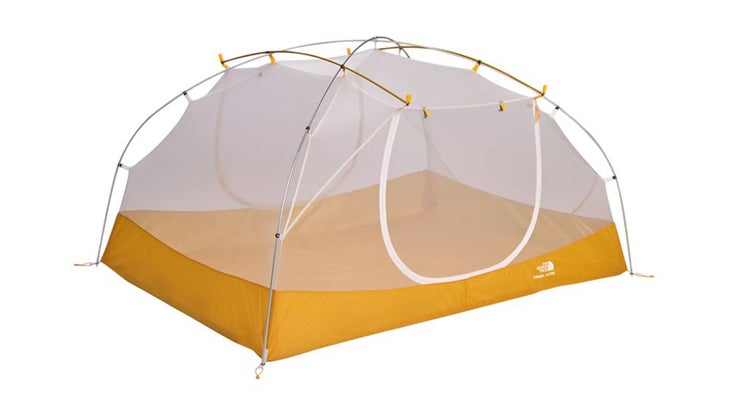 Weight: 5.1 lbs
Interior Space: 30 square feet
Peak Height: 43 inches
Pros: Excellent weather protection; price
Cons: Weight
Finding a budget tent is easy. Finding a budget tent that can weather shoulder season storms? Not so much. The North Face Trail Lite 2 is the exception thanks to 9.5 millimeter aluminum poles, a 20-denier nylon ripstop fly with a 1,200 millimeter water-repellent coating, and 75-denier polyester floor. That burly bathtub floor adds weight, but allows the tent to withstand abuse on rough terrain and keep dirt and water at bay. "This is a three-season tent that I would feel comfortable pushing into the early winter," said tester Dan Rinard, chief ranger at Baxter State Park in Maine. "It would perform fine in a snow event." (The 20-denier fly, while a strong performer in inclement weather, prevents the Trail Lite 2 from being a true four-season tent.) Still, testers reported the Trail Lite 2 stood firm in sustained winds and deflected gusts up to 45 miles-per-hour, with pre-attached guy lines that make hunkering down a breeze. The lack of a fly vent emphasizes the focus on weather protection, but an all-mesh body allows for adequate ventilation. Overhead and side pockets make it easy to stay organized. Two eight square-foot vestibules sit outside the two oversized doors, big enough for large packs or foul-weather cooking. Inside, the peak height of 43 inches is average for its class, but the interior volume is maximized by the pre-bent poles. "I was able to sit up straight in all four corners of the tent without touching the tent body or ceiling," said Rinard, who is 6 feet tall.
Bottom Line: If your idea of three-season camping includes early spring, late fall, and high altitude, the Trail Lite 2 delivers at a relatively affordable price point.
Most Comfortable: Sea to Summit Ikos TR2 ($429)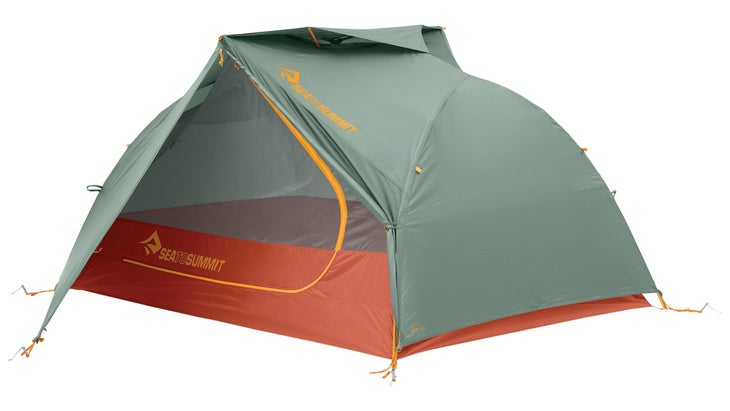 Weight: 5.2 lbs
Interior Space: 31 square feet
Peak Height: 41 inches
Pros: Comfort; livability
Cons: Weight
Weighing in at over five pounds, the Sea to Summit Ikos TR2 is one of the heaviest tents in our testing class and walks the line between a backpacking and car camping tent. But our testers found its livability to be among the best for two-person tents that could still be pressed into backcountry use. That's thanks to a generous 31 square feet of living space and high-arching cross pole (although peak height is just below average), which allowed testers to change out of sweaty clothes without banging into the ceiling. Four pockets and two overhead storage slings made organization a snap. Vestibules on either side are just shy of nine square feet each, big enough for a pack, boots, and accessories with plenty of space for a clear path out of the tent at night. The pointed ridgepole design is key to its livability, but it also enhances the tent's weather protection underneath the PFC-free, DWR-coated 68-denier ripstop polyester fly. It successfully deflected wind and encouraged rain to run off the top of the tent on a stormy trip to Yellowstone National Park. The polyester floor (also 68-denier) stayed bone dry on a rainy weekend atop the Grand Mesa in Colorado, while the bathtub rim kept dust from blowing in during a canyoneering outing in Moab. "The vestibule walls come down quite low to the ground, so when we woke up to 4 inches of snow on the ground, the vestibule area was still 90-percent snow-free," reported a New Mexico-based tester.
Bottom Line: The Sea to Summit Ikos TR2 is a spacious, user-and-eco-friendly backpacking tent if weight isn't your foremost concern
Most Comfortable Alt-Hammock: Tentsile Ocean UNA 1-Person Hammock Tent ($299)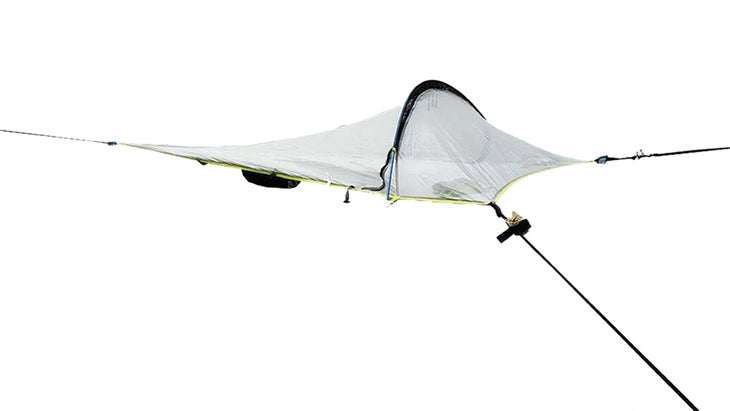 Weight: 5.1 lbs
Pros: Lay-flat sleeping; recycled materials
Cons: Complicated pitch; heavy
Tentsile has made a name for itself with its line of "tree tents"—essentially a deluxe hammock with three straps instead of two, the ability to lie flat, and a single arch pole for structure. But, at 15-20 pounds, these luxe hammock-tent fusions have never been appropriate for backpackers. Enter Tentsile's new Ocean UNA, a relatively lightweight, one-person tree tent made entirely from undyed 20-denier polyester sourced from recycled ocean plastic. Weighing five pounds and packing down to the size of a paper towel roll, it's still heavier than a backpacking hammock or lightweight tent. But its glut of creature comforts impressed our testers on multi-day mountain adventures, from an easy-to-use, built-in bug net to multiple internal and external storage options. As with all of Tentsile's tree tents, its three-anchor suspension system offered a wide range of sleep positions for testers. Under the tall ponderosas of Coconino National Forest in Flagstaff, Arizona, we experienced no tacoing or slumping into the banana shape that often occurs in a simple hammock. "It was the 'flattest' night sleep I've ever had in a hammock," said one Colorado-based tester. (Ding: Taller testers found their feet to be a little cramped). As with all hammock-style tents, it takes time, knowledge of knots, and patience to pitch the Ocean UNA properly. But for hammock-curious campers, or folks who find both traditional tent camping and hammock camping to be uncomfortable, the eco-friendly Ocean UNA is an excellent option for overnights or short trips into the backcountry.
Bottom Line: The Tentsile Ocean UNA is a sustainable "tree tent" for finicky sleepers and hammock-curious backpackers on short missions.
Most Affordable Tarp-Tent: Outdoor Vitals Fortius ($340)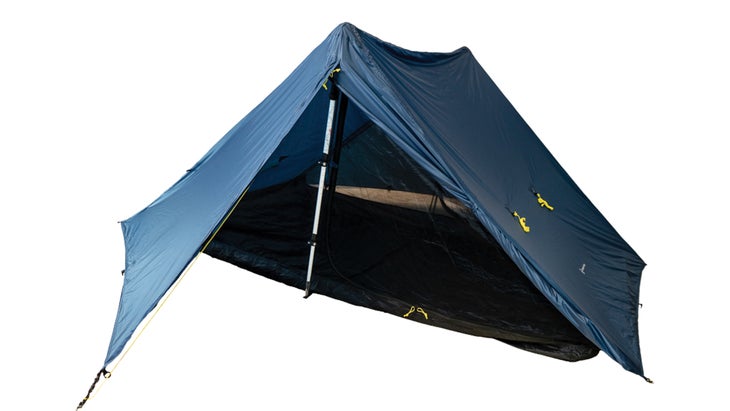 Weight: 2.2 lbs
Interior Space: 29 square feet
Peak Height: 46 inches
Pros: Weight; packability
Cons: Requires trekking poles; learning curve for proper pitch
In the category of silicon-nylon tarp-style tents—a popular choice for budget thru-hikers and ultralighters—the single-walled Outdoor Vitals Fortius is an excellent, middle-of-the-road newcomer. At just over two pounds, this trekking pole-assisted tent packs down to the size of a loaf of sandwich bread, making it ideal for experienced backpackers who travel long distances and prioritize portability and weight above all else. The two-person shelter is airy thanks to the 10-denier all-mesh tent body, and, once pitched correctly, the 15-denier ripstop nylon fly and bathtub floor do a surprisingly good job of repelling inclement weather. On a very wet trip near Alaska's Kachemak Bay, the Fortius kept testers (and their gear) well-sheltered from relentless all-day rain with only minor condensation, while guy lines held down the fort during 15-mile-per-hour gusts. The 29-square-foot floor plan is a bit small on paper, but a best-in-test maximum peak height of 46 inches means space doesn't feel cramped overhead. Two large 10.5-square-foot vestibules offer ample room for packs and boots, and two doors provide each camper their own entry and exit—luxuries for ultralight tarp-tents. And while overall weight and square-footage are just average for the category, the Fortius is more affordable than most. The main downsides to this tarp-tent? To help cut weight, it has no internal pockets, and, like many trekking pole-required tents, it takes experience and patience to master the perfect pitch. That finicky pitch, owing to adjustable trekking pole height and a multitude of extra-long guy-out points, also means the Fortius can easily contort in varying weather conditions and terrain.
Bottom Line: The Outdoor Vitals Fortius is a solid two-person tarp-tent at an excellent price point
Best Beginner Tent: Coleman Peak1 2 Person ($269)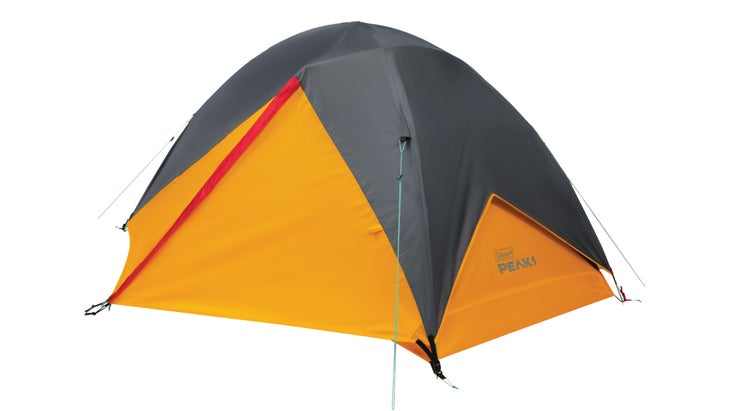 Weight: 6 lbs. 1 oz.
Interior Space: 32 square feet
Peak Height: 42 inches
Pros: Price; fully-featured; livability
Cons: Weight; packability
While Coleman is better known for its propane stoves and car camping palaces, its Peak1 tent proved to be an ideal beginner backpacking shelter thanks to ease of setup, a spacious interior, low price, and well-designed "moonroof." With a heavy, 75-denier polyester (2,000 millimeter waterproof coating) and 8.7-millimeter-thick aluminum poles, the tent hardly budged in the 30 mile-per-hour winds testers experienced at Carlsbad State Beach in California. With 32 square feet of interior space—the most of any two person tent this year—riding out the weather was a breeze. "It was roomy enough for two squirmy sleepers, jackets, and gear," reported Emma Veidt, Backpacker's assistant editor. "We were able to sit up and chat without feeling like we were on top of each other." But that weather protection comes at the expense of both weight and packability. At more than six pounds, it's at the very upper limit for what we'd still consider to be a "backpacking" tent. And the smallest we could pack it down was to the size of two paper towel rolls, necessitating a two-pack carry. But the Peak1 is feature-rich, with multiple pockets per-person and a triangular "star view window" that's easily unzipped from inside the tent (with the added bonus of extra ventilation). While we often find "stargazing" options gimmicky, we found the Peak1's approach to be just right—much easier than rolling back the fly from the outside or trying to peep through a distorted plastic window. And at less than $300, it's an affordable way for newcomers or weekend-warrior backpackers who don't pile up the mileage to score their first shelter.
Bottom Line: The Coleman Peak1 offers a good balance of price point, features, and livability for new backpackers.
Best Mid: Big Agnes Gold Camp UL3 Tarp and Mesh Inner ($470)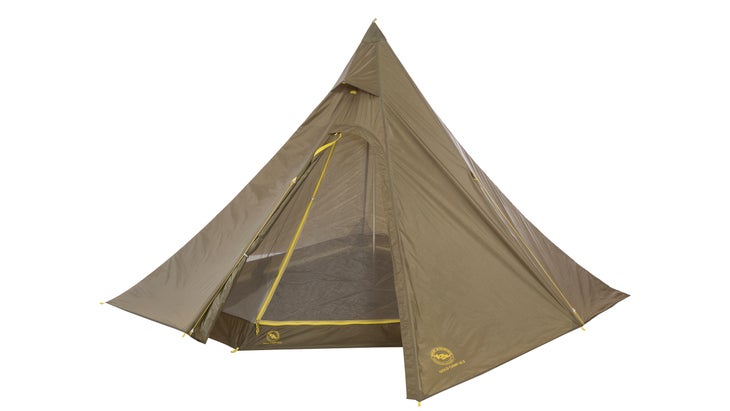 Weight: 4.2 lbs
Interior Space: 45 square feet
Peak Height: 80 inches
Pros: Versatility
Cons: Limited vestibule space
It's unusual for a veteran tent brand like Big Agnes to branch out into a niche category like pyramid-style tents (mids, for short), but we're glad they did. A mid-style tent offers an unrivaled peak height, weather-protection, and space-to-weight ratio that only gets better with additional occupants. The three-person Gold Camp UL3 boasts 45 square feet of floor space and over six-and-a-half-feet of height at its peak—far larger and taller than any traditional three-person tent. During a stormy trip to Coconino National Forest in Flagstaff, Arizona, our testers were able to pitch the 20-denier polyester ripstop fly as a camp kitchen during a rainstorm while also lounging in four backpacking chairs. "Being able to stand up inside a tent when you're six feet tall is a real treat," said one Colorado-based tester. Come nightfall, they attached the all-mesh tent body and 20-denier polyester ripstop floor (with a 1,500-millimeter waterproof coating) without ever taking down the fly. A few weeks later, while visiting the bone-dry Muley Twist Canyon in Capitol Reef National Park, Utah, another group of testers pitched just the inner mesh body for a bug-free night of stargazing. Its tall stature and non-freestanding design mean the tent body and tarp must be carefully guyed out to stand strong against wind—something our testers reported was easier in teams, but doable alone. One downside of many mid-style tents is that they lack a vestibule entirely, but the Gold Camp UL smartly provides a small, 8.5-square-foot space in front of the door, capable of holding three sets of dirty boots. Our testers appreciated the storage option, although most things still had to sleep inside, requiring a quick game of Tetris before bedding down for the night. With a total weight just over four pounds, though, no one argued about who had to carry the tent.
Bottom Line: Big Agnes's first real foray into pyramid-style tents offers an excellent space-to-weight ratio with a large floor plan and high ceilings for larger groups
How to Buy a Three-Season Tent
Capacity, size, and vestibules
The first thing to consider when buying a tent is its size. You'll want to know the number of people it's designed to hold, but also look closely at the square-footage to ensure it will work for your specific needs. Check the length of the tent if you are more than 6 feet tall—a couple inches of head and leg room are critical for a good night's sleep, and not all tents are created equal. Pay attention to the amount of vestibule space a tent offers, especially if you plan to backpack in colder, more gear-heavy months.
Weight vs. durability and weatherproofing
While the best tents offer a lightweight balance of livability, weather protection, and durability evenly, those qualities often come at a weight penalty. Consider how far you'll be hiking and how much weight you can comfortably carry over that distance. Some folks are happy to carry a five-pound tent that has a large floorplan and ample headroom, while others will prefer to minimize weight at the cost of comfort. Once you get a sense of your maximum weight, think about the weatherproofing you'll need in the environments you plan to visit. Campers in Florida have different needs than campers in Colorado. An all-mesh tent body will improve ventilation in hot climates, but let heat escape in cold climates. If heavy rain or bad weather is the norm for you, invest in heavier-weight, more waterproof tent fabric and thicker, stronger poles. Burlier floor materials also add weight to the tent, but offer more durability on abrasive ground.
Freestanding vs. semi- vs. non freestanding
Another thing to consider is the type of pitch a tent uses. Freestanding tents are supported by a set of structural poles and can be pitched anywhere, without the use of guy lines or added tension. They are the easiest to pitch, but offer minimal customization in foul weather. Semi and non-freestanding tents all use poles of some sort (structural aluminum poles or trekking poles), but need to be staked out using guy lines. This requires more patience and know-how when pitching, however it also allows the tent to be pitched in a variety of ways, making it easier to fit into tight spaces. Non-freestanding and semi-freestanding tents also typically weigh less than freestanding tents because they don't come with as many—or any—poles.
Finally, a pro tip:
Know the return policies. The only way to truly know a tent is to spend a couple of nights in it. Some stores and brands allow you to return used products without a penalty.
When it's time to upgrade your gear, don't let the old stuff go to waste–donate it for a good cause and divert it from the landfill. our partner, Gear Fix, will repair and resell your stuff for free! Just box up your retired items, print a free shipping label, and send them off. We'll donate 100 percent of the proceeds to The Outdoorist Oath.
Lead Photo: Evan Green