Q&A: Garrett McNamara Wanted '100 Foot Wave' to Put Story Ahead of Surfing
The big-wave icon discusses the origins of the HBO docuseries, his new surfing ambitions, and whether or not there will be a season three
Heading out the door? Read this article on the new Outside+ app available now on iOS devices for members! Download the app.
Garrett McNamara has long held celebrity status within the surfing world for riding gargantuan waves. In 2021, he became a household name with a much wider audience when HBO aired its surfing docuseries 100 Foot Wave. The six-part show profiled McNamara's pursuit of dangerous swells, and showcased the physical and emotional turmoil he suffered from the crashes and wipeouts. The series also documented McNamara's work to develop the heaving break at Nazaré, Portugal into a global destination for adrenaline seekers. HBO won an Emmy award for the project.
100 Foot Wave returned for a second season this spring (you can read our review here), and again focused on McNamara. The series airs its fifth of six episodes this coming Sunday, May 14, before airing its finale on May 21. We caught up with McNamara to discuss the origins of the series, and why he's still chasing that perfect ride on a skyscraper-sized mountain of water.
OUTSIDE: Many of the other big-wave films I've watched are focused on legend creation—on building surfers into larger-than-life figures. 100 Foot Wave makes you and other surfers seem vulnerable, emotional, and very human. 
MCNAMARA: Well, our first goal with it was to do something that was inspirational. We expressed that very often in all of the meetings leading up to this journey with [executive producers] Chris Smith and Joe Lewis. The other goal was to bridge the gap between regular people and surfing fans. There's such a small amount of surfers in the world. We wondered: How do we invite the rest of the world on this journey? One of the biggest things Nicole and I pushed hard on was to show very little surfing in the film—to only show the biggest waves or worst wipeouts or the craziest jet ski crashes from each session. I wanted casual viewers to stay on the channel, and once you show too many waves, even if it's giant ones, they're going to turn the channel. But if you make sure you have a good story in the background, or a really good story leading up to those waves, then you'll keep the viewer in there. And it's working.
You invite the cameras into very intimate moments—the birth of your child is even captured on film. How did you balance what you wanted and didn't want to show from your private life? 
We liked to have our cameraman live with us as part of the family, so that way they are ready for whatever. And our philosophy is: 'Whatever you get you can use and share.' Even if it's my wife yelling at me, or me being on the phone too long, that's our life. To be honest, it's definitely challenging to film certain moments. But we never retake or ask if we can do it over again, even if it's a shot that might portray only half of what actually happened. It's all exactly what happened, and then the editors put it together how they feel works best. Most of the footage is arranged in exact timelines, exactly as it happened. The stuff you see up the cliff, with Nicole and others using walkie talkies to talk to me in the water—we never recreate any of that. Everything is just real. I think that's why it speaks to so many people.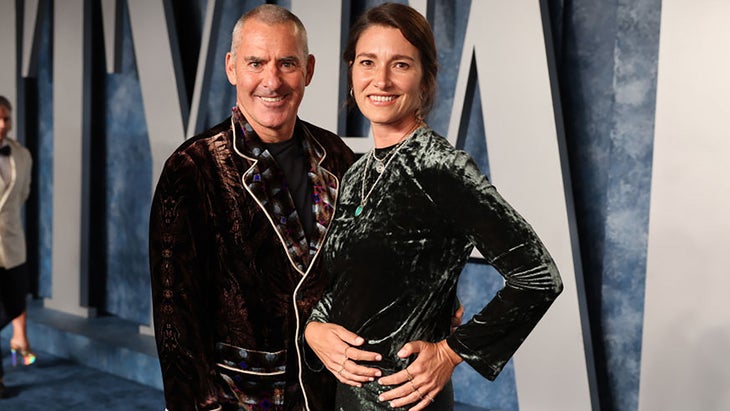 Why do a second season? What stories did you have left to tell?
We had so much good footage—they could have done three or four, maybe even five seasons with everything we gave them from just season one. There were so many stories, so many crazy things that happened, and it was all captured. So I had a strong belief that we were going to get a second season, because the story was so good. And then when they came out with the first season, I was like, "Holy shit yeah, we are definitely going to get a second season." But you never know until they say yes, and usually you wait until the end of the season to find out. I think it was like after episode two or three that we found out we got the green light for a season two. We were already filming when we found out because we knew we were going to do some kind of project, even if HBO didn't want it. And you know what, they gave us the green light for season three. They did that about six months ago. Editor note: HBO representatives declined to confirm season 3. 
Congratulations. I would assume you must be filming season three at the moment then. 
They just started thinking of storylines, so we won't be filming for another six months or so.
I know that measuring wave height is a general estimation, and that the actual size of waves is often debated. With that in mind, why did you call the series 100 Foot Wave?
To be honest, at first I was like, 'What the heck are you guys doing with this name? Please do not name it this. Make it The Road to Nazaré or something cool and inspirational.' And lo and behold, 100 Foot Wave was the best title you could have ever chosen. It is super for a few reasons. Number one: 100 Foot Wave is a name that gets the world interested. Number two: Search engines put numbers before letters, so it was on top of all of the streaming queue. It was the best title you could ever come up with. You see, I had been filming for six months before we got in touch with HBO. There's a hard drive with another six months of footage, and we were going to call the project Waterman: The Quest for the 100 Foot Wave. But it never went anywhere. After a while, the title turned into more of a metaphor. It turned into more of life as 100-foot wave. Everybody has their own 100-foot wave, whether it's going into a boardroom, or walking down the street, or taking care of your kids.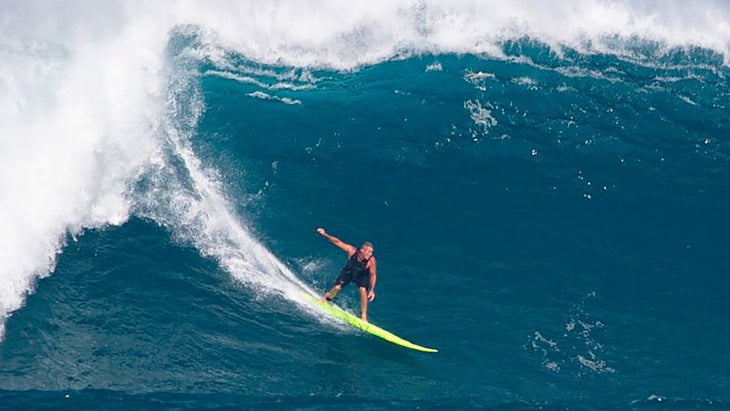 One arc that takes us from season one through season two is you grappling with your age, and how you no longer have the desire to chase big swells across the globe. Why do you think this changed happened? 
I'm in a spot with surfing where, if I'm in Tahiti or Hawaii or Portugal and a big swell pops up, and if I'm feeling up to it, then I'll definitely surf it. But I don't feel a strong desire to just go chasing the waves across the world. I feel more of a desire to let it come to me. Wait for the waves and work on being the best version of myself physically, mentally, and spiritually. I think for me the biggest difference is physical. There's this possibility of injury, and after my 2017 shoulder injury I allowed myself to be afraid and to become concerned about getting injured again. But right now I'm on this crazy program where I'm starting to biohack with my diet, and my body is probably going to be way better than it's ever been in about a month. I just surfed the Cortez Bank this year, and I came home and surfed the Eddie swell in Hawaii, and I got really excited. So who knows? I could keep going forever. If I'm 75 and the biggest swell of the year is coming at me and it's glassy, I will still try to ride some waves. Maybe even when I'm 95. I just want to be ready. So, one day when the 100-foot wave shows up, I'll be on it.
This interview was edited for length and clarity. 
Lead Photo: Octavio Passos / Getty Images