The Latest Plan for Utah's Cottonwood Canyon Traffic Could Cost Drivers Big Bucks
The gondola is still in play, but a new tolling program in Big and Little Cottonwood Canyon could charge cars $25 to $50 to get to the resorts
Heading out the door? Read this article on the new Outside+ app available now on iOS devices for members! Download the app.
Traffic and road closures on Utah's Route 210 through Little Cottonwood Canyon to Snowbird and Alta isn't a new thing, despite it being in the news frequently over the last couple of seasons. Locals can tell you stories dating back a decade detailing issues with this narrow, winding roadway that closes several times a season due to avalanche danger and can take several hours on a powder day.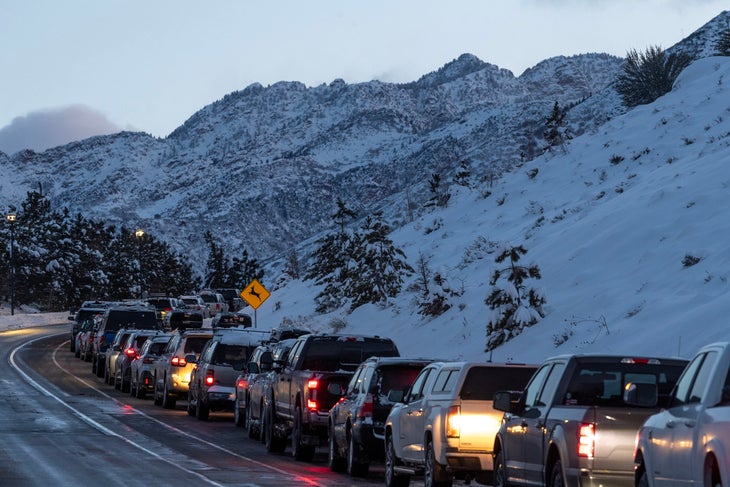 What has changed is skiing's popularity, combined with a Utah Department of Transportation bus driver shortage and a record snow year for the LCC ski resorts, has turned Route 210 into more of a nightmare than ever before.
Several solutions have been discussed, including the construction of a controversial gondola that could carry up to 4,000 people an hour up the canyon), widening the road, and building a train. A stopgap measure of increased bus service was implemented by UDOT in January, to mixed response. For the most part, the buses were stuck in the same traffic as the cars.
Now a new option has floated to the surface, the result of a bill quietly signed in March by Utah Governor Spencer Cox. SB2 approves $150 million to help alleviate traffic in LCC and BCC (Big Cottonwood Canyon, which accesses Brighton and Solitude) with more bus service and a tolling program. The hope, of course, is to encourage drivers to choose mass transit and leave their cars at home.
       Also Read: What I Learned Driving Little Cottonwood Canyon on a Powder Day
Both routes through their respective canyons will become toll roads as soon as the 2025-'26 ski season. Similar to the toll lanes up I-70 to the Colo.'s Front Range ski resorts, the fares will vary based on demand, but initial reports from the local Salt Lake news station Fox 31 quote fees ranging from $25 to $50 per car. Unlike the I-70 tolls, which run one lane in each direction with the other lanes toll-free, the LCC and BCC tolls will be in place for all lanes. Tolling will be automatic, so there won't be toll plazas that would further back things up. The LCC toll will be placed above White Pine; the location in BCC has yet to be determined.
To be clear, tolling would be in addition to, not in place of, the proposed gondola, which is very much still on the table despite vocal protest from groups including grassroots organization Save Our Canyons and brands such as Patagonia. An Environmental Impact Study is currently in progress, the results of which should be available to the public this summer.
Needless to say, the reaction is mixed but vocal. Some think the tolls are UDOT's way of pushing the gondola through. (The gondola was their recommendation in a report issued last summer.) Others feel that mandatory parking reservations would have the same effect. But one Twitter user sums it up perfectly: "Basically, it's congestion pricing."
If this sounds familiar, the correlation could be made to the demand-based lift-ticket pricing that's become popular in the ski industry, seen most dramatically with Arizona Snowbowl's $300 per day lift tickets. Regardless, tolls are coming, and Alta/Bird and Solitude/Brighton skiers better prepare to pay up or board the bus. Expect more details about the seasonality of the toll program, fees, and where the proceeds will go to be shared over the next few months.
Lead Photo: Lee Cohen