This Was the Busiest Ski Season Ever in North America
The annual NSAA report shows that skiers flocked to the powder in a big way in 2022-23
Heading out the door? Read this article on the new Outside+ app available now on iOS devices for members! Download the app.
When the 2021-'22 season puttered to a close last spring, the National Ski Areas Association's announcement that skier visits were at a record high was, frankly, surprising. It had been a very average snow year, and the resorts were still recovering from pandemic problems such as staffing and supply chain issues. But still, skiers wanted to get outside and ski, and numbers were up 3.5 percent over the previous season.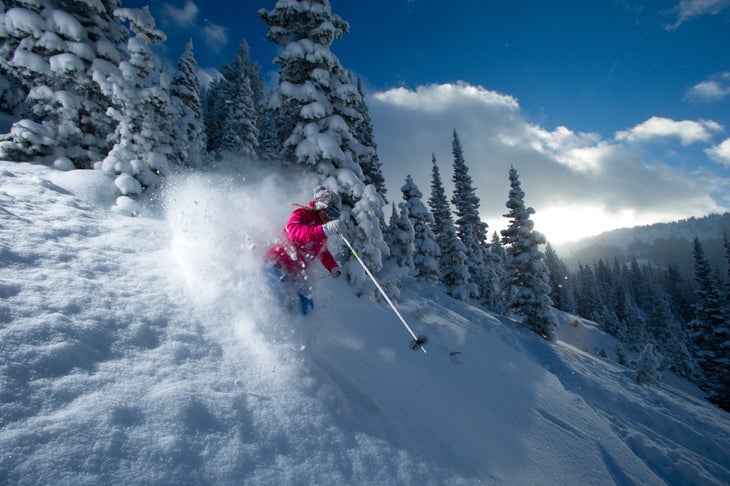 Today, the NSAA released skier visits for the current season that's still going (relatively) strong, with 20 resorts still spinning their lifts in early May, and it's more good news for the ski industry. Preliminary numbers show an impressive 6.6 percent increase over the 2021-'22 ski season.
Of course, this season has been much different than last, with record snow totals across much of the west, resorts extending their seasons—multiple times in some places—and improved staffing across the board. Here's a deeper dive into what the numbers mean and the impact it could have on next season.
Where The Numbers Were Up
The NSAA divides the country into six regions: Rocky Mountain, Pacific Northwest, Northeast, Pacific Southwest, Southeast, and Midwest. Of those, two set records in skier visits—Rocky Mountain and Pacific Northwest. The Rocky Mountain region includes the Utah resorts, several of which broke their own records for snowfall this season. Despite a middling snow year, the Northeast saw an increase over last season, and the Pacific Southwest, which includes Mammoth, notched its third-highest skier numbers ever. (And still climbing, as Mammoth plans to stay open well into the summer.)
How Much it Snowed
Skier numbers usually correlate with good snow years, with the 2021-'22 season being the outlier. This season followed the historical trend: Average snowfall across the country was up 30 percent for the 2022-'23 season, which, in turn, led to a longer season—116 days compared to 110 days—which further impacted the higher numbers. The math, as they say, is mathing.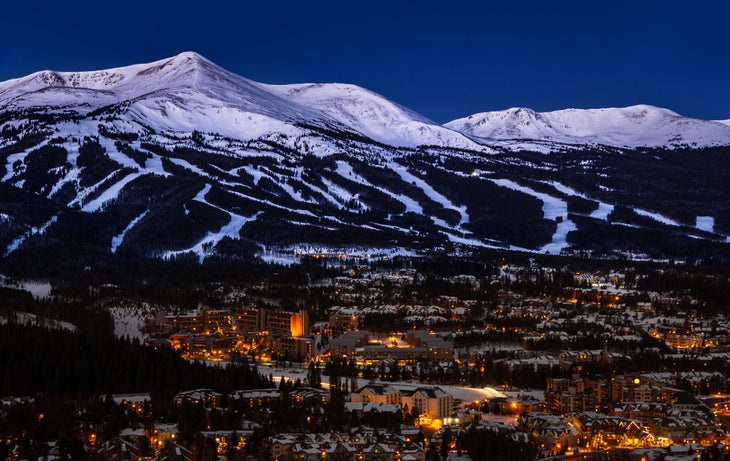 Other Factors at Play
Snow is an important driver when it comes to skier visits, but it's not the only one. According to the NSAA, three other things led to this season's major increase.
Season Passes: More options, wider availability, and more value-minded products lured more people to the slopes. This is the fourth consecutive year that season pass sales outsold day tickets, claiming 50 percent of the pie to 33 percent for day tickets (the remainder can be attributed to comp tickets, employee passes, and other similar products). Programs such as Epic Day passes, available in one- through seven-day options, where people can ski for as low as $41 a day, count as season passes, and offer some of the best values in the industry.
Staffing: During the 2021-'22 season, a startling 81 percent of resorts reported being understaffed. It was better this season, but still an issue, with 60 percent admitting to being short on employees. If you average it out across the industry, resorts were down 39 positions, compared to 72 last season. So at least we're moving in the right direction. Resorts are also paying their workers more, citing an 18 percent increase from last year. FYI, the national wage increase was 4.6 percent.
Capital Improvements: It's probably no coincidence that this was another record set this season. Across ski country, infrastructure investments at ski resorts totaled $812.4 million, with most of it funneling into new and upgraded lifts—63 new and 86 upgraded, to be exact. The bigger number breaks down to $26 per skier in capital improvements this season, compared to an average of $15 per skier over the last three seasons.
The ski season ain't over yet, and the NSAA plans to share updated numbers after the last resorts close, but the news is good for skiers, the ski industry, and the future of skiing. We would be remiss not to add that sustainability is now more important than ever, if we want to pass our passion for the sport down to the next generation.
More on Sustainability and the Future of Skiing
Climate Change Will Impact Ski Areas—These 5 May Handle it Better Than Most
New Speed Suits Designed by U.S. Ski Team and POW Put Climate Change Front and Center
5 Sustainability Buzzwords Used by Gear Brands Worth a Closer Look
Lead Photo: Getty