Why We Gave $25,000 to Wisconsin's Green Lake Association
As a sponsor of the 2022 Defender Service Awards, Outside is helping to support the critical work of this nonprofit, which also gets to take home a brand-new Land Rover Defender 130
Heading out the door? Read this article on the new Outside+ app available now on iOS devices for members! Download the app.
When Stephanie Prellwitz and Taylor Haag cobbled together their video entry for the 2022 Land Rover Defender Service Awards, they didn't expect to hear back. It was a last-minute application, and as a tiny nonprofit working to protect more than 7,000 acres of lake in south-central Wisconsin, they just didn't have time to produce much more than a Hail Mary.
But when the judges, including Outside's editorial director, Chris Keyes, sat down to review the entries, something about Prellwitz's story struck them. It was so personal and touching that they came back to her video again and again.In it, Prellwitz shares a memory of walking her baby girl down to the edge of Green Lake to dip her into the water for the first time. That first dip is a rite of passage for Green Lake locals. Ask anyone in town about their relationship with the lake, Prellwitz says, and they'll launch into a story about how old they were when they first felt the water touch their skin.
But when it was Prellwitz's turn to give her first child that ritual bath, she strode to the edge, lowered her daughter to the surface—and hesitated.
"There's nothing like being a first-time mom and holding your infant over the water to give you a reality check," Prellwitz says. At that moment, stories about E. coli and other contaminants in the water—stories Prellwitz had brushed off for years—came flooding through her memory. As much as she loved this lake, she was suddenly afraid for her daughter's health.
"That's when I realized just how much water quality mattered," Prellwitz explains. "It mattered to families. It mattered to me. That's when I knew I wanted to do everything I could to protect the lake, so that when my daughter was grown up—and when she was holding her child over the water for the first time—she wouldn't have to hesitate."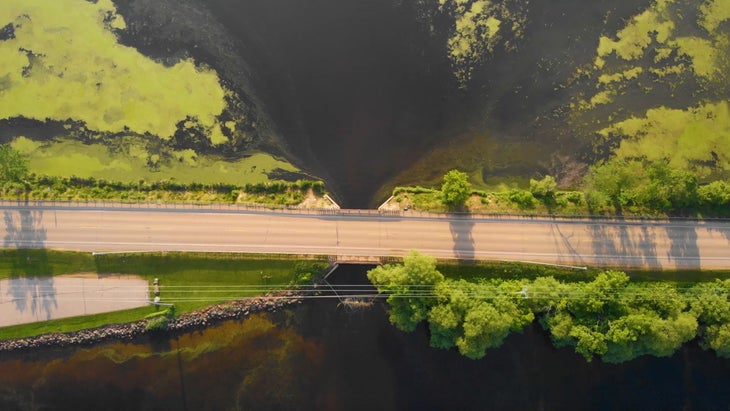 Prellwitz went on to become the executive director of the Green Lake Association (GLA), a nonprofit dedicated to improving water quality in Wisconsin's deepest natural inland lake. Over the past few years, the group has restored native trout to the watershed and created a rapid public water-quality alert system. Its work has benefited both the threatened species that dwell in the lake and the people who treasure it as a community resource. For that reason, Land Rover pronounced GLA the winner in the Environment and Conservation Category for this year's Defender Service Awards.
Given all that GLA does, it was a designation Outside is proud to support. "We were so impressed with the Green Lake Association's singular focus," says Keyes. "By facilitating local residents' desire to take ownership of the health of their watershed, this small organization has had a huge impact."
The Defender Service Awards, founded by Land Rover and presented by Chase in partnership with Outside, are distributed annually to outstanding nonprofits across the country. More than 800 organizations submitted video entries for the 2022 Defender Service Awards. Only five winners were selected, based first on their entry videos and then on a competitive round of community voting. GLA was one of those five.
"We were shocked," recalls Haag, GLA's watershed engagement manager. She was the one who had first read about the award on Outside Online and suggested to Prellwitz that they create an entry video. When Haag answered the phone months later—and realized it was Land Rover on the other end—she says she practically froze to the spot.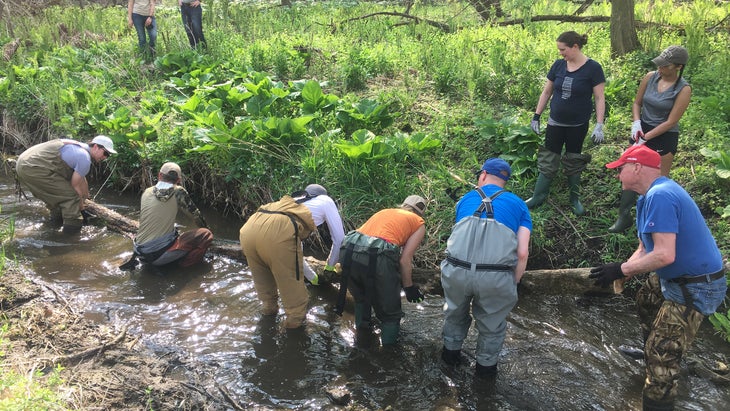 "We're from a really small rural area," Haag explains. "So to have had the community support to actually push us over the edge to win the voting stage was really incredible."
During the community voting window, GLA staffers drove flyers to coffee shops, put up posters around town, and told everyone they could think of to vote for their organization. The community came through in a big way. When Land Rover announced GLA's win, Prellwitz says locals came out of the woodwork to congratulate her.
"Even the crossing guard at my daughter's preschool recognized me in the carpool line," she laughs. "He spotted me and shouted, 'Hey! Land Rover!' to tell me he'd seen the press release. Honestly, the response has been incredible. We are awestruck and overwhelmed."
The marquee prize—a Land Rover Defender 130—means GLA will be able to drive to the lakeshore for the first time in the nonprofit's history. In the past, the group has had to lean heavily on volunteers to drive the rough roads to the water's edge. Now they'll be able to collect water samples themselves. That will accelerate their monitoring and responses to water-quality threats and help them streamline their advocacy work in the wider community.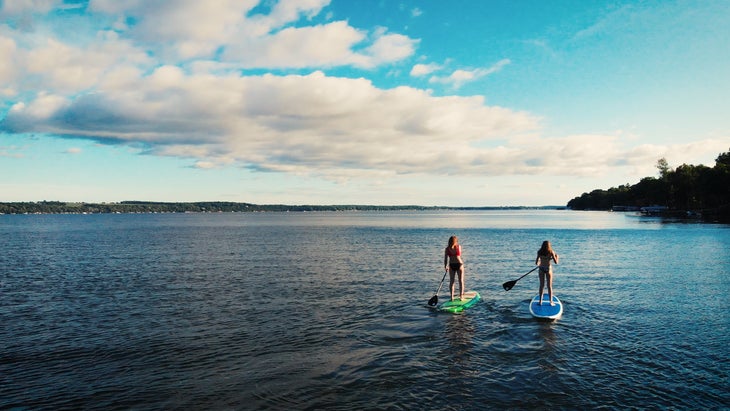 The rest of the prize includes a $5,000 donation from Chase and an additional $25,000 cash donation from Outside Interactive, Inc., the parent corporation of Outside magazine and the sponsor of the Environment and Conservation Category. With the Defender 130 and $30,000 windfall in hand, the Green Lake Association is better positioned than ever to ensure that Prellwitz's daughter will find clean water if she ever dips her own child in the lake.
Lead Photo: Courtesy Green Lake Association