An 11-Year-Old Climber Fell 50 Feet at an Oregon Crag. He Survived.
Cohen Schaumann is recuperating in a hospital after suffering a brutal fall on April 21
Heading out the door? Read this article on the new Outside+ app available now on iOS devices for members! Download the app.
Cohen Schaumann, 11, is recovering in the hospital after taking a 50-foot ground fall on April 21 while climbing at Smith Rock State Park with his grandfather, Scott Phillips.
Cohen had been top-roping with Phillips several times in the last year, and a few weeks prior to their April 21 outing, Phillips had taught his grandson how to rappel. "He did everything right," Phillips said. "I walked him through it up top, then went down below and put him on a fireman's belay, and he rappelled perfectly."
On this outing, he and Cohen were climbing at Rope-de-Dope, a large low-angle block with a smattering of easy routes popular for beginner climbers. Earlier in the day, Cohen had cruised a few 5.7s, but struggled a bit on a couple of 5.9s, "so we decided to go around to the other side of the rock and climb this 5.8 crack (Rope-de-Dope Crack)," said Phillips.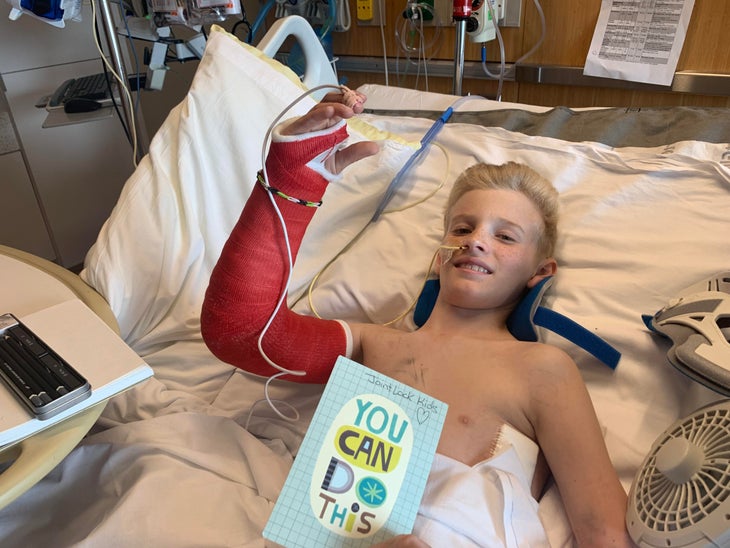 While Phillips went up to the top of the block (easily accessible via a ladder on the backside) to rig a top-rope anchor, he told Cohen to move their gear around to the base of the route. "I was almost done setting up the anchor," said Phillips, "and I heard a noise, looked back, and there he was, standing behind me on top of the block. So I thought, 'If he's already up here, let's have him practice his rappel.'"
There are two sets of bolted anchors at the top of the route, one lower and one higher. Phillips had built the rappel anchor on the lower of the two. "I had built a simple two-[point] setup. On one side I had one fixed sling with a locker on each end. On the other side I had non-lockers on each end." He'd clipped the rope in at its midpoint, dropped it below, and made sure both strands were touching the ground and unobstructed.
Once he noticed Cohen was up on the rock with him, he clipped his grandson's PAS into the upper anchor, then rigged him to perform a traditional twin-strand rappel through an tube-style belay device. "I had taught Cohen to always test the rappel before he pushes off," Phillips said, "and when he leaned back to do that, he couldn't, because it put tension on his [PAS]."
To mitigate this, Phillips had Cohen put his brake hand in position, and moved his grandson's PAS from the upper bolted anchor to the lower bolted anchor (the same anchor where he'd built the rappel system).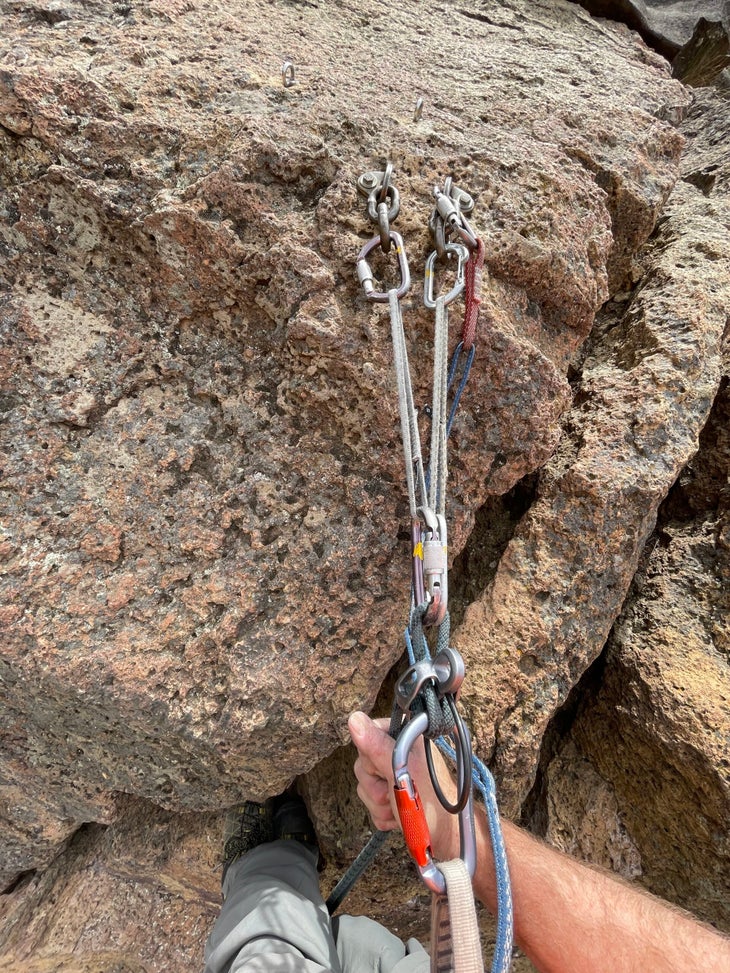 Now Cohen leaned back on his rappel device, "and it looked good," said Phillips. "His [PAS] was loose, the anchor was tight, and he had his full weight on the rappel device. I felt good about everything."
At this point, Phillips climbed off the back of the block and ran down to the bottom to put his grandson on a fireman's belay. When he left Cohen, his grandson had his right hand down by his hip, acting as his brake strand. But when Phillips got to the bottom of the wall, he saw that Cohen had at some point swapped the rope to the left side, and was preparing to rappel with his off-hand. However, besides that, everything looked normal. The rope was still properly run through the anchor and Cohen was still attached.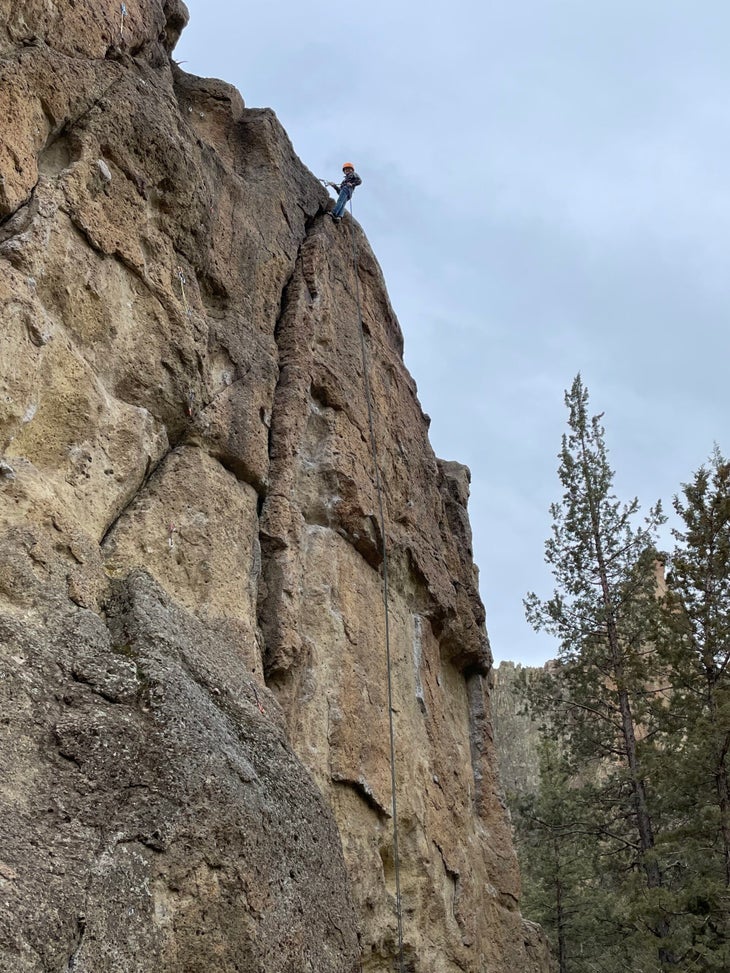 "At that point, I walked closer and loosely grabbed the ropes, and took my phone out to take another picture of him. Then I heard a yell, looked up, and he was coming down feet first." Cohen hit the wall midway down, "and his body turned, and then he went pretty much face first into the ground." Luckily, Cohen landed just a few feet away from a jagged rock pile, hitting flat, compact dirt.
A bystander with Wilderness First Responder certification was on the scene quickly, and a police officer with EMT certification arrived shortly after. "Time was a blur, I really don't know how long it [took]," Phillips said, but he said that fairly quickly after the accident, Cohen was rolled onto a Smith Rock litter, transported to a truck, and heli-vacced to Bend, where he was stabilized, and later transported to Portland.
The 11-year-old suffered a broken pelvis, wrist, ankle, and ribs, two collapsed lungs, and a lacerated liver and kidney, as well as fractures in two spinal vertebrae. Miraculously, Phillips said his grandson is expected to make a full recovery. He was recently taken off a ventilator and has regained some mobility via a wheelchair, though he faces a long road of healing. A family friend has set up a GoFundMe for Cohen's recovery, which also contains regular updates from his mother, Sarah, regarding his condition.
Post-accident, Cohen and his rappel device were still properly attached to the rope when he landed, and the entire anchor system was intact on the ground with him, as well as his PAS, which was still clipped to him as well. "I could see the whole anchor next to him, properly set up," said Phillips. "The upper locker on one side of the anchor—which had been locked and attached to the bolted anchor—was unlocked, but otherwise everything was completely identical to how it had been at the top of the route.
"In his inexperience and exuberance to rappel, I think he just unclipped the entire anchor along with his [PAS] when he went to rappel," said Phillips. He said he hasn't wanted to ask Cohen directly about what had happened, not wanting to "lead him on in any way."
But Cohen's father, Brandon, said yesterday "that Cohen told him he accidentally unhooked all the anchors [instead of just his PAS] when he went to rappel," essentially confirming Phillips' suspicions.
"If I could go back, I would've still had him rappel," said Phillips. "But either I would've taken time to really remind him, 'Only undo this one [the PAS],' or have a second rope up there and belay him from above as he rappelled, or have another adult with me. Those are the three ways I think I could've mitigated the accident." Phillips said he wanted Cohen to learn to rappel normally first, and was planning on demonstrating the use of an autoblock to backup a rappel on one of their upcoming outings.
Cohen is the oldest of four siblings, two sisters (aged 10 and 6) and a brother (8), and is also supported in his recovery by his mother Sarah and father Brandon. Outside of climbing, Cohen is an active kid, who enjoys jiu jitsu, skiing, hiking, hitting the pump track on his bike, and pretty much anything outside, said his grandfather. "He just loves the outdoors, doing things… just a kid with a lot of energy."
His family, who lives in Redmond, a short drive south of Smith Rock, recently got a forge at home, and the homeschooled Cohen is now keen to get into knifemaking, as well. "He's got a real strong family unit," said Phillips. "[He and his siblings] get along, they back each other up, they fight for each other. If they get something, they want to share it with all their siblings, too." He told Climbing that there is no indication the accident has dampened Cohen's spirits or enthusiasm for the sport.
"I can't express enough my gratitude for all the climbers and first responders that got my son to a medical evacuation point," his father, Brandon, told Climbing. "They are a crucial reason why my son is alive today!"
"Many of the activities we participate in are extremely rewarding but have inherent risks," he added. "We always try to mitigate those risks, and you never think something like this will happen. Hopefully, we can help others avoid an accident like this… [but] Cohen is an adventurer. I don't think this setback will quell his love for the outdoors, learning, [and] exploration."