How 51-Year-Old Ken Rideout Runs Sub-2:30 Marathons
Relentless dedication and strength training are some of the keys to his success 
Heading out the door? Read this article on the new Outside+ app available now on iOS devices for members! Download the app.
Ken Rideout insists he's just an average guy who likes to run marathons as fast as he possibly can.
He admits he's never been a great athlete, but, at the same time, his commitment to training and his results are extraordinary. The 51-year-old resident of Nashville, Tennessee, has blossomed into one of the world's top masters runners with a fierce competitiveness that has helped to consistently run some astonishingly fast times at World Marathon Majors races over the past several years.
He won the 50-and-over division at the New York City Marathon (2:33:31) in 2021 and the Boston Marathon (2:30:21) in 2022 and he has come in second in that age division in London (2:29:54), Chicago (2:29:53), and Berlin (2:35:48). He also won the 2021 Myrtle Beach Marathon outright in 2:30:58 just before turning 50.
On March 5, he'll toe the starting line at the Tokyo Marathon in an attempt to once again compete for a podium finish in his age division.
At 5-foot-10, with a muscular physique, Rideout breaks the mold of both typical elite runners and faster recreational runners. It's his relentlessness to being the best he can be—including and especially his strength training—that sets him apart as an age-group runner and not any inherent talent as an endurance athlete.
"When I am in a race, my mindset gets to the point that I'm gonna run until I collapse," Rideout says unapologetically about his steadfast approach. "I'm gonna give every ounce of energy until there's nothing left to give. Win or die trying, that's the message. If you have that mindset, you can't lose."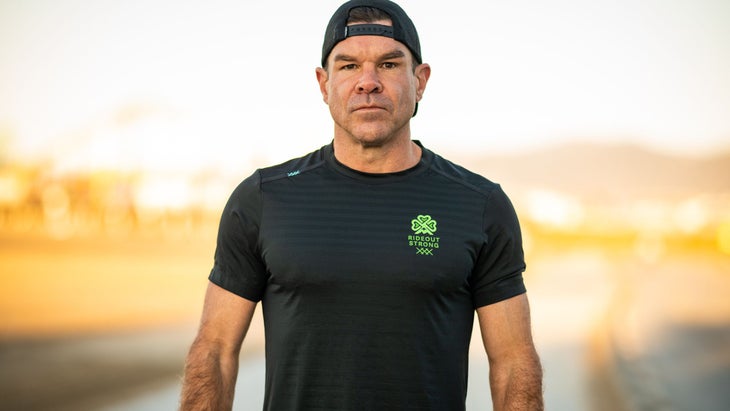 Finding Peace in Endurance Sports
Growing up in a troubled family in a rough suburb of Boston and taking up boxing at an early age, Rideout has applied a fighter's mentality and a notorious work ethic to every challenge he's faced in life, sometimes to his own demise.
As a teen, he took a job as a prison guard where his stepfather and brother were incarcerated. He worked his way through college, eventually earning a sociology degree from Framingham State University. Although he became a self-made overachiever as a financial services sales executive, he admitted he suffered from imposter's syndrome working alongside many Ivy League colleagues and eventually struggled with burn-out, and was diagnosed with substance use disorder tied to his excessive opioid use.
After working through a recovery program, Rideout found a more balanced path in life, channeling his energy into endurance sports, following a mostly vegan diet and the joy he shares with his wife and their four young children.
Rideout first applied his intensity to triathlon and qualified for the Ironman World Championships three times, winning the 40-44 age division at Ironman Wisconsin in 2015 with a 9:36:15 effort. But that sport took too much time away from his family, so he turned his focus to marathons in 2019.
So how does someone who started running in his late 30s and didn't really focus on it until his 40s become fast enough to run 5:45 pace for a marathon after turning 50? Being unabated in his approach every single day.
"I've heard some people say I'm lucky to be able to do this at my age, and I'm like, 'I'm not lucky,' I work my ass off every day," he says. "I eat a perfect diet during the week. I work out twice a day. I'm a freaking lunatic with this stuff. I live this full-time."
Despite his exuberance and intensity, Rideout says he's grateful that most of his running brings a Zen-like calm to him. He admits he doesn't want his energy to lead him to a dark place again. When he can, he listens to podcasts or audiobooks while running because he wants to be able to maximize his time to train and learn something at the same time.
"This is just my outlet," he says. "Running is one of the things that makes me feel good about myself."
Getting Guidance
When Rideout turned his focus to running five years ago, his training initially consisted of a 10-mile out-and-back run with 1,200 feet of vertical gain six days a week in the Pacific Palisades neighborhood of Los Angeles. The other day of the week, he'd typically run 20 miles as hard as possible. While that helped continue to build his aerobic base and led him to a 2:40 effort at the Los Angeles Marathon, it only got him so far.
In 2019, he hired coach Mario Frailoli, who added structure to his training by increasing the length and adding specificity to his long runs, implementing speedier workouts into his routine and also encouraging him to slow down on his easy days that help optimize recovery.  He also makes sure that he stays between 70 and 80 miles per week. Since then, he's run 2:36 or faster six times, including a 2:28:25 personal best at the age of 48 at the 2019 California International Marathon.
In addition to his run training, he works on strength in his home gym four days a week with a circuit that includes pull-ups, squats, bench press and numerous core exercises, as well as boxing drills—including punching a heavy bag. His functional strength and athleticism are among his biggest assets, something that many recreational runners lack, Fraioli says.
Plus, because he's not burdened by having 35 years of running in his legs, he still has considerable elastic recoil in his legs. (And yes, his carbon-fiber plated Reebok Floatride Energy X shoes also help, Rideout says.)
"He's doing it right, and honestly, he has been doing it all long," Fraioli says. "He has more than 10 years of aerobic development under his belt and a lot of that came on a bike and in the pool. And I think the strength training really just helps to keep him in one piece. It's giving him that structure and that guidance and honestly just keeping him from, you know, completely running himself into the ground."
Although he still works in the financial world, Rideout has also helped train mixed martial arts fighters and boxers, and is the co-host of the combat sports podcast, "The Fight with Teddy Atlas." Because of his success and notoriety, he has been all over the media in recent years, including appearances on high-level podcasts with Rich Roll, Samantha Nivens, and Fraioli's "The Morning Shakeout" weekly running show a couple of times.
Rideout has been eager to share his story—and fans and followers seem to appreciate his vulnerability—but insists he's not special or extraordinary, especially as an athlete.
"Everyone has what I have. I'm an average guy" says Rideout, who played hockey and football in college. "The only thing I do that other people don't do is I try as hard as I can, I dedicate myself to being the best I can be. And I would say that if there's one metric that matters above everything—and you don't need to be a rocket scientist to know this—it's that consistency is the most important thing. Show up every day."
Lead Photo: Mike Blabac @blabacphoto