Kristen Kish and Her Adventure to the Most Remote Restaurants in the World
In a new National Geographic show, the Top Chef winner explores some of the world's most remote places and cuisines
Heading out the door? Read this article on the new Outside+ app available now on iOS devices for members! Download the app.
Top Chef alum Kristen Kish is a trailblazer, developing out-of-the-box dishes like toasted sage matcha and goat milk custard, tagliatelle and champignon sauce (dubbed an homage to hamburger helper, which Kish loved growing up), and even a gourmet spin on the McDonald's Filet-O-Fish. 
But even as Kish's culinary comfort zone has always been expansive, her new National Geographic show Restaurants at the End of the World has her pushing the boundaries of what she knows. Over the course of four episodes, Kish visits restaurants in far-flung spots like Boquete, Panama;, Svalbard, Norway; and Paraty, Brazil, in order to learn about tradition, culture, and cuisine. 
Kish, already well-traveled and adventure-hungry, jumped at the opportunity to make the show when Nat Geo brought the pitch to her. "I've definitely traveled before, but this was one of the first times I actually went outside of major cities," Kish says. "In the show, I was tasked with a whole different space than I was used to. It was so exciting going off the beaten path."
An experienced, talented, and exquisitely creative chef, there's not a ton Kish hasn't seen in the kitchen. But some of the most challenging culinary experiences on the show weren't exactly in a kitchen.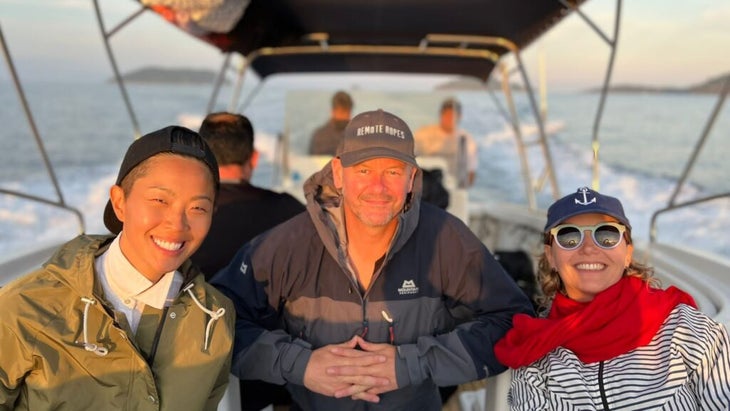 Sem Pressa, a restaurant on one of the world's largest tropical fjords in Paraty, Brazil, is actually a floating dining experience on a beautiful boat. According to Kish, it was a little tricky to learn new skills on the fly while working on the water.
"I filleted a belt fish, which I've never personally done before," Kish says. "It's incredibly thin and I was using, to be frank, a very dull knife on the boat. I think it was the most panicked I'd been on my journeys."
Testing out a new skill in the moment made Kish a little anxious, especially since she was in the spotlight. "The fish was splitting in all these weird places," she says, laughing. "But being around the co-owner and chef Gisela Schmitt calmed me down a little bit and the guests were super relaxed."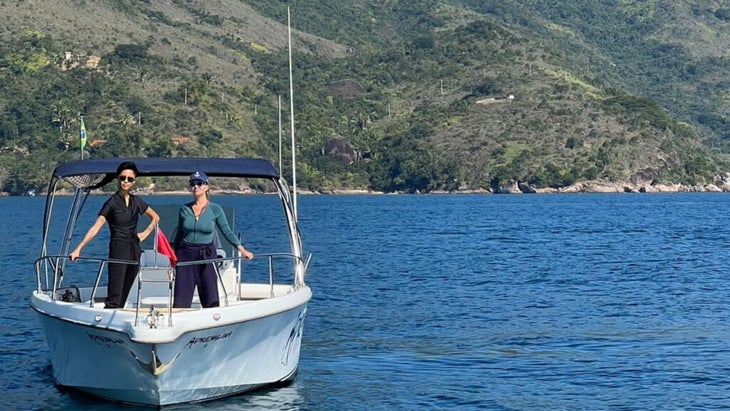 But new culinary experiences weren't the only heart-racing adventures. In Svalbard, Norway, Kish and the crew were set to dive in the freezing Arctic Ocean for sea urchins, mussels, and clams for dinner service. However, when they arrived at the destination, the crew spotted a polar bear on the coast and had to rethink things.
"Production said, 'Well, this isn't going to happen!' and we had to find a new place on the fly," Kish says. "If we had jumped into the water and gotten too close to the polar bear, it theoretically could have mistaken us for a seal. But I was surrounded by people who knew their stuff, so I put all my trust in them."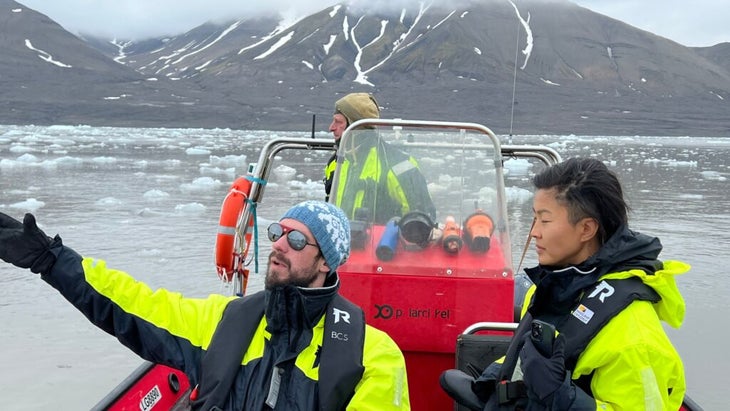 Remote Restaurateurs
Though quite literally on opposite sides of the world, Kish noticed that the remote restaurateurs shared something in common: the ability to roll with the punches. "It's one of the characteristics they all share that I found inspiring and admirable," Kish says. "They have this sense of what's going to happen is going to happen and if it doesn't work out, we'll figure it out."
As much as Kish tells herself 'It's going to be fine!' when things go awry, she can't deny the nerves that overcome her when she loses control of a situation.
"These people are pretty much giving it up to mother nature, which is incredibly unpredictable," she says. "But they were all very much thriving with that idea and possessed the quality to do that."
While learning the ins and outs of skewering grouse organs and harvesting wild watercress while rappelling down a rushing waterfall, Kish was reminded to embrace the moment. So much so that she brought home a new goal after all her travels.
"I need to play a bit more in the kitchen, not just playing for the idea of working through a dish to put on the menu, but to actually play," she says. "To get into the kitchen and play like I used to when I was a kid is something I need to be better at. It sparks curiosity and creativity and childlike play that many adults, regardless if you cook or not, let fall to the wayside."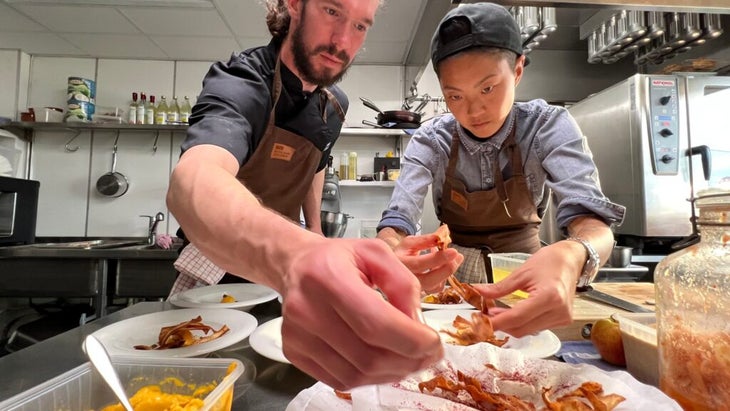 The Most Daring Desserts
Case in point, in Norway, Kish was stunned when Rogier Janesn, chef at Isfjord Radio, uttered the words kimchi juice and sorbet in the same sentence. The experiential dessert was a passion fruit-kimchi sorbet with a white chocolate custard served with parsnip chips dusted in lingonberry powder. 
"I was like you are out of your mind!" Kish says, laughing. "I had a lot of skepticism about it, but when I actually ate it, everything made so much sense. It was delicious and incredibly balanced, so I was taken off guard." 
While visiting Brazil, Kish fell in love with passion fruit, so she incorporated it into a fresh vanilla bean rice pudding with cream at Sem Pressa. She looks forward to playing with the fruit—and many other ingredients and flavors—when she returns stateside. 
"It's about rethinking the way you think about food," she says.  "It's balancing in all the right ways, but you're expanding your horizons."
Where You Can Watch Restaurants at the End of the World
Restaurants at the End of the World premieres on March 21 on Disney+ and National Geographic. Kish hopes the show resonates with viewers and that another season will lead to more exploration. "We're just getting our feet wet," she says. "I just hope we can continue on and tell even bigger stories."
Lead Photo: National Geographic for Disney/Missy Bania