This Effortless Pour-Over Coffee Will Change Your Camping Game
Imagine what this means for your outdoor adventures
Heading out the door? Read this article on the new Outside+ app available now on iOS devices for members! Download the app.
If the pour over is the platonic ideal of coffee (it is!), does streamlining the process take the beauty out of the ritual? Nope, it just reduces the effort between you and that perfect cup of joe. And let's face it, when you're camping or in the backcountry (or even at home), you want your caffeine as quickly as possible. 
Malu Coffee, a greatly simplified pour over, was born out of the pandemic when New York City resident Jingyi Ma had time to tinker. A fan of the pour-over method, Ma found herself lost in the endless information loop on coffee accouterments like grinders, filters, drippers, and, of course, beans. Overwhelmed, she set out to distill the process without compromising quality.
The result is Malu, a tea bag–like filter that steeps premium nitro-sealed coffee grounds into your mug. There are three varieties to choose from: the Classic House Blend, which has notes of apple, honey, and blueberry pie; the Elegant, a single origin from Ethiopia reminiscent of strawberry, caramel, and black tea; and the Playful, a single origin from Colombia with hints of orange wine, cherry, vanilla, and chocolate.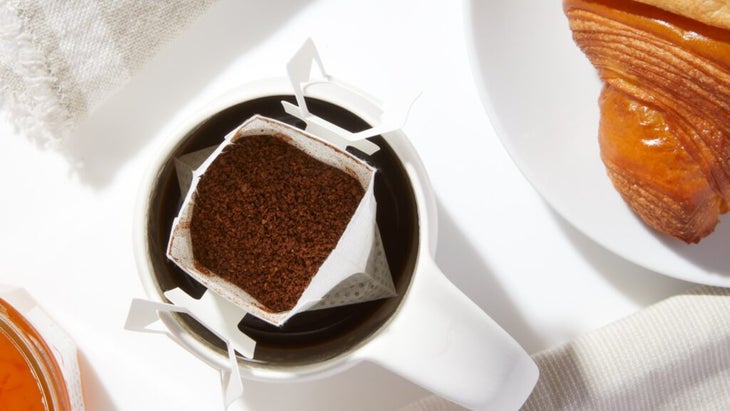 Malu sources its beans from a roaster in San Diego who has cultivated relationships with a variety of farmers. "We work with them to find the best quality specialty beans that will work well in this single-serve, pour-over pouch format," Ma says. "The standard we use is the one applied to a high-quality cup of pour over coffee in a coffee shop. We then develop the best grind size internally for the coffee ground that goes into the pouch."
There are five steps, all of which you can nearly do in your sleep: Remove the filter from the package; tear off the top; hang filter on cup; slowly pour 8 ounces of hot water over the top; remove filter and ahhhhh, coffee time. In total, the process takes just a few minutes.
With Malu, there's still the quiet, meditative quality to making a beautiful cup of coffee, it's just easier—and portable. As a double bonus, cleanup is a breeze, which means you don't have to squander precious water cleaning coffee grounds out of the Aeropress.
Want more coffee content? Check out the stories below.
Proffee Has Exploded on TikTok. Should You Be Drinking It?
The Barista's Guide to Troubleshooting Your Camp Coffee
Lead Photo: Malu, Getty Images/Peerapat_Lekkla