Pop the Top on This Camp-Ready Cocktail
Tip Top's canned cocktails are in a league of their own (and tailor made for your next camping trip)
Heading out the door? Read this article on the new Outside+ app available now on iOS devices for members! Download the app.
It was a growing weariness of lugging six-packs of beer on hiking trips that inspired my search for the perfect camp cocktail. I've attempted hanging bags of red wine from shrubs and rocks, which inadvertently ends up looking like a sinister blood bag rather than camp vibe aesthetic (also: bears). And, despite my rapid aging, I'm still not cool or mature enough to stoically sip Scotch from a hip flask, staring deep into the flames of the campfire.
And so I set out to try a heap of ready-to-drink (RTD) cocktails to see if any were good enough to replace the fireside beer. Armed with cans of Golden Rule, On The Rocks, Hornitos, Finnish Long Drink, Cutwater, and Tip Top Proper Cocktails, I began this serious mission. After only a few sips, I was confronted by the question: Why do so many canned cocktails suck? Often, it's a Goldilocks story of too syrupy sweet, too bitter, or too artificial. The truth is, the price for convenience is steep, with the major roadblocks to success being shelf life and stabilization. To preserve a citrus-based cocktail like a margarita, juice must be pasteurized. Likewise, carbonation levels for something like a mojito must be precisely pressure-perfected to keep the can from exploding.
Needless to say, I was not psyched about the results of the unfolding taste test. And then I cracked open a Tip Top negroni. It was boozy, it was herby, it was bitter, it was balanced. Poured over a big rock, it could have been served at my favorite bar. The can is a marvel too—at 100-milliliters, or 3.4-ounces—it's about a third of the size of a beer can. This tipple is built, well, like a real cocktail without fillers and its portable size means it slips easily into a backpack. I pushed back from the countertop, my work here is done.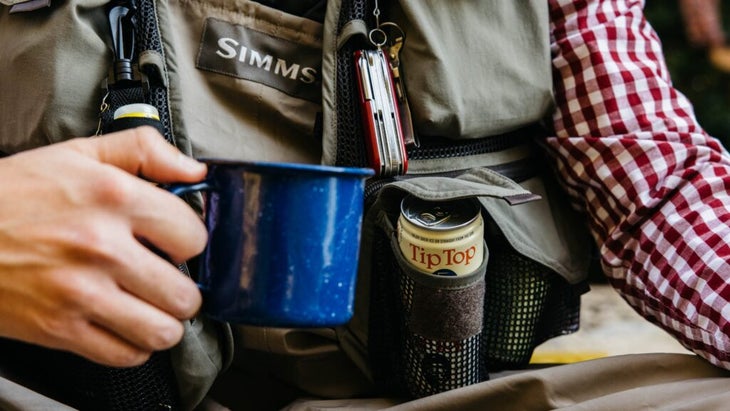 The idea for Tip Top came to Yoni Reisman and Neal Cohen (both National Outdoor Leadership School graduates) when they were backpacking in Wyoming's Wind River Range. As one does on the trail, they dreamed of topping off a grinding hike on a hot summer's day with a cold drink. What if, they imagined, you could plunge some gin martini cans into an ice-cold glacial lake, lay back in the sun and wait for it to cool to just the right temp, before enjoying the crispest martini on the planet? Simply put, on the trail and elsewhere, there is a demand for high-quality cocktails in environments that don't typically allow for the meticulous care and preparation required to make them.
Reisman and Cohen enlisted the help of seven-time James Beard Award-nominated Atlanta bartender Miles Macquarrie. He was up to the task, ultimately creating a negroni, along with a gin martini, an old fashioned, and a Manhattan that could be canned and hold its integrity. When Tip Top took off, the trio dug deep and took on the citrus-based cocktails like the margarita and daiquiri. Those offerings, along with a Bee's Knees and a limited edition Jungle Bird, now also appear on liquor store shelves.
Tip Top's notably high proof, which ranges from 52 to 74, risks rusting a traditional aluminum can, so the company cans in steel. You'll surely appreciate this durable detail when chucking one into your backpack—I know I will.
Bonus: If you're the type of camper intent on mixing and shaking your own trailside cocktail (here's looking at you car campers), pick up a copy of Backcountry Cocktails (Running Press, May 2023) by Steve Grasse and Adam Erace. Although inspired by adventures in the White Mountains of New Hampshire, the recipes translate to any outdoor outing (See: the Orange-Tarragon Freeze, a drink that you freeze in your Nalgene and sip after it thaws to slush, and the Hemenway Daiquiri, which tastes of the forest thanks to pine cone syrup). Broken down by season, there's a hefty mix of hot (red wine wassail!) and cold drinks, along with the occasional recipes for trail food like granola bars, grilled pizza, and cast-iron trout with wild greens. There's also the invaluable Hiker's Lament, a green juice-based cocktail that'll nurse you back to health if your night included a few too many Tip Tops or other boozy bevs.
Lead Photo: Luke Beard