Outside Is Launching a New Dynamic Paywall
Great news: you can now explore our entire network, taste-test everything, and easily share stories you love
Heading out the door? Read this article on the new Outside+ app available now on iOS devices for members! Download the app.
Hi everyone, my name is Asha Demarsh—fearless product manager for Outside Online, lifelong reader of Outside and SKI magazines, and currently known around our offices as the toothless wonder. (It's a long story involving Nalgene bottle and an overzealous hug.) Over the next few months you'll be hearing more from me as we roll out exciting features on Outside and other sites across our network, beginning with today's launch we're taking all the content that used to live behind a paywall and putting it out in the open.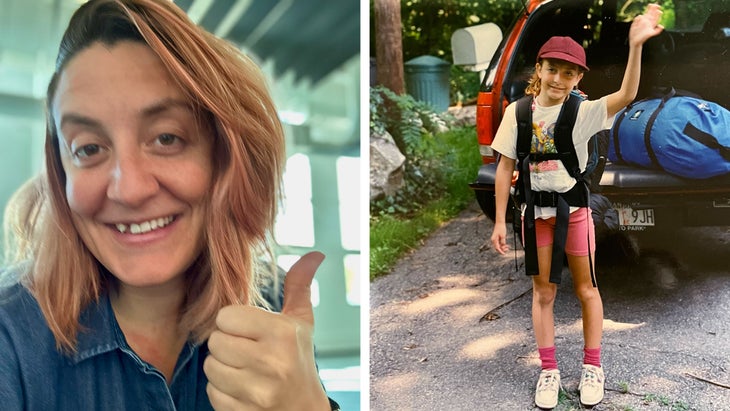 More on that in a moment. First, it might be nice for you to get to know me a bit. I fell in love with being outside at eight years old, when I carried my first heavy backpack up big hills on the Appalachian Trail with Rock Hill Girl Scout camp in New York. Fast forward some decades, I now split my time between the great vertical trails of Yosemite and the fairly flat streets of Oakland. I still read Outside and SKI—and now Backpacker and Climbing and VeloNews and a dozen other Outside Network sites—for inspiration, and, after a career in social justice and tech, I get to work on the user experience of those sites, too. It is an absolute dream job for me.
I tell you all this because I want you to know that the inspiration and storytelling I get from these outlets are as important to me as they are to you. I also recognize that the user experience on our websites has been a bit clunky of late. When we launched our foray into paid digital content in 2021, we began with the introduction of premium articles. Some of you saw this as an opportunity to support our publications and jumped at the chance to sign up. Others of you had, well, some feedback. Hearing your voices through surveys, social media comments, responses to emails, and other venues, a common theme emerged: a hard paywall on our most valuable stories made it too difficult to share our articles—or for new users to get to know us and understand the comprehensive value of an Outside+ membership. Which is why I'm so excited about the site changes you'll encounter today.
Introducing a New Way to Consume Our Content
Starting today all users will be able to view a limited number of articles across Outside Online each month—and soon to be rolled out on all of our sites—means you'll no longer find certain stories blocked as premium only. It will also mean you'll need to at least register for a free account to continue browsing. Once you've done that, however, the first time you land on any of our stories, whether you're a member or not, you'll be able to:
Share with Friends
You can now broadcast all of our articles, not just the free ones, with friends and families on email and social media without fear of someone having to pay up to read it.
Taste-Test Everything
If you've been on the fence about membership, you can now explore all of our content across the entire network—from trail beta to training plans and thru–hike stories to ski films. What's more, the meter will let you know how much you've read and how much we've helped you get outside each month.
Set Up a Free Account that Works Across Our Network
A free account (email and password) will now be required for regular users on our platform. Even if you're not ready to purchase Outside+, a free account is a valuable way to test out the benefits of membership. Once registered, you can use your login to try out our GPS mapping apps Gaia and Trailforks, get personalized recommendations for stories across all of our sites, sign up for one of our sport- and topic-dedicated emails, and get exclusive access to bike, ski, run, and triathlon events on Athlete Reg.
Explore Our Network
As we continue to expand the meter across the Outside network, you'll be able to view a limited number of articles on all of our sites..
I did say this is only the beginning right?
Over the next few months we will also be rolling out….
Updated Personalization
Many of you have already tried My Feed, a story feed that curates Outside stories for you based on your interests, and have shared some feedback with us. Behind the scenes, we've been working to relaunch this tool as a much more accurate and user-friendly recommendation engine.
Our New Mobile App
Soon you'll be able to access all of our storytelling, inspirational articles, video content, and everything else from across network content in one single mobile app.
Free Account Taste-Testing on Outside Watch
Watch has long been a walled garden similar to our premium article content.  Soon we'll make it easier for you to sample our video content library and continue to try before you buy Outside+.
Subscribe to Newsletters You Like
We've heard you loud and clear: you want a place where you can explore all the newsletters and emails we offer. We'll be launching a preference page in the coming months to make selections much easier.
Lead Photo: Jordan Siemens/Getty