Sauna Design Tips, 'Win the Wilderness,' and Other Media We Loved This Month
New music by boygenius, a text exploring the governance of natural resources, 'South Side,' 'She Said,' and more
Heading out the door? Read this article on the new Outside+ app available now on iOS devices for members! Download the app.
In March, we at Outside published features about Alpine-cabin restoration, ecotherapy, and the new queen of slopeside fun, Katie Burrell. We also put out a new print issue, told short stories of resilience in our daily podcast, and took parenting inspiration from Norway. In our leisure time, we dipped into new music by indie rock supergroup boygenius, researched sauna-building, and took part in a little binge-watching. Here's everything we loved this month.
What We Read
The Secrets of Finnish Sauna Design, by Lassi A. Liikkanen
Living in Minnesota, I've wanted to have a sauna for most of my adult life. Every year, the snow thaws, and I think, By next winter, I'll finally build one. Of course, even with the will and time to devote to such a project, other factors always get in the way. But that doesn't stop me from inching closer to my dreams of löyly.
In March, I read The Secrets of Finnish Sauna Design by Lassi A. Liikkanen. It is a comprehensive work, starting with a history of Finnish sauna culture, and diving deep into what the author describes as the four-leaf clover model of the sauna experience: heat; air quality; interior design; and culture and company. Liikkanen approaches the subject of sauna with a scientific rigor other resources lack. Exploring the topic online, one can easily get lost in the noise of what counts as a "real sauna," whether American builders are doing it all wrong, and which purported health benefits are just marketing. Liikkanen can't definitively answer all of those questions, but he brings those of us outside of Finland a much clearer understanding of what an authentic sauna looks and feels like, and how to achieve it. When I eventually create my own budget design, I probably won't be able to follow all of his recommendations, but now that I know about the principles involved, I should get a bit closer to the Finnish ideal.
Note: this book is not a construction manual—it is a resource for an architect or DIY'er to put together plans following modern standards. For a step-by-step guide, I'm reading through fellow Minnesotan Glenn Auerbach's Sauna Build, From Start to Finnish, which makes the process more accessible for aspiring builders like me. —Jonathan Ver Steegh, digital production manager
---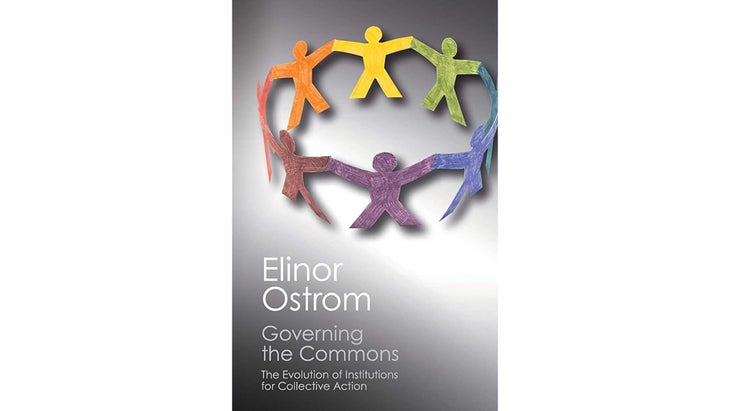 Governing the Commons, by Elinor Ostrom
If you love the outdoors, you've likely heard of the Tragedy of the Commons. Made famous by ecologist Garrett Hardin, the basic idea is that when a group shares a common pool resource—public grazing land, a fishery, or a groundwater basin, to name a few—individuals have a powerful incentive to overuse it, because they each gain the full benefit of their own overuse while the group as a whole splits the cost. (To put it more concretely, the person who violates their catch limit gets an entire extra fish, while the rest of the people on the lake pay the price of there being one fewer fish available to catch. That's hardly a noticeable penalty—until everyone starts to do it.) Absent government regulation, the traditional thinking goes, the end result is overexploitation, degradation, and eventually, environmental disaster.
In 1990, political economist Elinor Ostrom challenged that idea in her book Governing the Commons: The Evolution of Institutions for Collective Action , arguing that it's not only possible for communities to sustainably self-manage shared resources, in many cases they do it more effectively than the state. By analyzing how communities around the world have risen to the challenge, she comes up with a list of criteria that a group needs to meet in order to successfully manage its own common pool resources (it needs a reliable method of monitoring use, for example, and a system of graduated punishment for users who break the rules.) Governing the Commons isn't pop science—it's a dry, academic read. But I think it's an important one: Ostrom's work won her the 2009 Nobel Prize in economics, and her ideas are food for thought for anyone who dreams of creating a more sustainable future. —Adam Roy, executive editor, Backpacker
What We Listened To
Asphalt Meadows (Acoustic), by Death Cab For Cutie
Full disclosure: I have had the great fortune of becoming friends with this band, but I've been an avid Death Cab fan, long before I ever found out that Ben Gibbard crushes trails, and this latest album totally hits the mark. I have found their recent unlocking of acoustic versions of the record incredibly moving. These tracks hit to the heart-center of the band's talent – the songwriting, the bass lines, the precision of rhythms. Try "Pepper" and go from there. —Nicholas Triolo, senior editor, Outside Run and Trail Runner
---
boygenius
In anticipation of their new album, boygenius, aka Phoebe Bridgers, Julien Baker and Lucy Dacus, released a four-song sampler. This amuse bouche was just enough of a tease to highlight what makes boygenius one of the most exciting supergroups of all time: specific lyrics that point directly at universal truths. —Zoë Rom, editor-in-chief, Trail Runner and managing editor, Women's Running
Buy the Album Listen on Spotify
What We Watched
Win the Wilderness
It debuted in early 2020, but the six-episode show, Win the Wilderness, recently came up on my Netflix recommendations due to my penchant for reality survival shows. The premise is this: an elderly homesteading couple in Alaska spent decades building a remote, three-story dream home complete with guest house, greenhouse, and lush gardens with spectacular views. Having decided it was time to retire from bush life, they were seeking a younger couple to bequeath their life's work to. Six British couples drop into Alaska to compete in a series of survival-y challenges (navigation, shelter and trail building, minimalist camping in grizzly country) all aimed at convincing Duane and Rena Ose that they have the skills, gumption, and teamwork required to live a remote life in the bush and continue their legacy. It's part couples therapy, part survival skills, and got me dreaming about what it would be like to live on top of a mountain 100 miles from civilization. —Kristin Hostetter, head of sustainability and contributing editor
---
She Said & Catch and Kill
I finally watched the 2022 movie She Said, which follows the two New York Times reporters who broke the Harvey Weinstein story in 2017, initiating the #MeToo movement. I loved it and appreciated both the investigative diligence it took to track down evidence and sources—and then convince those victims to go on the record—especially amid pressure from such a major player in Hollywood. But equally riveting was the 2021 podcast by Ronan Farrow, Catch and Kill, which had me yelling to no one as I listened on a road trip. Farrow's podcast is based on the story he initially pitched to NBC (which, curiously, was turned down by executives, despite passing through its fact-check and legal teams) before turning to The New Yorker, which ran it just a week after the Times' story. I suggest watching the film and then listening to the podcast for the full picture. Both are excellent examples of what journalists are capable of when supported by media companies with unwavering moral compasses. —Tasha Zemke, associate managing editor
Watch She Said:
Amazon Apple TV YouTube
Listen to Catch and Kill:
Apple Spotify

---
South Side
I have a long history of being painfully behind the times with popular music, podcasts, and yes, even TV shows. Usually, cultural tardiness is harmless—I binge-watched Game of Thrones and Breaking Bad to catch up with everyone else. Alas, that's not the case with South Side. I discovered this pee-your-pants-laughing comedy series over Christmas Break last year, only to learn in February that it had been canceled. Had I known it was on the chopping block, I would have personally rung doorbells and operated a phone bank to beg TV watchers everywhere to give it a chance.
The show is set in Chicago's Englewood neighborhood and follows two very different duos who must navigate various cringey situations in the predominantly Black and brown community. In one storyline, pals Simon (Sultan Salahuddin) and Kareme (Kareme Young) work for a shady appliance rental company and split their time doing repos on borrowed Xboxes and attempting various hairball get-rich-quick schemes. In the other, police officers Turner (Chandra Russell) and Goodnight (Bashir Salahuddin) patrol the neighborhood and land in various ridiculous situations. The episode plots are secondary—the joke writing is what makes South Side a standout. Like 30 Rock or Veep, South Side overwhelms your sense of humor. I have no clue what the jokes-per-minute volume is, but it's way up there.
South Side also succeeds where others have not. It takes on the very real, serious topics that drive contemporary cultural discourse—police corruption, gentrification, job insecurity, economic inequality—with a silliness and wit that feels authentic. Here's hoping some other streaming service steps in and offers South Side the home it deserves. —Frederick Dreier, articles editor
---
Living
About a third through this movie, I was tweaked that one of my best filmgoing pals had extolled it. This lumbering thing? At two thirds the movie takes quite a turn, and I thought, Is that it? Fine.
Stay with it. Just surrender to the flow and subtlety, and much will be revealed.
Mr. Rodney Williams is a bureaucrat in post-WWII London, where he heads up the inert County Public Works Department. Remote and joyless, long widowed, he wakes up when diagnosed with cancer and given only months to live. He mourns his life—and wants to do a few things differently, not that he knows how.
The film is a reimagining of Akira Kurosawa's 1952 Ikiru, as adapted by Kazuo Ishiguro, who wrote the novels The Remains of the Day, also about reassessment, and Never Let Me Go.
Is this movie outdoorsy, Outside-y? A key narrative thread is of women seeking to turn a bomb site into a children's playground. That's good enough for me, and critical in our world.
In the end, the film is deeply affecting—please, the scene where Mr. Williams earnestly thanks and looks into the face of every official he thinks can help him?—and a reminder that you can always do good, even with a "small thing." —Alison Osius, senior editor
Lead Photo: Courtesy the Publishers