California's Superbloom Is Visible from Outer Space: Ask NASA
California's wild storms and wet weather have resulted in dazzling displays of wildflowers, some peaking and others ready to pop. Here's how to see one before it's too late.
Heading out the door? Read this article on the new Outside+ app available now on iOS devices for members! Download the app.
California's wildflower blooms are so big and bright this year that they can be seen from space, images from NASA's Landsat 9 satellite show.
"The seasonal spectacle was visible," NASA Earth Observatory wrote, showing images of desert flowers in Carrizo Plain National Monument in Southern California as seen on April 6.
A series of devastating winter storms in the state have given way to a historic "superbloom," a natural phenomenon that occurs when high precipitation causes dormant seeds in deserts and dry grasslands to germinate.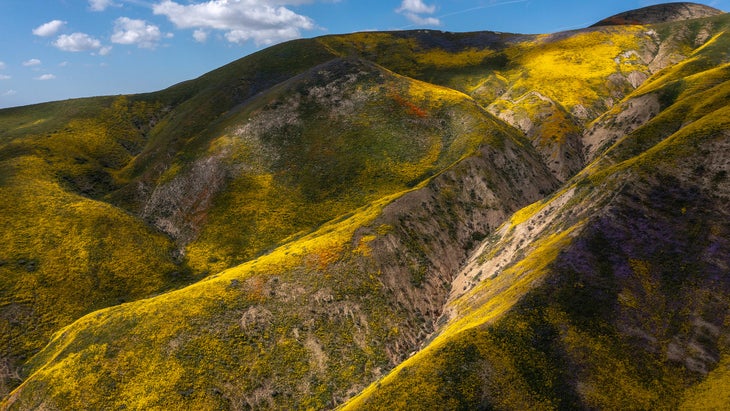 The massive burst of yellow, orange, and purple flowers is only possible after consecutive dry years, which allow seeds to accumulate underground.
"A very wet year—like the year we are having now—could trigger germination of all these seeds at once, leading to a superbloom," said Jennifer Funk, a professor of plant sciences at University of California, Davis, in a news release.
In addition to California poppies, this year's bloom includes other flowers, such as purple owl's clovers, desert candles, cardinal catchflies, and island morning glories, to name a few.
On top of being a source of beauty, wildflowers support ecosystems by providing food for herbivores and minimizing erosion.
"Wildflowers are one of the most important resources we have to ensure the resilience of California's grasslands," UC Davis plant sciences professor Valerie Eviner said in the release. "They are our emergency first responders when grasses fail–whether due to fire, drought, or soil disturbance."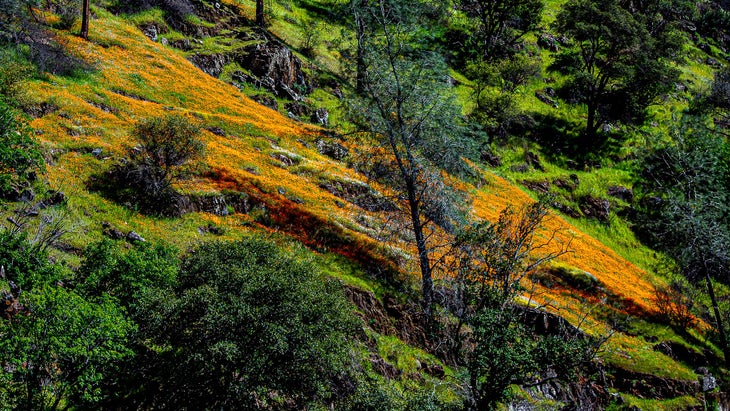 The last California superbloom happened in 2019. That year, "Disneyland-size crowds," according to the Press-Enterprise of Riverside, California, trampled fields of flowers in pursuit of photos and Instagram selfies. One couple landed a helicopter in the middle of Antelope Valley California Poppy Reserve.
"It's really important to visit them respectfully," said Eviner. "Each flower we crush from a selfie is a lost opportunity to rebuild the seed bank for the next superbloom. So stay on the trails."
Carrizo Plain National Monument, the area observed by NASA, is just turning the corner, such that the Theodore Payne Foundation Wild Flower hotline advises, "Visit soon as the region is beginning the downside of peak bloom."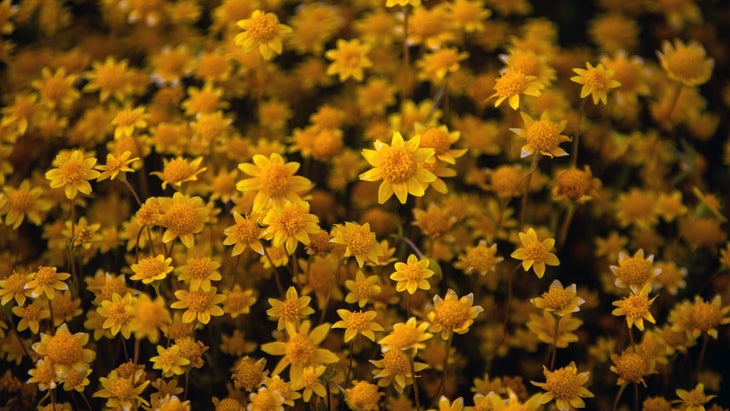 Where to go to see a superbloom
The Channel Islands, Southern California
Drawing parallels with the Galápagos Islands, The Channel Islands are a diverse treasury found just off the Southern California coast. The area boasts enormous plant as well as animal species, and the flowers are going off now.
Pinnacles National Park, Central California
See rare birds as well as wildflowers at Pinnacles National Park. As the Theodore Payne Foundation Wild Flower hotline says, "Young raptors will soon be taking their first flight and that event is eagerly anticipated. In the meantime, new wildflowers are popping up everywhere along trails and vistas."
Los Padres National Forest, Southern and Central California
Figueroa Mountain Road, damaged by storm, in Los Padres National Forest is under repair and may open soon. Wildflowers are showing at lower elevations, as far as the road is open, and are yet to appear at the higher elevations.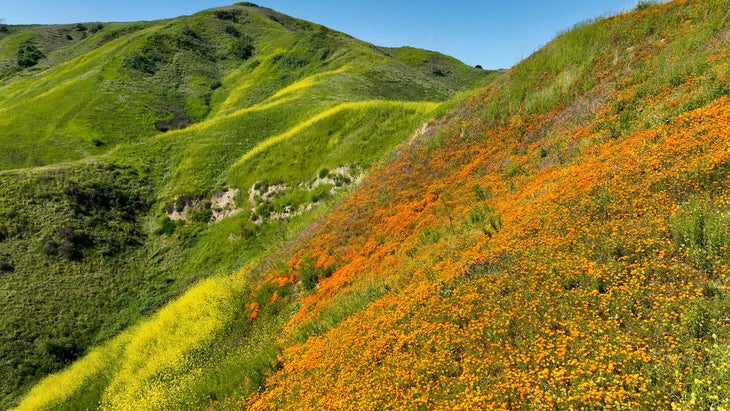 Joshua Tree National Park, Southern California
The washes are coming alive in the desert of Joshua Tree National Park, where you find wildflowers from late February or early March to early May. Fall blooms also occur throughout the park.
Antelope Valley California Poppy Reserve, Southern California
Antelope Valley California Poppy Reserve, says parks.ca.gov, is "located on California's most consistent poppy-bearing land." It is now aglow with goldfields and California poppies, and more poppies are expected to appear in the coming weeks.
Mount Tamalpais State Park, Northern California
The Facebook page for Mount Tamalpais State Park, says with humor, "Though [they are] not 'visible from space,' we do have some superb blooms."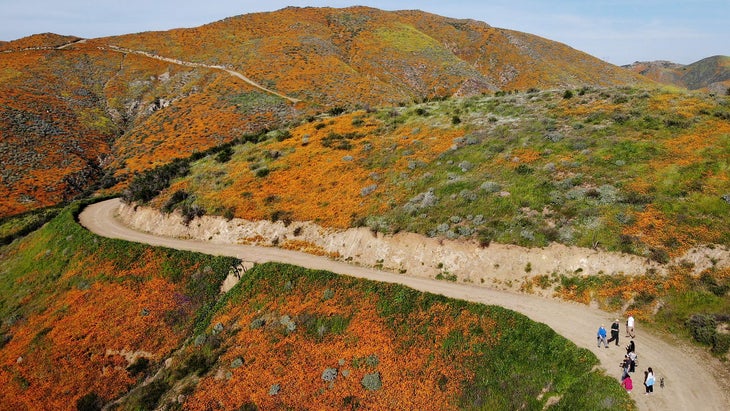 Yosemite National Park, Northern California
Outside of the snow-swathed Yosemite National Park, at lower elevations such as Mariposa, wildflower blooms are well underway, with California poppies opening. The Merced River Canyon, also outside of park borders, is famed for its wildflower blooms, which are likely to explode in the next few weeks. High in Yosemite, at sites such as at Glacier Point, wildflowers may bloom into June and July.
Catalina State Park, Arizona
In Arizona, the poppies have come out in full in the stream- and snowmelt-fed Catalina State Park. They are just now about to fade in the warmer temperatures and give way to non-poppy blooms.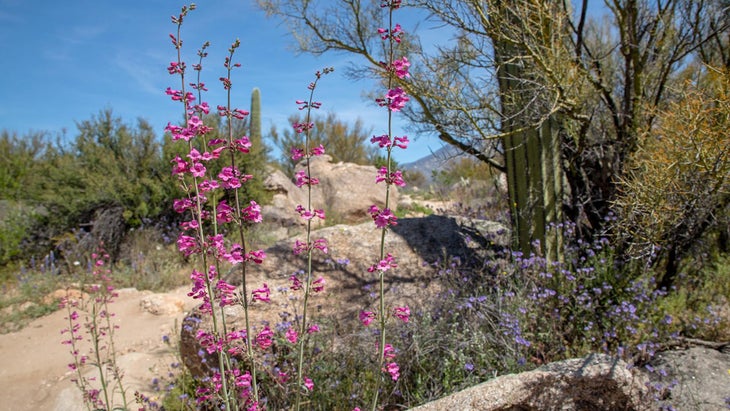 Be a conscientious visitor
The NPS gives these tips for wildflower viewing:
Look low.
Move slowly.
Stay on the trail.
Take no flowers, only pictures.
Isabella Rosario is an Assistant Editor at Outside. She is based in southeast Iowa and is glad to turn from tornado watches to wildflower viewing.
Lead Photo: Mario Tama/Getty]