Record Snowfall Sets the West Up for an Epic River-Rafting Season
It's not just skiers who are enjoying a banner year. Thanks to all the snow, 2023 promises to be one of the best rafting seasons ever. Check out these five great trips.
Heading out the door? Read this article on the new Outside+ app available now on iOS devices for members! Download the app.
Best. Winter. Ever.
That's what skiers in the western U.S. have been saying, thanks to record snowfall throughout the Sierra Nevada and much of the Rockies. As of mid-April, California's statewide snowpack is 237 percent of its average level. Utah recorded 201 percent—more snow this winter than it has seen in 40 years. Colorado can't claim the season that Utah and California have had, but the powder is still piling up (and coming down), with a snow stash of 132 percent of its average. There's been so much snow that some resorts around the country plan to stay open until July 4.
And it's not just skiers who are enjoying a banner year: 2023 promises to be one of the most memorable rafting seasons in recent history.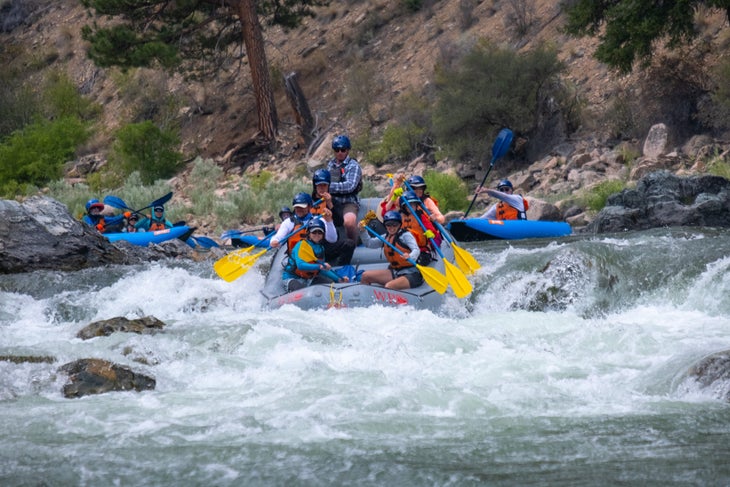 According to Steve Markle, vice president of Communications for OARS, one of the largest rafting outfitters in the U.S., "All the rivers are gonna be moving. Each watershed is a little different, but in general, we're talking about bigger, faster water with fewer eddies.
"To see [the snow] stacked up across the entire West like this," he says, "is unprecedented."
Not only does the deep snowpack mean grander rapids on some of the most coveted whitewater, but that boating companies can run trips for weeks longer. Take the Yampa River, a Class IV trip through Utah's Dinosaur National Monument. A typical rafting season there begins when the snow starts melting, in early May, and ends by mid-June, but this year OARS expects to run trips on the river well into July.
Yet bigger water also means bigger risk, so this is no season to paddle solo without substantial training. Hire a guide service to lead you down one of these waterways. Not sure about which guide service to trust? If a river passes through a national park, call or email the park for a list of trusted guide services with permits to run trips there. Ask a guide service about their safety practices. The best operators are increasing safety measures this spring, such as raising the minimum age for certain trips, paying their guides to take extra training, and, in some cases, running motorized support rafts to be on hand for rescues. Remember, too, that the water is cold, so plan ahead and use caution.
Here are five western rivers you can be stoked to raft this spring.
The Yampa in Colorado/Utah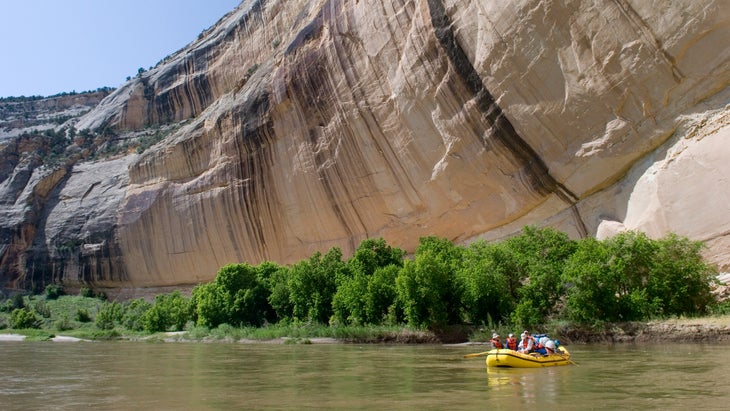 Beginning in northern Colorado's Flat Tops, a mountain range within Routt and White River National Forest, the Yampa runs for almost 250 miles before joining Utah's Green River. The best section awaiting rafters is inside Dinosaur National Monument, on the state border: 47 miles of fast, Class III-IV waves and drops between the walls of sandstone canyons. If you have the skills and gear, you can apply for a permit via a lottery system from December 1 to January 31 each year—but know they're limited and hard to come by. You can also book a commercial trip, choosing between single- or multiday options. Peak Yampa season will run from May into July this season.
The Merced in Central California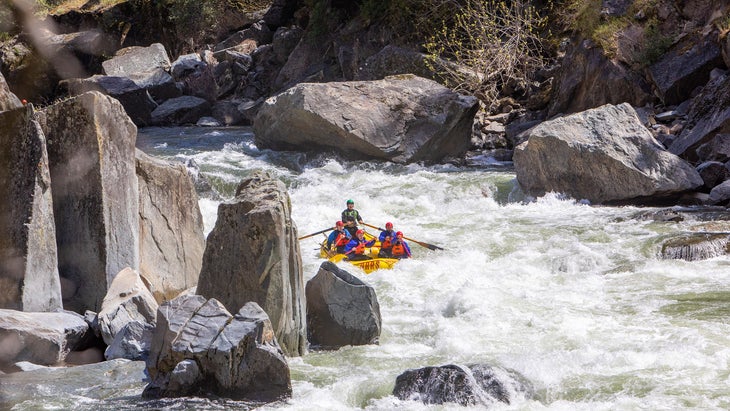 The Merced flows out of Yosemite National Park, in central California, and typically has a short window for being navigable by raft, often ending by Memorial Day. This year outfitters expect to be able to run the river into August. During low snowmelt seasons, the Merced is a relatively tame, 16-mile-long Class III experience; this year, however, the record snowpack promises an extravaganza of Class IV roller-coaster wave trains. No permit is required to raft the Merced, but guided options are available and can be found here.
Cataract Canyon in Utah
Cataract Canyon, southwest of Moab, Utah, might be the most iconic stretch of river rafting in the West. The canyon begins at the confluence of the Colorado and Green Rivers, doubling in force before carving through the red sandstone cliffs of Canyonlands National Park and Glen Canyon National Recreation Area. Most guided trips down this 100-mile-long gorge last four days, are packed with Class III-V rapids, and include beach camping and hikes through side canyons. Find permits for individual trips here, or skip the red tape and go with a guide. This year the season will begin in May and run into October.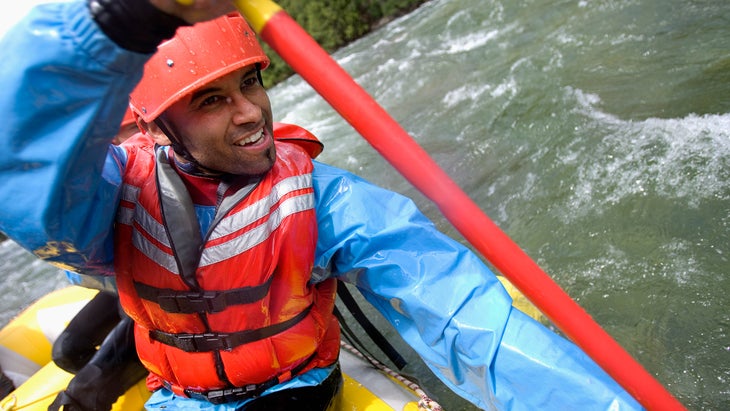 The Owyhee in Idaho and Oregon
The National Wild and Scenic Owyhee, which wends through Idaho and Oregon, doesn't actually run that often. In fact, due to lesser snowpack, most guides haven't run trips on the Owyhee since 2019. This year, however, snow levels in the Pacific Northwest are over 250 percent of their annual average, promising rafting on the Owyhee through mid-May. The Lower Owyhee, which travels through Oregon's high desert terrain, is the most coveted adventure; expect a mix of flat water peppered with Class III-IV rapids through 2,000-foot-tall canyons. The 55-mile multiday trip passes through desert badlands full of sandstone formations, tall sagebrush, and landscapes home to big game like antelope and bighorn sheep. Pull off to soak in a hot spring tucked into the grass on the river's edge. See info on permits and guides here. Owyhee season has already begun and is expected to wrap up in mid-May, so act fast.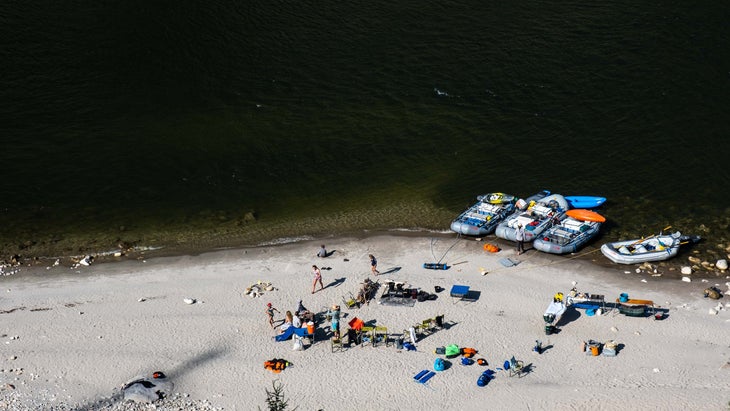 The South Fork of the American in California
Another watershed benefitting from the Sierra's massive snowpack is the South Fork American, just an hour east of Sacramento. It's actually a dam-release river, with recreational flows allotted each year. During years of drought, such releases are typically only guaranteed on weekends. But this year rafters began running the rapids of the South Fork in late March—and expect to go clear into October Most people opt for the family-friendly day trip, with Class II-III rapids shooting through the foothills of the Sierra, but there's also a popular overnight option that covers 21 miles. For more information, including how to apply for a permit, check out details here.
Graham Averill is Outside's national parks columnist. During the summer, he spends most of his time in a raft on dam-released rivers in the Southeast, but dreams of taking his family on a big, multi-day Western river trip.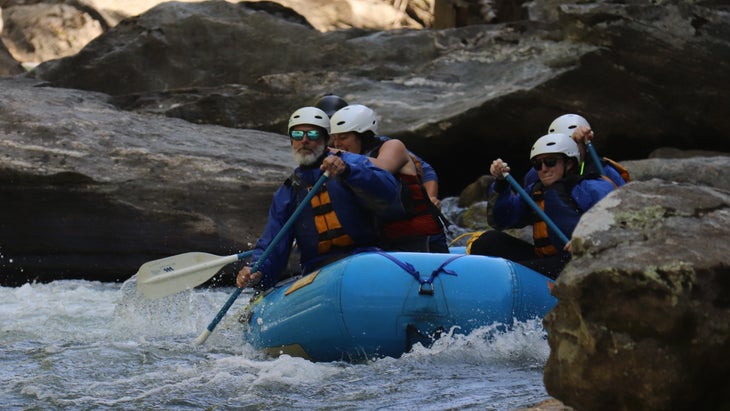 Lead Photo: James Kaiser/OARS