The 8 Least-Visited National Parks in the U.S.
Why be stuck behind the masses at popular parks when you can wander some of the nation's best with barely a soul in sight?
Heading out the door? Read this article on the new Outside+ app available now on iOS devices for members! Download the app.
We in this country love our national parks. Last year the National Park Service logged nearly 312 million recreation visits across all its units, from national historic sites to full-fledged national parks. I did the math and am happy to report that I'm responsible for several of those visits. Hey, I even bought a T-shirt in one of the visitors' centers.
The problem is that we don't love all of our parks the same. The disparity in visitation to the 63 national parks is striking. Great Smoky Mountains National Park was by far the most visited last year, with almost 13 million visitors. Other top contenders, such as Zion, Yellowstone, the Grand Canyon, Rocky Mountain, and Acadia, had numbers in the 3 and 4 millions.
National Park of American Samoa was the least visited, with fewer than 2,000 visitors. I know what you're thinking: National Park of American Samoa is probably lovely, but it's kind of out of the way, being in the South Pacific and all. Similarly, Alaska's eight national parks are stunning, but most of us won't have the opportunity to visit Alaska this year.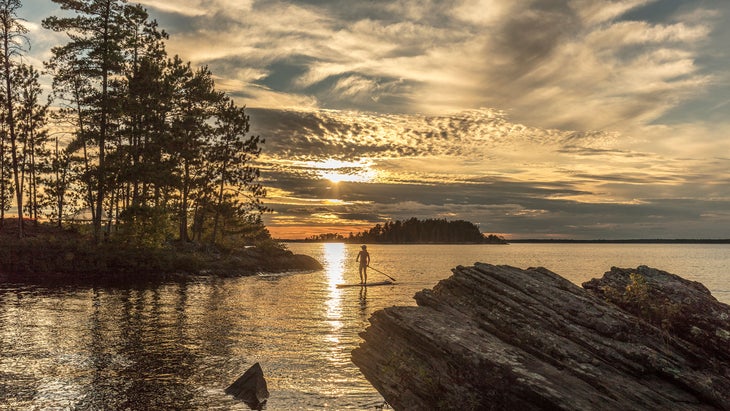 But a lot of undervalued national parks right here in the lower 48 barely see any boots compared to the headliners we all know and love. While climbers and hikers sit in traffic jams in Yosemite, the rock spires and caves of Pinnacles National Park are relatively empty. Nearly 3 million people explored Olympic National Park, outside of Seattle, last year, but on the other side of the Space Needle, North Cascades National Park only saw 30,000.
Spending time in these lesser-visited parks not only gets you away from the crowds, it gives our most popular parks a chance to breathe.
Dawn Rodney, chief external affairs officer for the National Parks Foundation, says, "With annual visitation numbers increasing, some of the more well-known parks are facing overcrowding, which can lead to wear and tear of trails and visitor centers." She also cites increased strain on park services, and potential impacts to wildlife and natural habitats.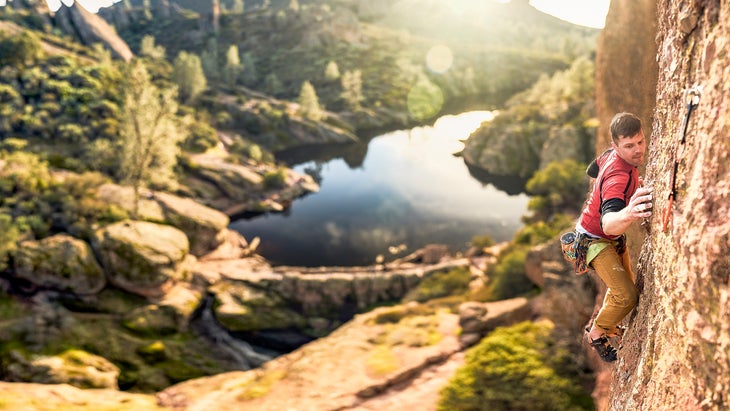 Rodney says there are plenty of other options. "Chances are good there is at least one hidden gem closer to home than you might imagine."
We dug into the national-park statistics and found the eight least-visited national parks in the lower 48. They're protecting some of the most stunning landscapes in the country, but lack the crowds at the top parks in our system.
Bonus: Most of the parks on this list are free to enter.
Isle Royale National Park, Michigan
Visitors in 2022: 25,454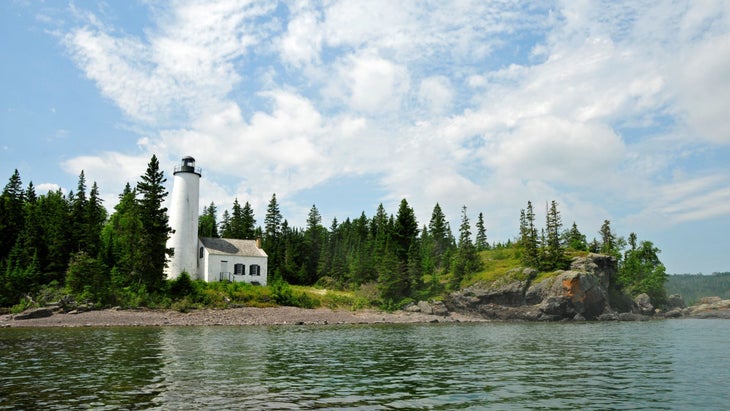 Is it strange that the least-visited national park in the lower 48 is actually in the middle of the country? Isle Royale is a group of 400 islands located in the northwestern edge of Lake Superior, snugged up against the Canadian border. The main island, which has most of the trails and facilities, is 50 miles long and nine miles wide, and full of mountains—Mount Desor, the high point, is 1,394 feet, pretty good for an island—secluded bays, and healthy populations of gray wolves and moose. The landscape is spectacular, but the fact that it's only accessible by boat or seaplane keeps the crowds at bay. Fortunately, a ferry runs daily during the summer (starting in mid-May) from the aptly named Grand Portage, Minnesota. The park is only open from April 16 to October 31. Because it's an island, there are no cars, so once you're here, you're getting around by foot or boat.
Signature adventure: Backpacking the Greenstone Ridge Trail, from the Windigo Harbor to Rock Harbor, will carry you across the heart of the island. The 40-mile trail takes most people five days to complete, and established campgrounds along the way make logistics easy. You'll get long-range views from atop exposed ridges and climb the Ojibway Tower, a lookout on the east end of the trail, to see the interior of the island, which is full of lakes and bays. Gaze at stars or chase the Northern Lights.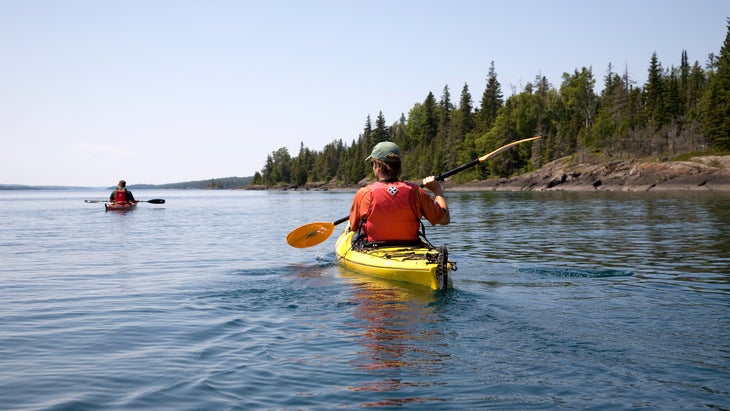 But don't miss…the paddling. You can bring canoes on the ferry or rent one from Windigo or Rock Harbor ($40 a day). Because Lake Superior can be cranky, the park recommends paddling and portaging the island's interior lakes, linked by established routes/trails on the northeast half of the island. You can do a full "Chain of Lakes" paddle and hike across most of the interior lakes on the main island, a trip that requires 22 miles of canoeing and portaging, or focus on one of the interior ponds, like Lake LeSage, which is full of northern pike and offers a quiet shoreline campground.
Where to stay: Isle Royale has quite civilized digs considering its remoteness. Rock Harbor Lodge, a full-service lodge on the northeastern edge of Isle Royale, has 60 rooms. Washington Creek Campground, near Windigo Harbor on the southeast end of Isle Royale, is the largest of the island's campgrounds and offers a base close to the visitor center and store. Stays are limited to three nights from June 1 to September 17. All campgrounds are first-come, first-served and, yes, free.
Permits and fees: $7 per person entrance fee.
North Cascades National Park, Washington
Visitors in 2022: 30,154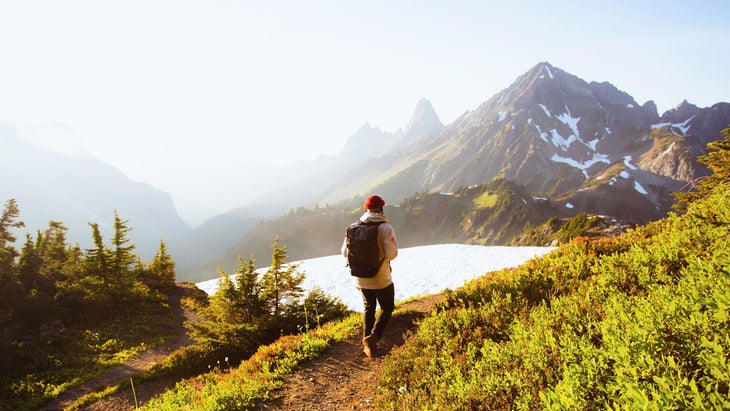 The lack of attention to North Cascades National Park is baffling. The 504,654-acre park is loaded with the kind of terrain that most of us salivate over: backcountry lakes, jagged peaks, and more than 300 glaciers—the most of any park outside of Alaska. Cute animals like pikas and marmots and big animals like mountain goats populate the mountains, and each summer the meadows are full of wildflowers. One factor in the solitude may be that there isn't a lot for casual visitors to do here. Within the park is only one paved road, Highway 20, aka The North Cascades Highway, running along the Skagit River for 30 miles. It's a pretty drive, with plenty of overlooks, but other than that, you have to explore on foot. And the terrain is rugged, full of snow fields, glaciers, and towering granite peaks, so visitors need to come prepared for an adventure.
Signature adventure: Mountaineering. The North Cascades have a rich history of mountain climbing, and many multi-day objectives that involve long approach hikes, glacier traversing, and technical climbing. For a true classic, shoot for the 8,815-foot Forbidden Peak, a pyramid-shaped mountain with high-quality rock and beautiful views. The West Ridge pits you against glaciers and snowfields to gain a narrow ridge with lots of exposure to reach the summit. If you have any hesitation about your mountaineering chops, hire a guide.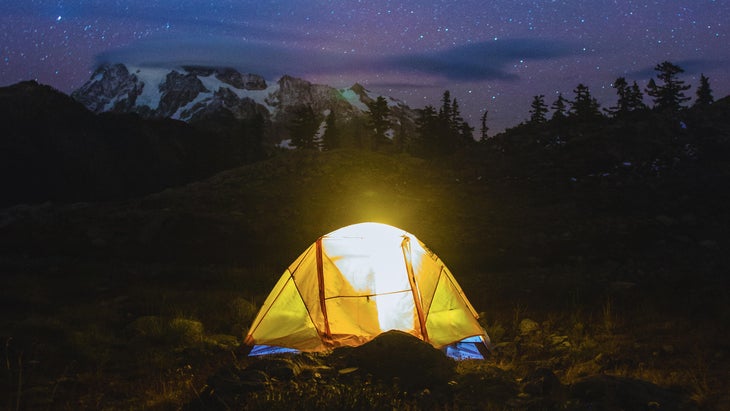 But don't miss…hiking Diablo Lake. The turquoise-hued water of Diablo Lake is probably the most recognizable landmark within the park. You can see it from an overlook along Highway 20, but hiking the 7.5-mile out-and-back Diablo Lake Trail will give you a close look as well as long views of the peaks deeper inside the park.Where to stay: The majority of frontcountry campgrounds are along Highway 20. Most are open from May through September. Colonial Creek North Campground has 41 sites on Diablo Lake with direct access to day hikes. Sites can be reserved six months in advance and are $24 a night.
Where to stay: The majority of frontcountry campgrounds are along Highway 20. Most are open from May through September. Colonial Creek North Campground has 41 sites on Diablo Lake with direct access to day hikes. Sites can be reserved six months in advance and are $24 a night.
Permits and fees: No fee to enter the park.
Dry Tortugas, Florida
Visitors in 2022: 78,488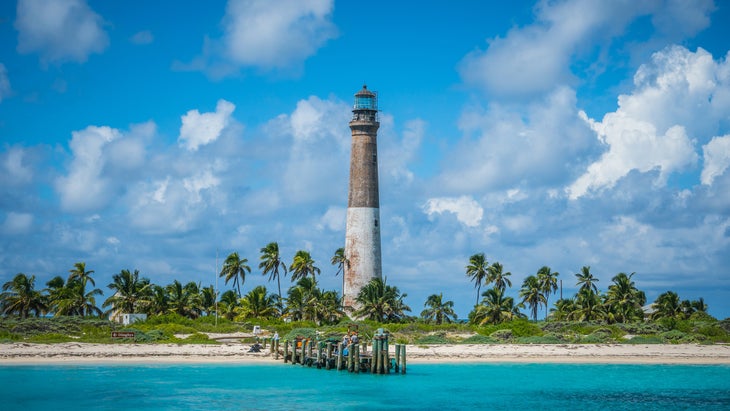 Situated 70 miles west of Key West, Dry Tortugas National Park is a collection of seven small islands sitting inside roughly 100 square miles of protected open water. It's the most remote park in the national-park system and only accessible by boat or seaplane. Fortunately, a ferry ($200 per person) will take you from Key West to Garden Key, the hub of Dry Tortugas, which holds the remnants of a 19th century military fort as well as the only camping available inside the park. You can camp under palms, swim off the edge of sandy beaches, and snorkel or dive vibrant reef systems.
Signature adventure: Snorkeling and diving off Loggerhead Key. Reaching Loggerhead Key isn't easy. If you don't have your own power boat, you'll have to paddle three miles from Garden Key, first filing your trip with the park service. But then you will find a 49-acre island complete with a lighthouse, coconut trees, and a white beach. From Loggerhead, you can snorkel Little Africa, a calm, shallow reef loaded with tropical fish and soft coral, or boat a mile south of the island to dive the Windjammer, a 19th-century shipwreck.
But don't miss…exploring Bush Key. The 16-acre island is the closest to Garden Key—so close that at certain times it's accessible via a 50-yard-long sandbar. Otherwise, it's a short paddle to reach Bush's sandy beach and clear waters. Keep in mind Bush Key is closed periodically to protect nesting birds.
Where to stay: Garden Key offers the only camping, with campsites just south of Fort Jefferson. You will have to bring everything, including drinking water, you'll need. The campsite's location is ideal, though, with access to narrow beaches, plenty of swimming opportunities, and the chance to explore Fort Jefferson, a military post built in the mid-1800s to protect a then busy shipping channel. Campsites are $15 a night, first-come, first-served.
Permits and fees: $15 entrance fee; If you take the ferry, the cost is included in the $200 boat fee.
Great Basin National Park, Nevada
Visitors in 2022: 142,115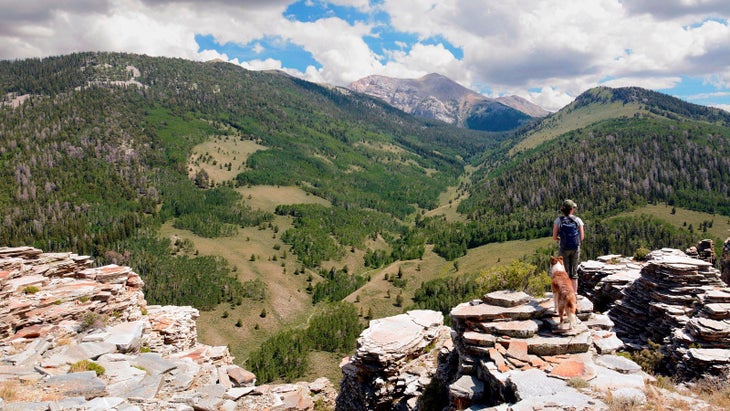 Great Basin National Park is in the middle of nowhere, and that's a good thing. Sitting in the high desert of Eastern Nevada, near the Utah border, the 77,180-acre park is 300 miles north of Las Vegas and almost 400 miles due east of Reno, so it's not the sort of place you just happen upon. You have to make a point to go there. But if you do, you'll be greeted with a magnificent landscape both above and below ground. Great Basin has incredibly diverse terrain, from 13,064-foot Wheeler Peak to an expansive cave system. You can also explore Nevada's only remaining glacier, alpine lakes at 10,000 feet, and bristlecone-pine forests that are estimated to be some of the oldest known trees on the planet, or stargaze in this designated International Dark Sky Park.
Signature adventure: Going underground. The most popular experience in Great Basin is traversing the Lehman Caves, a system of spacious limestone chambers beneath the surface that are packed with stalagmites and stalactites, also the more rare helictites: curved calcite features that look like giant shields. The only way to explore the cave is on a ranger-led tour. You can see most of the system on the Grand Palace tours, which are 90 minutes long and travel more than a half mile through the caves. Multiple tours take place each day. Reserve a spot up to 30 days in advance ($15 per adult).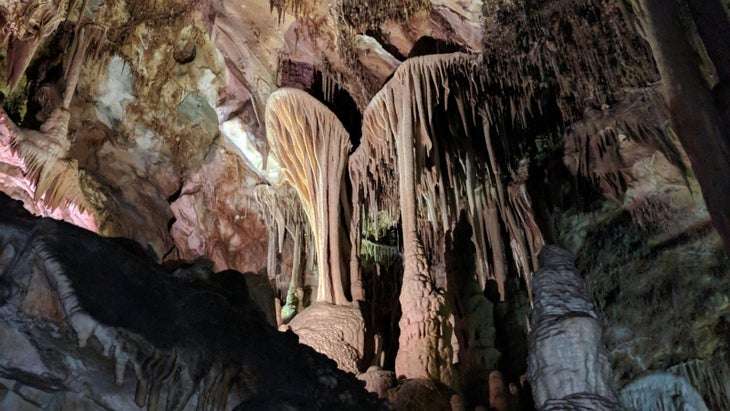 But don't miss: hiking Wheeler Peak and its glacier. Starting from Wheeler Peak Campground, you can choose hikes that take you to backcountry alpine lakes, or the last remaining glacier in Nevada, or the top of Wheeler Peak, the second-tallest mountain in the state. Make the Bristlecone and Glacier Trail your priority. The 4.8-mile out and back leads you to the bottom of Wheeler Peak Glacier, a 2-acre patch of ice in the cradle of a cirque of towering granite peaks. The trail also passes through a bristlecone-pine grove, with trees estimated to be more than 4,000 years old.
Where to stay: There are four campgrounds with reservable sites inside Great Basin National Park. Wheeler Peak Campground puts you in the thick of the action, with direct access to the 2.7-mile Alpine Lakes Loop Trail (passing two high lakes), Glacier Trail, and the Wheeler Peak Summit Trail. Get reservations a month in advance on a rolling basis ($20 a night). If you hit the park without scoring a reservation, Snake Creek Campground is first-come, first-served and free.
Permits and Fees: No entrance fee.
Congaree National Park, South Carolina
Visitors in 2022: 204,522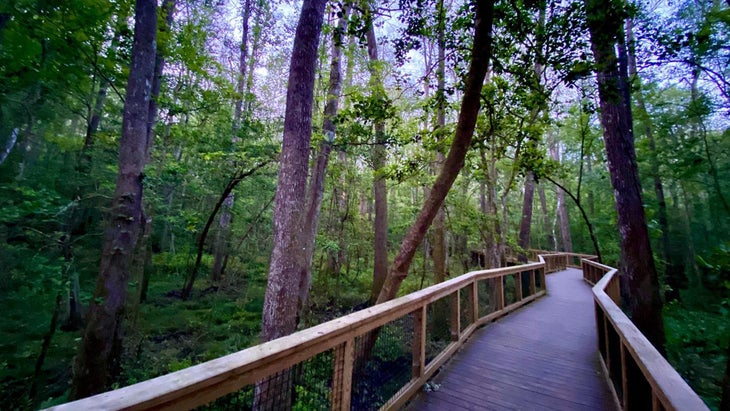 Congaree National Park is small—just over 26,000 acres—but it protects one of the largest contiguous tracts of old-growth bottomland forest in the country. What that means is the trees are massive, with loblolly pines that stretch to 167 feet, creating one of the tallest canopies in the country, and tupelos and bald cypress growing out of the swamp with massive "knees" (protruding roots) that give the whole scene a primordial vibe. Blame the rivers; the Congaree and Wateree, which flood about 10 times a year, deliver nutrients to the forest that work like Miracle Grow.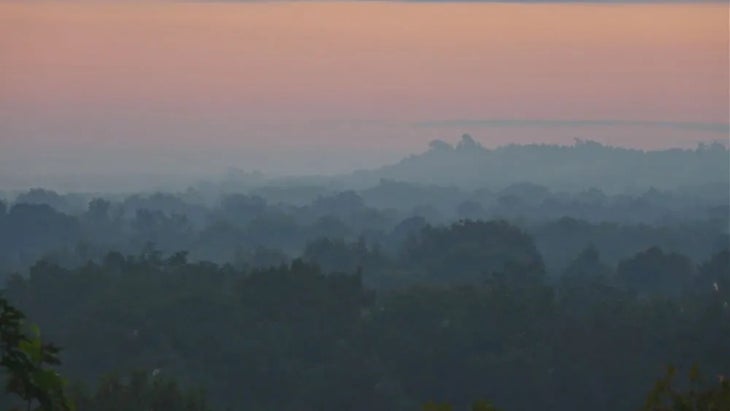 Signature adventure: The paddling. Because Congaree protects what is essentially a swamp, it's a paddler's park, with more than 50 miles of marked boating trails throughout its 26,000 acres. Most visitors focus on the 15-mile Cedar Creek Trail, which runs through the heart of the park to connect with the Congaree River. Out and backs of any distance are possible from Cedar Creek Landing because of the imperceptible flow of the creek, with dark, tannin-stained water through a forest of bald cypress in either direction. For a 20-mile overnight, get a free backcountry camping permit at the visitor center, put in at Cedar Creek Landing, and paddle downstream to hook up with the slow-moving Congaree River, which forms the border of the park. You'll spend the night at a dispersed backcountry campsite of your choice and pull out at the 601 landing. Bring your own canoe, or rent one from an outfitter in nearby Columbia.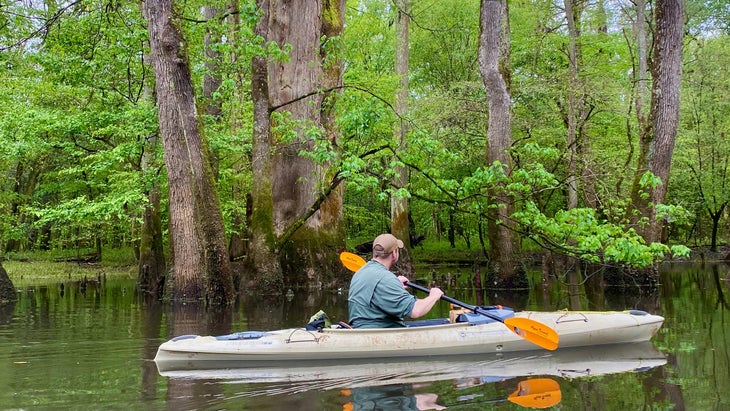 But don't miss…hiking Oakridge Trail. Hiking is secondary in Congaree, with the trails often closed because of flooding. You can check the status on the park's website per above. When they're open, a number of hikes take you through the old-growth forest. The 6.6-mile Oakridge Loop leads past some of the largest, oldest trees in the park to small, natural lakes where birds and wildlife like otters gather.
Where to stay: There are two frontcountry campgrounds inside Congaree, both requiring a walk from the designated parking lot to reach your site. Go for the small Bluff Campground, which requires a mile-long hike but sits well above the floodplain. You can book a reservation up to six months in advance on a rolling basis ($10 a night).
Permits and Fees: Entrance to the park is free.
Guadalupe Mountains National Park, Texas
Visitors in 2022: 219,987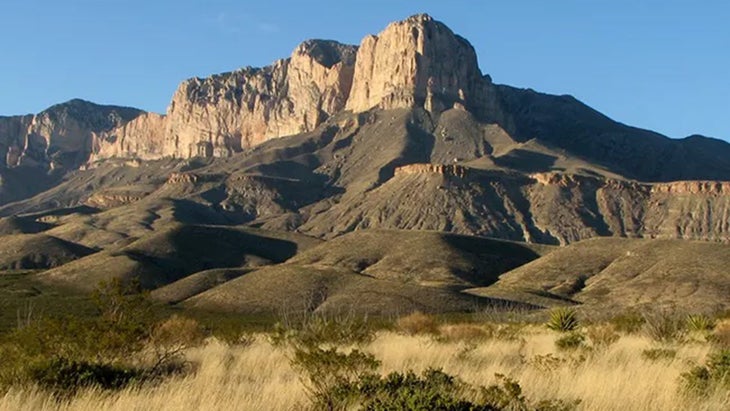 In west Texas, about 115 miles east of El Paso, Guadalupe Mountains National Park protects 86,367 acres of mountains and canyons. That's not a particularly large expanse, especially by Texas standards, but the landscape is stunning. Eight of the 10 highest peaks in the state are located here, not to mention 1,000-foot-tall limestone cliffs, narrow slot canyons, and 2,000 acres of snow-white sand dunes. There's no scenic drive, though. To experience the best of Guadalupe Mountains, ditch the car and explore on foot.
Signature adventure: Summiting the 8,751-foot Guadalupe Peak, the tallest mountain in Texas. The 8.4-mile out and back Guadalupe Peak Trail climbs 3,000 feet, passing off-white sandstone cliffs and stands of douglas firs. The summit offers 360-degree views of the park, including (this area's) El Capitan, a 1,000-foot limestone cliff to the south.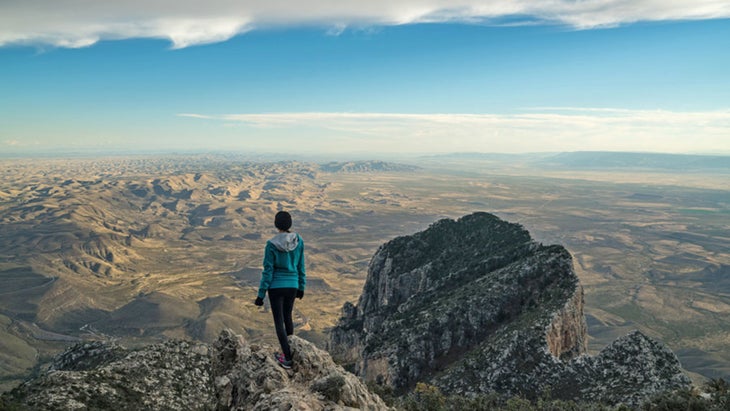 But don't miss…the Salt Basin Dunes, a 2,000-acre tract of gypsum dunes up to 60 feet tall. The four-mile round-trip Salt Basin Dunes Trail will deliver you to the north side of the dune field, where you can scramble some of the tallest mounds of sand. Make time for another short but tough day hike to Devil's Hall, a narrow slot formation within Pine Springs Canyon. The 4.2-mile out and back will test your route finding (watch for the cairns) and requires rock scrambling.
Where to stay: The park has three developed campgrounds with sites you can reserve up to six months in advance. The Dog Canyon Campground is the most scenic of the three, with sites tucked into a forested canyon. The higher elevation ( 6,300 feet) and the shade from overhanging cliffs keep the campground cooler in the summer, too ($20 per night).

Permits and Fees: $10 per person.
Voyageurs National Park, Minnesota
Visitors in 2022: 221,434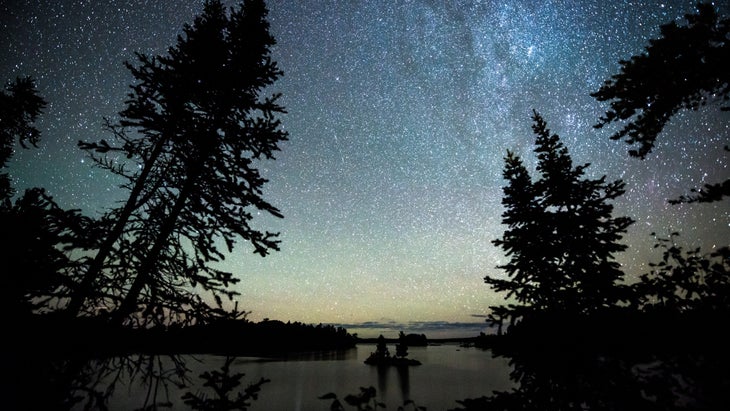 Voyageurs National Park, in northeastern Minnesota, is so far north it's almost in Canada. It's so far north that you can often see the aurora borealis from inside the park. Voyageurs protects a lush boreal forest full of conifers and deciduous trees, amid rocky outcroppings deposited by glaciers, all of which is inhabited by moose and wolves. More than a third of the 218,054-acre park is comprised of water, dominated by four large border lakes and 26 smaller interior lakes, so you will spend most of your time in the hull of a canoe, sea kayak, or motor boat.
Signature adventure: Boating, of course. Voyageurs contains more than 60 miles of interconnected water trails. The big lakes alone have 500 islands and 600 miles of shoreline to explore. Most people catch a water taxi or take a ranger-led tour to the Elsworth Gardens, a series of terraced stone rockworks and flower beds planted by a carpenter in the '40s on Lake Kabetogama. But we say head to the smaller, 8,869-acre Sand Point Lake, which has more than 100 islands to explore. The coolest destination is Grassy Bay Cliffs, which rise 125 feet from the edge of the lake. You can rent boats in the gateway community of Crane Lake.
But don't miss… the Northern Lights. The shimmering, green-hued beams occur sporadically in the night sky over the middle and high latitudes of the northern hemisphere, and when they're active, you can see them from all over the park. You can check the forecast for the lights up to a month in advance of your visit. Even if you don't see the Northern Lights, you'll see plenty of stars. Voyageurs is designated an International Dark Sky Park and one of the best places in the country to gaze at the galaxy overhead. You can take in the view from anywhere inside the park, but the Meadwood Road Day Use Area is a "designated dark sky location," offering an unobstructed horizon and with no artificial light nearby.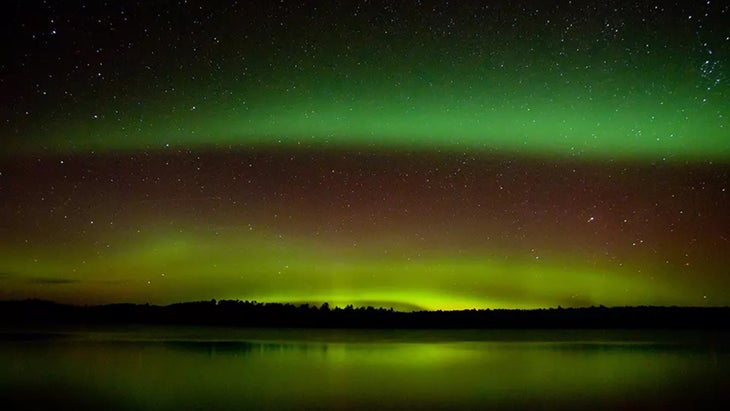 Where to stay: Voyageurs offers an intriguing mix of water-based camping and "houseboating" opportunities. There are 137 developed campsites, all of which are only accessible by boat. The backcountry sites require paddling across a lake and then hiking to reach each spot. All sites are $10 a night, with reservations available six months in advance. But take your chance to rent a houseboat, which can be your place to stay and mode of transportation. All houseboat rentals are operated by companies outside of the park, but you'll need to get an overnight permit through the park ($15 per night per boat).
Permits and Fee: No entrance fee
Pinnacles National Park, California
Visitors in 2022: 275,023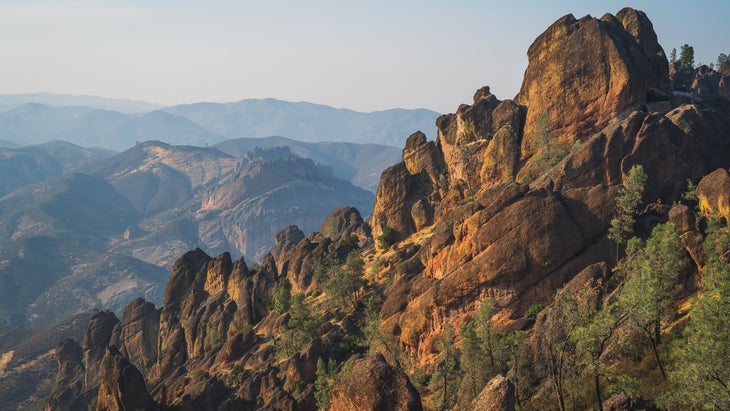 Of all of California's national parks, Pinnacles probably gets the least attention, likely because it didn't achieve full national-park status until President Obama upgraded it from a national monument in 2013. The 26,000-acre park protects the remains of ancient volcano flows in what is now Central California. After millions of years of erosion and tectonic-plate activity, those flows have formed a collection of massive monoliths, spires, and steep canyons. The park is divided into East and West districts, divided by the rock formations in the middle, but connected by more than 30 miles of trails that wind through oak forest, gorges, towering cliffs, and talus caves (formed by rockfall or rubble shed).
Signature adventure: Hiking the caves. There are two main areas, the Bear Gulch Caves in the East District and the Balconies Caves in the West District, both accessible to hikers without the need for climbing gear, thanks to the trails built by the Civilian Conservation Corps in the 1930s, and complete with stairways and bridges. A variety of trails traverse the park and lead into the caves. For a big hike through diverse terrain, try the 8.4-mile High Peaks to Balconies Cave Loop, which will take you through the heart of Pinnacles' rock formations before dropping into Balconies Cave, requiring a bit of scrambling in the belly of the system.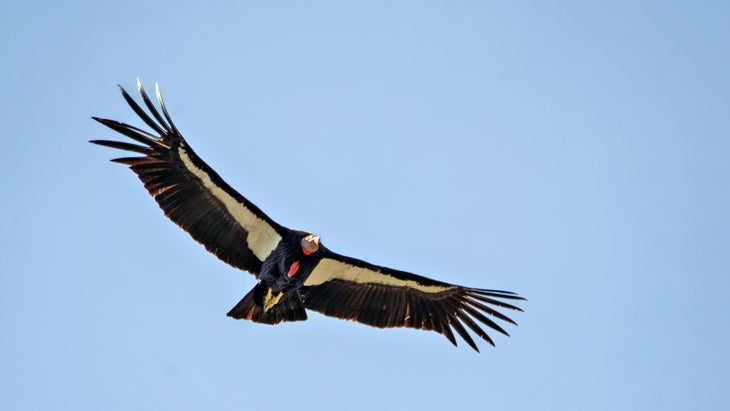 But don't miss…the rock climbing. The Pinnacles holds hundreds of routes, from toproping options to multi-pitch routes on Machete Ridge. The rock can be chossy, so be careful, but overall there's something for everyone to do and enjoy. For a mild classic, check out Costanoan, a 5.4, four-pitch trad climb on solid rock that stays mostly in the shade. Hire a guide if you're not confident in your trad skills. The bird-watching is spectacular too: the cliffs are home to impressive birds of prey, including peregrine falcons, eagles, and the California condor.
Where to stay: Pinnacles has a single campground located on the east side of the park. It's a great campground, complete with a swimming pool and tent cabins if you want to go glamping light ($119 a night for tent cabins; $40 a night for standard tent sites). Make reservations up to six months in advance.
Permits and Fee: Entrance fee is $30 per vehicle.
All visitation numbers are from the National Park Service's annual ranking report.
Graham Averill is Outside magazine's national-parks columnist and freely admits that he needs to do a better job exploring lesser-known destinations among the units. Most of his national-park visits are to the two busiest in the country, the Blue Ridge Parkway and Great Smoky Mountains National Park, both of which happen to be in his backyard from Asheville, North Carolina.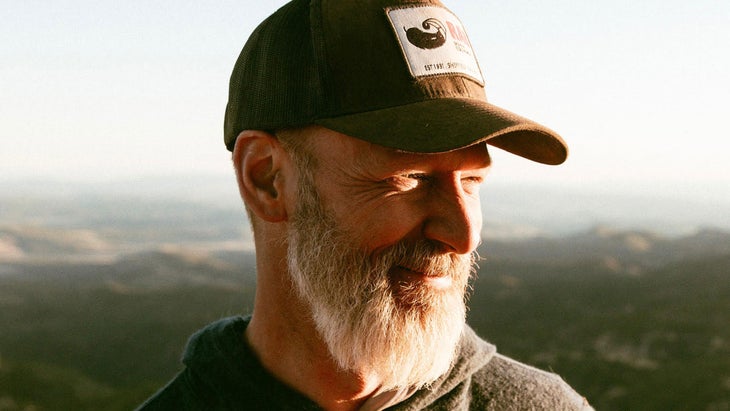 Lead Photo: photosbysixfive/Getty