The Best Scenic View in Every National Park
As you're visiting national parks this summer, don't miss out on these spectacular outlooks, mountain summits, and lake vistas. We've got the intel on how to reach them all.
Heading out the door? Read this article on the new Outside+ app available now on iOS devices for members! Download the app.
There's nothing better than rolling up to an incredible panorama in one of our storied national parks. The following views, of high-desert mesas, moss-cloaked redwoods, vast mountain ranges, and more, have something to stoke the inner wonder of just about everyone.
I've visited every national park in America, and some the most awe-inspiring experiences in each are the stunning overlooks. So I've selected a list of my favorite vistas in all 63 parks, with a keen eye for easy access and geological diversity. Of course, I threw in a couple of leg-busting treks and arm-churning paddles for those among us who like to sweat to earn their views, too.
Acadia National Park, Maine
Cadillac Mountain Summit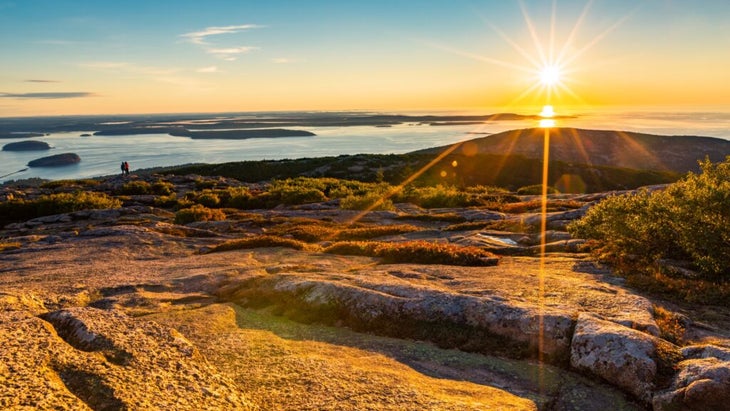 When a national park institutes a vehicle-reservation system, it can feel like a giant red flag to head elsewhere in search of solitude. Not so with Acadia's famed Cadillac Mountain, which can get quite crowded. From October through early March, this granite dome receives the first rays of sun in the continental U.S., and view-seeking visitors can gaze out at a smattering of wooded islets dotting Frenchman Bay as the sky lights up in hues of rose and coral.
Best Way to Reach This View: Don a headlamp for the predawn pedal 3.5 miles up to the 1,530-foot summit. Or hike the 2.2-mile (one-way) Cadillac North Ridge Trail, with an elevation gain of approximately 1,100 feet. For a hiking route up the North Ridge Trail, check out this map from Outside's sister brand, Gaia.
Arches National Park, Utah
Fiery Furnace Overlook
The next time you're in Arches National Park, skip the masses at Delicate Arch and instead drive west to the labyrinth of striated red-rock pinnacles at Fiery Furnace, a scenic pullout that overlooks Utah's La Sal Mountains. Serious hikers who want to get up close and personal with this vermillion jumble of rock need to nab a day-hiking permit ($10), or vie for the very popular ranger-guided tour ($16), bookable a week in advance.
Best Way to Reach This View: Motor the 14 miles north from the entrance station and follow the signs to the viewpoint. For a hiking route of the Fiery Furnace Loop—a valuable resource, as the Park Service warns visitors of the dangers of getting lost in the landscape—check out this map from Gaia.
Badlands National Park, South Dakota
Big Badlands Overlook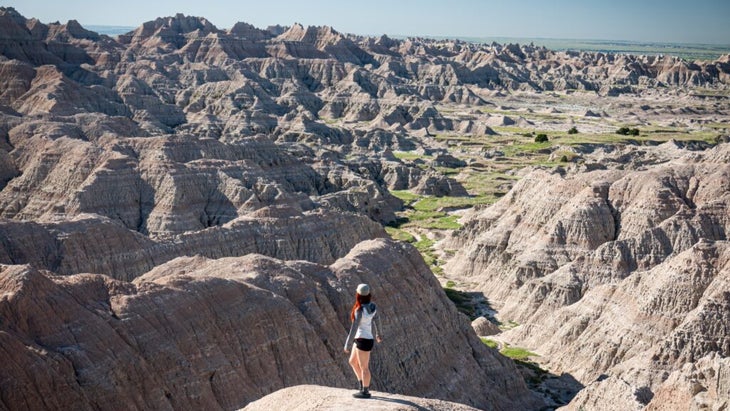 Best Way to Reach This View: From the town of Wall, take Highway 90 southeast for 20 miles, then turn south on Route 240 and continue for another five miles. The overlook is located just past the northeast entrance station.
Big Bend National Park, Texas
South Rim Viewpoint
Big Bend is a park that defies Texas landscape conventions, encompassing the verdant Chisos Mountains as they rise over 7,000 feet from the Chihuahuan Desert below, and the South Rim Trail is the best way to experience the majestic scenery. The southern tip of this 12.9-mile loop is where the viewpoint lies, with a vista of sprawling arid hilltops that spill into northern Mexico.
Best Way to Reach This View: Start at the Chisos Basin Visitor Center. At the fork, head either southwest toward Laguna Meadows or southeast toward the Pinnacles (the steeper pick). Expect an elevation gain of 3,500 feet and about six and a half hours to finish the entire thing. For a hiking route of the South Rim Trail, check out this map from Gaia.
Biscayne Bay National Park, Florida
Boca Chita Key Lighthouse
One of the most scenic keys, Boca Chita is also one of the most interesting, home to a fascinating history of lavish parties thrown by wealthy entrepreneurs in the early 1900s. Legend has it that an elephant was once brought to the island for a wild soiree. These days the raucous festivities have died down, but the 65-foot lighthouse and its observation deck still offer a pretty swell view of shimmering Biscayne Bay, mangrove-lined lagoons, and the hazy Miami skyline.
Best Way to Reach This View: Book a guided boat trip with the Biscayne National Park Institute for an expert-led journey through the keys, with a stop at Boca Chita. Call in advance to find out whether a Park Service employee will be around to open the observation deck.
Black Canyon of the Gunnison National Park, Colorado
Painted Wall Overlook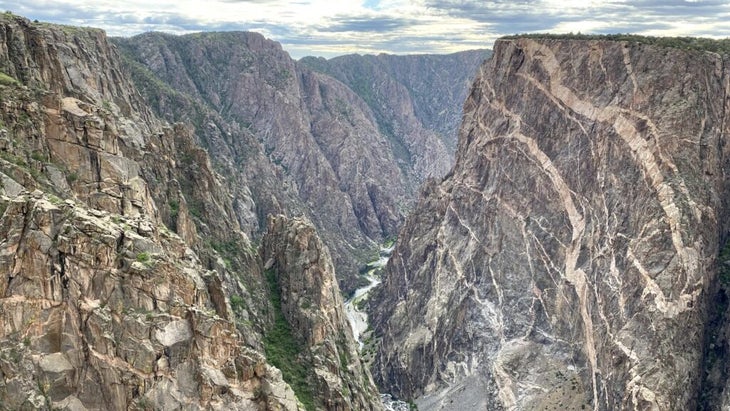 If you make it to Black Canyon and don't want to dirty your hands on the 1,800-foot scramble down into the maw of its craggy cliffs, make a beeline for Painted Wall Overlook, which peers out at the tallest cliff in the state (a whopping 2,250 feet from river to rim). If you're lucky, you might even spot a few intrepid climbers scaling the face of dark gneiss and rose-tinted pegmatite.
Best Way to Reach This View: From the South Rim Campground, drive or bike five miles north on Rim Drive Road (closed November through April) until you reach the parking lot for the overlook; from there it's a five-minute walk.
Bryce Canyon National Park, Utah
Sunrise Point
With its many-layered view of crumbling Technicolor hoodoos and a singular limber pine tree with roots akimbo, Sunrise Point is a fantastic place to start a day in Bryce Canyon. From here, you're at a fantastic jumping-off point for exploring the rust-colored sandstone of Bryce's namesake amphitheater via the Queen's Garden Trail.
Best Way to Reach This View: From the park's visitor center, it's just 1.2 miles to the Sunrise Point parking lot. The walk to the lookout is another half-mile farther and is both pet- and wheelchair-friendly.
Canyonlands National Park, Utah
Grand View Point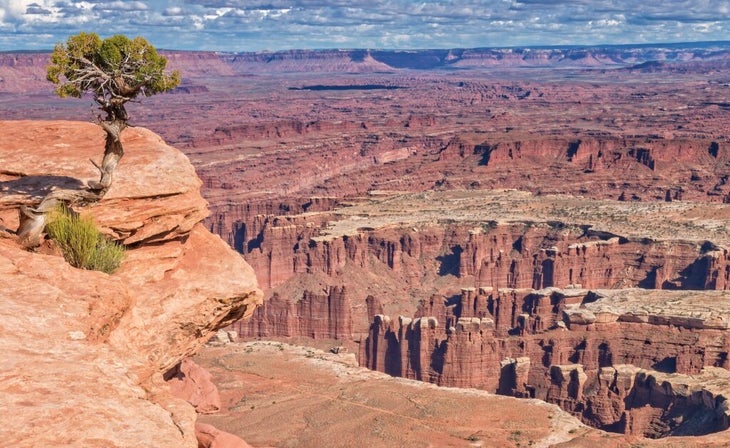 There's a little something for everyone in this area of the park (Island in the Sky), whether you're simply craving thoughtful moments gazing at the panorama at Grand View Point, or want to immerse yourself even more amid the natural surrounds with a mile-long cliffside stroll to a second viewpoint (Grand View Point Overlook) with even more jaw-dropping scenery, followed by class-two scramble if you're so inclined. Whichever you choose, you'll be wowed by the amber and crimson mesa tops of the Canyonlands as you gaze down at White Rim Road and the churning Colorado River.
Best Way to Reach This View: From the Island in the Sky Visitor Center, head 12 miles to the end of Grand View Point Road for the initial viewpoint. It's an easy amble to the second viewpoint, though unpaved.
Capitol Reef National Park, Utah
Panorama Point Overlook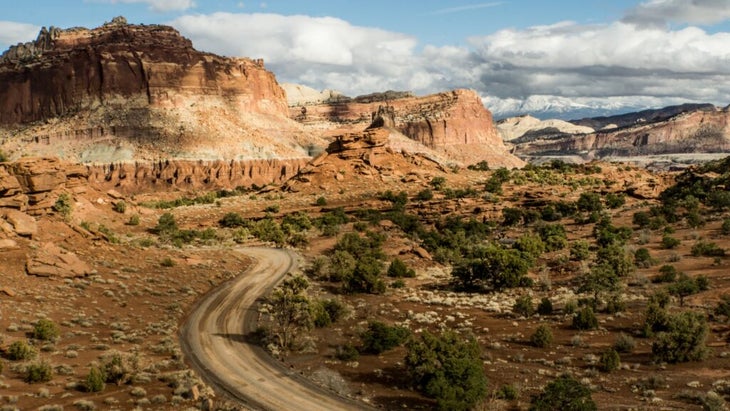 Easily overlooked in favor of crowd-pleasing hikes to Chimney Rock and Cassidy Arch, Panorama Point is at its viewpoint best when the sun starts to set and the stars twinkle into being. The highlight is the cathedral-like red-rock towers that comprise the park's famous Waterpocket Fold Formation, a 100-mile-long wrinkle in the earth's crust.
Best Way to Reach This View: Panorama Point is a mere 2.5 miles west of the Capitol Reef Visitor Center. From its parking lot, it's just 0.1 mile to the viewing area.
Carlsbad Caverns National Park, New Mexico
Temple of the Sun
It's tough to pick the most notable view in a cave-centric park that actor Will Rogers once called "the Grand Canyon with a roof over it," but Carlsbad Cavern's Temple of the Sun, with its mushroom-like stalagmite surrounded by thousands of spindly stalactites, takes the cake. Accessible via a ranger-led tour or a self-guided jaunt along the wheelchair-friendly Big Room Trail, these miraculous natural limestone sculptures are a bucket-list-worthy detour on any road trip.
Best Way to Reach This View: From the natural entrance, it's 1.25 descent to the Big Room via a paved pathway. Alternatively, you can drop deep into the cavern via an elevator, and then make our way to the Temple of the Sun.
Channel Islands National Park, California
Inspiration Point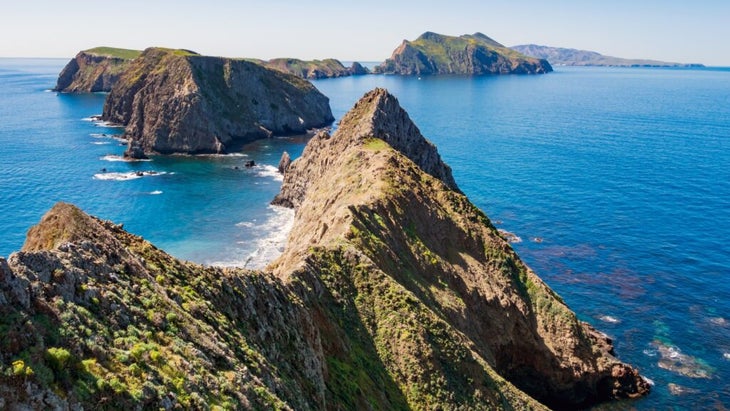 In spring, tiny Anacapa Island bursts into bloom, and Inspiration Point is the best place for photographers and flower aficionados to admire the display of brilliant orange poppies, pale island morning glories, and canary-yellow sunflowers. Because the point faces west, head up to see the sun dip into the Pacific.
Best Way to Reach This View: Book a day trip to the islands with Island Packers, keeping an eye out for migrating gray whales en route. Inspiration Point is located at the halfway point of its namesake 1.5 mile loop, a flat route that begins at the Anacapa Visitor Center.
Congaree National Park, South Carolina
Weston Lake Overlook
Years ago, we named Congaree's Boardwalk Loop Trail one of the best wheelchair-accessible hikes in America, and Weston Lake Overlook is a phenomenal place to soak up the park's shady expanse of old-growth hardwood forest. It's also a great spot to birdwatch–keep your eyes peeled for the prothonotary warbler, American woodcock, and red-headed woodpecker.
Best Way to Reach This View: From the Sims Trail, branch off on the 4.4-mile Weston Lake Trail (marked by yellow blazes) and continue 2.4 miles along the wooden planks to the lookout.
Crater Lake National Park, Oregon
Watchman Overlook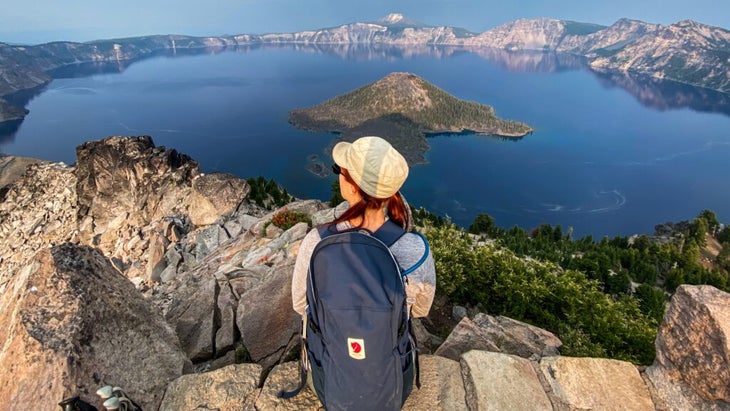 Featuring one of the most spectacular views of Wizard Island, a volcanic cinder cone at the western end of Crater Lake, Watchman Overlook and its eponymous observation station are must-see sites on any trip to this southern Oregon park. Look out for lilac-tinted phlox and delicate yellow buckwheat blossoms in the summertime. When you reach the summit, it's everything you'd hope for: a 360-degree view of the deep sapphire tarn.
Best Way to Reach This View: Head out from the Watchman Overlook parking lot. You'll ascend 413 feet to the observation station and encounter a series of switchbacks near the top. The 1.6-mile out-and-back takes about an hour to complete.
Cuyahoga Valley National Park, Ohio
Brandywine Falls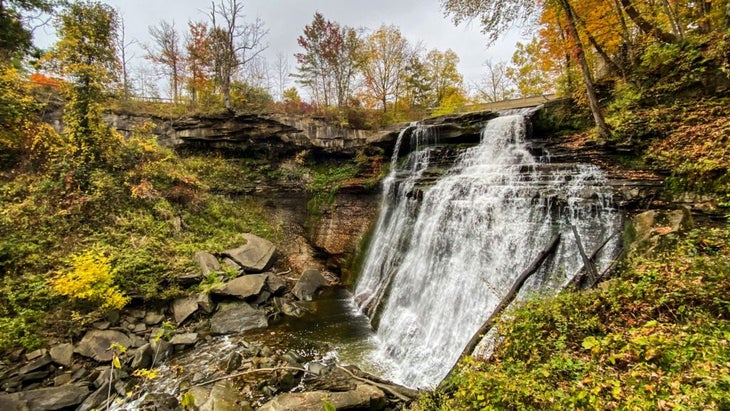 Tucked away between the urban centers of Cleveland and Akron, Cuyahoga Valley is a locally renowned national park full of lichen-splotched sandstone ledges, riverside biking paths, and picturesque waterfalls, of which Brandywine Falls is the most famous. Fall is a spectacular time to visit, when the 60-foot-tall cascade is surrounded by a fiery collage of foliage. Hikers who want more of an outing can stretch their legs on the 1.5-mile Brandywine Gorge Loop to take in bright red sugar maples against the smoke-hued ravine.
Best Way to Reach This View: Though there is a designated parking lot for the falls, it's often full, so plan to arrive before 10 A.M. or after 4 P.M. for a spot. From there, the upper viewing point is just a few hundred feet away via a boardwalk trail.
Death Valley National Park, California and Nevada
Zabriskie Point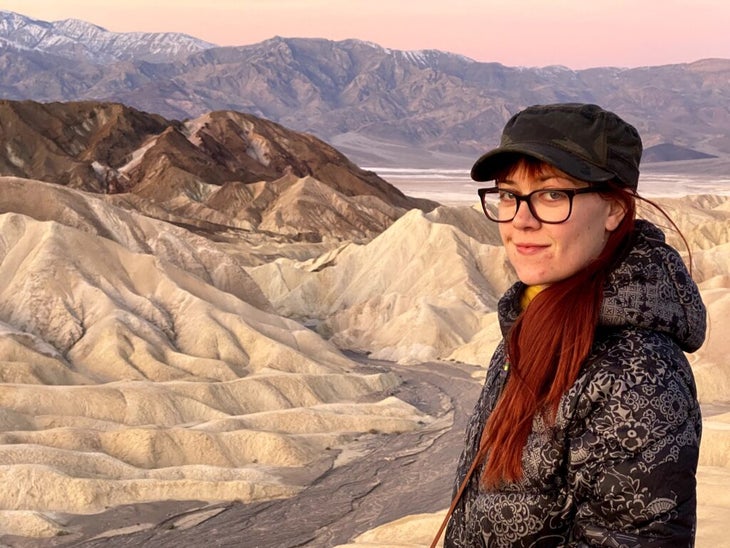 Catching the sunrise at Zabriskie Point is the stuff of photographers' dreams. Undulating ripples of golden and umber badlands stretch out all the way to Badwater Basin, a staggering 282 feet below sea level. In the distance, 11,049-foot Telescope Peak (the highest in the park) rises like an apparition as the morning's first rays paint the summit of Manly Beacon in honeyed tones.
Best Way to Reach This View: From the Furnace Creek Visitor Center, within the park, drive five miles south on Highway 190 to the viewpoint.
Denali National Park and Preserve, Alaska
Wonder Lake
With only one byway through its 4,740,091-acre wilderness, Denali is a place where it pays to spend a little extra time exploring. Wonder Lake is about as close as you can get to the High One (as Native tribes refer to North America's tallest peak) without donning a pack and making that arduous trek, and it's the best spot to nab a photo of Denali reflected in a pool of mirror-clear water. Pro tip: Plan ahead and book a campsite at Wonder Lake Campground to enjoy dreamy morning vistas and evening ranger programs.
Best Way to Reach This View: From the park entrance, drive 85 miles west along the 92.5-mile-long Park Road.
Dry Tortugas National Park, Florida
Fort Jefferson Rooftop View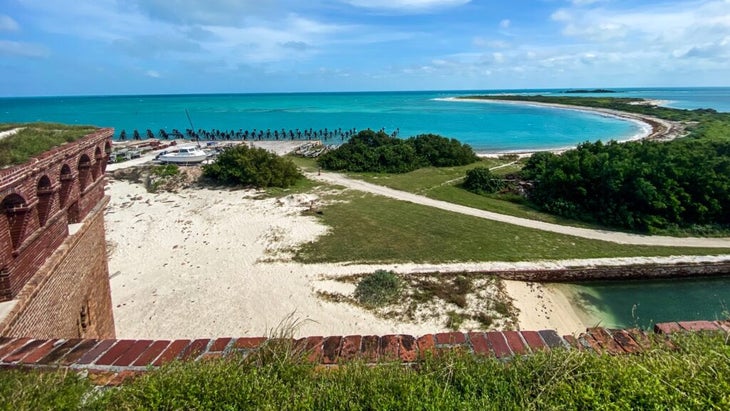 An enormous structure built with 16 million bricks, Fort Jefferson was a key defensive structure during the Civil War, used to protect Union shipments heading to and from the Mississippi River. Nowadays it's the defining feature of Dry Tortugas National Park. From its cannon-dotted rooftop, you can spot shallow reef systems and admire the sandy beaches and endless aquamarine ocean.
Best Way to Reach This View: Take the daily ferry from Key West to Garden Key, home to Fort Jefferson; entrance to the fort is included in the price of your ferry ticket (from $200). Head up to the uppermost tier during a guided ranger tour or on your own.
Everglades National Park, Florida
Anhinga Trail Covered Observation Deck
In a mostly flat park full of sawgrass slough, slow-moving brackish water, and tangles of mangrove trees, choosing a memorable view in the Everglades is a tricky task. Wildlife is the real showstopper, and along the Anhinga Trail, animal-savvy guests have a high chance of spotting purple gallinules, great blue herons, nesting anhingas, and the park's most notorious resident—the alligator. Take a break in the shaded observation deck (and don't forget the binoculars).
Best Way to Reach This View: The 0.8-mile (round trip) paved Anhinga Trail starts and ends at the Royal Palm Visitor Center. It is wheelchair accessible.
Gates of the Arctic National Park and Preserve, Alaska
Aquarius Lake 1, Arrigetch Valley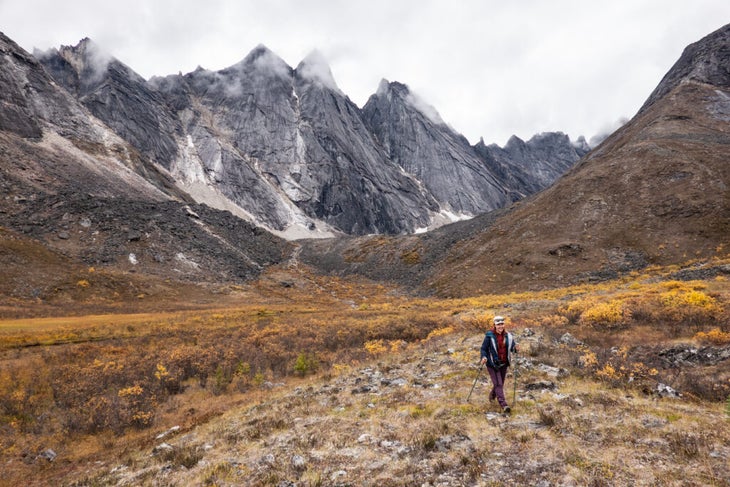 Rising out of the treeless tundra, the towering granite fins of the Arrigetch Peaks, in northern Alaska, look more like gods than monoliths. It's a view worthy of the arduous journey to get to these reaches of the park, an area sometimes called the Yosemite of Alaska. The experts at Alaska Alpine Adventures offer guided trips (from $6,000), or if you're fine seeing the razor-sharp summits from a plane window, Brooks Range Aviation (from $785) can arrange flightseeing tours.
Best Way to Reach This View: Visitors headed to the Arrigetch Peaks will do so via bush plane, landing on a gravel riverbank. Then it's an eight-mile hike to set up camp in the valley below the peaks.
Gateway Arch National Park, Missouri
Luther Ely Smith Square
Gateway Arch is a park rife with human history, from the once massive Native city of Cahokia to the famed Dred Scott court case, which hastened the Civil War when the Supreme Court judged that no Black people were entitled to citizenship. The best vantage point from which to take it all in is Luther Ely Smith Square, which, in addition to boasting a sky-high view of the iconic chrome arch, overlooks the historic Old Courthouse.
Best Way to Reach This View: The square, a downtown St. Louis greenspace, is located between the Old Courthouse and the Mississippi River.
Glacier Bay National Park, Alaska
Margerie Glacier
Flip through any traveler's photos from Glacier Bay, and you're likely to see snaps of the icy, serrated teeth of the Margerie Glacier, dramatically calving into the Tarr Inlet from the Fairweather Mountain Range. Stay on the lookout for harbor seals and playful sea otters on recently separated icebergs.
Best Way to Reach This View: Book a park-sanctioned all-day outing ($262.44) for the best access to this rapidly changing river of ice.
Glacier National Park, Montana
Swiftcurrent Lake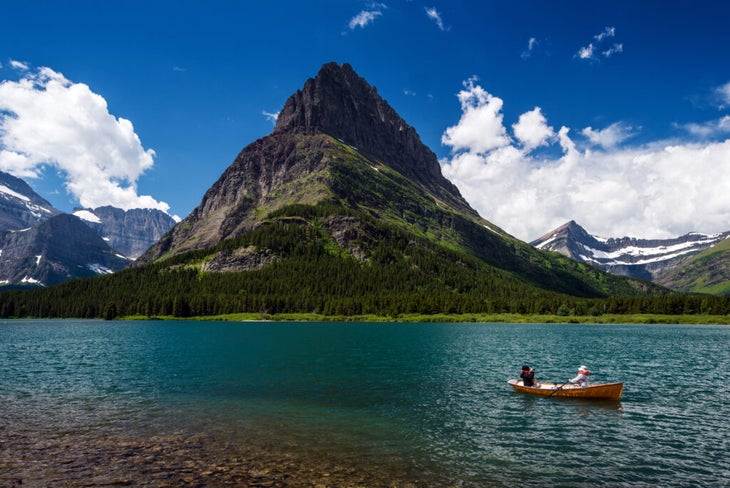 The Many Glacier area of Glacier National Park is such a coveted road-trip stop that the Park Service instituted a new vehicle-reservation system for it this year. The most striking panorama of Grinnell Point, Mount Wilbur, and Angel Wing—all visible from the Swiftcurrent Lake Nature Trail—is worth any extra entry-permit effort.
Best Way to Reach This View: Lace up your boots for an easy 2.7-mile hike that circumnavigates the lake. Better yet, book a room at Many Glacier Hotel so you'll have the view all to yourself when the day crowds disperse.
Grand Canyon National Park, Arizona
Desert View Point
Sure, Mather Point steals most of the attention when it comes to the Grand Canyon's South Rim, but I prefer Desert View, near the park's eastern boundary, for its peaceful campground and dearth of visitors. Plus, the site's famous watchtower, designed by Parkitecture maven Mary Colter, was inspired by the Ancestral Puebloan peoples of the Colorado Plateau, and it makes a fantastic focal point when snapping photos of "the big ditch."
Best Way to Reach This View: For the most scenic route, head 23 miles east along Desert View Drive from Grand Canyon Village.
Grand Teton National Park, Wyoming
Jenny Lake Overlook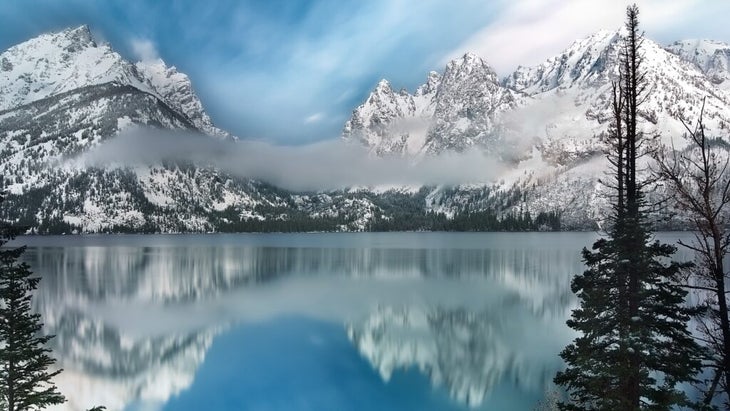 Go early to skip the Grand Teton's throngs and park at Jenny Lake Overlook to admire second-to-none views of craggy Cascade Canyon and the razor-like protrusions of igneous granite that rise sharply from its depths. From here, visitors can take in the sheer enormity of the Teton Crest, with outstanding photo ops of Mount Moran and Teewinot Mountain. If you're up for a hike, try the seven-mile Jenny Lake Loop, which offers even more epic lake scenery, as well as potential sightings of moose and bald eagles.
Best Way to Reach This View: From the town of Moose, within the park, head nine miles north on Teton Park Road to the lake.
Great Basin National Park, Nevada
Mather Overlook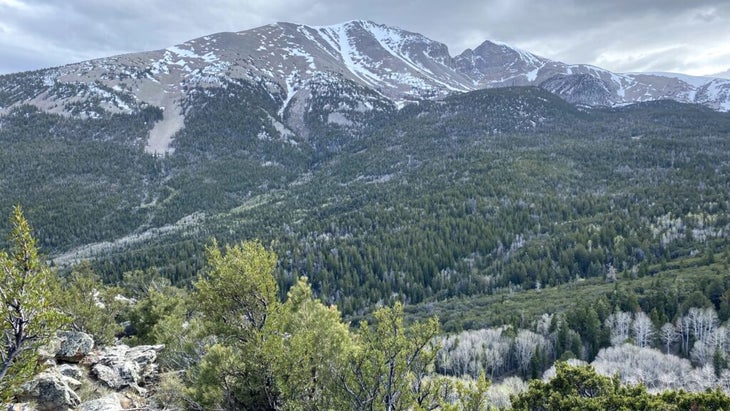 Nearly every national park has a Mather Overlook, named after the first director of the National Park Service, and at Great Basin, in eastern Nevada, his namesake viewpoint offers a grand perspective of 13,000-foot Wheeler Peak, the second highest in the state. Flanked by ancient bristlecone pines, which can live up to 5,000 years, the mountain is split dramatically in two, with the breathtaking Wheeler Cirque crumbling into a sepia-stained bowl beneath the prominent summit.
Best Way to Reach This View: This is an overlook that can only be accessed between June and late October due to hazardous conditions that close roads in winter. From the eastern park entrance, head west along the 12-mile Wheeler Peak Scenic Drive. A pullout for the overlook is about halfway.
Great Sand Dunes National Park, Colorado
High Dune on First Ridge
Though it's the most popular day-hiking objective at Great Sand Dunes, in southeastern Colorado, the trek up to High Dune is sure to leave even the most seasoned hiker huffing and puffing. With a lofty elevation of over 8,000 feet, and the effort required to plod uphill against the drag of sand, be prepared for burning calves and bring plenty of water for the 2.5-mile slog to the summit. The view from the top is truly spectacular, however, with awesome sights to the  towering Sangre de Cristo Mountains–home to ten fourteeners.
Best Way to Reach This View: There are no trails in the entire park, but you'll see the High Dune from the main parking lot. Cross Medano Creek and then start making your way up to the top, logging an elevation gain of 700 feet. For most hikers, getting up and back takes two to four hours.
Great Smoky Mountains National Park, North Carolina and Tennessee
Charlies Bunion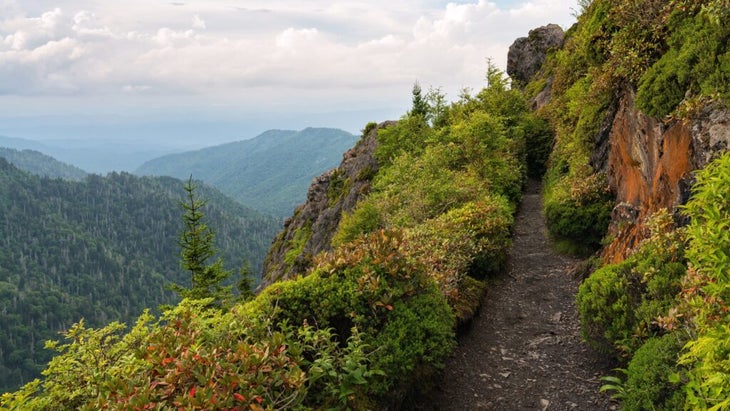 The four-mile (one way) hike to Charlies Bunion is one of the most thrilling in Great Smoky Mountains, due to the sheer number of iconic sights along the way. You'll be wowed by rolling, verdant mountains and wend through northern hardwood forests and past rhododendron shrubs before topping out at 5,565 feet.
Best Way to Reach This View: Park at Newfound Gap, on the Tennessee–North Carolina state line, then hitch a left onto the Appalachian Trail and proceed to the summit. For a hiking route up Charlies Bunion, check out this map from Gaia.
Guadalupe Mountains National Park, Texas
Salt Basin Dunes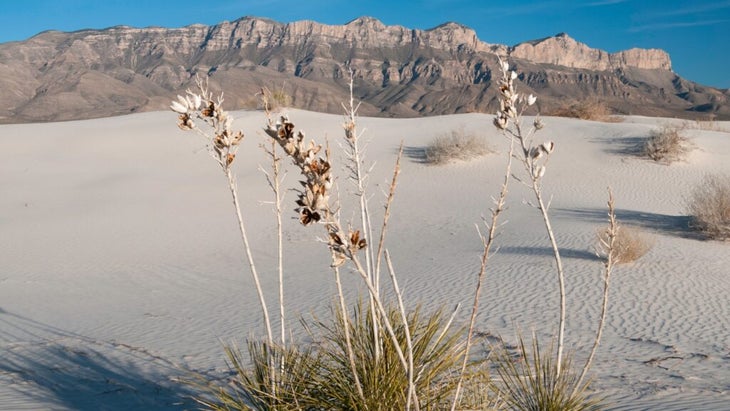 Ask any ranger in Guadalupe Mountains National Park where to watch the sun set over the "Top of Texas," and they'll tell you the remote Salt Basin Dunes, in the park's northwestern corner. Made of bright white gypsum, this sandy expanse showcases the unbelievable prominence of conifer-topped Guadalupe Peak, once a sprawling coral reef when the Delaware Sea covered a large swath of America roughly 275 million years ago.
Best Way to Reach This View: From the Pine Springs Visitor Center, it's a 47-mile drive to the Salt Basin Dunes parking area; from here, hike a mile and a half to reach the actual dunes.
Haleakala National Park, Hawaii
Puu Ula Ula Summit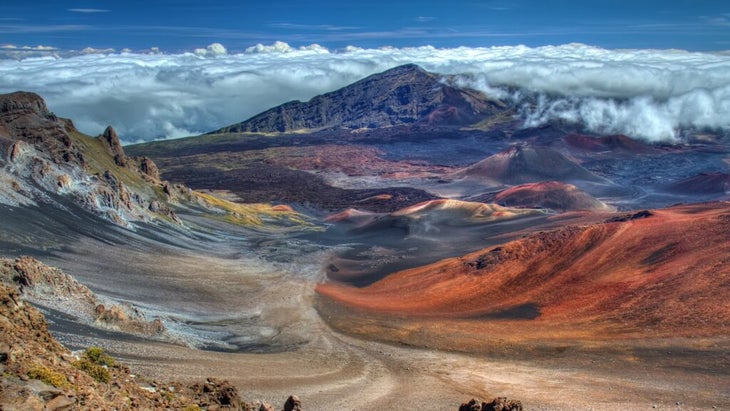 Much like Acadia's Cadillac Mountain, you'll need a special timed reservation to take in the sunrise atop Haleakala's 10,023-foot summit (reservable up to 60 days in advance), but after 7 A.M., day-use visitors can enjoy the show as well. From this incredible vantage point—the highest on Maui—you can enjoy top-down views of the huge, richly colored crater, as well as the Big Island if the weather's clear.
Best Way to Reach This View: The drive to the top from the Summit District entrance takes up to three hours and sees a change in elevation of 3,000 feet, so get ready to rise early and be fully awake before you attempt the narrow, winding road.
Hawaii Volcanoes National Park, Hawaii
Kilauea Overlook
If you're in Hawaii and eager to see some lava, head for this park's Kilauea Overlook, located near the southern end of the Big Island. A hike will allow you to take in the dramatic aftermath of the site's 2018 eruption and subsequent summit collapse, but if you'd rather not work up a sweat, park at the viewpoint's lot at sunset and stand in awe of the otherworldly pink glow emanating from the bowels of the earth.
Best Way to Reach This View: Trek the flat, 2.5-mile (one way) Crater Rim Trail, which can be accessed from a handful of popular tourist spots along Crater Rim Drive.
Hot Springs National Park, Arkansas
Hot Springs Mountain Pavilion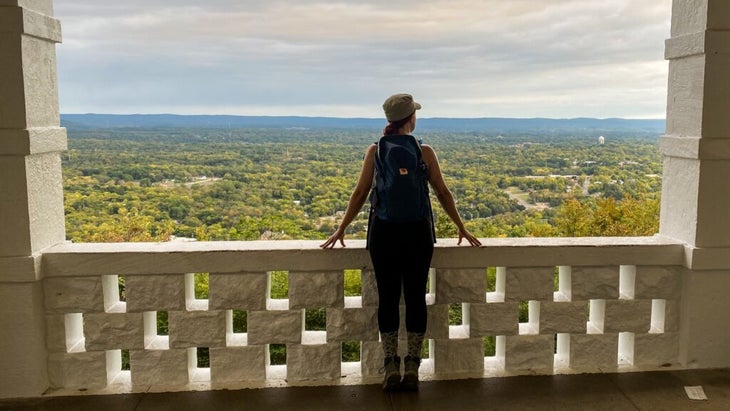 Much of the joy of a visit to this national park is relaxing in the town's historic Bathhouse Row. If, however, you're willing to get in a bit of exercise on your spa-cation, there are some sincerely stellar views to be had of this quaint Ouachita Mountains community—and the hike to this pavilion is at the top of my list. (Many also buy a ticket and ride a 216-foot elevator to the top of Hot Springs Tower for expansive vistas of the surrounding Diamond Lakes area after reaching the initial viewpoint.)
Best Way to Reach This View: Take in the stately architecture of thermal-bath palaces on the Grand Promenade, then ascend the 0.6-mile Peak Trail, just off the promenade, until you reach the pavilion, which faces south.
Indiana Dunes National Park, Indiana
Lake View Beach
Right next to the park's Century of Progress Homes, a gaggle of experimental houses left over from the 1933 World's Fair in Chicago, is Lake View Beach, which gazes out from the southern tip of Lake Michigan. On a fair-weather day, visitors can make out the right angles of the Windy City's high-rises, but at sunset, the sky turns to breathtaking shades of fuchsia and the waves crashing along the sandy shore feel more like an ocean than a Great Lake.
Best Way to Reach This View: It's 55 miles from the center of Chicago to the town of Beverly Shores. Look for the parking area dedicated to the beach.
Isle Royale National Park, Michigan
Scoville Point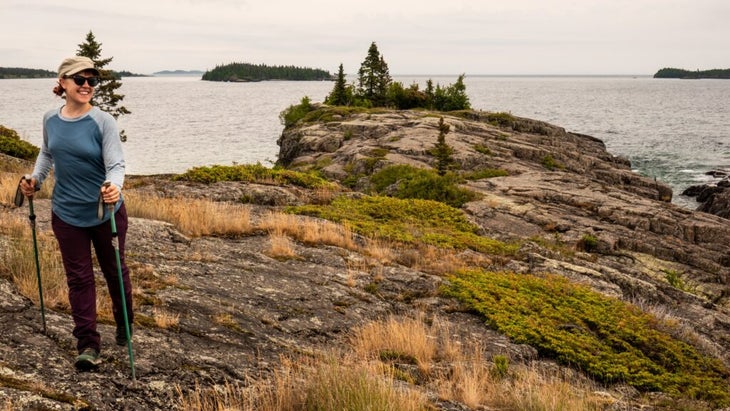 Named some of the best 100 miles of trail in the entire national park system by Backpacker Magazine, the day hike to Scoville Point showcases this region's boreal forest at its best. Not only does the path run parallel to the shoreline for near constant views of Lake Superior, it also boasts some striking scenery. Hunt for moose munching among stands of balsam fir, and at the end of the trek, feast your eyes on rocky islets dotted with conifers, a trademark of Isle Royale's archipelago.
Best Way to Reach This View: Though there's more than one way to arrive at the point via the Stoll Memorial Trail and then the Scoville Point Trail, the easier (and shaded) way is to amble adjacent to Tobin Harbor to the tip of the peninsula.
Joshua Tree National Park, California
Keys View
Named after the Keys family, who built and maintained one of the most successful homesteads in Southern California's arid Joshua Tree desert, Keys View is a thrilling destination for road-tripping travelers who want to feel as though they're standing at the edge of the known universe. A 500-foot, fully paved loop allows guests to savor a vista of the Little San Bernardino Mountains, Coachella Valley, and Salton Sea.
Best Way to Reach This View: From the Joshua Tree National Park Visitor Center, drive 21 miles south to the terminus of Keys View Road.
Katmai National Park, Alaska
Brooks Falls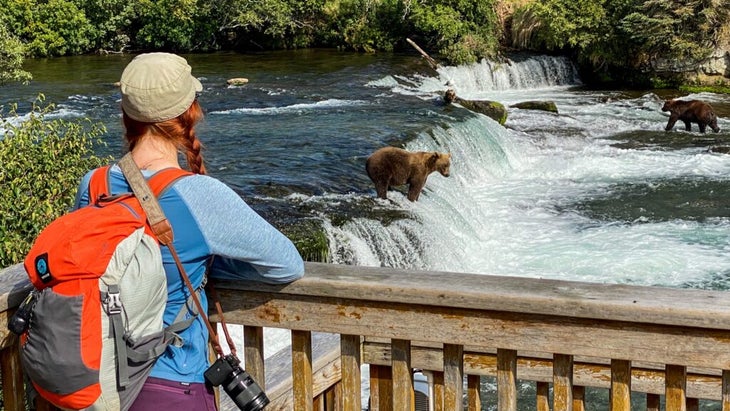 Most travelers to Katmai National Park are there for one thing and one thing only—grizzly bear viewing—and the boardwalk overlook at Brooks Falls is perhaps the best spot in the U.S. to watch these 700-pound mammals fish. You won't be disappointed.
Best Way to Reach This View: Following a brief, ranger-led bear orientation, take the 1.2-mile (round trip) Brooks Falls Trail to a wooden platform overlooking a roaring waterfall, which, if you're lucky, will give you the experience you came for—ursine creatures hungrily snatching salmon from the air. For a hiking route to Brooks Falls, check out this map from Gaia.
Kenai Fjords National Park, Alaska
Aialik Glacier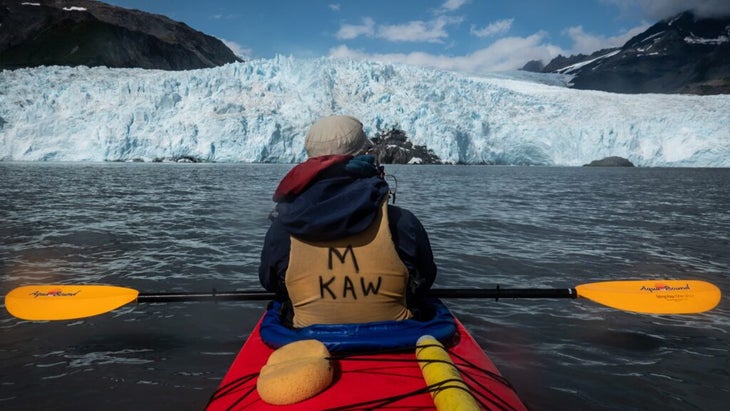 It takes effort to get out to Aialik Glacier (typically a two-hour boat ride, followed by three miles of kayaking), but along the way, you can search for wriggling sea otters, playful Dall's porpoises, spouting humpback whales, and soaring bald eagles. Once face to face with this moving sheet of ice, the most rapidly calving in Kenai Fjords, paddlers have the opportunity to watch and listen for "white thunder," the sound huge hunks of ice make when they crash into the sea.
Best Way to Reach This View: I used Kayak Adventures Worldwide for my adventure to Aialik Glacier (from $489; trips available mid-May through early September), based in Seward. You'll first take a water-taxi trip south to Aialik Bay, a fantastic way to spot all kinds of wildlife, before suiting up at a beach and sliding into your kayak. Expect to paddle for three hours.
Kings Canyon National Park, California
Evolution Lake
This one's for all my backpacking brethren. As a predominately wilderness-designated area (meaning that trails can only be used for hiking and horseback riding, and human development is extremely minimal), Kings Canyon is a mecca for trekkers who'd rather don a pack for dozens of miles than motor around to car-friendly overlooks. The lake is a sparkling cobalt gem flanked by glacier-polished granite peaks. One thing's for certain–you'll find pristine solitude when you arrive.
Best Way to Reach This View: The lake can be accessed via the 211-mile John Muir Trail, a 36-mile loop departing from Bishop, or a pack-animal trip out of Muir Trail Ranch.
Kobuk Valley National Park, Alaska
Great Kobuk Sand Dunes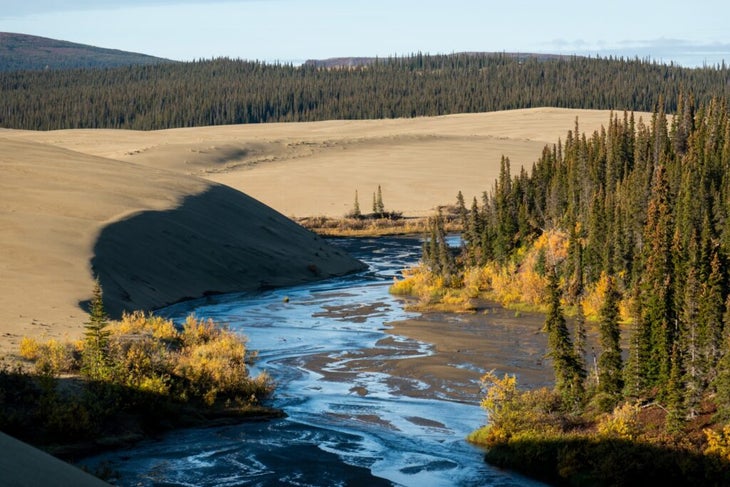 Kobuk Valley often rounds out the list of least-visited national parks, but there's a small landing strip situated at the edge of its most noteworthy geological feature, the Great Kobuk Sand Dunes, that makes this far-out park accessible for anyone who can tolerate bush planes.
Best Way to Reach This View: From the small town of Kotzebue, hop onto a flightseeing day tour with Golden Eagle Outfitters, or splurge on a 12-day hiking and packrafting trip with Alaska Alpine Adventures that starts and finishes in Fairbanks.
Lake Clark National Park, Alaska
Turquoise Lake
Flanked by 8,000-foot peaks and a colorful array of tundra plants like crowberry and reindeer lichen, Turquoise Lake is a quintessential example of an outrageously teal, glacially fed tarn. It'll take a bit of extra effort to get there (compared to commercial-flight-accessible Port Alsworth), but expert guiding services offering kayaking and hiking trips will handle all the logistics for you, so you can relish the extraordinary ridges and ravines of the Alaska Range.
Best Way to Reach This View: There are no roads in the park. You'll have to take a small plane in to reach the lake. We suggest going on an outfitted trip, again with Alaska Alpine Adventures.
Lassen Volcanic National Park, California
Cinder Cone Summit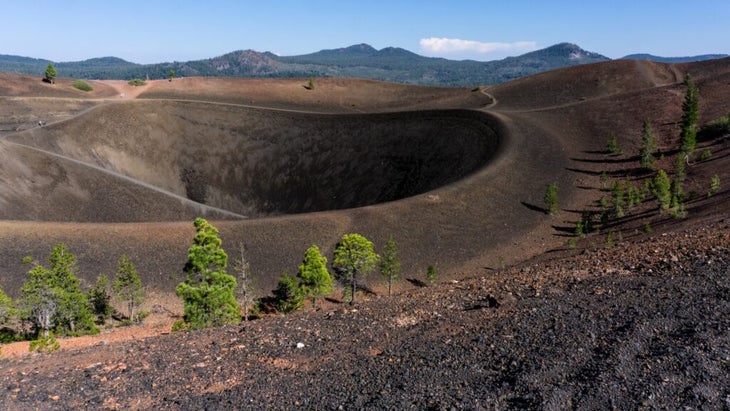 After a hamstring-busting two-mile ascent to the top of Cinder Cone, in Northern California's often overlooked Lassen Volcanic National Park, hikers have a chance to view one of the most eye-catching geological features in the entire park system. The aptly named Fantastic Lava Beds surround the park's incredible painted dunes, a series of warm-toned hills of oxidized volcanic ash. Grab a site at Butte Lake Campground to revel in marvelous night skies, just a short jaunt from the trailhead.
Best Way to Reach This View: Take Highway 44 about 24 miles from the park's northwest entrance to a six-mile dirt road that leads to the Butte Lake Day Use Area. Cinder Cone Trailhead is located near the boat ramp.
Mammoth Cave National Park, Kentucky
Drapery Room
Home to the longest known cave system in the world, Mammoth Cave, in central Kentucky, is not a park that's typically recognized for its naturally sculpted cave formations (like those found in Carlsbad Caverns). However, guests who embark on the ranger-led Domes and Dripstones tour can witness remarkable stalactites and stalagmites, plus wavy drapery-style limestone formations that look like a canopy on a princess's four-poster bed.
Best Way to Reach This View: You'll have to sign up for a tour at the visitor center and be able to descend and climb back up a series of stairs.
Mesa Verde National Park, Colorado
Cliff Palace Overlook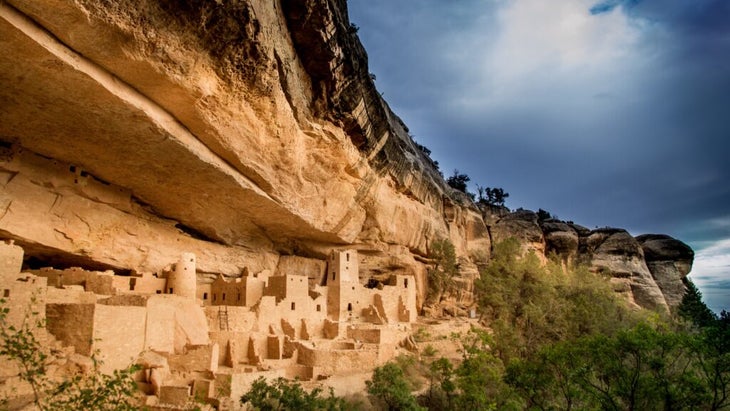 No visit to Mesa Verde is complete without a trip to Cliff Palace Overlook, which offers a majestic view of the largest Ancestral Puebloan dwelling in the park. With over 150 rooms and 21 kivas (ceremonial spaces), this site was thought to be a vibrant gathering place with a population of roughly 100 people. You'll see and learn about 800-year-old stone structures. Ranger-guided tours are also available for a closer glimpse of Ancestral Puebloan architecture.
Best Way to Reach This View: Head down Chapin Mesa to the six-mile Cliff Palace Loop and pull off at the designated parking area.
Mount Rainier National Park, Washington
Myrtle Falls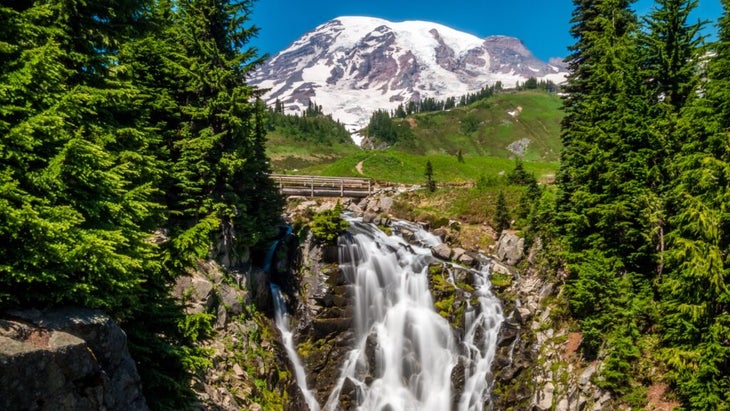 The imposing face of 14,410-foot Mount Rainier, the most glaciated peak in the lower 48, looms perfectly above the idyllic cascade of Myrtle Falls, creating a postcard-worthy photo op for passing hikers. Along the hike in, learn about the park's remarkable wildflower displays and try to spot purple penstemon, crimson paintbrush, and porcelain bear grass from the path.
Best Way to Reach This View: Take a 0.8-mile stroll (round trip) along the Skyline Trail, located in the park's popular Paradise area.
National Park of American Samoa, American Samoa
Pola Island Trail
Near the tiny village of Vatia, on the northern shore of Tutuila Island, the forested 0.1-mile Pola Island Trail boasts a jaw-dropping view with minimal effort. Park in the shade near a sign marking the well-worn, easy path, then hop over a boulder-strewn beach to soak up incomparable views of ragged Pacific coastline, swaying palm trees, and the craggy cliffs of Pola Island, one of the park's most important nesting sites for seabirds like boobies and frigates.
Best Way to Reach This View: To reach the trailhead, drive past the last house at the end of the road in Vatia. The road then turns to dirt, and you'll come upon a small parking area. You'll see a sign for the short trail leading to the beach.
New River Gorge National Park, West Virginia
Long Point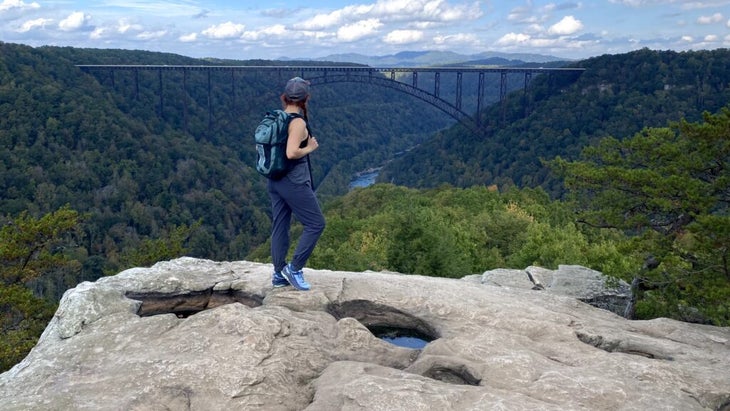 Yes, you could drive up to New River Gorge's namesake bridge for kickass views, but my favorite photo op of the famous roadway lies at the end of the 1.6-mile (one way) trail to Long Point. Not only will visitors here get to meander through a forest of hemlock, beech, and white oak, but they'll also glean outstanding glimpses of rafters floating down the New if they time their outing just right.
Best Way to Reach This View: The Long Point Trailhead is off of Gateway Road, about two miles from the town of Fayetteville.
North Cascades National Park, Washington
Sahale Glacier Camp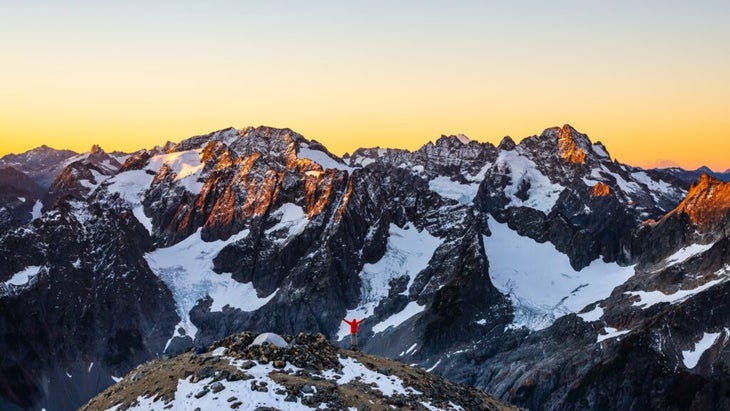 One of the most memorable things about North Cascades (apart from its generally crowd-free hiking trails) is its plethora of hanging glaciers, strung between high alpine summits. The moderate 3.7-mile (one way) trek to Cascade Pass will wow you with sensational panoramas of granitic cliffs plunging into Pelton Basin, but for a real showstopper, plan an overnight backpacking trip and continue up the broad shoulder of Sahale Mountain, pitching a tent at Sahale Glacier Camp and enjoying its bird's-eye view of the Triplets, Mount Baker, and Mount Shuksan.
Best Way to Reach This View: You'll reach the starting point for the Cascade Pass Trailhead at the end of Cascade Pass Road. For a hiking route to Sahale Glacier Camp, check out this map from Gaia.
Olympic National Park, Washington
Rialto Beach
Consult a tide chart before heading out, then motor over to Rialto Beach, on the northwestern shoreline of Washington's Olympic Peninsula. There you'll find enormous driftwood logs, rocky sea stacks, and bold surfers braving the chilly Pacific Ocean. If you feel like stretching your legs, an easy three-mile (round trip) walk along the coast will bring you past tidepools crawling with life to Hole in the Wall, a volcanic outcropping with a natural arch that's perfect for pictures.
Best Way to Reach This View: The beach is about 75 miles from Port Angeles. Once you reach Olympic, you'll be on Highway 101, the road that goes around the park. Exit onto La Push Road and drive eight miles. Then turn onto Mora Road, and after about five miles you'll find the parking lot for the beach.
Petrified Forest National Park, Arizona
Kachina Point
Though the park is best known for its logs of crystallized conifers, Petrified Forest is also home to some seriously colorful painted-desert hills. At Kachina Point, located just outside the 1930s-era Painted Desert Inn, the rich reds and tangerines of these undulating knolls are on full display. After a quick photo break, be sure to check out Hopi artist Fred Kabotie's gorgeous murals on display inside the inn.
Best Way to Reach This View: The point is located about two miles from the north entrance of the park. Stroll on the accessible trail behind the Painted Desert Inn National Historic Landmark to the overlook.
Pinnacles National Park, California
Condor Gulch Overlook
Pinnacles is a funny little sleeper park that's often overshadowed by California's celebrity public lands like Joshua Tree and Yosemite, but anyone who's ventured into the park's golden breccia spires knows that they're a worthy road-trip destination. Condor Gulch Overlook gives guests a chance to enjoy an up-close view of the park's famous pinnacles on a well-worn, family-friendly path. Bring your binoculars and try to spot an endangered California condor.
Best Way to Reach This View: The overlook is one mile from the Bear Gulch Nature Center.
Redwood National Park, California
Tall Trees Grove
When in Redwoods, it's necessary to make a pilgrimage to Tall Trees Grove, a stand of old-growth sempervirens that protect the tallest trees on earth. Don your hiking shoes for a 4.5-mile (round trip) moderate hike around a lush forest of mossy coastal redwoods that'll have even the grinchiest people believing in fairies. The whole hike takes around four hours.
Best Way to Reach This View: First reserve a free online permit for an access code to the area's restricted road to the Tall Trees Trail. It's an hour drive, parts of which are on a narrow and winding dirt road, from the park visitor center to the trailhead.
Rocky Mountain National Park, Colorado
Mills Lake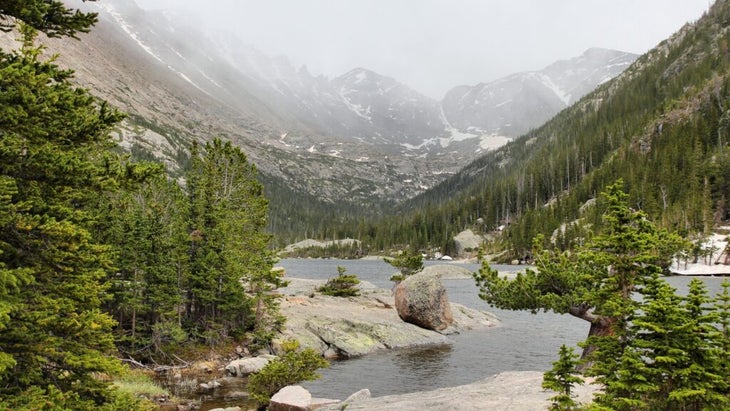 On my first-ever trip to this national park, Outside writer Brendan Leonard told me that if I only made it to one lake inside the park, it had to be Mills Lake, and boy, was he right. Start at the Glacier Gorge Trailhead and hike 2.6 miles—past rushing waterfalls and huge granite boulders—before dipping your toes into the frigid snowmelt of Mills Lake, which overlooks the dramatic northern crags of Longs Peak.
Best Way to Reach This View: Head south on Bear Lake Road for about eight miles and park at the Glacier Gorge Trailhead. Ascend the trail from there to Mills Lake. Arrange a vehicle reservation (or free park shuttle) if you're traveling between May and October. For a hiking route to Mills Lake, check out this map from Gaia.
Saguaro National Park, Arizona
Wasson Peak
When you've had enough of Saguaro's thorny, many-armed cacti from the vantage point of your car window and you're ready to get your heart rate up, head to the commanding summit of 4,688-foot Wasson Peak, the tallest in the park's western section. Keep your eyes peeled for petroglyphs as you ascend past saguaro, ocotillo, and prickly pear cactus. Once you reach the top, give yourself a high five and look out across the urban breadth of Tucson all the way to the park's eastern Rincon Mountain District.
Best Way to Reach This View: Park at the Kings Canyon Trailhead and then expect a strenuous four-mile hike (and nearly 2,000 feet of elevation gain) to the summit.
Sequoia National Park, California
Bearpaw Meadow
Bearpaw Meadow is one of those miraculous, only-in-the-parks vistas that dreams are made of, and getting there is an adventure all its own. You'll be treated to soul-stirring views of the imposing granite domes and summits of the remote Sierra Nevada. Set up your tent at Bearpaw Meadow's backcountry campground, or, if you're feeling spendy, get a glamping tent and dinner at High Sierra Camp.
Best Way to Reach This View: From the park's iconic Crescent Meadow area, which hosts a grove of towering old-growth sequoias, hike for 11.4 miles to Bearpaw Meadow along the High Sierra Trail, taking in inspiring views of Moro Rock, the powerful Kaweah River, and the Great Western Divide.
Shenandoah National Park, Virginia
Hazel Mountain Overlook
Rise before dawn and cruise along Shenandoah's winding, 105-mile Skyline Drive to admire profound sunrise views from this east-facing overlook. An unusual outcropping of ancient granite makes the perfect ledge from which to enjoy Virginia's rolling pastoral hillsides as the sky turns from apricot to bright blue.
Best Way to Reach This View: Enter the park at the Thornton Gap Entrance Station. The overlook is at mile 33 on Skyline Drive.
Theodore Roosevelt National Park, North Dakota
River Bend Overlook
The large stone shelter at River Bend Overlook, in eastern North Dakota, makes for a picturesque family portrait, with a backdrop of shrub-speckled badlands and a U-shaped swerve in the serpentine Little Missouri River. It's a vast and gorgeous view out onto the river valley.
Best Way to Reach This View: Enter the north unit of the park on Scenic Drive. The overlook is about eight miles in. Park and walk up a short trail to the viewing deck. For a closer look at the park's iron-impregnated sandstone and wavering grasslands, hop onto the 0.8-mile Caprock Coulee Trail and saunter away from the automobile crowds.
Virgin Islands National Park, Virgin Islands
Cruz Bay Overlook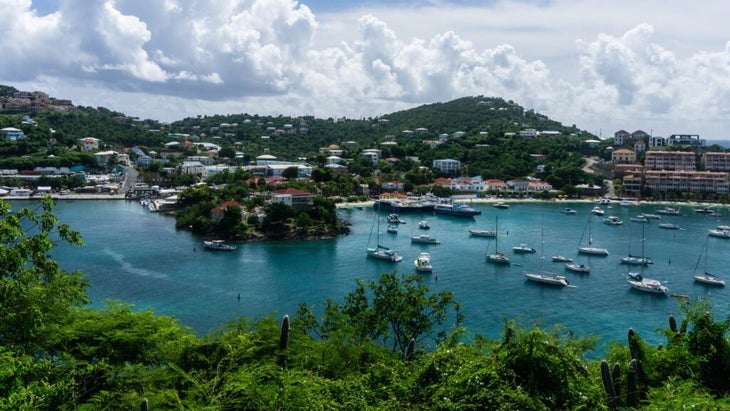 So much of Virgin Islands National Park, on the island of St. John, is about appreciating the scenery beneath the waves. But the Cruz Bay Overlook, on the moderate Lind Point Trail, is a great stopover between snorkeling trips. Pull off at the signed viewpoint for a commanding look at the boat traffic sailing to and from gorgeous Cruz Bay, the island's main port. If you're looking for a little more exercise, continue on to Solomon Beach for a secluded white-sand oasis.
Best Way to Reach This View: The Lind Point Trail starts just behind the park visitor center and ends at Honeymoon Bay or Solomon Bay. A spur off the trail leads to the Cruz Bay Overlook.
Voyageurs National Park, Minnesota
Kabetogama Lake Overlook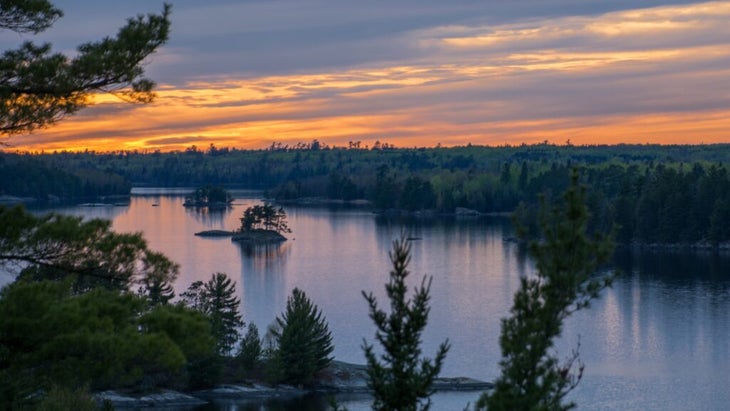 Whether you're just driving through Voyageurs or you're renting a houseboat for the entire family, this wheelchair-accessible overlook on the edge of enormous Lake Kabetogama will provide a fantastic cross section of the area's natural wonders. Tiny islets are freckled with boreal forest. White and red pines intersperse with fir and spruce trees. And the distant, mournful call of a loon can often be heard at dusk.
Best Way to Reach This View: It's an easy 0.4-mile trail to reach the overlook. The trailhead is at the third parking area on Meadowood Drive near the Ash River Visitor Center.
White Sands National Park, New Mexico
Roadrunner Picnic Area
In the heart of White Sands, the Roadrunner Picnic Area offers guests a cozy resting place, surrounded by a vast expanse of glowing white gypsum dune fields. The site's futuristic picnic tables, complete with corrugated metal awnings to protect against ferocious wind and sun, are a fabulous spot from which to enjoy and explore this New Mexico park as the sun sets beyond the Organ Mountains.
Best Way to Reach This View: The picnic area is located about six to seven miles on the main road from the fee station.
Wind Cave National Park, South Dakota
Rankin Ridge
The historic fire tower atop Rankin Ridge dates back to 1956, and though visitors are not permitted to climb it, it sits on the highest point in Wind Cave (5,013 feet) and makes for an excellent photo backdrop. You'll look down at the park, which is home to some of the last preserved mixed-grass prairie in the country.
Best Way to Reach This View: From Custer, take Route 16A East for 6.5 miles and turn south on Highway 87. After 13 miles, look for an access road leading to the trailhead. It's a short and easy half-mile hike through fragrant ponderosa pines to the top.
Wrangell–St. Elias National Park, Alaska
Root Glacier Trail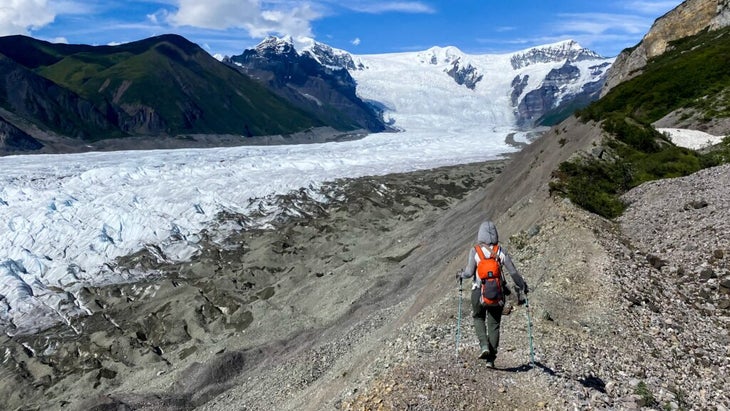 Brave the bumpy, winding McCarthy Road all the way to the once thriving mining community of McCarthy and cross the footbridge to get to Kennecott, a historic town that serves as the center for all things Wrangell–St. Elias, including the majestic trail along the colossal Root Glacier. Bring your bear spray and go it alone, or hire a guide to learn more about the site's copper-mining past. Spoiler alert–you can also book a crunchy crampon trek atop the glacier. Either way, you'll be treated to awesome views of Mount Donoho and the 6,000-foot-tall Stairway Icefall.
Best Way to Reach This View: The Root Glacier Trail starts in Kennecott, and about 1.5 miles in you'll reach the glacier. If you plan to walk on the glacier, hire an experienced guide and wear crampons.
Yellowstone National Park, Idaho, Montana, and Wyoming
Artist Point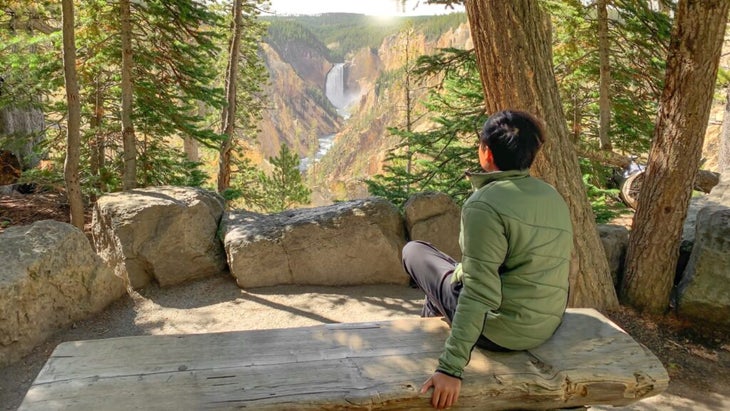 Named for its proximity to a famous oil painting by 19th-century painter Thomas Moran, Artist Point is the most stunning place from which to gaze at the Grand Canyon of the Yellowstone and its mighty waterfall. That being said, it does get crowded in summer months. If you fancy a short hike with similarly epic vistas, amble along the signed trail to Point Sublime (2.6 miles round trip) for an even better glimpse of the canyon's multicolored walls.
Best Way to Reach This View: For a hiking route to Artist Point, check out this map from Gaia.
Yosemite National Park, California
Glacier Point
After a yearlong closure in 2022 for road rehabilitation, travelers can once again drive to Glacier Point and see the broad panoramas of Half Dome, Nevada Fall, and Mount Hoffman. Wander around the accessible, paved pathways near the gift shop or hitch a ride onto a portion of the Panorama Trail for a similar view, sans the crowds at this very popular park.
Best Way to Reach This View: Drive 13 miles on Wawona Road from Yosemite Valley, then turn onto Glacier Point Road at the Chinquapin intersection. Hikers: Start at the Four Mile Trailhead in Yosemite Valley. It's a strenuous 9.6 mile (round trip) hike to the point.
Zion National Park, Utah
Canyon Overlook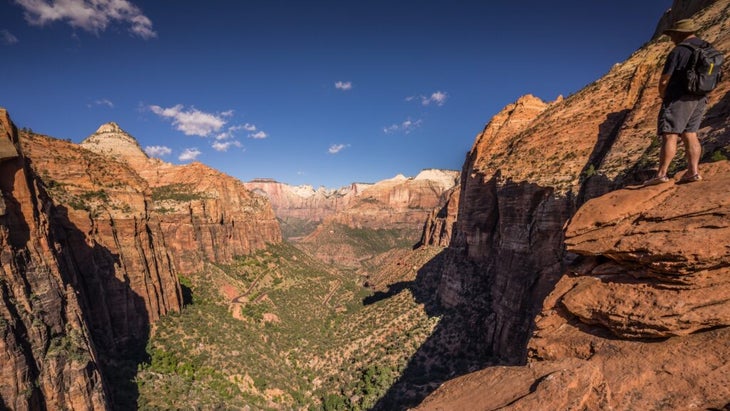 Canyon Overlook, in Zion's eastern section, is one of the most impressive low-effort, high-reward hikes in the country. The reward is a breathtaking view of the cathedral-like golden spires of Towers of the Virgin, in the park's main canyon.
Best Way to Reach This View: Park near the tunnel on the eastern side of the Zion–Mount Carmel Highway, then take a series of stairs and sandstone slabs for a mere 0.5-miles (one way) until you reach the lookout on the edge of the cliffs.
---
As our 63 Parks columnist, Emily Pennington, visited and wrote about every single national park in the U.S. She's also the author of the recent book Feral: Losing Myself and Finding My Way in America's National Parks.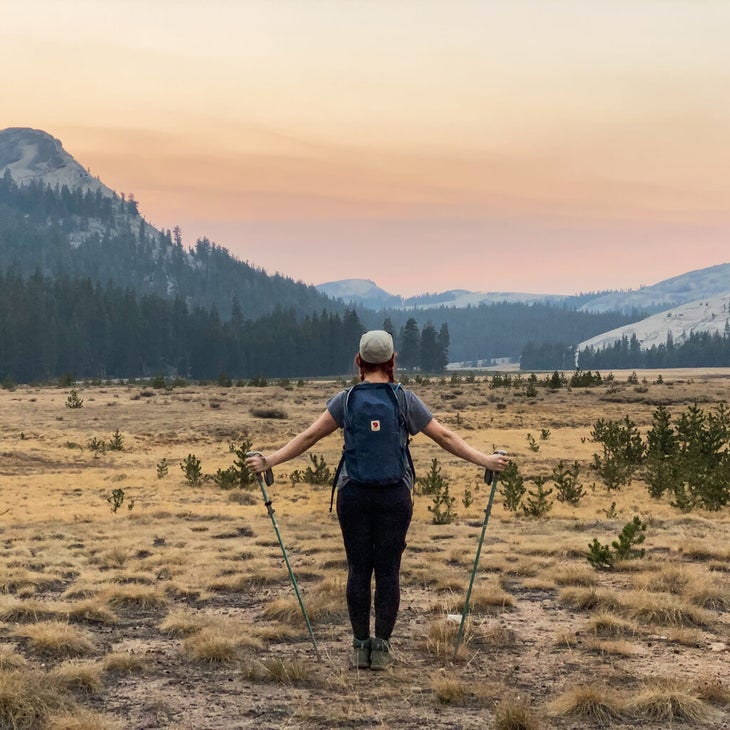 Lead Photo: Emily Pennington