The Hidden Adventurous Side of Route 66
On its way from Chicago to California, Route 66 passes some of the most spectacular adventures in the U.S. Consider this your guide to kicking up some outdoorsy fun along the historical route.
Heading out the door? Read this article on the new Outside+ app available now on iOS devices for members! Download the app.
I have a confession: I might get some of my kicks on Route 66. For an outdoorsy explorer, this may sound sacrilegious. At first glance, Route 66 seems to be mostly about driving long hours between hole-in-the-wall diners, hubcap museums, gas-stations-turned-dive-bars, and vintage motor-hotels.
But there's a more adventurous side to the Main Street of America. On its way from Chicago to Los Angeles, this historic 20th-century highway makes a 2,500-mile dash across some of the most rugged landscapes in the U.S. Along the way, there's a mix of famous national parks, like the Grand Canyon, and plenty of lesser-known outdoor spots, like spring-fed rivers, ancestral ruins, and volcanic trails.
For me, it took years of accidentally stumbling across Route 66 on my way to other adventures before I recognized the value of seeking it out. A key realization was that, for outdoor travelers, it's best to bypass the drive-every-mile obsession. Instead, my wife and I just dropped in here and there when things lined up. By approaching the route this way, we came across a mix of quirky stops and adventurous highlights we might otherwise have missed.
For us, tacking on the tacky things—like a micro-brewery at an old junkyard or a forest made of bottle trees—was much more rewarding after a day spent outdoors than if we'd made the highway the main event. Below is an east-to-west summary of some of the best outdoor opportunities along the way. This is not a mile-by-mile guide: it starts at the Mississippi River and ends at the Grand Canyon, north of Flagstaff, Arizona. But consider this your first taste of Adventure Route 66.
The Chain of Rocks in St. Louis, Missouri
The first place I recognized the compelling overlap between Route 66 and outdoor adventures was, counterintuitively, in the city of St. Louis, Missouri. The old Chain of Rocks Bridge, with its famous 22-degree bend in the middle, is one of the most iconic crossings over the Mississippi River. But this revelation didn't occur while walking across a curious span of steel girders. It happened while kayaking the rapids below.
It's easy to forget why this strange angle was built into a bridge that carried cars along Route 66 from 1936 to 1968 and today sees only pedestrians and cyclists. The Chain of Rocks is a series of exposed bedrock ledges that was once disastrous for ship navigation, but later made for great whitewater playboating. When the bridge was built in the late 1920s, the piers needed to anchor into strong bedrock, and the middle support needed to line up, as close as possible, to a midchannel water tower. That way, riverboats could quickly navigate the swift currents past both obstacles before plummeting through the Grand Canyon-sized waves below.
In the early 1950s, a shipping canal was built to bypass the Chain, which rendered this whole set-up irrelevant. After a sordid history of semi-abandonment and near-destruction, the restored bridge became a great place for a walk or bike ride while viewing the rapids below with the Gateway Arch in the distance. Alternatively, class III paddlers with a solid roll can slip their boats into the water—typically on the Illinois side, upstream of the old bridge—and ferry for nearly a mile from pier to pier. Next, stay river-right of the low-head dam recirculation before dropping into a series of ledge holes and waves.
Of course, there are plenty more adventures to be had in St. Louis. The 12-mile Riverfront Trail is a paved bike path connecting the Chain of Rocks Bridge to Gateway Arch National Park. This atypical NPS unit is a quintessential Route 66 site, built in the 1960s. Cram inside a space-age pod that zigzags up through the arch legs and makes an Apollo capsule feel like a 747. Atop the observation deck, you may wonder, what am I supposed to be looking at? Fair. May I suggest gazing west, the favored direction of travel along Route 66.
Just five miles out is the 1,300-acre Forest Park. There you'll find plenty of paths and a lake basin, built for the 1904 World's Fair, where you can paddleboard past fountains and the free art museum. For a beer or some BBQ in the park, check out the Boathouse, run by Sugarfire Smokehouse. More great restaurants can be found in the nearby Delmar Loop, along with the Moonrise, a popular hotel and rooftop lounge.
The Missouri Ozarks
Heading west, you have two parallel options to drive: sections of historic roadway or the faster I-44. Either way, the next adventurous detour is south into the Ozarks, a lesser-known region of rugged limestone hills that hides many great trails and spring-fed rivers.
One warm May, we were paddling and camping at the forested Current River in Ozark National Scenic Riverways, an NPS unit protecting 150 miles of clear-water streams. At a nearby campsite there was an outdoorsy pair of Route 66 pilgrims from Austria, home of the Alps. This late-twenties couple had stumbled into the Ozarks a week before and hadn't stopped canoeing, fishing, and hiking.
"You gotta get moving west!" I blurted, genuinely concerned for the breadth of their Route 66 experiences. "You're going to miss so much, like stone arches and petroglyphs and saguaro cactuses. You're going to miss the effing Grand Canyon."
"We like it here," said one, and they both shrugged. I later learned from social media that they stayed another week after discovering the shut-ins of the Jacks Fork, the other stream in the area protected by the park service. Then the couple sprinted through the rest of the route without any regrets.
Meanwhile, one of Missouri's top Route 66 stops is Meramec Caverns. This famous limestone cave system is said to have once been a stop on the Underground Railroad. During the Civil War, it held a Union gunpowder factory that was blown up by Confederate rebels. Jesse James was allegedly among the guerillas, and the infamous Missouri outlaw may or may not have later used the caves as a hideout.
Regardless, the James Gang caused mayhem all over the remote Ozarks, including areas around Montauk State Park, where a massive spring forms the headwaters of the Current River. Another possible hideout was around the Irish Wilderness, part of Mark Twain National Forest. This 16,000-acre hardwood forest has hiking trails leading to bluffs overlooking the Eleven Point, a National Wild and Scenic River that's great for overnight paddling trips.
Elsewhere in Missouri, classic Americana stops include the Route 66 Car Museum in Springfield, with over a hundred restored vehicles from automotive history. Or, I don't know, how about the World's Largest Rocking Chair in Cuba, Missouri?
Northwest Arkansas
While none of Route 66 passes through the Arkansas Ozarks, plenty more adventures can be found by detouring 60 miles south of Joplin into the state's northwest corner. Over the past decade, the area has developed into a mountain biking hub with over 250 miles of singletrack.
A few years ago, some friends and I discovered how Bentonville offers a particularly Route-66-like adventure. During a long weekend, we rode bikes away from our hotel each morning. We locked up downtown and had breakfast on the square. At the corner was the original Walton 5-10 next to a creative Walmart advertisement—I mean, Walmart Museum!—which traces the local company's rise from a mom-and-pop shop to corporate juggernaut. Then we left all that behind by dropping into some 65 miles of linked trail systems, like Slaughter Pen, Blowing Springs, and the Back 40. In the evenings, we checked out the growing brewpub scene, with options including Bike Rack Brewing and Bentonville Brewing.
Other great mountain biking can be found around Eureka Springs, 40 miles east of Bentonville. Meanwhile, nearby water activities include wilderness paddling on the Buffalo National River, a few hours to the southeast. Or there's  a surprisingly sporty whitewater park in Siloam Springs, Arkansas, on the way back to Route 66 in the city of Tulsa.
Oklahoma
Continuing west leads away from the rolling Ozarks and toward the wide-open expanses of the Great Plains. This is often the part of Route 66 that many cross-country travelers speed through, and I've been guilty of this myself. But there are definitely some adventure-worthy stops to consider.
In particular, Tulsa is known for outdoor spaces, including the River Parks, which offer 26 miles of paved multi-use paths along the banks of the Arkansas River. For something more rugged, divert into the Turkey Mountain Urban Wilderness, an area of forested hills with about seven miles of dirt trails.
The city's top indoor highlight for outdoor explorers is the Gilcrease Museum. Sadly, it's closed for construction during 2023, but hopefully will reopen in a year or two. This beloved institution houses the largest public collection of artwork and artifacts from the American West. Favorites include landscape paintings by Thomas Moran and fascinating Native American objects like ceremonial dresses and beaded moccasins from tribes like the Crow and Sioux. Until the Gilcrease reopens, highlights can be viewed on its website. Plus, the nearby Tulsa Historical Society Museum has a Route 66 exhibit through September 2023.
Next, beyond Oklahoma City, road trippers will leave I-44 behind and continue on I-40. The historic roadway usually runs parallel, often serving as the business loop through towns. Along the way, there are plenty of roadside highlights, including historic airplanes and rockets at the impressive Stafford Air & Space Museum in Weatherford. The towns of Clinton and Elk City each have a Route 66-focused museum—think classic cars, old timey gas pumps, luggage-themed dioramas, and enough garish neon to be visible from space.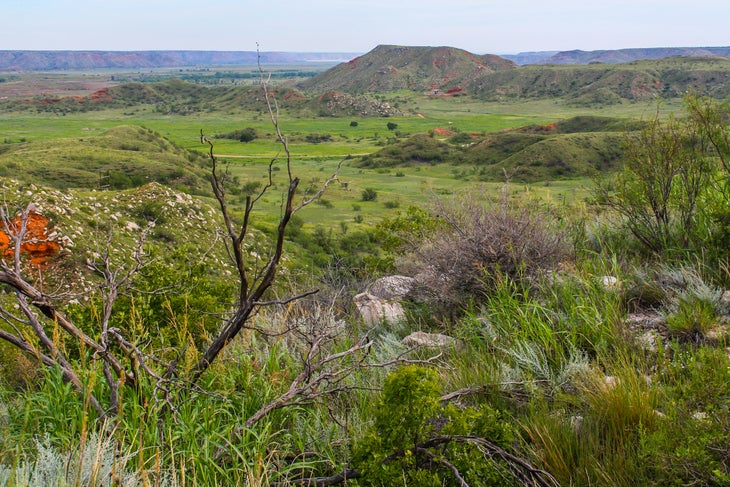 The Texas Panhandle
Upon reaching the Texas state line, you'll cross the 100th Meridian, the approximate transition between the greenery of the humid east and the red-rock deserts of the semi-arid Southwest. As you approach Amarillo, a pair of parks just off the route are definitely worth a visit.
About 35 miles north is Alibates Flint Quarries National Monument, one of the least visited units in the National Park System, seeing fewer than 10,000 people annually. For thousands of years, Native Americans—from the Clovis culture of the Ice Age to more recent Apaches—used flint from this region for tools and arrowheads. Today, the only way to explore this archeological treasure is on a fascinating two-mile hike guided by a ranger.
For a more eccentric outdoor experience, continue the detour another three hours north to Black Mesa, the highest point in the Oklahoma Panhandle. This little-known desert hike involves a steep ascent to the summit of a mile-high mesa. But once on top, it's as flat as a parking lot. The reward for reaching the highpoint monument is a view of…well, not much. How Route 66!
Meanwhile, back in Amarillo, 30 miles  south of town, the plains drop away into rugged Palo Duro Canyon State Park. Called the Grand Canyon of Texas, this is one of the first classic Southwestern landscapes encountered along the route. There are colorful rock layers, nice campsites, and plenty of trails for mountain biking and hiking. One popular path leads to Lighthouse Rock, an iconic photo spot for adventurous Route 66 pilgrims.
For food challenge enthusiasts, between one to five hikes may increase the appetite for Amarillo's world-famous Americana restaurant, the Big Texan Steak Ranch. I've never stopped myself, because, honestly, just the road signs are hard to stomach. Yes, this is the infamous home of the 72-ounce steak. The meal is free to the few adventurous souls who can devour 4.5 pounds of beef in one hour. FYI, the side dishes are also mandatory: baked potato, buttered roll, shrimp cocktail, and, bizarrely, a salad. This fun place is a favorite for many Route 66 diehards.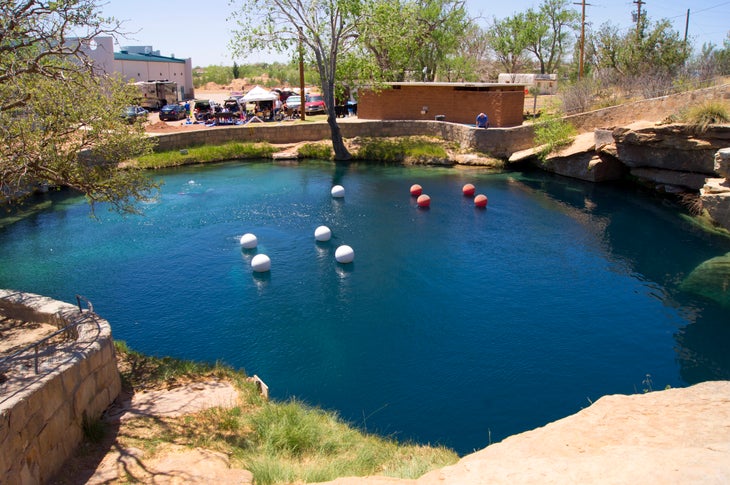 Eastern New Mexico
Upon reaching New Mexico, a number of classic Route 66 sites cluster on the eastern side of the state, like Tee Pee Curios and the Blue Swallow Motel in Tucumcari. Further west, in Santa Rosa, you'll find the Route 66 Auto Museum and another type of site for outdoor recreation.
On the edge of town, Blue Hole is a sparkling clearwater cenote, an 81-foot-deep sinkhole fed by a gushing spring. In addition to being popular for swimming on hot days, the 61-degree water is known for scuba diving, and a dive shop is located onsite. This clearwater pool is the northernmost of many cenotes along the Pecos River, which formed from dissolution of the gypsum bedrock. Further south, similar features can be found at Carlsbad Caverns National Park and Bottomless Lakes State Park (not a reference to swimsuits).
Beyond Santa Rosa, there are two historic Route 66 alignments, with the older, northern route leading to several worthy outdoor sites. One is Pecos National Historical Park, an NPS unit preserving the Pecos Pueblo, also known as the Cicuye Pueblo, which once housed several thousand Ancestral Puebloans. The highlights include short trails, restored ceremonial kivas, and the dramatic ruins of a 17th-century Spanish mission.
Past Santa Fe and its famous adobe old town, a northern detour to Bandelier National Monument offers short trails leading to more fascinating ruins, especially a series of cave dwellings that you can explore via stairs and ladders. Returning to the route in Albuquerque, Petroglyph National Monument has more short trails leading through hilly sites with numerous ancestral rock carvings. Kitschy ABQ stops include ghost tours in the old town or a stop at the Rattlesnake Museum, where the classic rattlers are behind glass instead of lurking near your heels. When the day is done, the restaurant and beverage scene is booming here. There's too much worth mentioning, but several times we've had good luck with microbreweries, like Marble and La Cumbre, which have rotating food trucks.
Western New Mexico
The western half of Route 66 through New Mexico was long a blank spot for me and my wife. But just last spring we were in southwestern Colorado when a cold front came through. Seeking warmer weather, we drove south from Durango, with a quick off-trail hike through the Bisti Badlands. Then we homed in on the Mother Road using our hybrid approach.
Our first stop was a detour into El Morro National Monument. This NPS unit preserves the ruins of an ancestral pueblo village atop a 200-foot sandstone bluff rising like a monolith from surrounding grasslands. Around 750 years ago, El Morro was a spring-fed watering hole on an ancient trade route called the Zuni-Acoma Trail. Over a century, the pueblo expanded to around 350 rooms before being mysteriously abandoned. This left El Morro as a dramatic landmark on an ancestral Route 66 that saw the passing of Native Americans, Spanish conquistadors, and European settlers. Each group left petroglyphs and inscriptions at El Morro, which the Zuni call Atsinna, meaning "the place of writing on rock." Our early morning walk took us on a two-mile loop to the ruins atop the bluff. Near the base we saw the waterhole and hundreds of rock carvings.
On the drive to our next stop, we passed a through-hiker following Highway 53 between two backcountry sections of the Continental Divide Trail. The southern end of this 3,000-mile hiking route, currently about 95 percent complete, passes through New Mexico. After crossing El Malpais National Monument, the CDT takes a unique turn and follows Historic Route 66 for nearly seven miles into downtown Grants, before ascending the volcanic cone of Mount Taylor to the northeast.
Our aim was something shorter at El Malpais, a fairly empty NPS unit protecting about 180 square miles of volcanic badlands. Several trails and dirt roads explore the periphery, and we chose the five-mile El Calderon loop. This hike led us past different lava features—caves, tubes, trenches—to the rim of a cinder cone and over a lava flow topped by sparse pine forest.
We finished our day in Grants at the Junkyard on 66 Brewery, where we sipped beers next to classic cars on the auto-shop floor. While playing chess on an oversized board, we joked with some bikers—the leather-clad motorcycling kind—about how bad we all are at chess. It was one of our favorite days of the cross-country road trip, and we never would have found it without Route 66.
Eastern Arizona and Flagstaff
Continuing west, the first outdoor highlight is a smaller NPS unit that often gets skipped. Petrified Forest National Park sees only a half million visitors per year, despite straddling I-40. Like other road-trippers, my wife and I were guilty of skipping past this park several times before stopping and being impressed. Here you can explore an eroded landscape of fallen petrified logs, both on-trail and off into the backcountry. The park is home to a stretch of original Route 66 roadway, marked by the rusty frame of a 1932 Studebaker. Meanwhile, overlooking the colorful badlands of the Chinle formation, the Painted Desert Inn is a historic adobe structure converted to an NPS museum.
Two more classic Route 66 stops can be found nearby. One is the quaint downtown of Winslow, made famous by the song lyric "Standin' on a corner in Winslow, Arizona," from the Eagles song "Take it Easy." Today, a city art installation called Standin' on a Corner Park is a fun selfie spot for tipsy visitors spilling out of nearby brewpubs like the popular Relic Road, across the street.  Just south, Meteor Crater is worth a detour, especially for enthusiasts of other-worldly landscapes. A moderate entry fee allows access to a meteorite museum and outdoor viewing platforms perched on the 0.75-mile-wide rim of the world's best preserved impact crater.
The hub of Route 66 in Arizona is definitely Flagstaff. Like many outdoor explorers, I first stumbled into Flag on my way to the Grand Canyon. Initially I went for backpacking and hiking. Later I came as a river runner lucky enough to row three trips-of-a-lifetime, one each during the winter, spring, and summer seasons (maybe fall will be next). By frequently returning to this excellent mountain town, located beneath the San Francisco Peaks, I witnessed the importance of Route 66 to the local community.
There are impressive murals, including half a city block behind the excellent Lumberyard Brewing, which depicts Route 66 through the decades. Or head down the street to Mother Road, another great microbrewery named for the route. Downtown you'll find eclectic shops and historic hotels like the Weatherford, opened in 1900, and the Monte Vista, opened in 1927. Both properties would see famous guests–artists, authors, and movie stars–who were traveling or working along Route 66. Learning about these places really impressed upon me the cultural significance of a classic American highway that I had previously skipped past on my way to other places.
Just outside of Flagstaff there are several outdoor highlights to explore. Sunset Crater Volcano National Monument is a mouthful of a name with a handful of trails winding through jagged lava fields and over cinder cones. Nearby is Wupatki National Monument, which protects three of the most impressive Ancestral Puebloan complexes in the region. For me, the restored ballcourt brings back memories of exploring archeological sites in Latin America. Just south of town is Walnut Canyon National Monument, essentially a miniature Mesa Verde with a jaw-dropping density of cliff dwellings.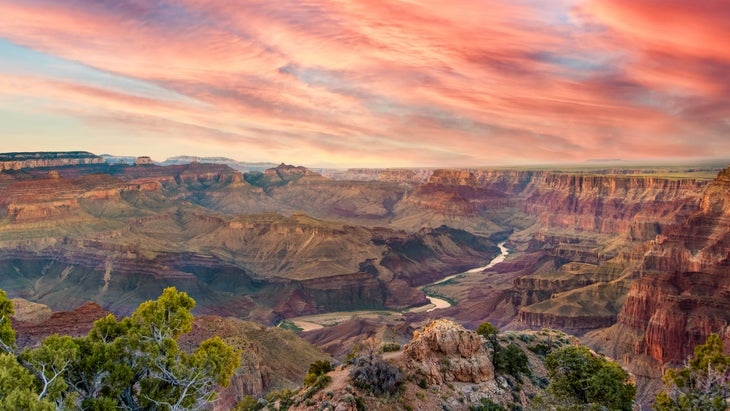 The Grand Canyon
The final stop on our abbreviated tour across Adventure Route 66 is none other than Grand Canyon National Park. Route pilgrims typically aim for the South Rim, where the scenic Desert View Drive leads to the canyon's most 66-ish roadside attraction: the Desert View Watchtower. On the way, consider a walk to viewpoints along the rim. Or take a hike down inside, with one excellent choice being a steep mile on the South Kaibab Trail to Ooh-Aah Point.
While staring out at this vast and colorful chasm, it's worth contemplating how many adventures you can have at this 1,900-square-mile world wonder. You can strenuously backpack to the Colorado River at Phantom Ranch or other wilderness camp (reservations/permits required). You can explore the North Rim, including mountain biking the Rainbow Rim Trail just outside the park. You can run the river for a week or more through sheer granite gorges with dozens of raging rapids (outfitter reservation or permits also required). Frequent onshore attractions basically make it Colorado River Route 66, including fossilized dinosaur tracks, riverside caverns, hidden waterfalls, and cliff-perched granaries.
The Grand Canyon is not the end of the adventure, just like Flagstaff isn't the end on this mother of a road. There's much more to discover—both behind and ahead. Continuing west into California leads to roadside kitsch like Elmer's Bottle Tree Ranch and detours like Joshua Tree National Park. Or venture past the "End" sign near the Santa Monica pier and take a ferry to Channel Islands National Park. But the Grand Canyon is a great place to part ways on our abbreviated tour along Adventure Route 66. Finding the rest is just part of the fun.
Lead Photo: Grafissimo, Getty