Sponsor Content: Nebraska Tourism
5 Ways Nebraska Will Surprise You
Here's a little-known secret: the Cornhusker State is full of untapped adventure
Forget what you think you know about Nebraska. Yes, you can lose yourself in sprawling prairies and fields of tall, golden cornstalks, but that's just the start. Unexpected scenery and adventures make a journey through Nebraska the most memorable kind—one that's full of surprises. Along the way you'll find a rich variety of outdoor opportunities—think mountain biking, wildlife viewing, kayaking, hiking, and stargazing. The best part? Most people don't know a thing about them. If you're looking for your next escape off the beaten path, welcome to the capital of unknown adventure.
Float a Boat
How good is the paddling in Nebraska? Some websites claim the state has more river miles than any other in the country. That's not technically true, but whoever started the rumor can be forgiven. With nearly 80,000 miles of river—which includes mileage from major rivers like the  Missouri, Platte, Niobrara, and Republican—Nebraska feels like it could take the prize. Where to go with so much to choose from? Two free-flowing sections of the  mighty Missouri River are designated as part of the Missouri National Recreational River, while 76 free-flowing miles of the Niobrara are included on the list of National Wild and Scenic Rivers. These two rivers and their surrounding landscapes set the stage for awesome paddling, fishing, hiking, boating, camping, and tubing.
In addition to the state's rivers, the largest reservoir in Nebraska, Lake McConaughy, serves up several types of outdoor fun. Lake McConaughy (a.k.a. Big Mac) is a whopping 30,000 acres, with crystal-clear waters and sugar-sand beaches. It's a swimmer's paradise—but it's also a hot spot for windsurfers, waterskiers, and picnickers.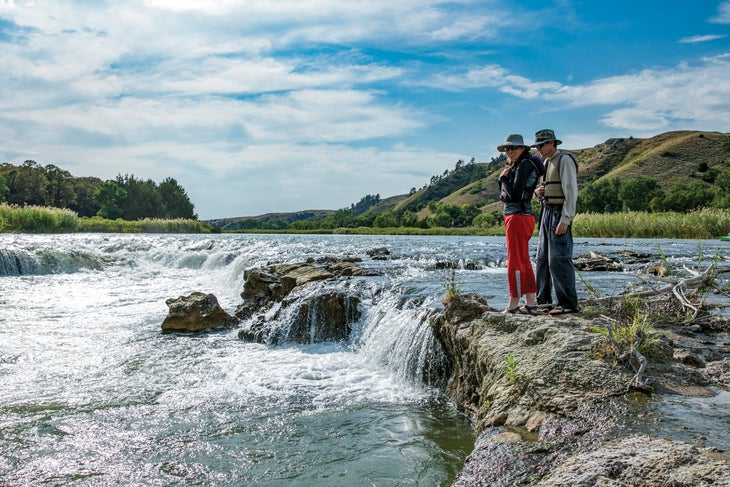 Witness a Great Migration
One of the world's greatest wildlife spectacles occurs in Nebraska each spring, when nearly one million sandhill cranes converge on the shallow waters of the Platte River. On this 80-mile stretch of river, the cranes feast, rest, and roost before continuing their journey. The Crane Trust and Rowe Sanctuary are two excellent places to witness this legendary migration while learning about the wetland ecosystem the birds rely on.
Discover Hidden Geology
Think all of Nebraska is flat? You just don't know where to look. Across the state, you'll find a surprising number of outdoor activities tied to unexpected elevation and fascinating geological features. First, check out Toadstool Geologic Park, an otherworldly, rocky moonscape with hiking trails and fossil scouting. Then head to Agate Fossil Beds National Monument to observe even more fossil displays  at a world-renowned dig site. 
Journey south to Scotts Bluff National Monument to take in views of dramatic buttes and the rugged landscape that glows at sunrise and sunset. Then roam farther east to see the iconic Sandhills of Nebraska. The Sandhills are the best-preserved example of vegetative sand dunes in the Western Hemisphere. For a full tour of the Sandhills, take a road trip along the Sandhills Journey National Scenic Byway.   
Tip: The Sandhills are home to an unexpected treat—several world-class golf courses.
See More Stars Than You Do at Home
What do you get when you combine vast skies and complete darkness? Stars. A lot of them. If you want to take a good look at the universe—who doesn't?—Nebraska has some of the finest stargazing spots to choose from. A number of state parks and public lands are common astrotourism destinations, but none shine as brightly (sorry) as Merritt Reservoir. Home to the annual Nebraska Star Party, and now a certified International Dark Sky Park, this state recreation area is a perfect place to watch the stars appear.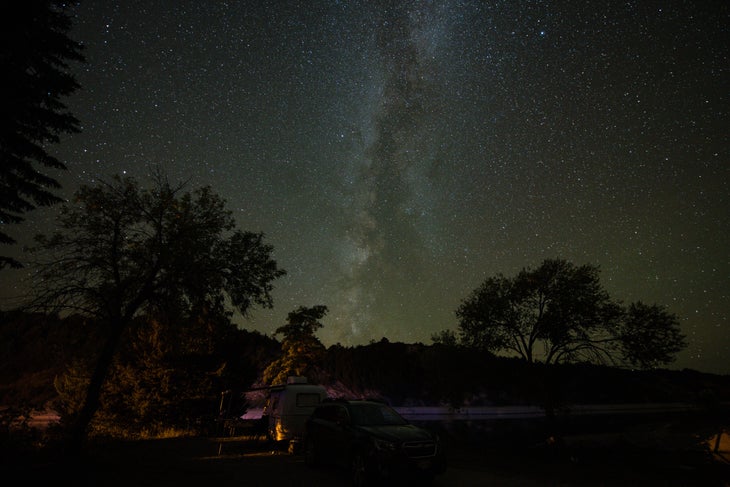 Hit the Trail
OK, some parts of Nebraska really are pretty flat, which is great for hikers and bikers who want to see a lot of scenery.  Exhibit A: the nearly 200-mile Cowboy Trail. This multiuse path is one of the longest rails-to-trails projects in the country, with a gentle grade and fine-gravel surface that make it accessible to all levels. The trail connects Norfolk to Valentine, with 221 bridges and plenty of geographic variety along the way. Want to be a pioneer? Check out the hiking opportunities along the Great Plains Trail, a work-in-progress path that connects existing and proposed trails and along a 2,200-mile route.
Tip: For the state's best mountain biking, head to Potter's Pasture Trail, set on 1,200 scenic acres of forest, ravines, and prairie. 
---
Nebraska Tourism is the Cornhusker State's official tourism marketing arm and responsible for attracting visitors by offering travel-inspiring resources to those near and far.
Lead Photo: Nebraskaland Magazine/Nebraska Game and Parks Commission